Barbecue Dolmas Stuffed with Bacon, Beef, and Cheese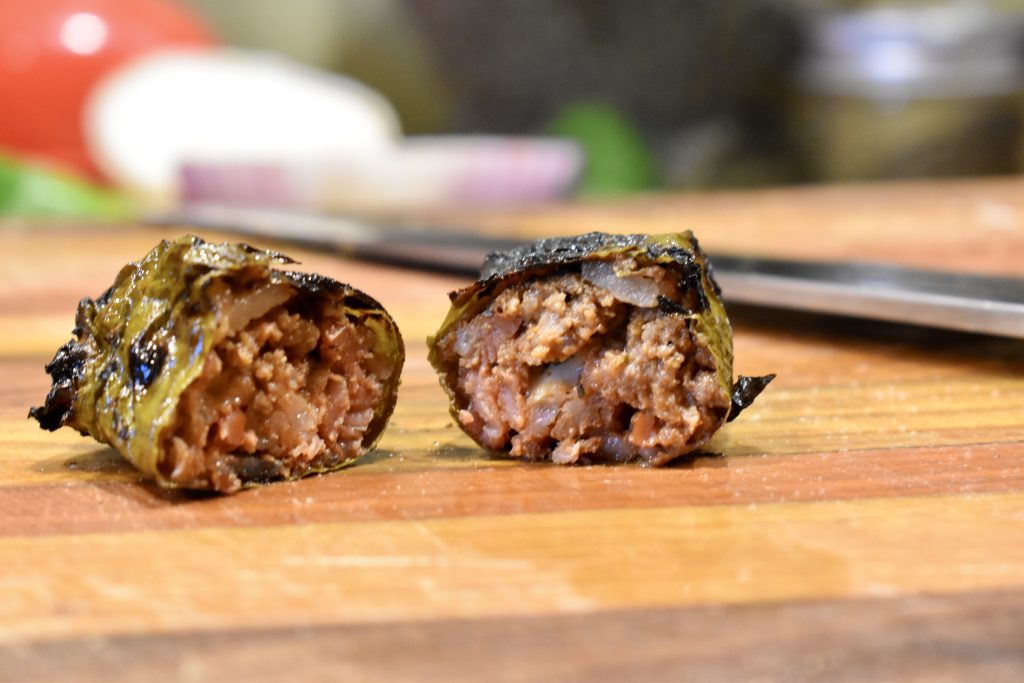 Dolmas (or dolmades, or dolmeh, etc.) are stuffed vegetables in Turkish, Balkan, and Middle Eastern cuisine, but in many cases, dolma signify stuffed grape leaves in particular. 
Grape leaves are a great wild edible, as they grow in profusion all over the place and you're unlikely to cause harm by over-harvesting. 
Simply pluck good-sized grape leaves (in the wild or in an orchard… with permission!) off of the vine in the early summer while the leaves are still nice and tender. 
Although they are more traditionally stuffed with herbs and rice, I ended up making meaty ones, which were a real hit at both a neighbourhood party and as part of a mezze platter that I made for a dinner party.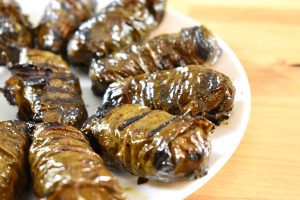 The grape leaves get stuffed with ground beef, bacon, smoked cheese, and barbecue sauce, then get grilled to double down on their smoky flavour. 
These things definitely disappear fast! 
Prep Time

1 hr

Cook Time

20 min

Total Time

1 hr 20 min

Yield

12-24 (depending on size of leaves)
Ingredients
4 slices thick-cut bacon, finely chopped
3/4lb (350g) medium ground beef or venison
3 tablespoons (45ml) barbecue sauce
Pinch of kosher salt
Pinch of black pepper
1 tablespoon (8g) barbecue seasoning (use less salt if the blend is salty)
1 teaspoon (2g) smoked paprika
1/4 teaspoon (1.5ml) liquid smoke
2 ounces (60g) smoked havarti or other smoked cheese
12 large freshly picked grape leaves or up to 24 small leaves
1 tablespoon (15ml) vegetable oil or cooking spray
Preparation
1
In a medium bowl, mix together the chopped bacon, ground beef, barbecue sauce, salt, pepper, barbecue seasoning, smoked paprika, and liquid smoke.
Mix well and set aside in the fridge for the time being. 
2
Wash the grape leaves.
Cut off the stems by cutting a 'V' notch, just above where the stem attaches to the base of the lead. Discard the stems.
Bring a pot of water to the boil and add a big pinch of salt. 
Drop 1/3 of the leaves in one at a time, but quickly. 
Boil for 2 minutes, then gently remove and transfer to cold water. 
Repeat with the other 2/3rds. 
3
Cut the cheese into small rectangles. 
4
Gently extricate a leaf (they tend to tangle and bundle up) and lay it down veins-side up, with the point of the leaf facing away from you. 
Grab a thumb-sized amount of meat and lay it in the palm of your left hand. Flatten it slightly with your right fingers, then press a single finger down the length of it, forming a bit of a trench. 
Lay a piece of cheese in the trench, then wrap the meat up around the cheese, so that it is fully enclosed. You should have a little meat log. 
Place it at the base of the leaf, then grab the two "tails" or bottom leaf edges and drape them over the meat log. 
Grab the sides of the leaf and wrap them inwards, over the log (like you'd roll a burrito). 
Now, keeping the sides tucked in, roll the meat log and leaf away from you, tightly, until you reach the point of the leaf. Pull the point gently but firmly around, so you end up with a tightly rolled, fully encased dolma. 
This may take some practice! 
5
Keep rolling the leaves until you run out of meat and cheese. 
Brush the rolls with the oil (or spray them with cooking spray). 
Grill the dolmas for about 15 minutes or until cooked through the centre. 
You want a little char on the leaves, but beware of flareups. 
6
Serve on their own, or as part of a mezze platter. Make sure you get one yourself, because they'll go fast!