Breathtaking BBQ Maitake Mushroom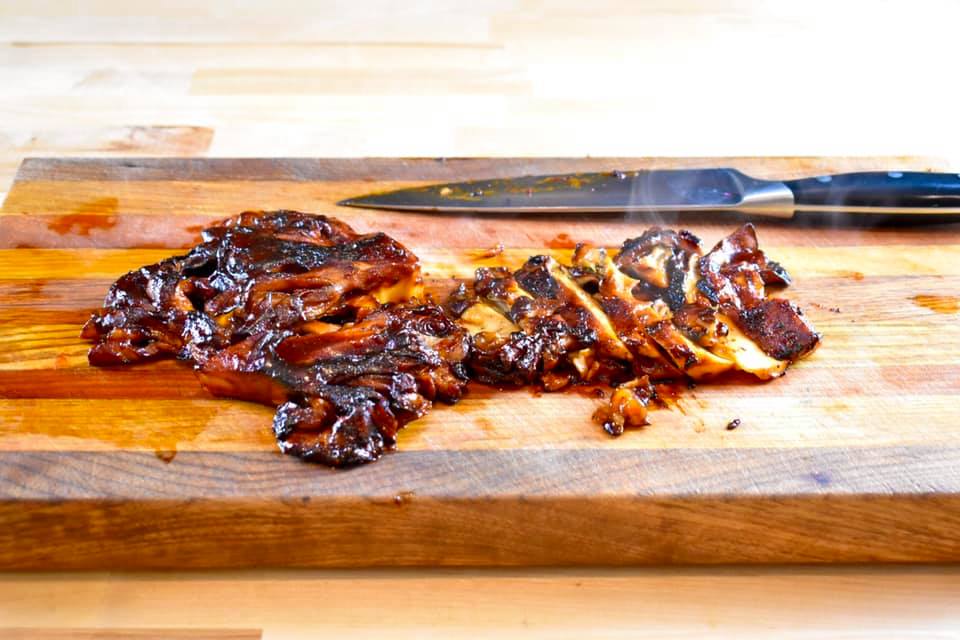 This special technique comes from Wicked Healthy (check out wickedhealthyfood.com for more amazing vegetarian recipes!) with a couple small flourishes of my own. By brining and pressing the mushroom, you end up with an extra meaty texture, with the edges crisped up by the cast iron pan. With the addition of bbq sauce and some oven time, you end up with a sticky, finger licking entrée that holds its own against barbecued ribs!
Cuisine

Course

Cooking Method

Suitable for Diet

Equipment Needed
Ingredients
For the BBQ Rub*
2 tablespoons sweet smoked paprika (regular paprika is fine)
1 tablespoon fine salt
2 tablespoons brown sugar
1 tablespoon chili powder
1 tablespoon garlic powder
2 teaspoons ground cumin
2 teaspoons ground black pepper
1 teaspoon cayenne pepper
1 teaspoon MSG (optional)
For the BBQ Sauce*
1 cup ketchup
1/4 cup cider vinegar
1 teaspoon Kosher salt
1 tablespoon Worcestershire sauce
1/2 tablespoon Louisiana style hot sauce (ex. Crystal or Frank's)
1 cup water
1/4 cup brown sugar
1/2 medium onion, minced
For the Mushrooms
1/4 cup salt
1 litre or 1 quart of water
Approximately 0.5kg or 1lb Maitake/Hen of the Woods mushroom, split into 4 chunks
3 tablespoons+ neutral vegetable oil1.5 tablespoons BBQ rub seasoning
2 cups BBQ sauce
Preparation
For the Rub
1
Combine all of the rub ingredients well. 
Store unused rub in a sealed container in a cool, dark place.
For the Sauce
2
***Start brining your mushrooms now!
Add all of the sauce ingredients to a pot and stir well to combine. 
Bring to a boil, then reduce to a bare simmer. Cook for 30 minutes or until thickened to the consistency of store bought barbecue sauce, stirring often. 
Leftover sauce can be kept in the fridge for a few weeks. 
For the Mushrooms
3
Mix the salt and water together in a large bowl until the salt has dissolved.
Place the mushrooms in the brine, keeping them underwater with the help of a plate or weight.
Let brine for 30 to 75 minutes. 
4
Preheat oven to 425°F (220°C, gas mark 7). 
5
Heat your cast iron over medium high heat and add the 3 tablespoons of oil.
Once the oil is hot, remove the mushrooms from the brine (shake them dry) and add them to the pan. Sear, letting the liquid coming from the mushrooms evaporate.  
6
While the mushrooms are cooking, either press them down firmly from time to time with a spatula, or alternatively, place another cast iron pan on top of the mushrooms, so they flatten and get pressed down. 
Once all of the liquid has evaporated and the mushrooms have begun to develop a nice golden brown crust, they are ready to flip.
7
Season liberally with BBQ rub, making sure to get it into all the nooks and crannies. 
8
Cook the other side, searing it until it is equally crispy and golden, adding more oil if necessary and continually pressing down with your spatula or another cast iron pan. 
Once done, flip them back over and season with a little more BBQ rub.
9
Pour all of the BBQ sauce into the pan, flipping the mushrooms several times so they get completely coated in sauce. 
10
Now put the pan with the mushrooms and sauce into the oven and let cook until the sauce is bubbly and has become sticky, about 15 minutes. It may char a bit on the edges, this is ok. 
If you want a little more char to imitate cooking on a grill, turn on the broiler for a few minutes, being careful not to fully burn the sauce. 
11
Remove from oven and transfer to cutting board. 
Slice on a diagonal bias, into 1/2 inch or 1 cm slices.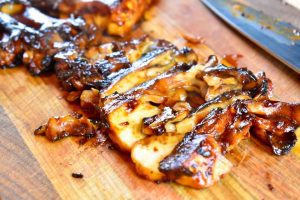 12
Serve with traditional barbecue sides and garnish with sliced scallions or cilantro. Enjoy!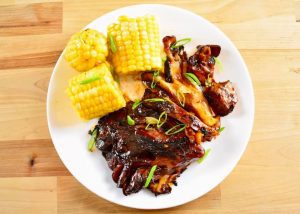 *Feel free to use your favourite store bought or homemade BBQ rub and sauce in this recipe