Canned Moose Poutine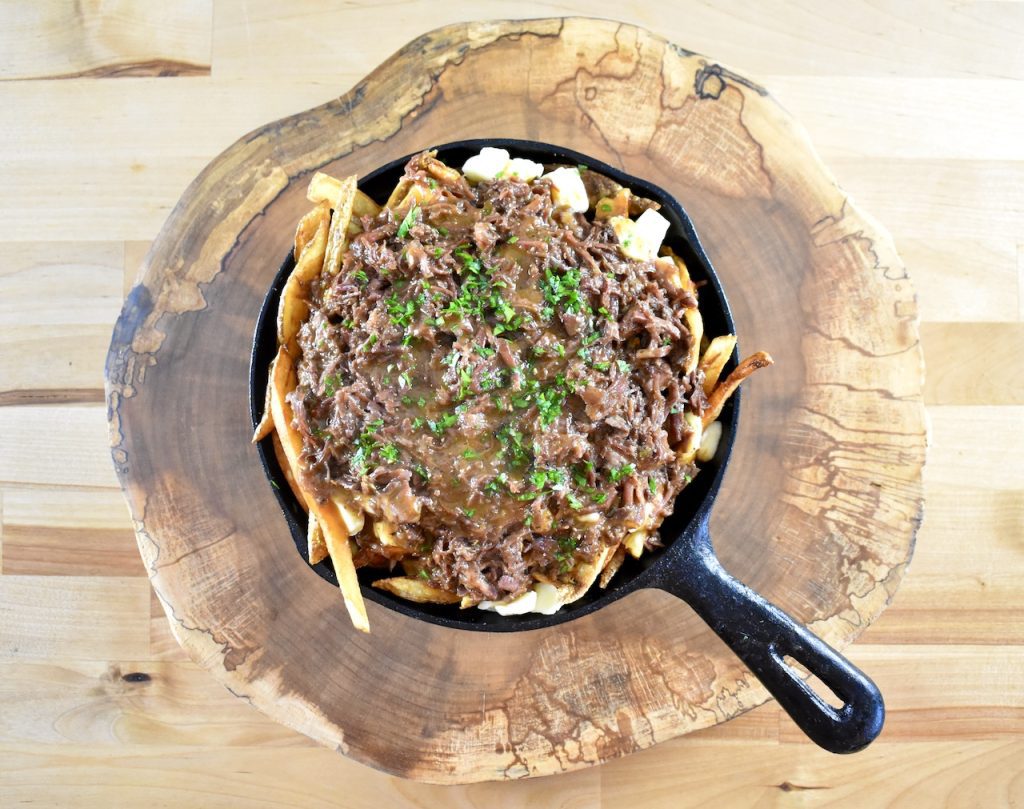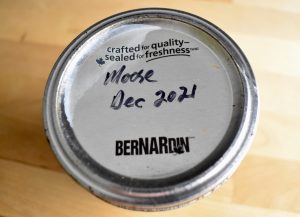 Many hunters, homesteaders, anglers, and farmers end up pressure canning their meat or fish instead of freezing it. 
This often happens when you get a lot of meat at once and can't fit it all into the freezer. By pressure canning the meat, you're able to store it on the shelf for several years (never can meat or fish with the traditional water bath method, only use a pressure canner!).
When pressure canned, meat becomes super soft and the liquid in the jar becomes a concentrated stock. It's like it's been braised for a very long time. 
I used that to my advantage in this dish (the jar of moose was given to me by a friend), simply dumping the jars into a gravy rather than slow cooking moose for 6 hours. 
If you prepared the fries the night before (by soaking) or used frozen french fries for this dish, it could be ready in under half an hour! 
That's one of the many benefits of canned meat: meals utilizing it can be fast and easy. 
This Quebecois classic becomes a wild, meaty treat with the addition of canned moose or venison. It's so good, you'll have a hard time going back to the original! 
You'll probably end up with some leftover gravy. It goes great on toast, rice, mashed potatoes, or noodles the next day!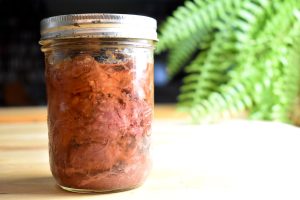 Prep Time

2 hr

Cook Time

15 min

Total Time

2 hr 15 min

Yield

1 large poutine for 2
Ingredients
2 lbs (1kg) Russet or Yukon Gold potatoes
3 tablespoons (45ml) butter
1/4 cup (34g) flour
1 tablespoon (15ml) tomato paste
1 pint (500ml) jar of canned moose, venison, or beef
1/4 teaspoon (1g) dried thyme leaves
1/2 teaspoon (1g) garlic powder
1 teaspoon (5ml) Worcestershire sauce
Black pepper
1 pint (500ml) good quality game or chicken stock
Vegetable oil or lard
1-2 cups (200-400g) white cheese curds, room temperature
1 tablespoon chopped fresh parsley (optional)
Preparation
1
Take the cheese curds out of the fridge and leave on the counter to come to room temperature. 
2
Cut the potatoes into French fries, whatever thickness you prefer. Try not to go too thick, or they may burn before cooking through to the middle. I like to emulate the size of chip truck fries. 
As you cut them, immediately throw them into a big bowl of cold water. 
Once finished adding potatoes, drain the starchy water and refill it again. 
Let the potatoes soak for at least one hour (more is better, even overnight). 
Soaking the potatoes reduces starch content, which makes for crispier fries. 
3
Meanwhile, melt the butter in a large saucepan over medium heat.
Add the flour and whisk it in, forming a paste. Cook, continuing to stir, for about 3 minutes.
Add the tomato paste and cook for another 1 minute. 
Add the jar of meat, along with any liquid in it and use a fork to break down the meat chunks. 
Add the thyme, garlic powder, Worcestershire, lots of black pepper, and the stock. 
Stir everything together, reduce heat to low, and cook for 10 minutes. 
This can be made in advance and re-heated. 
4
Heat several inches of oil in a deep pot or skillet to 325°F. Leave lots of space for the oil to expand. 
Dump out the water from the bowl of potatoes and lay them onto towels or paper towels. Lay more towels on top and rough them up with your hands to dry the fries (wet potatoes will cause the oil to bubble and spit dangerously). 
5
Once mostly dry, you can add the fries to the oil. Do this in several batches. 
Cook the fries in the oil for about 5 minutes, or until very lightly golden and soft. 
6
Transfer over to more paper towels to drain. Repeat. 
Once you've cooked all of the batches, increase the oil's heat to 425°F. 
7
Working in batches again, fry the potatoes until nice and golden brown, about 3-5 minutes, depending on the thickness of your fries. 
Season with salt or seasoned salt as they come out of the fryer.
8
I like to chop my cheese curds smaller to facilitate melting, but that's up to you. 
Put 1/2 of the fries in whatever serving container you're using. 
Sprinkle 1/4 of the cheese curds over them. 
Add the other 1/2 of the fries on top. 
Sprinkle the rest of the cheese curds over. 
9
Smother the fries and cheese curds with the meaty gravy, making sure some goes into the nooks and crannies. 
Sprinkle with fresh parsley (optional) and serve immediately. Enjoy!