Country Fried Goose Gizzards with Sausage Gravy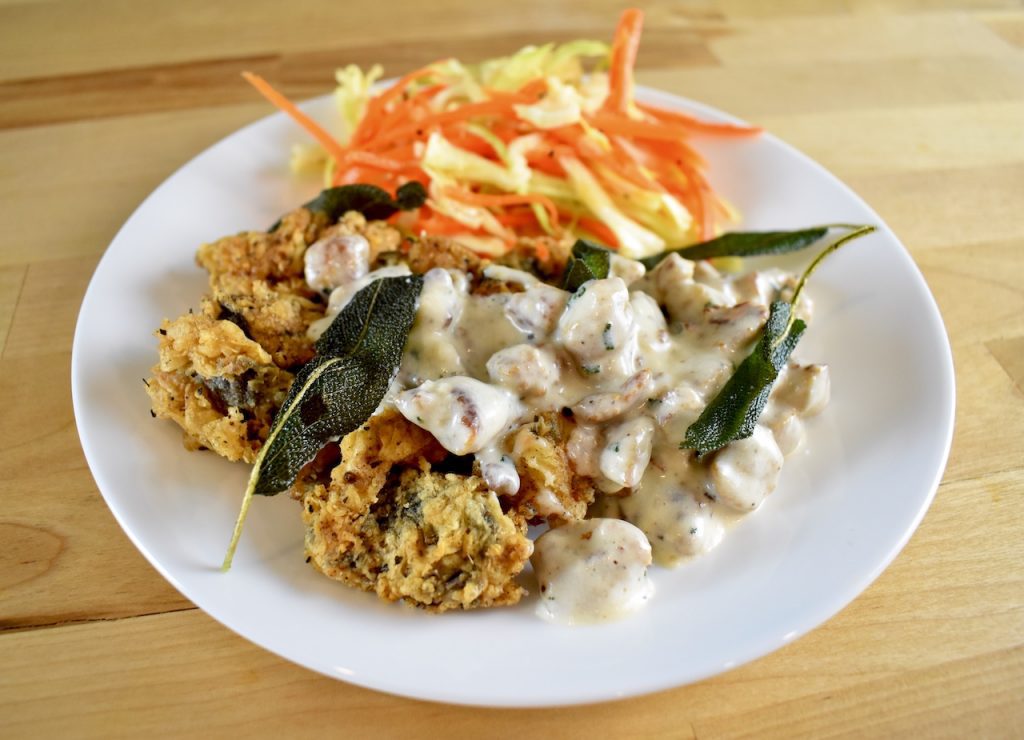 This is an absolutely delicious way to enjoy those goose gizzards you brought back from the hunt. Simmering them for 3 hours (or overnight in the crockpot) will result in tender meat that bears no resemblance to the chewy gizzards you may have tried in the past. Frying them until crispy and smothering them in sausage gravy only makes them better. I served them with a vinegary coleslaw laced with horseradish to cut through all of that savoury richness, but you could do something like mashed potatoes instead. After trying this recipe, you'll not only be sure to bring every gizzard home with you from now on, you'll be begging your friends for theirs too!
Check out this instructional video to learn how to properly clean and trim the gizzards: https://www.youtube.com/
Prep Time

15 min

Cook Time

4 hr

Total Time

4 hr 15 min

Yield

2 servings, can be doubled for more
Ingredients
For the Gizzards
1/2lb (225g) goose gizzards, cleaned and trimmed (duck and chicken gizzards work too, see step 1)
Kosher Salt
12 sage leaves
1 egg
1 cup (135g) flour
1 tablespoon (7g) your favourite spice blend or run (ex. BBQ, Cajun, Italian, etc.)
Black pepper
Vegetable oil for frying
For the Sausage Gravy
5oz (150g) breakfast sausage (about 4 links)
1 tablespoon (15g) flour
3/4 cup (180ml) half and half cream or whole milk
Black pepper
For the Coleslaw
1/4 head green cabbage, shredded
1 large carrot, peeled and shredded
2 tablespoons (30ml) white vinegar
1 tablespoon (12g) white sugar
1 tablespoon (15ml) vegetable oil
1 teaspoon (5ml) prepared horseradish
Salt and pepper
Preparation
1
Put gizzards in a large pot and cover with water. Add a pinch of salt and bring to a boil. Lower to a simmer and cook for 3-4 hours, or until fork tender. Duck and chicken gizzards won't need as much time to soften as the larger goose ones. You may need to top up the water while it cooks.
Alternatively, you could put the gizzards in a crock pot with water to cook on low overnight.
2
Remove the gizzards from the water to cool. Reserve ½ cup of the liquid. Cut the gizzards into ½" (1cm) slices.
3
Make the coleslaw by mixing the vinegar, sugar, vegetable oil, and horseradish in the bottom of a large bowl. Toss in the cabbage and carrot and a small pinch of salt, then season generously with black pepper. Set aside.
4
Crack the egg into a bowl and beat it. Add the flour and seasoning into another bowl and give it a mix.
5
Fill a cast iron skillet or frying pan with a ½" of vegetable oil. Let it slowly heat up while you make the sausage gravy. You'll want it to be at 350°F.
6
To make the gravy, add a touch of oil to a skillet. Crumble in the sausage and cook over medium high heat until crispy. Chop 5 of the sage leaves finely and throw them in.
7
Move the sausage to one side of the pan, then tilt it. Mop up the majority of the grease with a paper towel held with tongs, and discard. Add the tablespoon of flour and cook for 1 minute. Add the cream, half of the reserved broth, and some black pepper. Lower the heat and cook until the gravy thickens. Leave it on the lowest heat possible while you fry the gizzards.
8
Before frying the gizzards, drop the other 10 sage leaves into the hot oil and fry for 1 minute. Remove them and let drain on a paper towel.
9
Drop the sliced gizzards into the egg wash mixture and toss so that they're all coated. Now pluck them out and toss them all in the flour mixture. Add half of the slices to the hot oil. Fry for 2 minutes per side. Remove onto a paper towel, then fry up the other half of the slices.
10
If the sausage gravy has gotten too thick at this point, stir in another splash of broth to loosen it up.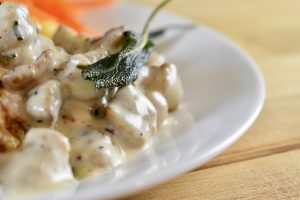 11
To serve, split the gizzards and coleslaw in between two plates. Pour the sausage gravy over the gizzards and garnish with the fried sage leaves. Enjoy!