Crispy Fried Whole Panfish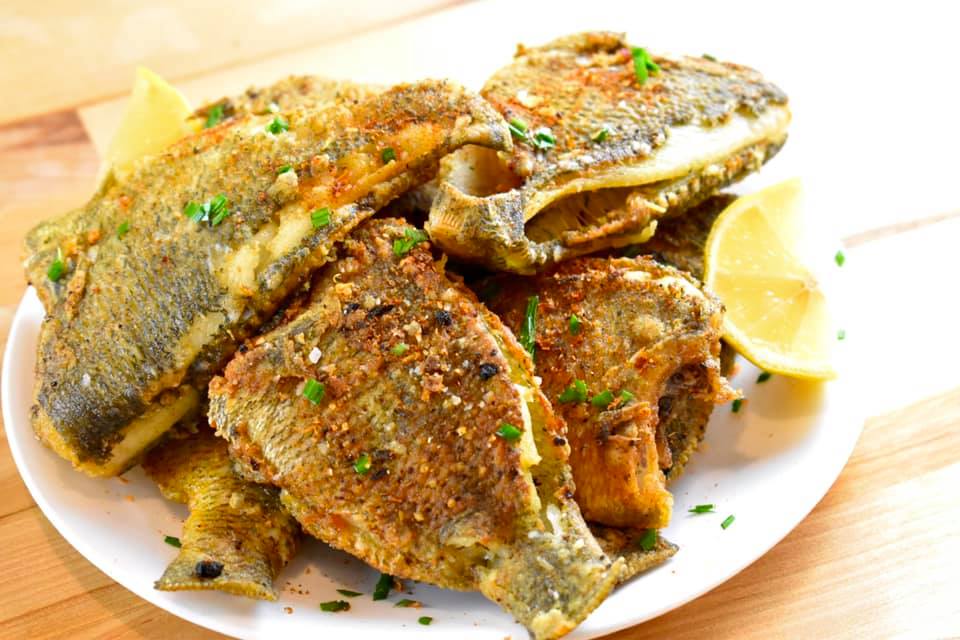 This dish is all about getting messy and gluttonously eating with your hands. Limits on panfish are usually quite high, so if you can catch yourself a pile of them, and don't mind some prep work, you can have your own little fish fry! Bluegills and Rock Bass were what I used, but Perch, Sunfish, Crappie, or any other small fish would work just fine. I used Cajun spice to season them, but feel free to use any spice blend; Berbere, za'atar, curry, jerk, ras el hanout, or your own personal blend would all be great!
Prep Time

45 min

Cook Time

15 min

Total Time

1 hr

Ready in

1 hour

Serving Size

2-4 fish each
Ingredients
2-4 panfish per person
2 cups all-purpose flour
1.5 + 0.5 tablespoons Cajun spice blend
Vegetable oil
Lemon wedges, snipped chives, and Louisiana style hot sauce to serve
Preparation
Prep the fish
1
Once the fish are humanely dispatched, use a scaler to remove all of their scales. 
Use a fillet knife to remove their heads, trying to leave as much meat as possible. 
Make an incision down the belly and remove any guts and/or gills that remain. 
Using good scissors, snip off tail fin, and all other fins (watch out, they're pointy!)
Cook the fish
2
In a deep frying pan or Dutch oven, pour in 1 inch (2.5 cm) of vegetable oil.
Heat up on medium-high.
3
Meanwhile, pour flour onto a plate, bowl, or baking dish and mix in 1.5 tablespoons of the Cajun spice. 
4
Dip the fish into the flour mixture so it becomes fully coated. If you are having trouble with the flour lightly adhering to the fish, you can dampen it with water first.
Once both sides are fully coated, gently lay down into the frying pan. 
5
Cooking no more than 3 at a time, cook for 5 minutes per side, reducing heat if things are getting too smoky or dark. 
Move cooked fish to paper towels to drain and start the next batch.
6
Keeping going until all of the fish are cooked. Pile onto a platter and sprinkle over the remaining Cajun spice and chives if using. 
Serve with lemon wedges, a bottle of hot sauce and a big roll of paper towels. Have fun and eat them with your hands; just watch out for bones!