Eating our way through NYC – Manhattan and Brooklyn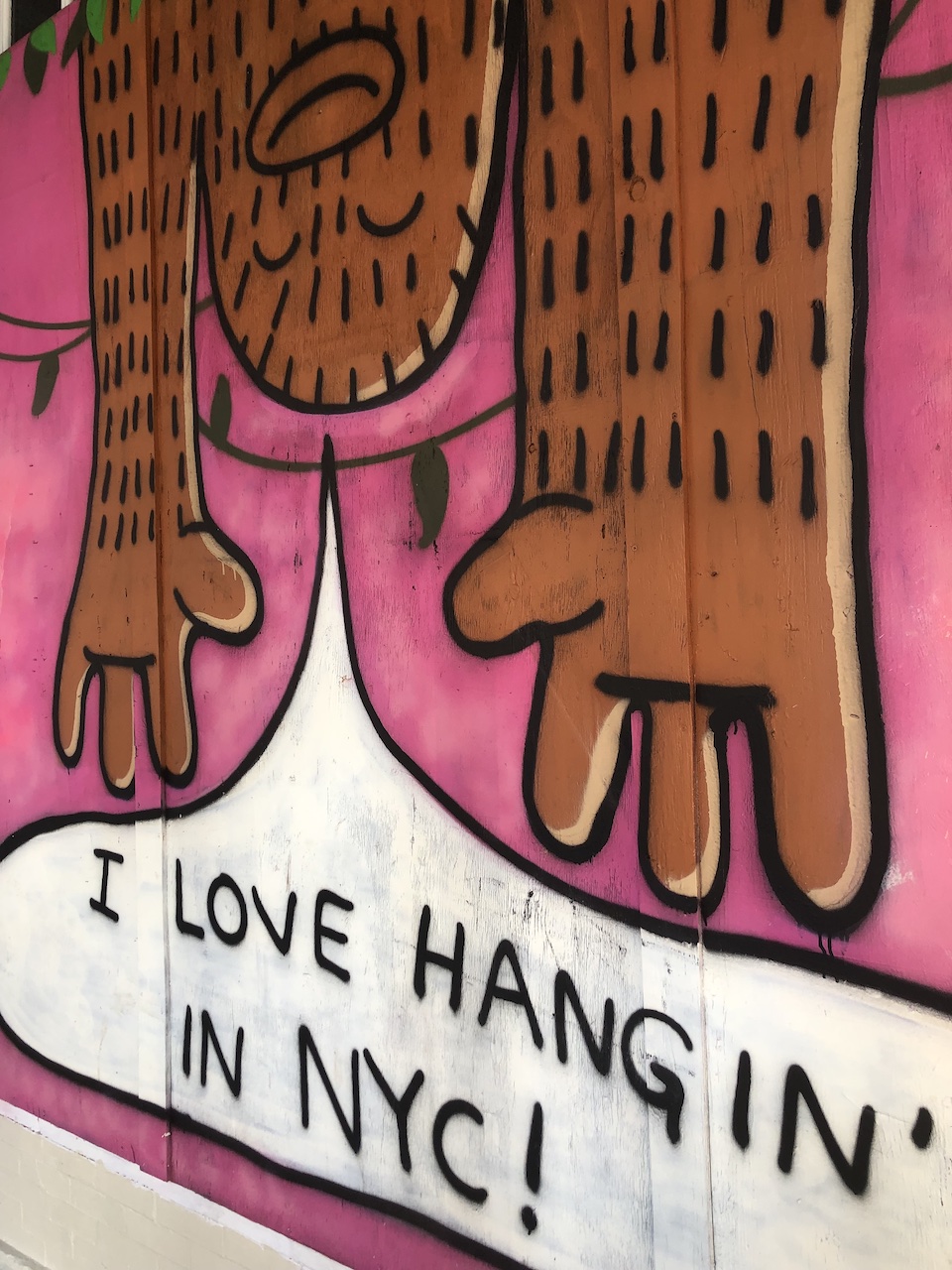 "New York is not a city – it's a world." — Iman
New York is a city we've already visited several times, but it's such a huge place, you could keep going back your entire life and never exhaust its endless opportunities for fun and adventure! 
This time we visited Manhattan and Brooklyn and made the most out of week spent there. 
Scroll to the bottom for links to where we visited.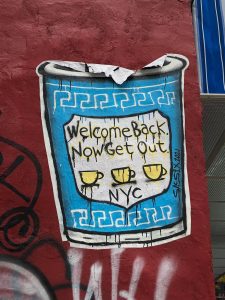 Well, it finally happened… we got in our car, left our home, and went on a trip!
We had some business to take care of in New York City, and now that the land border had opened up, we thought we'd drive in and spend a week in Manhattan and Brooklyn, our first real trip in 2 years (due to covid restrictions).
After a long drive, made all the longer by detours due to several accidents (Ahh! First snow of the year, what do I do???!!! Smash.) and Thanksgiving homecomers crowding the Holland tunnel, we finally rolled in around 5pm.
Quickly checking in, we then headed out for some much-needed food and drinks (that morning bagel and coffee only sustains you for so long!).
We strolled up to the East Village and decided to do some restaurant and bar hopping, in order to knock a few places off of our extensive to-try list.
We started at Bar Goto, a kind of swanky, dimly lit Japanese bar where we had cocktails and shared some incredible miso chicken wings. The expertly crafted cocktails were pretty pricy, but perfectly balanced (one with yuzu and the other rimmed with dashi salt, so cool), and the double-fried wings were massively crunchy umami bombs.
After arriving at some boarded up, or closed for the day spots (come on Google maps!), we made it to Hunan Slurp, a regional Chinese joint selling spicy Hunanese dishes. They were unfortunately missing all of the items on their menu that brought us there, but we still shared a super spicy pork stomach and chili dish, which was really tasty.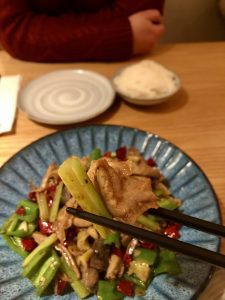 Beginning to feel a little full, we decided to push our luck and stop in at one more restaurant, Som Tum Der, an Isan Thai place. There we had martinis, mine with lemongrass and toasted rice powder, and four small sharing plates (a Thai sausage platter, pork larb, papaya salad, and Isan fried chicken) that left us way too stuffed. Everything was super tasty though.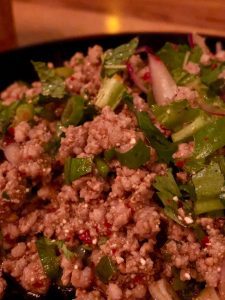 To ease our over-stuffed stomachs, we rolled over to Amor y Amago, a sleek Italian bar specializing in bitters. After a pair of stomach-soothing bitter digestifs, we moved onto d.b.a., a local watering hole that was in the midst of a fun trivia night.
We had a couple drinks (including a pickle back, don't ask me why I ordered that), played some Mario Cart, and destroyed a round of trivia (though we didn't have a sheet to fill out, so no prizes
), then walked back to the hotel via the Lower East Side, where we planned to have a nightcap at the lobby bar, but instead, found ourselves flopping into bed, exhausted.
I'd say the first night in Manhattan was a success!
After getting some work done in the morning, I set off on day two of our trip, solo for the time being.
Deciding to skip breakfast (in order to minimize at least a little of my caloric intake for the day), I set out on foot, edging around the financial district then wending my way through bustling Chinatown and the tourist traps of Little Italy.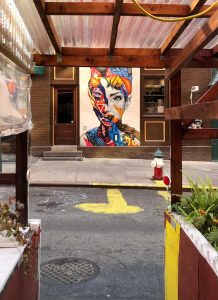 Having heard there was a big Christmas market in Union Square, I vaguely headed in that direction, letting whatever looked interesting decide my course.
When I finally got there, I was a little disappointed in what was available, but then noticed a farmer's market on the other side of the park. Never able to resist a good farmer's market, I scooted over and pored over the beautiful fruits and vegetables, masochistically denying myself the purchase of them since I had nowhere to cook. Tough stuff.
I did find an apple farmer with a bunch of apples I'd never even heard of, which excited me to no end. I picked up a winesap apple and ate it on the spot. It may have just possibly been the best damn apple I've ever eaten!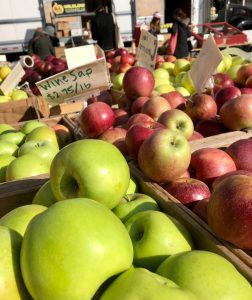 From Union Square, I headed over to Rose Hill for some lunch at a Pakistani joint called Haandi, a hot spot for NYC cab drivers. Totally bare bones, it was really a blue collar place, with tasty and hearty food. I had some lamb curry, chicken and egg kofta, daal, rice, and some beautiful naan bread to scoop it all up.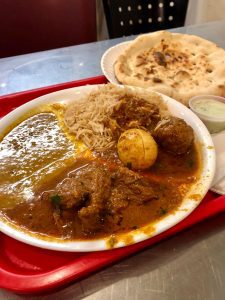 After lunch, I walked back towards Chinatown with a plan to visit the Tenement museum; weaving my way back and forth down 1st, 2nd, and 3rd avenues. Once I arrived though, there was no space left on any of the tours. "Well," I thought to myself, "Maybe I'll just go grab a drink and rest my feet for a minute."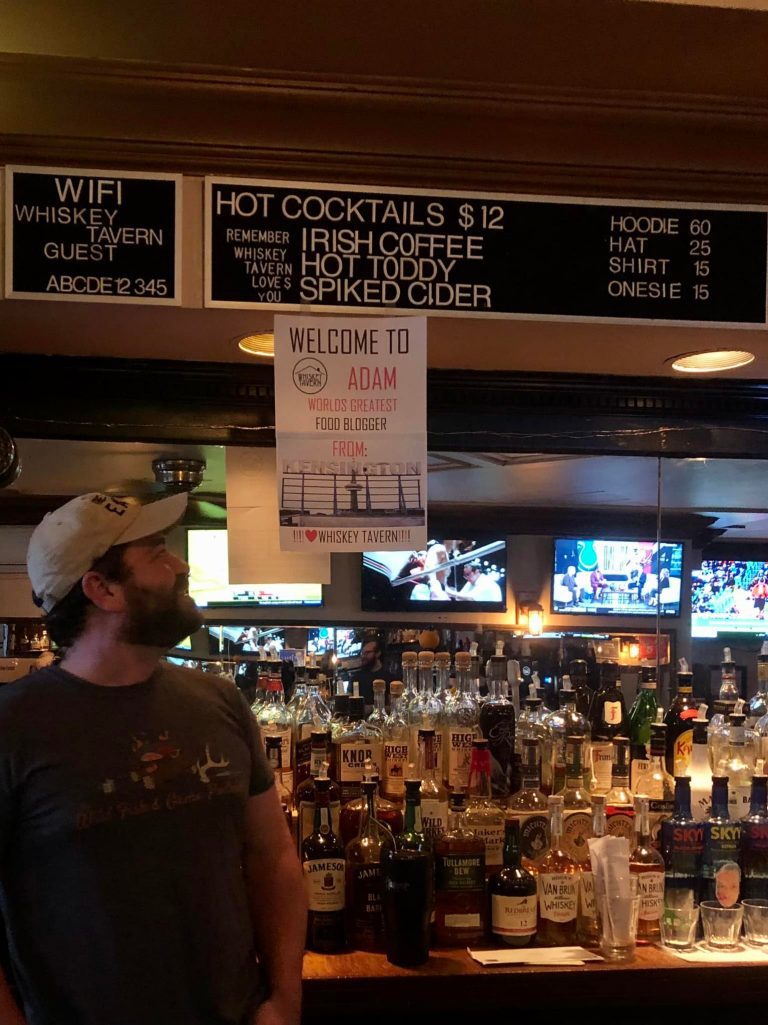 4 hours later I stumbled out of the Whiskey Tavern in Chinatown, on my way to meet Kathy for dinner, with hazy recollections of delicious whiskey cocktails, several more pickle backs (why?!), a group of new friends, a world's best food blogger certificate hanging from the bar, and Colin, the best bartender I've ever encountered. Oops.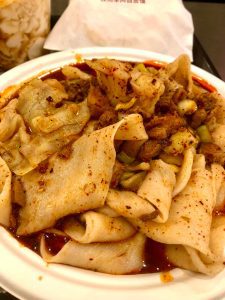 Dinner was at Xi'an Famous Foods, a Sichuan fast food spot where we got hand torn noodles with lamb, pork dumplings, braised tofu, and rou jia mo, the Chinese hamburger, as well as a slice of pizza at Joe's, scarfed on the way to FBPC Comedy Cellar. I'm honestly surprised I had the wherewithal to even take pictures of any of it at that point!
Luckily dinner sobered me up enough to get through the comedy show (no cameras allowed), which was actually a lot of fun, breaking the 100% streak of horribly unfunny comedy acts I'd seen live up to this point in my life.
After that it was bedtime, which, after 20km of walking and a mid-day unplanned bout of drinking, I sorely needed!
Waking up with the effects of the last night still sticking with me a bit, I hung out for a while to relax and get some work done before heading back out into the wilderness of Manhattan.
Once ready, I set out walking, aiming to try a different route and pass under the Brooklyn bridge rather than go around it. I immediately took a wrong turn and found myself walking in a new neighbourhood, but I just let it happen.
I ended up in Seaport, where I wandered the empty streets for a while, marvelling at the cool old buildings and infrastructure behind the nearly offensive gentrification that's obviously taken place there. Yuck.
I eventually made it past the bridge, then spent a few hours haunting my way through Chinatown. I've been to Chinatown several times, but this time I walked up and down pretty much every street, soaking up the hustle and bustle, reading menus, and enjoying the unique beauty of every individual building. I wish they'd build things like that again. Also, Chinatown is way bigger than I ever realized!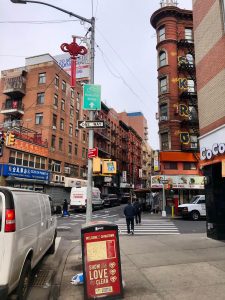 From there, I went to Essex Market on the suggestion of one of my readers to grab a chili bomb from Shopsins (I had no idea what it was, but I liked the sound of it!) but the damn place was the only closed booth in the market. I still grabbed a few little snacks there including some Japanese pickles, a Dominican chimi empanada, and a spicy and half-sour pickle from the Pickle Guys, which I ate while walking down the street like a weirdo.
I had plans to eat lunch at Gaia, a homey little Italian restaurant that looked like it was the polar opposite of the Little Italy tourist trap trash I'd unfortunately had on a previous visit, but the door was locked when I pulled on it. The owner came out to ask what I wanted and told me they were moving shop, and so weren't serving food.
Taking pity on my crestfallen face, the wonderful woman said, "But wait! I have a gift for you." She then proceeded to go into the back and came back out with a jar of homemade pasta sauce, which she gave me for free. So sweet.
Deciding to give my feet a break, I responsibly chose a stuffy old coffee shop (the Black Cat, which was actually lovely) rather than a fun raucous bar. I came out much less stumbly.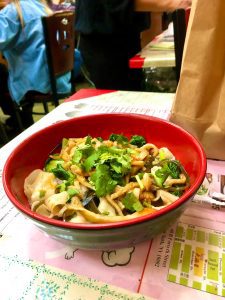 I dove back into Chinatown in search of some lunch and ended up at Spicy Village (formerly Henan Village) and had to convince several of the ladies there to give me a bowl of lamb tripe over Henanese hand-torn noodles.
Yes, I know it's stomach, yes I still want it!
They all surreptitiously watched me eat it, then were so proud of me when I told them it was amazing. Very cute.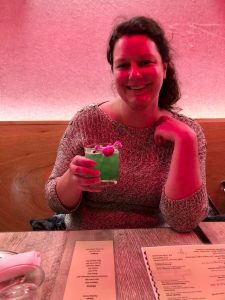 It was time for a little nap after all my adventures, then afterwards I met up with Kathy and we headed to Tsismis, a Filipino restaurant and bar in the Lower East Side for supper. The server Timi was the most friendly and effusive server we may have ever had and made us feel very warmly welcomed.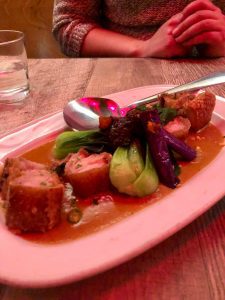 We had the isaw (grilled pork intestine), a stir fried pig ear dish with calamansi mayo, cheesy garlic mussels, beef and marrow salpicao, kare kare with pork belly lechon, and awesome Filipino themed cocktails with ingredients like pandan and ube.
What a dinner! Definitely our best one of the trip. I haven't gotten to explore much Filipino food, but with so many delicious offal dishes on offer, I'm kicking myself for not getting into it sooner.
To end off the night, we strolled over to Fool's Gold, which we'd been to before, but went back for their amazing rotating beer list. Kathy had the Hudson Valley Brewing Confetti sour IPA and said it was the best beer she's ever (EVER!) had. I sadly stuck to other drinks because beer hates me, even though I love it.
Another full day, and another 20+km walked and I was definitely ready for bed. So ends day 3!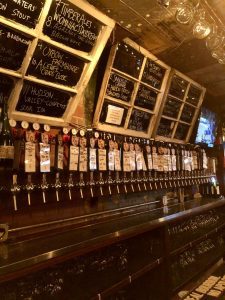 Not wanting to break my routine, I got a little bit of work done once again (the newsletter's going to be a little late this month!) and set out for a long walk.
I thought this time around, I'd head up to Midtown for a change of scenery. I considered taking the subway, but figured I'd just start walking first and see how it went.
I started out in the Financial District and began walking north, my route being dictated by red lights and crowds (both of which I tried to avoid).
I eventually noticed that I was beside Eataly, a fancy Italian market that I'd been hearing about, so I ducked in to take a peak. I'm almost glad I was in no position to bring something home to cook, or else I could have easily been convinced to spend all of my money on beautiful, overpriced Italian ingredients. I did however buy an expensive slice of fancy pizza for breakfast(!), topped with prosciutto cotto (cooked ham) and stracciatella, a special hand-pulled buffalo mozzarella. Pretty damn tasty!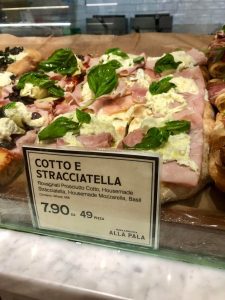 From there, I continued my march, edging my way around Times Square and working through crowds of cops setting up barriers. It wasn't until later on at night when I caught it on a TV out of the corner of my eye that they were lighting the big Christmas tree at the Rockefeller Center. People were gathering for it 6-7 hours beforehand! I'll never understand it
.
I kept wandering north, checking out interesting spots like Korea Town, grabbing a cornflake marshmallow chocolate chip cookie at Milk Bar, watching the skating in Bryant Park, and finally arrived at my destination, a place I'd set my sights on for lunch. Usually when I'm uptown for lunch I'll always hit up the Halal Guys, a series of street carts serving incredible chicken and rice platters. This time around though, I'd read of another cart called Kwik Meal that apparently had even better food.
I ordered the chicken platter for $8 and was given a massive clamshell full of seasoned chicken, rice, salad, and several sauces, including white sauce, hot sauce, and a spicy jalapeño sauce. I also discovered the owner/operator had lived in Toronto for a while after chatting him up a bit.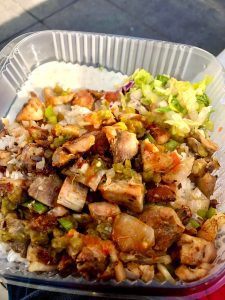 The chicken was delicious; redolent of coriander seed and the perfect level of spicy from the addictive jalapeño sauce. I'm not sure if it was better than Halal Guys, but it was amazing all the same. I can see myself alternating back and forth every time I'm able to visit!
Needing a break from the hustle and bustle (and from my mask), I slipped into Central Park, where I went and found a seat on a rock and rested my feet. The abrupt cessation of New York's clamouring din was incredibly soothing and I could see myself seeking out the park often if I were a resident. I let the sounds of a sad violin, the clop clop of horses, the wind through the trees, and quiet conversation wash over me as I relaxed for a few minutes.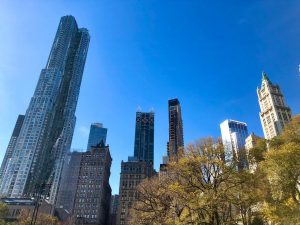 Not wanting to stiffen up, I got up and continued my walk, making my way through the twisting paths past the American Museum of Natural History and out into the Upper West Side. I thought I'd walk back south via the west side, so I headed down through Hell's Kitchen and into the Garment District.
My walk suddenly became difficult, as I needed to make my way, Matrix-like, through the ubiquitous stumblebums, gawkers, and June bugs that can always be found there. Not my favourite section of town if I'm honest.
I kept walking and walking, through Chelsea, through Greenwich Village, down through Soho and Tribeca, past the World Trade Center site and finally to the hotel. Such a huge city with so much to see!
Meeting up with Kathy, I got to meet a bunch of her colleagues over drinks, then we headed over to the Slipper Room for a variety and burlesque show called Glitter Gutter, which was fantastic – funny and weird and charming and racy, all at once.
We somehow managed to miss supper during all of that, but my huge lunch (mostly) kept me going through all of the drinks.
What a day, nearly 30km (that's 18 miles for you Americans) of walking and more delicious food. Next stop, Brooklyn!
Day 5 was more of a transition day, one where I took the opportunity to rest while we slowly moved operations from Manhattan to Brooklyn.
We started the day by sleeping in a bit, trying to shake off the last night's festivities. Eventually needing some breakfast, I got up and went to a Zucker's Bagels around the corner and picked up a bagel with cream cheese and lox and some sort of breakfast bagel (I ordered everything bagels, but the louts gave me plain!), which we ate in bed like fancy people. The bagels were very pricey and only okay. There are much better bagel places in town, but my hangover kept me away from them.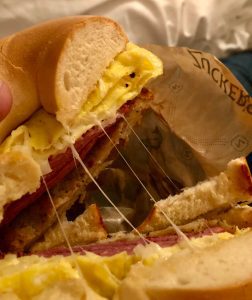 I got up and took a stroll around Wall Street, rubbing elbows with a-holes in expensive suits. I don't know if it was the night of drinking, the lack of everything spice on the bagels, or the overheard phone conversations on Wall Street, but I hurried back to the hotel and lost my breakfast.
Feeling much better, we went and got a covid test (mandatory to recross the border), got a little more rest, then got in the car and drove across the bridge into Brooklyn and over to Bushwick where we had an Airbnb booked.
Setting up shop in a lovely shared apartment with exposed red brick, we got to thinking about supper. We wandered down the street and stopped in at a place called While in Kathmandu, a fun Nepalese restaurant with decor made to look like a mountain shack.
Feeling pretty hungry, we ordered a bunch of their appetizers, which were all really tasty. We got pork momos (delicious dumplings in a rich sauce), fries dusted in masala spice with curried mayo, choila roti, spicy masala chicken wings, chatpat (puffed rice in a tasty sauce, like Indian chaat), choila duck (pieces of braised and sautéed duck in an intense blend of pickled chilies and spices), and a chiya tea and mango lassi to wash it down. All very unique and delicious. The duck choila was a riot of flavours and the fries were incredible.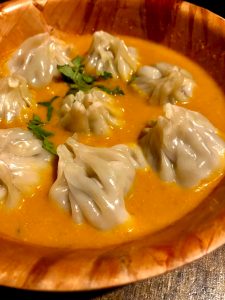 While eating supper, we discovered that one of our favourite new bands, Petey, was playing in town, but the show was sold out.
Kathy was still able to procure some tickets though, so we excitedly made our way to Baby's All Right in Williamsburg, about an hour's walk.
We were still a little early, so we grabbed a latte (we definitely needed a pick-me-up) and a couple digestifs at Marlow and Sons. The staff there treated us very well and suggested some fun new drinks to try. 
We then made our way into the club to see our first live show in two years (an unspeakably atrocious long time for us) and made our way to the stage. The first act, Sitcom, was… interesting. Petey then came on and blew us away, what an incredible show!
Seeing live music again felt so special; I didn't realize just how much I missed it.
We Ubered home to save our feet and to go straight to bed. We had planned for an easy, early night, but were out again until 2am! I did a much more modest 15km of walking (I get obsessed about how many kilometres I walk when I'm travelling for some reason, so thanks for keeping track with me) but after standing for the show, my dogs were barking!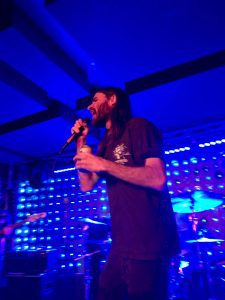 Waking up after a comfortable but looooud sleep (shut up Brooklyn, why don't ya?) in our Bushwick Airbnb, we decided to start the day at Brooklyn Barista down the street.
Grabbing a coffee, we also split another bagel with lox (this time an everything bagel, dammit) which was super tasty, much better than our last ones. We happened to have Montreal style bagels brought over by our friends just before we left Canada, and I still can't decide which I like better!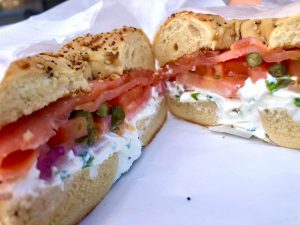 After chilling out for a bit and moving our car to obey parking signs (I assumed our car will still be there the next day?
) we walked to the subway, stared at the map for 5 minutes until we were sure we were getting on the right one, then proceeded to get on the wrong one.
Luckily it took us quite close to where we were going anyways, a Japanese restaurant called Okonomi, so we walked the rest of the way.
They were unfortunately only doing takeout, so we got what we came for, a home-style Japanese breakfast with Spanish mackerel, whole grain rice, burdock, vegetables, and pickles, and ate it on a bench on the street.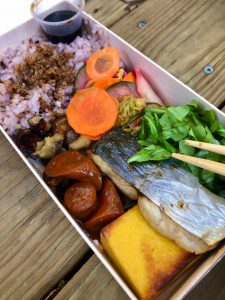 All filled up with a double breakfast, we walked out to the river in Williamsburg to get a good look at Manhattan's skyline, then followed the water to Greenpoint, where we wandered around for a while, getting a sense of the neighbourhood.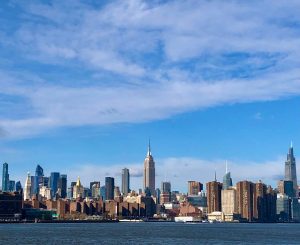 We eventually stopped in at a lovely bar called
Torst
, where Kathy had some more of her favourite Hudson Valley beers, and I had some delicious Slovenian skin contact fermented wine. I ordered some olives to snack on, which Kathy tried and really liked, finally putting aside her dislike of olives! I guess I'll have to share them now
.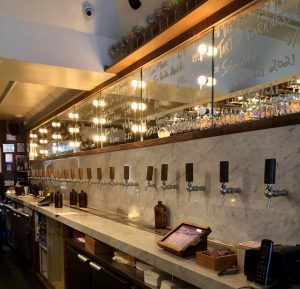 From Torst, we walked to FourFiveSix, a funky bar full of cool art, where we chilled out for a while with an espresso cocktail (smart!), listening to vibey 90's indie music and enjoying the atmosphere.
Suddenly finding myself ferociously starving, we stopped in at a bodega and grabbed a chopped cheese on a roll to share, eaten messily on the street. I'd been hearing about these sandwiches, and although ours didn't come from Harlem, it was super tasty.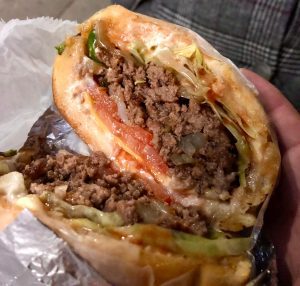 One last cocktail at the New York Distillery Co. (honestly, once you've been to one of these places, you've been to them all) where we had an interesting conversation with the bartender about opening a bar in Kathmandu, then it was time for supper.
Not really needing it after that chopped cheese, we went for it anyways, stopping in at the chaotically busy and tight spot Noods n' Chill for Thai food.
I'm glad we did, because the meal was incredible, topped only by the Filipino meal we had the other night. We ordered fried tofu, crab fried rice, and a jumbo shrimp soup and jammed ourselves into a corner to eat it, letting the chaos wash over us.
The fried rice was probably the best I've ever had, and the soup, full of rice noodles, fish balls, ground pork, sliced pork, cilantro, and massive head-on shrimp, was delicious and spicy as all hell.
With way-too-full bellies, we took the subway home (the right one this time), and I crashed into bed, passing out at the obscenely late time of 9:30pm. I guess I must have been a little tired after all of this eating and drinking and walking!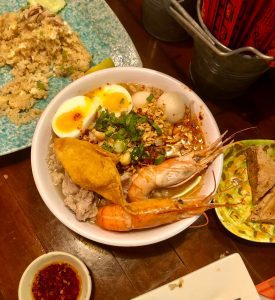 For our last full day in NYC, we decided to spend the entire day in Bushwick, where we were staying.
Bushwick is known for its incredible street art, which is mostly in one area called the Bushwick Collective, so after a coffee at Fien's we walked right over to take a look.
We both love impressive street art, and the Bushwick Collective didn't disappoint. I have about 100 pictures I wish I could share!
After walking up and down the streets covered in cool art, we stopped in at the Nook to grab a tea. Although the interior looked warm and cozy, we took our drinks to the dog park across the street instead, watching the canine antics and living vicariously through the dog owners for a bit. I'll save you the play-by-play of every cute dog encounter, but let's just say it was fantastic.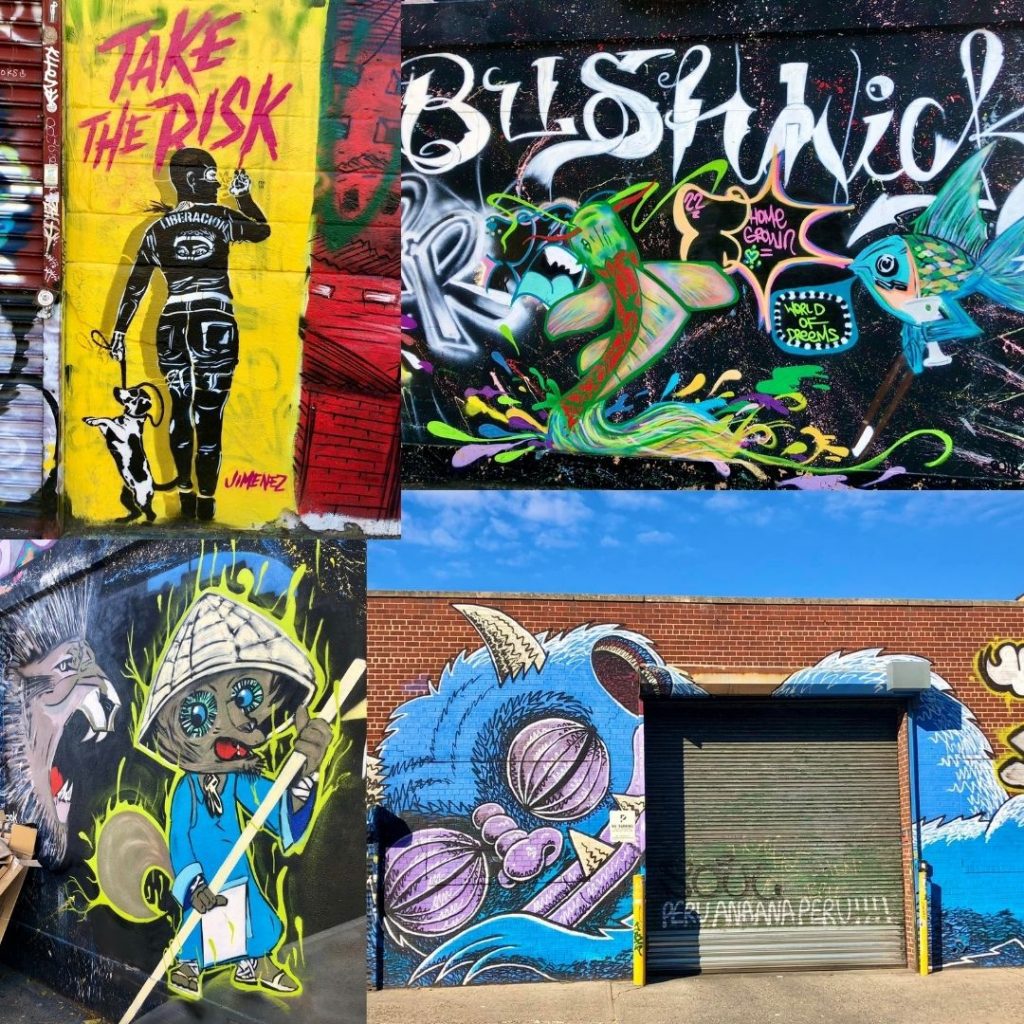 From there we headed to Bunna for an Ethiopian lunch, but they were only serving brunch (I wanted something in particular from the menu), so we left and went to Bunker for Vietnamese lunch. They were closed (the info on Google Maps was wrong for nearly EVERY restaurant on this trip), so we chose a place at random on the map and decided to go for a lunch at a Korean chain.
When we walked in there was no body else and the place felt dead and uncomfortable, so we about-faced in the doorway and found a Venezuelan place for lunch.
Winner
!!!
We ended up at Gua-cu-co, a lively spot with incredible arepas. We had a pork and avocado arepa, a pulled beef, plantain, and black bean arepa, and a plate of sweet plantains with aged cheese. Yum!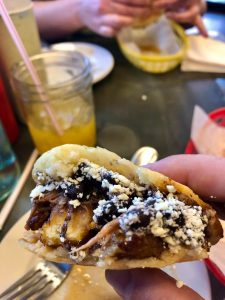 I'd heard of a vintage shop called L-Train that was popular in the area, so we dropped in and found some very reasonably priced vintage clothes (when in Rome), which proved to be the extent of our shopping for the trip.
From there we thought we'd better grab a drink, so we tried out KCBC, a popular local brewery. Kathy got a flight and I got a hot toddy (which seem to be popular in New York right now, which means we'll probably see them in Canada next year) and we sat at a super uncomfortable barrel table thing, which I'm sure seemed like a really cool idea. Everything was honestly just ok, but the staff was very friendly.
We moved from there to The Sampler for another beer/cocktail. I absolutely loved this place; awesome vibe, great drinks, talkative and friendly bartender, great music. I think I'm over the big brewery scene to be honest. I just want a cool bar where I feel cozy and welcome.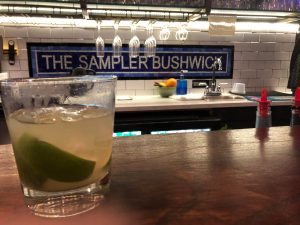 Time for dinner, so we headed back to Bunna for Ethiopian and got their special, which was a little bit of each of their assorted salads and stews on injera bread.
It was a vegetarian restaurant, but everything was so incredible, I definitely didn't miss the meat. We got our first dessert of the week, some Ethiopian baklava and I brought home their berbere spice.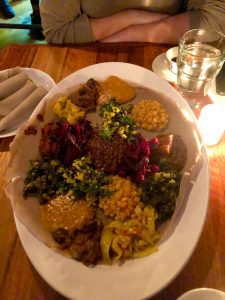 We closed out our last night with a fancy flamingo drink at the Dromedary Tiki Bar, then with drinks and games at the Boobie Trap, an excellent dive bar full of eclectic things to look at (like a wall of cut off man buns, traded in for a whole bottle of booze).
With a long drive home scheduled for the morning (and with negative covid tests to show at the border, yay!) we headed back to the apartment for a last half-decent sleep.
Waking up in the morning, we figured we go out and grab one last breakfast, so we hit up the nearby Rico Pollo, a Dominican restaurant, where I got pernil mafongo (shredded roast pork mashed into plantains with a delicious gravy) and Kathy got a Cubano sandwich that was so large, we ate it twice more that day.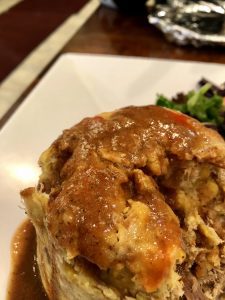 So ends our lovely trip to New York, a city I could easily keep visiting for the rest of my life. Here's to many more!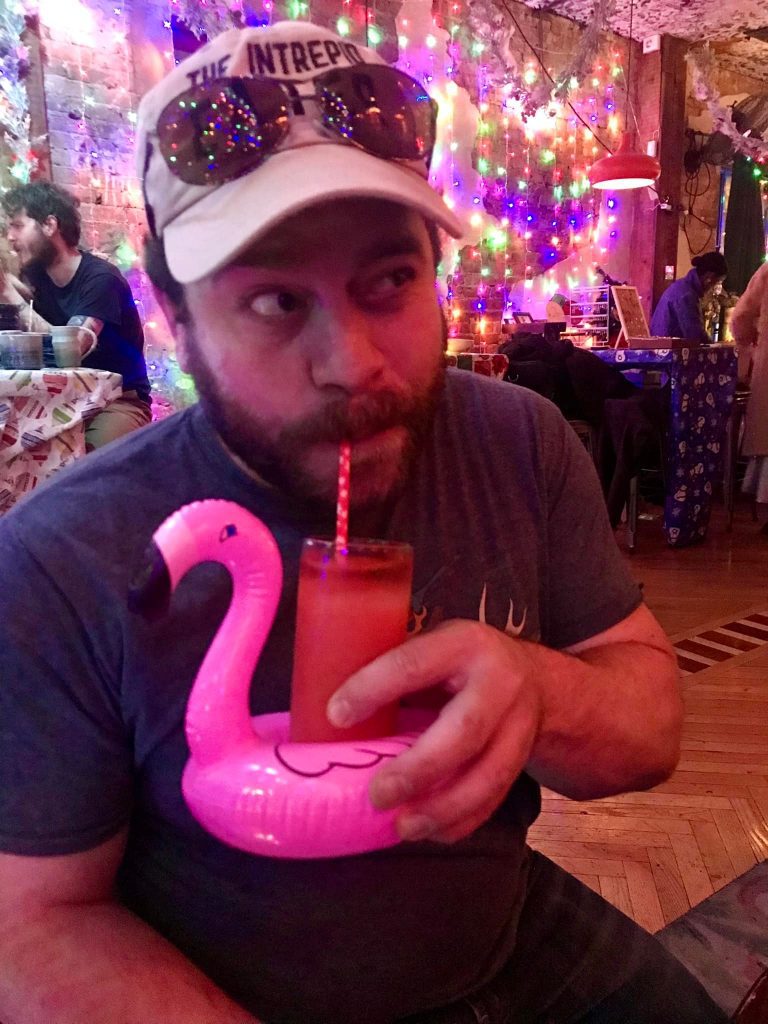 Bars and Restaurants Mentioned
Bar GOTO – Japanese izakaya style bar, with cocktails and Japanese bar food. Try the miso wings $ – 245 Eldridge St, New York
Hunan Slurp -Upscale Hunan Chinese eatery with lots of spicy offal. Apps $5-15, Entrees $15-20 -112 1st Ave, New York, NY 
Som Tum Der – Isan Thai place, try Tum Thai Kai Kem, coconut rice skewers, Larb Moo – 85 Avenue A, New York, NY
Amor y Amago – Small, intimate Italian cocktail bar focusing on craft bitters – $$$ – 445 E 6th St, New York
d.b.a. – Cool little spot with a neighbourhood bar vibe serving specially curated beer and bourbon selections – $$ – 41 1st Ave, New York, NY 
Haandi – bare bones Pakistani eatery popular with taxi drivers, cafeteria vibe – $ – 113 Lexington Ave, New York, NY 10016, USA
Whiskey Tavern – neighbourhood whisky focused saloon. Laid back and reasonably priced – $ – 79 Baxter St A, New York, NY 
Xi'an Famous Foods – Many locations. Cheap and good Sichuan food, try spicy and sour lamb dumplings – $ 
Joe's Pizza – Many locations. Decent pizza chain. 
Comedy Cellar – super crowded and happening brick lined comedy club in a basement. Nightly shows with drop-ins from famous comics – $15 cover and minimum drink orders –  117 MacDougal St, New York, NY 
Essex Market – one of NY's oldest markets, great selection of meats, cheese, fish, etc. Food can be hit or miss. Get some pickles from the Pickle Guys in the basement – 120 Essex St, New York, NY
Gaia – funky little Italian place serving delicious authentic and hearty northern Italian specialties and panini sandwiches. Daily specials. Reservations needed for dinner, closes at 7. Better for lunch. $ – Currently moving to a new unknown location
Black Cat – Funky and cool, super chill coffee spot with antique furniture. – $$ 
Spicy Village – formerly Henan Village. Serving regional Henan dishes like ragged noodles on no fuss styrofoam plates in a hole in the wall atmosphere. Try the Big Tray Chicken. Most things under $8 – 68 Forsyth St B, New York, NY 10002, United States 
Tsismis – upscale but casual and cozy Filipino bar and restaurant with amazing dishes. Try the kare kare. $$
Fool's Gold – Cool, raucous bar with a legendary tap list and good cocktails and whiskey selection. -$$
Eataly – Upscale Italian market with several locations, full of fancy meats, cheeses, fresh pastas, and prepared food – $$$ 
Milk Bar – Famous bake shop with several locations offering out of this world cookies and desserts – $$
Halal Guys – Street cart vendors selling Halal chicken and rice. Get combo chicken over rice for somewhere around $6—10. Watch out for the 'Halal for All' guys who are purposely trying to copy cat with an inferior product. – W 53rd St, New York, NY 
Kwik Meal – one of the better Halal carts serving chicken and rice for about $7-8. Makes for an amazing lunch. Just as good. as Halal Guys, but different. – 100 W 45th St, New York, NY 
Slipper Room – Burlesque and variety theatre lounge. Buy tickets for shows during the week, or show up early for first come first served on weekends. Check out the Glitter Gutter for something fun and different.  -$$ – 167 Orchard St, New York, NY 
While in Kathmandu – Nepalese restaurant with an interior made to look like a Himalayan shack. They serve classic large entrees, but also interesting looking fusion fare like masala wings, taco roti, and Nepalese fries – Starters $5-10, Entrees $15-20 – 758 Seneca Ave, Ridgewood, NY 
Baby's All Right – Historic Brooklyn club for live music
Marlow and Sons – upscale but cozy coffee shop and bar. Closes early. – $$
Brooklyn Barista – Cool neighbourhood coffee joint with great coffee and excellent bagels – $$
Okonomi – traditional Japanese set lunch with a soup and three sides, go for breakfast for a price fixe traditional Japanese breakfast with fish and pickles – $ – 150 Ainslie St, Brooklyn, NY
Torst – Danish bar with unique seasonal brews and fun wines- $$ -615 Manhattan Ave, Brooklyn, NY 11222, USA
FourFiveSix – Funky coffee spot/bar with cool art and decorations everywhere – $$
New York Distillery Co. – Craft distillery serving gins, rums, and ryes. Shanty, the bar next door belongs to the distillery and serves cocktails. Happy hour specials- 79 Richardson St, Brooklyn, NY
Noods n' Chill – Amazing funky Thai restaurant in a small and chaotic spot. Apps are $7-10 and entrees $10-20 and there are veggie options. No booze – 170 S 3rd St, Brooklyn, NY 
Fien Coffee – nice little coffee spot with friendly service – $
Nook – Spacious coffee spot with cool decor and lots of places to hang out – $$
Bunna – Vegetarian Ethiopian restaurant with vibrant meals brought out on injera bread to share. Get 'The Feast'. Very reasonable prices. – 1084 Flushing Ave, Brooklyn, NY 
Bunker – Cool Vietnamese/Bahn Mi Shop located in amongst warehouses – $$ -99 SCOTT AVENUE, BROOKLYN, NEW YORK 11237
Gua-cu-co – awesome spot for arepas and Venezuelan cuisine – $$
L-Train Vintage – purportedly one of the best vintage stores in all of NYC, with curated collections and reasonable prices – 1377 Dekalb Ave, Brooklyn, NY 
KCBC – resurrected old brewery with three distinct styles of beer from three different brewers. Flights available. Board games, chill atmosphere. – $7-10 small drafts – 381 Troutman St, Brooklyn, NY (weekdays 4-11pm, weekends 12-12)
The Sampler – cozy neighbourhood spot with great microbrew list ($7-10) and an extensive small batch whisky list. Jazz nights Wednesdays and Thursdays and DJ's and dancing on the weekend. Gets quite packed – 234 Starr St, Brooklyn, NY 
Dromedary Tiki Bar – rustic tiki bar with inventive pub food, tropical cocktails, and special nights like burlesque, drag brunch, cheap wings, karaoke, etc. Get the frozen flamingo cocktail. $12 cocktails – 1084 Flushing Ave, Brooklyn, NY
Boobie Trap – no-nonsense funky eclectic dive bar. Cheap drinks, vending machine for food. – 308 Bleecker St, Brooklyn, NY
Rico Pollo – Dominican spot with lots of blue collar local clientele. BIG servings of excellent food. $