Gochujang Coyote Soup – Bosintang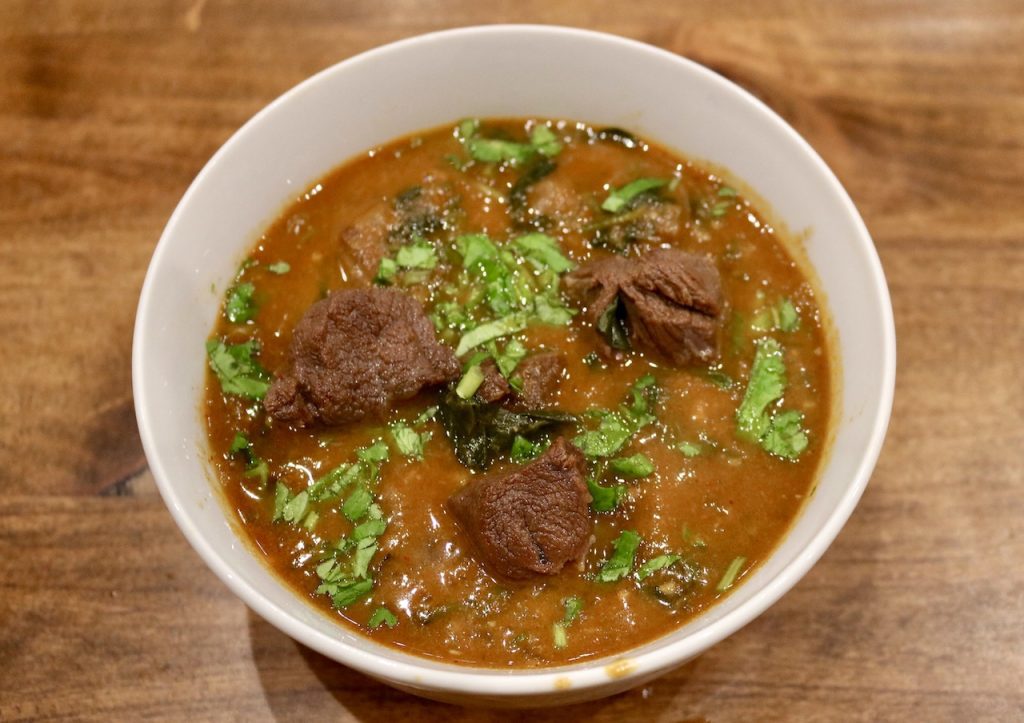 When given the chance to cook some coyote that had been caught in a trap at the ranch we were teaching a workshop at, Justin (editor-in-chief at Harvesting Nature) and I knew we had to try it!
Someone suggested this recipe, a Korean dish often made with dog meat or beef. Though dog meat has never been on our list of things to try, we thought coyote would stand in just fine. 
We had some Korean ingredients on hand, so we used them to make our own version of the soup, complete with coyote sirloin tip from the hindquarters.
We were very impressed with how the soup turned out – it was delicious! The coyote was fork tender and tasted great with the spicy Korean flavours. 
Though neither of us are predator hunters, we would definitely accept some coyote meat to make this dish again!  
Prep Time

2 hr 30 min

Cook Time

2 hr 30 min

Total Time

5 hr

Yield

4-6 servings
Ingredients
1lb (454g) coyote leg meat (I used the sirloin tip), cubed
2 tablespoons (30g) sea salt
2 cups (500ml) water
1 tablespoon (15ml) lard or oil
2 medium onions, chopped
4 cloves garlic, minced
2 tablespoons (30ml) doenjang paste OR miso paste
2 tablespoons (30ml) gochujang paste
1 tablespoon (15ml) soy sauce
1 tablespoon (15ml) honey
1-3 tablespoons (8-24g) gochugaru (Korean pepper flakes) OR paprika
6 cups (1500ml) water or beef stock
5oz (150g) spinach leaves
1 teaspoon (5ml) sesame oil
3 scallions, sliced
1 handful cilantro, chopped
Preparation
1
Mix the sea salt with the 2 cups of water and stir until dissolved. 
Add the cubed coyote meat and let sit for 2-24 hours in the fridge. 
Drain the meat and pat dry with paper towels. 
2
Melt the lard or oil in a large pot over high heat. 
Add the meat and sear until browned on all sides, about 5-10 minutes (work in batches for more efficient browning). 
Reduce heat to medium, add the onions, and cook until translucent, about 5 minutes. 
Add the garlic and cook for 2 more minutes. 
3
Add the doenjang/miso paste, gochujang, soy sauce, honey, and gochugaru/paprika, then pour over the 6 cups of water or stock. 
Simmer over low heat, uncovered, for 2 hours. 
4
Add the spinach, sesame oil, and half of the scallions and cook for another 10 minutes. 
Taste for seasoning and heat and adjust by adding more salt or chili flakes as necessary.
5
To serve, ladle into bowls and garnish with the rest of the scallions and the cilantro. Enjoy!