Groose Camp 2023! – Part 1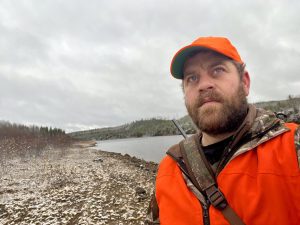 I'm back and all cleaned and rested up after my big moose adventure in northern Ontario.
I've vacillated back and forth on whether or not to let you in on whether we were actually successful in getting a moose right off the bat or make you wait until the end of Part 2, but I tend to stay away from gimmicks in my writing, so here it is: we didn't end up getting a moose :(.

As was a commonly heard saying in moose camp, "That's why they call it hunting and not catching". Some other common sayings of the week: "Well, it can't stay new forever", and, "What's that smell?"

Despite not getting a moose, we had an incredible time and were able to come home with a good number of grouse (and some wild edibles for me), which kept us happy.

For the past 3 years, I've gone on an annual hunting trip in northern Ontario with a group of friends. It's a moose hunting trip, though for the 2 years prior, no one drew a moose tag, so it turned into a grouse hunting trip. We affectionately named it Groose Camp.

This year though, we drew a calf/cow moose tag and so were all very excited to potentially get some moose meat in the freezer.

The trip started with my buddy Tyler and I loading up into his truck Thursday morning along with my dog Arrow and driving 12 hours straight to Hearst Ontario, with only a couple quick stops for gas. The truck was packed pretty full and we were pulling a trailer loaded up with an ATV, a generator, gas, propane, coolers, etc. We'd also brought with us cots, sleeping bags, pillows, gear bags, warm clothes, hunting equipment, drinks, chairs, dog stuff, and food for a week. 

We made it to Hearst and found our way to Brian's (our hunt leader) cousin's house, where we met up with two of the other hunters in our group (Brian and Paul). We stayed the night in the heated garage, sleeping on our cots, and letting Arrow and Brian's dog Ozzy get to know each other again (in other words, absolute chaos). 

In the morning, we left Hearst after a quick stop at McDonald's for coffee and a breakfast sandwich eaten on the way back to the trucks, and made our way towards Caramat; a little northern village a few hours away.

On the drive in, we'd noticed an alarming amount of trucks pulling out of the area, replete with ATVs, boats, hunting gear, and sometimes moose strapped to trailers. We were coming in for the second week of moose rifle season in the area, and it looked like there were a lot of people who'd chosen the first week instead and were now on their way home. We couldn't decide whether this was a good or bad omen for our own hunting trip.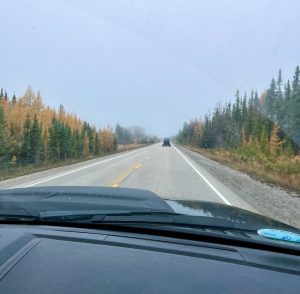 The highway was lined with tamarack trees (aka larch), which created a golden corridor which we made our way through. It was quite beautiful. A gravel road brought us into the seemingly deserted village of Caramat, though a garbage truck was eventually seen winding its way around town. I'd driven 15 hours up north to the middle of nowhere and THESE people got garbage pickup when I don't get it at home… crazy!

Not really knowing where we were going (no one had ever hunting this area before), we chose a likely road and followed it for a couple hours until we found a really nice spot to camp, with an open field next to a pretty lake. We'd lost phone service and internet signal quite some time ago, and the road in was quite rough. We hoped Gio, the fifth member of the group who was supposed to show up that night, could find it.

On the way in, we'd seen some moose tracks, which got us very excited. We bantered and made jokes about how pissed Gio would be if we got a moose before he even showed up – optimistic bravado.

We immediately got started unloading the trucks and getting the tent set up. Now this tent is amazing. It's an American MASH tent from the early 60s that Brian bought off of another moose hunter a few years back.

To get it set up, we roll out it flat on the ground.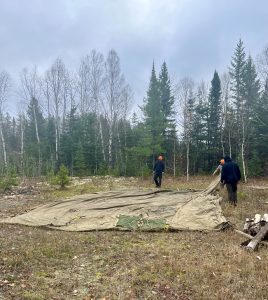 We then prop up the corners with pre-cut cedar posts, and pull guy lines to pegs that we hammered into the ground to keep them upright.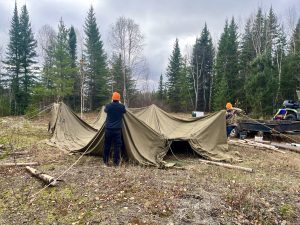 From there, we install cedar posts inside both door frames and along the walls, setting up guy lines for each post.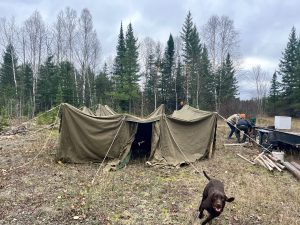 We then go inside and run a long beam down the center of the tent. We then prop up that beam with two long poles, which hold the beam horizontally across the roof of the tent. We also install two woodstoves with stove pipes and pull all of the guy lines tight.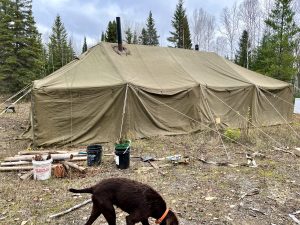 Inside, we lay down plywood so that we stay dry and keep the mud and dirt down in our temporary home (each year, everyone adds a few more sheets). Fluorescent lights get screwed onto the support beams and long wires run out to a generator kept as far away as possible.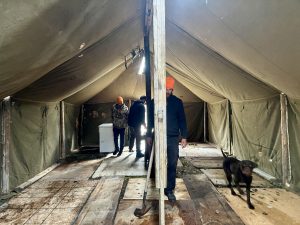 We set up tables and a propane cook stove in the kitchen, chairs to hang out in, a line for drying clothes, and cots to sleep on. It can get cold and draughty, but it's pretty damn comfortable in this tent!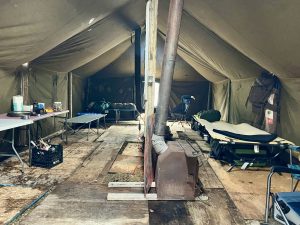 We then set up a toilet (a deep hole in the ground, with a plywood box outfitted with a toilet seat perched on top) with a beautiful view overlooking the lake and unloaded the rest of our stuff from the trucks.

Last year when we were setting up camp, Arrow wandered off somewhere and found a nice spot where some hunter had hid in the woods and had a poop. She came trotting back into camp with a big smear of poop across her shoulder. I had to wash it off as best I could, but she smelled like shit for the rest of the week (and was sleeping on my cot with me).

This year, while we were setting up, I swore I'd keep an eye on her. 30 minutes later, she came trotting back into camp with a big shit smear on her shoulder. You've GOT to be kidding me!

I was prepared this year though – I'd brought the dog shampoo. I grabbed her by the collar and dragged her down to the cold cold lake, where she got dunked and washed up so I didn't have to smell her all night. What a dog.

Now that camp was set up, we thought we should do some exploring. I found a trail right beside our camp that was great for walking and full of grouse, so I took Arrow on a long grouse hunt to get rid of some of her energy from being cooped up for the last two days. We quickly filled the pockets of my hunting vest with grouse, which we were both happy with.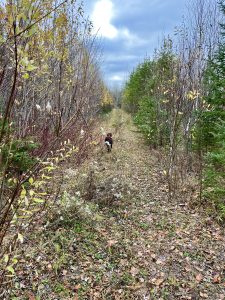 Arrow is a Small Munsterlander, which is a versatile hunting dog. I haven't been the most vigilant with training, so I generally use her as a flushing dog on the grouse trails. She did hold a few points for me too though. This is her first grouse of the season: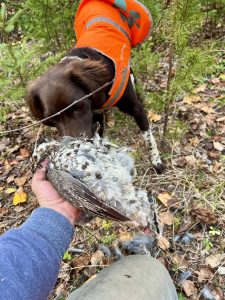 Getting back to camp, I processed the grouse by plucking and gutting them. We all got back to camp at that point, so we went and cut down some standing dead wood with the chainsaw we'd brought for the woodstoves. We built up enough to last us for a night or two, as there wasn't much room to keep the wood inside the tent.

Paul and I then went on his side by side ATV and drove 45 minutes out to where we last had cell reception to send Gio a map pin, so he could hopefully find his way to us as it was getting quite dark.

Gio finally rolled in, super grateful that he'd found us in the dark in the middle of nowhere, and we welcomed him with a cheers.

Brian heated up some delicious beef stew, which we all tucked into heartily – we hadn't had anything to eat since that breakfast sandwich in the morning.

A few more beers and we were ready for bed. In the morning we'd be scouting for moose!

We got up before sunrise and made a pot of coffee and some quick breakfasts. We then got ready and laid out our plans to each other so we'd know where to look if someone didn't come back. Brian decided to take a walk around the lake our camp was on, Tyler took his ATV south, and Paul and Gio took the side by side north.

Since I didn't have a vehicle, I took a walk, scanning the ground for tracks and sign.

It wasn't long before I found some fresh tracks, near where we saw the tracks while driving in. I followed them for some time, often losing them and rediscovering them further up the road or trail.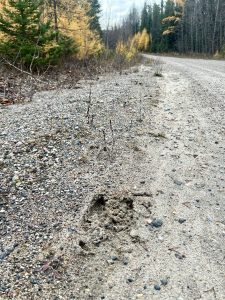 I ended up seeing bull tracks as well as tracks from a cow and calf, which was a good sign, since that's what we were after. We had decided as a group to take only a calf if we saw a cow and calf together. The cow would provide more meat, but the calf would be left to die without its mother, so we wanted to do the right thing. If we ran into a dry cow with no calf, then we would take that instead.

After a few hours of walking, I turned around to make my way back to the camp, where Arrow had been left in a truck (to keep her warm and safe while I was gone). As I trudged back over the hills, I started thinking to myself that this was going to be a loooong walk back. Luckily Paul and Gio showed up, so I got to hop in the back of the side by side and get driven back to camp.

I took Arrow for another fast paced hunt down the grouse trail and we ended up with another 3 ruffed grouse for the pile. This place was great for grouse!

There had been a marsh quite close by the camp that I noticed a lot of moose activity in, so after a quick sandwich, I made my way over there to sit on my stool in the reeds and see if anything popped out. After an hour, I pulled out a book I was reading and read that while intermittently scanning the trees around the marsh. As dark descended and I shivered, I decided it was time to head back to camp.

We were all feeling pretty hungry, so I got started on my dinner for the night and made a huge pan of shrimp and grouse pad thai. Gio had brought a massive paella pan, which worked great for making my noodle dish.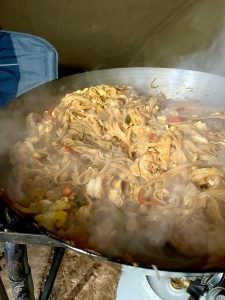 We all cracked a beer, filled up a big plate of noodles and got to eating, enjoying the hot meal after cold sits and drives.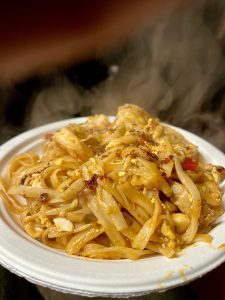 Playing some music off of our phones, we hung out over a few more beers after dinner, formulating plans for the next day before heading to bed.

Bed by the way, was on cots with winter sleeping bags to fight off the chill. Though we had fires going in the woodstoves, the one would quit almost instantly as it didn't have a great draw, while the other would need wood added to it several times over night, which sometimes got done and sometimes didn't. I'd froze on last year's hunt, so I'd purchased a nice big comfy winter sleeping bag. Arrow, without hesitation, plunged right down into it, sleeping wrapped up around my feet or knees. I was VERY happy I'd brought the dog shampoo with me!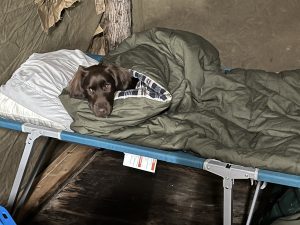 The next morning, I took a long walk down the grouse trail Arrow and I had been hunting on. If you followed it way beyond where I was turning around with her, my map said I'd arrive at a big river, which sounded promising to me.

I made my way to the river, which took some bushwhacking and navigating as the trail kind of petered out at one point, and finally came out upon a marshy delta fed by numerous streams and creeks. I sat there for an hour, but never saw anything move at all, so I decided to do some foraging instead.
The riverbank was loaded with wild roses, which had produced shiny red rosehips, so I filled my pockets tp bursting with them, then made my way back up the trail to let the dog out. By the time I got back to camp, I was feeling pretty tired, but Arrow was chock-full of energy, so I knew I had to go back out with her.

After a quick sandwich, I told the guys I was going for a really quick walk up another trail I'd noticed not far from camp.

I took Arrow there and walked up the trail a way, looking for grouse, but finding none at all. We got to a point where I could hear rapids close by. The map showed me that the river I'd visited earlier wrapped up north, making it's way right by where we were standing. I thought to myself, "What the hell? Why not check out the rapids?"

I hadn't brought my backpack, since I'd thought I'd only be gone for 30 minutes or so, and so I didn't have any of my water, walkie-talkie, or survival gear. Like an idiot, I went to check out the rapids anyways. Cresting a hill on my left, I found myself making my way down what was basically a cliff covered in thick and tangled vegetation. By the time I made it half way down, I saw that it would be unlikely I could make my way back up.

I carried on, following the sound of the water, which stayed frustratingly farther away than made sense. The going was tough and I was getting slapped in the face by alders and tripping over downed spruce trees. I finally burst out onto the riverbank to see a nice little rocky rapids, much smaller than the sound of it would have led me to believe.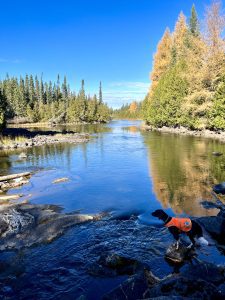 Arrow and I took a break there, checking out the rapids, then I decided to follow the river back to the road instead of trying to make my way back up to where I'd come from.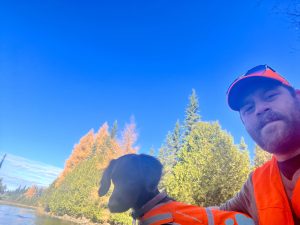 I crawled over the rocky banks for 15 minutes before coming up to a complete dead end of a cliff. Looks like I had to go back into the bush to find my way to the road. I knew the river was on one side moving approximately north-south, and the trail was somewhere above me on the other side, also pointing north-south. The road was south of me running east-west, so I knew it was unlikely that I could get REALLY lost, but I was facing a dense tangle of forest that didn't look too inviting.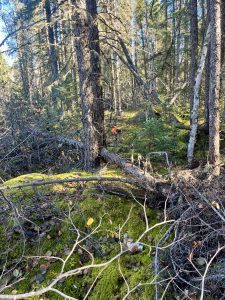 I pushed my way through the brush and downed trees, trying to find my way back to the trail. After a frustrating 30 minutes, I gave up, never having found it. I'd crossed a boggy section that seemed a little clearer in terms of fallen trees and brush, so I stumbled my way back to that and began traversing it towards where I figured the road would be.

Every hard-looking patch of ground I stepped on sunk, every fallen tree I stepped on or over crumbled and fell under my boots, every tree I leaned on fell over… it was slow going and turning into a hellish walk. Even Arrow, who'd been nothing but a ball of energy at that point was flagging.

I was quickly losing breath and having a harder and harder time lifting my legs over fallen trees and climbing hills. I tried once more to find my way to the trail, but came up against a wall of intertwined alders that lashed my face and the backs of my legs. I backed out again and continued on my boggy route. I found myself muttering and swearing as I walked and stumbled and fell. I stopped for a break and picked some Labrador tea to bring home with me, wishing that I had my water bottle with me to have a drink.

After what seemed like forever, Arrow and I finally stumbled out onto the road. Oh thank goodness. We trudged our way back to the camp, walking for 5 minutes on open road before reaching the head of the trail I'd been searching for. Arrow half-heartedly flushed out a bird, so I crawled into the dense black spruce stand to find and shoot it, stubbornly unwilling to go back to the camp empty-handed.

We finally rolled in, just as the guys were thinking of coming and looking for me. My lips were parched and my legs leaden. Arrow jumped right into a chair and made herself comfortable under my jacket.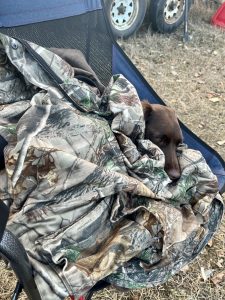 I'd planned on going back out for another moose hunt, but I had a much-needed beer as I recovered, and then another, and another, and then I was camp bound for the night, which didn't bother me much. Brian stuck around too and we chatted. I made use of the time and processed some grouse, which had been coming back to camp in a steady stream, by plucking and gutting them. I'd already developed quite the pile of feathers on the edge of camp.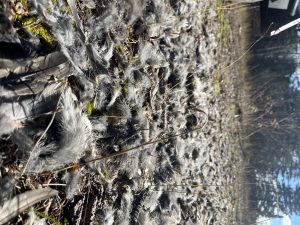 Eventually, the other guys rolled into camp and Tyler started supper. It was chicken fajitas that night, and they disappeared quickly. We hung out for a while, then made our way to bed, everyone trying to get in first as the last guy had to go back outside in the pitch, pitch dark and turn off the generator.

I crawled into my sleeping bag with Arrow and fell asleep quickly, but was woken in the middle of the night by Arrow falling off the side of the cot while in the foot of my sleeping bag!

Much confused thrashing ensued before we got it all straightened out. Arrow slept on top of the sleeping bag for the rest of the night, shivering but not trusting enough to crawl back in.