Hickory Smoked Pork Rib Roast with a Bourbon and Sour Cherry Sauce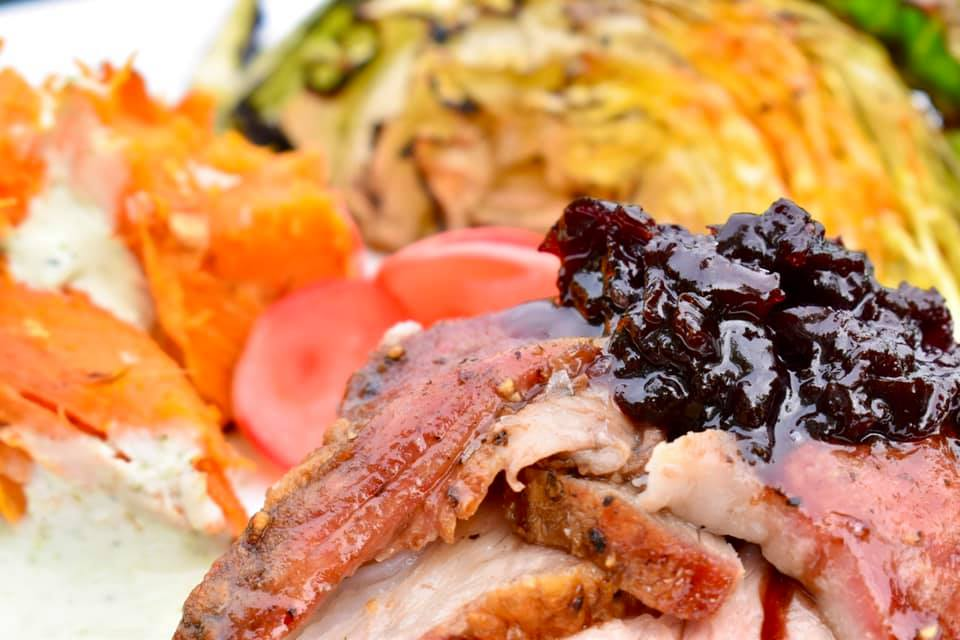 The smell of this roast wafting out from your backyard while it smokes on the barbecue will bring suddenly over-friendly neighbours from far and wide to drool on your fence! It's quite the showstopper and, when cooked right, you'll have juicy tender insides contrasting with smoky, crispy outsides, all enriched by the bourbon-cherry sauce. Notes of fruit and vanilla from the bourbon work well with pork, and the slight tartness of the sour cherry jam will help cut through all of that rich porkiness. Sour cherry jam can be found in most European delicatessens, or online. If you're unable to find it, blueberry jam would work in a pinch but I think it's worth searching out the cherry! 
Cook Time

2 hr

Total Time

2 hr 30 min

Ready in

2.5 Hrs
For the Roast
2 cups hickory wood chips (soaked in water for 2 hours before cooking)
1 bone-in pork rib roast*
Kosher salt and freshly ground black pepper
For the Sauce
1/2 cup sour cherry jam
1/2 cup bourbon
1 Tbsp butter
Preparation
Night Before or Morning of
1
Season the pork roast generously with Kosher salt and freshly ground black pepper the night before, or the morning of cooking it and leave it in the refrigerator, uncovered, on a plate. This isn't crucial, but it will result in a tastier, juicier piece of meat in the end!

Soak wood chips in water.
For the Roast
2
Dump soaked and drained wood chips onto a foil plate, or into a foil packet with fork holes punched through it. Take off one side of your barbecue grill (I used gas for this) and place the foil right on the burner plate. Turn on the barbecue to medium and let pre-heat until it reaches just under 300 degrees F. 
3
Place the roast, bone-side down (if it will stand on it's own like this. If not, you can put it on one side or the other) with the fattier side facing the heat. Turn off the side of the barbecue that the pork is on. 
For the Sauce
4
Meanwhile, combine jam and bourbon in a small pot and slowly bring to a simmer until everything is gently bubbling. Take off the heat and add the butter, stirring until it is fully melted and incorporated. Set aside (if sauce sets too hard once the pork is ready, just add a touch of water and heat it back up to loosen it).
5
Using a meat thermometer, cook until pork is nearing 135 degrees (about 2 hours for a 2.5 lb roast), then turn second burner back on medium and let the barbecue heat up to help crisp up the pork. You can brush some of the sauce on at this point to make a light glaze. The rest of the sauce will be used to drizzle over the pork once it is sliced.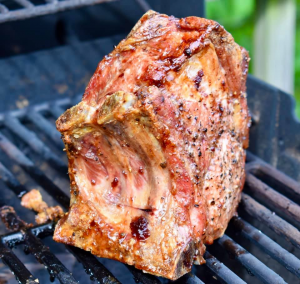 6
Once the roast reaches just under 145 degrees, pull it off the grill and set it onto a cutting board or plate to rest for at least 15 minutes. This is a good opportunity to grill up some veggies to serve with the pork. After it has rested, slice the pork and serve it with a dollop or drizzle of the cherry bourbon sauce. Enjoy!
*Roast weights and temperatures will always fluctuate, so it is better to rely on a meat thermometer instead of cooking times. I used a 2.5 pound roast for this recipe and it took about 2 hours to cook