Quinoa and Oat Porridge with Stewed Plums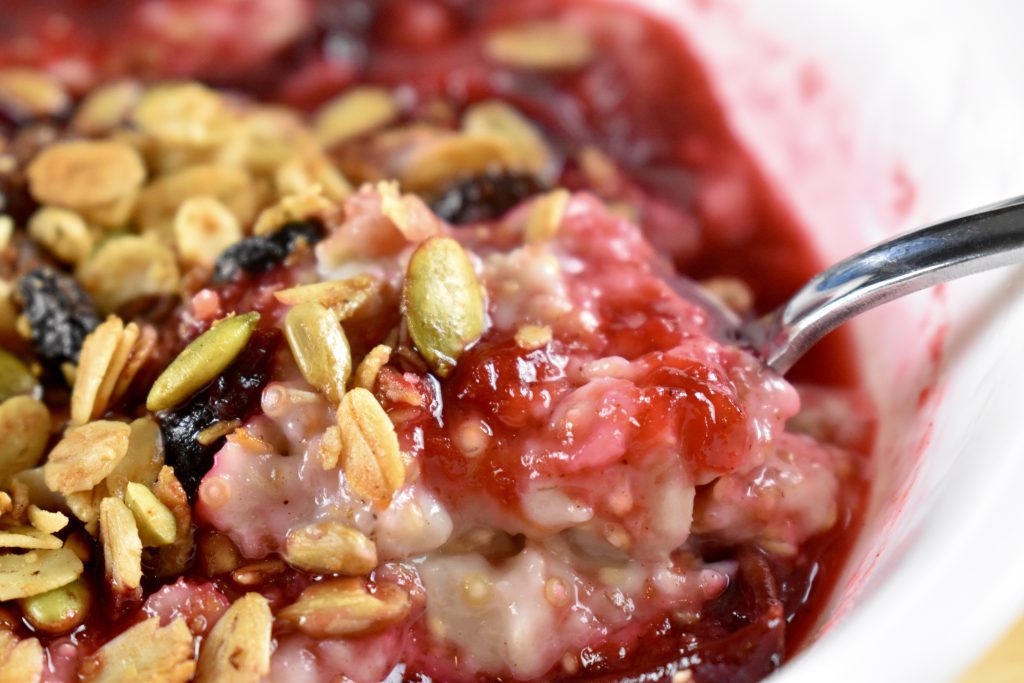 This healthy, fibre-packed breakfast is exactly what you need in the morning! The addition of stewed plums makes for a delightful sweet and sour experience and adding granola, nuts, or seeds on top gives it the perfect textural contrast!
Prep Time

5 min

Cook Time

15 min

Total Time

20 min

Ready in

20 min

Yield

2 servings
Cuisine

Course

Cooking Method

Suitable for Diet
For the Stewed Plums
4 blue or purple plums
1/2 cup white or brown sugar
1/4 cup water
Small pinch of cinnamon
For the Porridge
1/2 cup of old fashioned rolled oats (if using quick oats, cook quinoa first, until almost done, then add oats)
1/4 white quinoa
1 cup milk (optional)
1 cup water (2 cups if not using milk)
1 pinch of salt
Preparation
For the Stewed Plums
1
Cut the plums into quarters and discard the pits.
2
In a small pot, add plums, sugar, water, and cinnamon. 
Cook over medium heat, stirring regularly for about 10-15 minutes, or until the plums are chunky and the sauce is thickened. 
For the Porridge
3
Meanwhile, add all of the porridge ingredients into a saucepan and cook over med-low heat for about 20 minutes until oats and quinoa are tender. Add more water if it becomes too thick or dry. 
4
Spoon the porridge into bowls and gently stir in the stewed plums. Top with granola or toasted nuts or seeds. 
Enjoy!