Seared Grouse Breasts with Ramps and Morels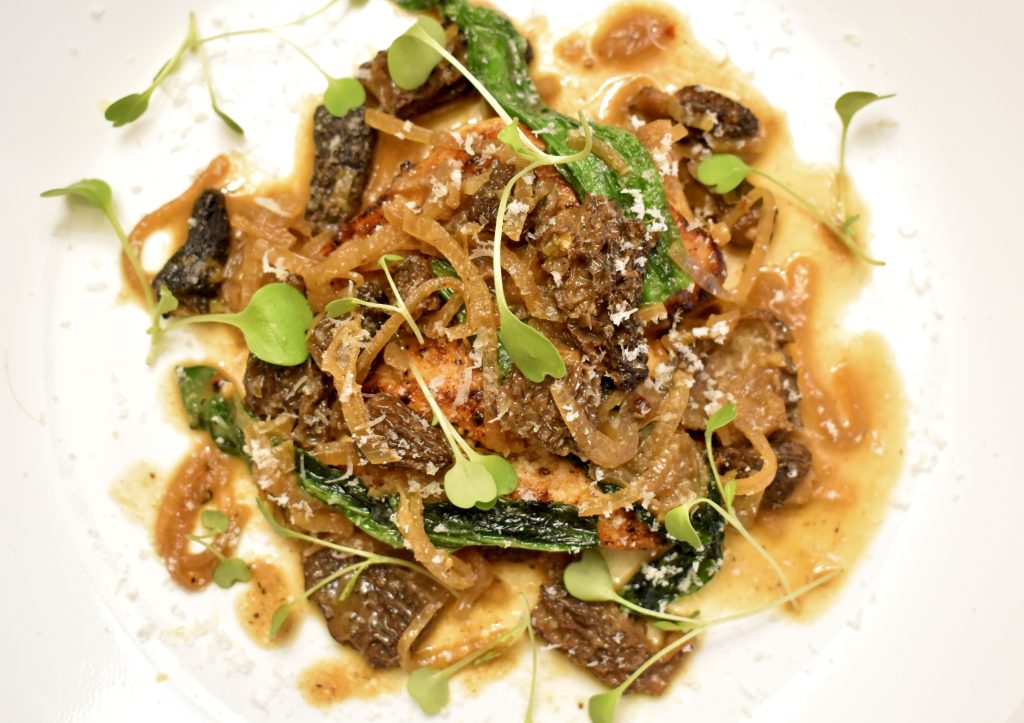 This beautiful springtime dish used some grouse breasts from the freezer, as well as freshly foraged ramps and morels. 
It's a rich and buttery dish and the flavour will blow you away. Serve this on its own with a crusty baguette to soak up the sauce or with a spring foraged salad. 
If you don't have grouse, feel free to use any grouse-like bird, pheasant, wild turkey, or chicken; just be sure to adjust cooking times as necessary since grouse breasts are so small. 
Prep Time

25 min

Cook Time

15 min

Total Time

40 min

Yield

2 servings
Cuisine

Course

Cooking Method
Ingredients
2 grouse breasts
Kosher salt
Black pepper
2 tablespoons (28g) + 1 teaspoon (4.5g) butter
6 ramp (wild leek) leaves
1 large shallot, thinly sliced
2.5oz (70g) morel mushrooms, halved or cut into smaller pieces (or use 0.5oz/14g of dried morels, soaked)
1/4 cup (60ml) white wine
3/4 cup (180ml) grouse stock, chicken stock, mushroom stock, or mushroom soaking liquid
Parmesan cheese to garnish
Microgreens to garnish
Preparation
1
If using dried mushrooms, soak in warm water for at least 30 minutes beforehand. Save the water and use in place of stock. 
2
Take a grouse breast and put it in your hands, smooth side up, with both thumbs touching on top and your fingertips touching the rough side underneath. 
Very gently pull the rough side open with your fingertips, flattening the breast into an even layer (think butterflying without cutting). Try not to pull the breast right apart or lose the tenders. 
This isn't completely necessary, but does allow the breasts to cook more evenly. 
3
Season the breasts generously on both sides with salt and pepper, then let sit on the counter for at least 15 minutes. 
4
Melt the 2 tablespoons of butter in a skillet over medium heat. 
Add the ramp leaves and let them sizzle for 1 minute. 
Remove and set aside, leaving the butter in the pan. 
5
Increase heat to high. Add the grouse breasts and cook for 2 minutes, pressing down gently with a spatula, then flip and cook for 1 more minute.
Remove from the skillet and set aside to rest.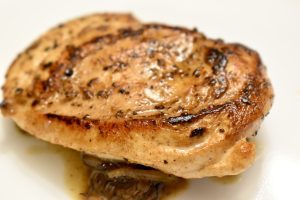 Add the shallots and mushrooms to the skillet, season lightly with salt and pepper, and cook for 3-4 minutes, or until slightly browned. 
Add the white wine and scrape up and bits stuck to the pan. Cook until the wine has mostly evaporated, then add the stock. 
Bring to a boil, then reduce to a simmer. Keep cooking until the liquid has reduced by about half. 
6
Add the 1 teaspoon of butter and a few cracks of black pepper to the shallot and mushroom mixture and simmer, stirring, for 1 more minute. 
7
To plate, spoon a small amount of sauce onto a plate. Lay the breast on top, then drape with 3 ramp leaves. 
Spoon over the mushroom sauce, then shower with Parmesan and sprinkle with microgreens. 
Enjoy!
Notice how I didn't have you scroll through pages of mundane nonsense to get to the recipe? Notice that there were no annoying pop-ups or ads? That was on purpose!
I want finding and using my recipes to be easy for you, not frustrating. That does translate into a lot of lost income for me though. If you made this recipe and loved it, would you consider "buying me a coffee" and donating a buck or two through the Buy Me a Coffee app? It will help me keep pumping out recipes like this one!