Seared Wild Goose and Duck Hearts with Hazelnut-Sage Oil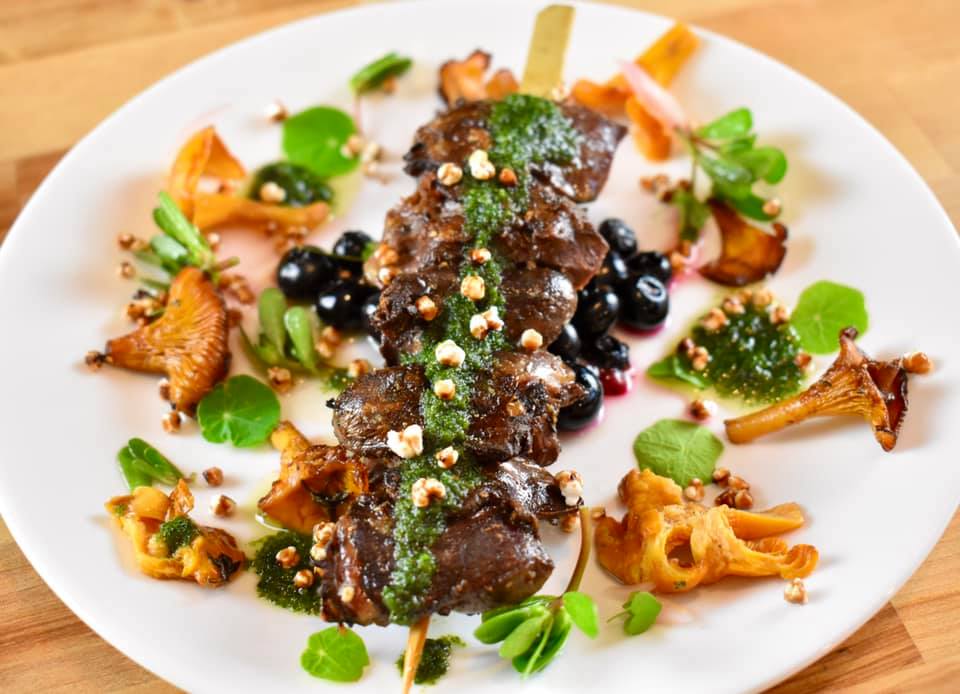 This simple recipe can be used for any poultry heart, but is particularly good with wild duck and goose hearts. The hearts here were served with wild mushrooms and foraged greens, but they would go great with rice, mashed potatoes, or polenta. 
Prep Time

14 min

Cook Time

6 min

Total Time

20 min

Ready in

20 minutes
Ingredients
1/2 cup hazelnut oil*
1 cup of fresh sage leaves
1 teaspoon salt
Any combination of duck, goose, chicken, or turkey hearts*
Metal or bamboo skewers
Good quality flaky salt or Kosher salt
Freshly cracked black pepper
1 tablespoon neutral oil
Preparation
For the sage oil
1
Finely mince sage leaves. Add to mortar and pestle with salt and 1/4 of the oil. Start pounding and grinding down the sage leaves in with the oil, slowly adding more oil, until everything becomes a smooth emulsified sauce. 
Alternatively, you can throw the whole sage leaves, salt, and oil into a blender or food processor and blitz until it becomes and smooth sauce. 
For the hearts
2
Trim each heart, removing any visible veins/arteries and blood clots. 
Cut goose or turkey hearts in half, while leaving chicken or duck hearts whole. 
3
Skewer the hearts, pressing them together tightly. Lay the skewers down on a flat surface and gently press them flat with your open hand. This allows more surface area to come in contact with the pan. 
4
Season the hearts generously with flaky salt and freshly cracked black pepper on both sides.
5
Heat up a cast iron frying pan (or regular if you don't have one… you should get one!) with a tablespoon of oil on med-high. 
Once the oil is hot, add the heart skewer(s) to the oil, making sure not to crowd the pan. 
6
Sear for 3-4 minutes, then flip over and sear for another 3 minutes. The exterior should be very crispy, while the interior should still be pink. 
7
Drizzle the skewers with the sage oil and serve immediately. 
Enjoy!
*Any oil could be used here, but hazelnut works best

*An over cooked heart has the texture of leather. Be sure to cook the hearts medium or medium-rare.