Shawarma Spiced Goose Legs on Crispy Potatoes with Toum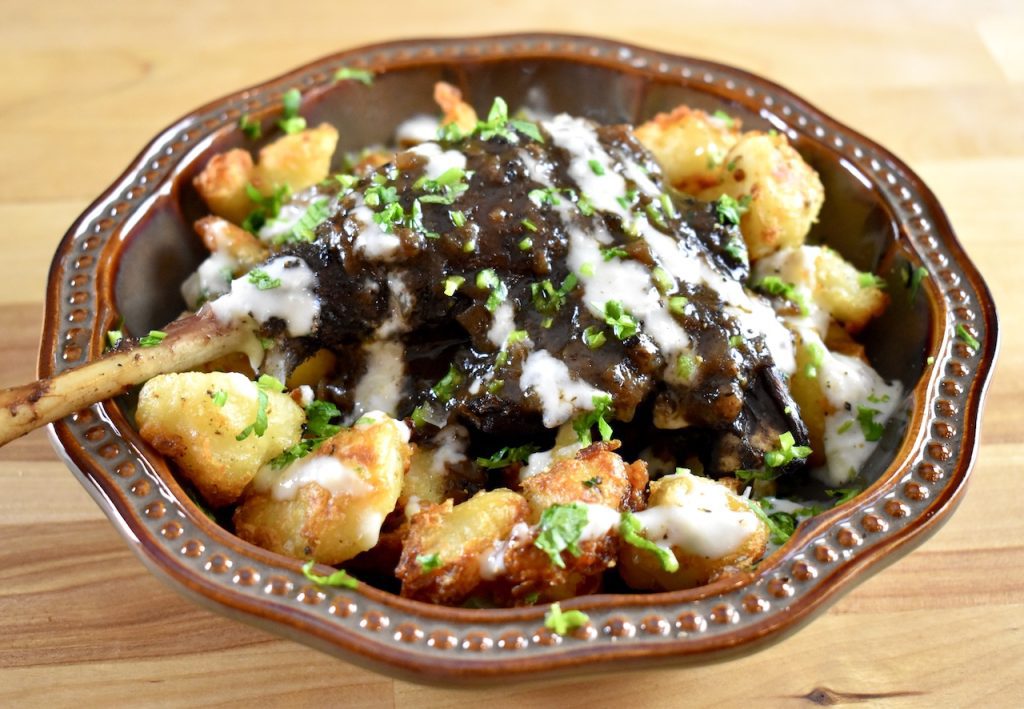 This recipe was inspired by the Lebanese shawarma shops in Ottawa and Gatineau that I used to frequent a lot for lunch. 
I'd often ask for shawarma meat on top of the crispy potatoes they'd serve, with lots of toum (a pungent Lebanese garlic sauce), forgoing the usual sandwich and potato combo. 
Instead of using the regular shawarma meat in this recipe, I used Canada goose legs, slow cooked in a homemade shawarma spice blend. 
If you don't want to make the spice blend yourself, you can just use pre-made shawarma spice, which is available in most grocery stores these days. Just use 4 tablespoons of it. 
I like to temper my toum with a bit of mayonnaise to soften the pungency, but it's not at all necessary. In a pinch, you could also just mix mayonnaise with crushed garlic to achieve something similar (but not quite as good as) the toum. 
This recipe has lots of steps, but it's actually quite simple and would make an excellent weeknight meal if you use a crockpot to cook the goose legs before supper. 
Prep Time

15 min

Cook Time

3 hr

Total Time

3 hr 15 min

Yield

4 servings

Serving Size

1 goose leg each
Ingredients
For the Shawarma Spice
1 tablespoon black pepper
1 tablespoon allspice
1 tablespoon garlic powder
1 teaspoon cloves
1 teaspoon cinnamon
1 teaspoon nutmeg
1 teaspoon cardamom
1 teaspoon chili flakes (I use Aleppo chili flakes)
1/2 teaspoon oregano
For the Toum (Garlic Sauce)
5 cloves garlic, roughly chopped
1 pinch kosher salt
2 tablespoons (30ml) duck fat (or use 4 tablespoons (60ml) vegetable oil total)
2 tablespoons (30ml) vegetable oil
1 tablespoon (15ml) cold water
2 tablespoons mayonnaise
For the Goose and Potatoes
4 small or 2 large goose leg quarters (legs and thighs)
Kosher salt
3 tablespoons (45ml) duck fat or oil
1 onion, chopped finely
4 lbs (1800g) russet potatoes, peeled and cubed
1/2 teaspoon (1g) baking soda
Black pepper
2 tablespoons (4g) chopped cilantro
Preparation
1
Grind the spices together in a spice grinder or mortar and pestle until they form a powder. 
2
Season goose legs with salt.
Melt 1 tablespoon (15ml) of duck fat in a pan or dutch oven over high heat.
Add goose legs and sear until browned on all sides, about 5 minutes. 
Remove the goose legs, lower the heat to medium and add the onions. Cook for 5 minutes. 
Add the shawarma spice and goose legs and cover them with several inches of water. 
Bring to a boil, then reduce to a simmer.
Cover cook for 1.5-2 hours, or until the goose legs are tender (older geese may need an extra hour of cooking time). 
Alternatively, you could sear the legs off, then throw them with the water, onion, and spices into a crock pot and let them cook for the day while you're at work. 
3
Preheat oven to 425°F (220°C, gas mark 7).
In a mortar and pestle or food processor, pound or blitz the garlic and salt into a paste. Slowly drizzle in the fat, oil, and water in a steady stream, while pounding and scraping with the pestle (or with the food processor on low). Stir in the mayonnaise. 
Keep chilled until the rest of the dish is done. 
4
Peel the potatoes and cut into cubes. 
Add them to a pot and cover with water. Add a pinch of salt and the baking soda. 
Bring to a boil, reduce to a strong simmer, and cook until the potatoes are tender. 
Drain the water, then throw the pot back on the stove over low heat for 1 minute so any leftover water evaporates and the potatoes dry. 
Shake the potatoes around in the pot violently, until they form a gummy layer of starch around them. 
Add 2 tablespoons (30ml) of duck fat, a small pinch of salt, and a pinch of black pepper and toss everything together. 
Spread the potatoes out onto a sheet pan and roast for 30 minutes. 
5
Take the goose legs out of the cooking liquid and add them to the sheet pan beside the potatoes. Stir the potatoes while you're at it. 
Cook for another 15-20 minutes, or until the potatoes are nice and crispy and golden. 
6
Meanwhile, simmer the liquid over medium high heat until it reduces into a gravy-like consistency. 
7
To serve, split the potatoes into four separate bowls. 
Set a goose leg on top of the potatoes and spoon over the reduced cooking liquid. Drizzle over a generous amount of toum (garlic sauce) and a sprinkle of chopped cilantro. Serve immediately. Enjoy!