Spicy Roasted Largemouth Bass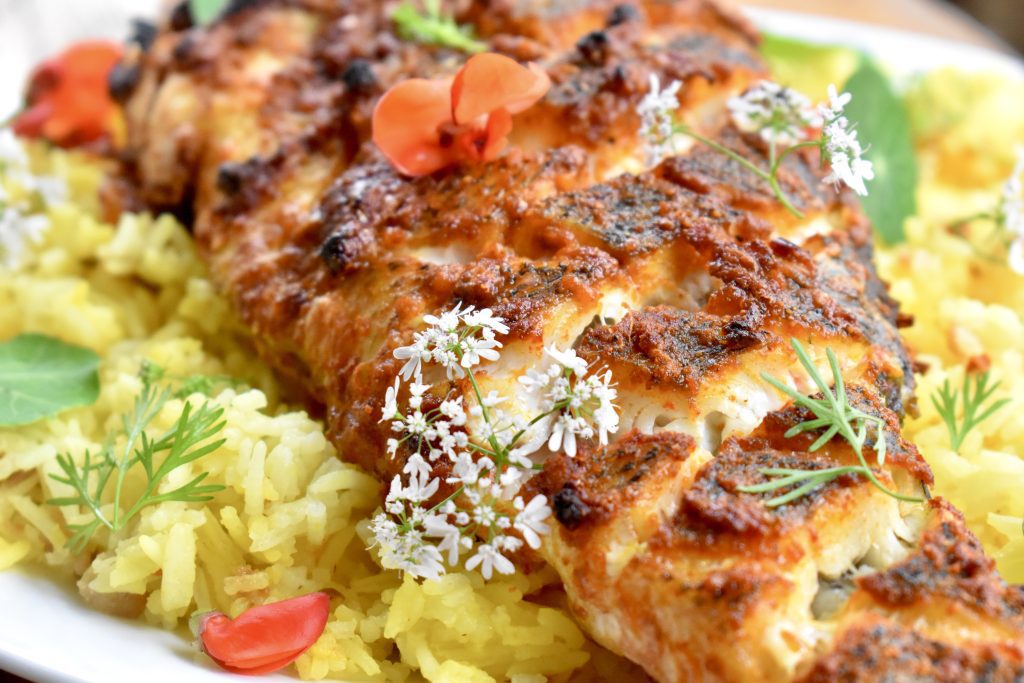 This spicy roasted largemouth bass gets crosshatched and rubbed with Indian aromatics before being roasted whole in the oven until crispy!
Feel free to use any whole fish, wild-caught or store-bought, that has been gutted, de-scaled, and de-gilled. 
Serve with rice and salad for a wholesome and delicious meal.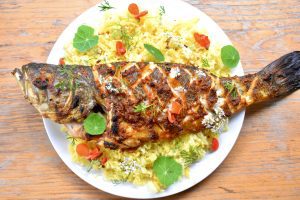 Prep Time

25 min

Cook Time

20 min

Total Time

45 min

Yield

2-4 depending on size of fish
Ingredients
1 whole bass or other white fish, de-scaled, gutted, and de-gilled
1/2 teaspoon kosher salt
1/2 teaspoon black pepper
1/2 teaspoon coriander powder
1/2 teaspoon ground cumin
1/2 teaspoon Kashmiri chili powder (or a mixture of paprika and cayenne)
1/4 teaspoon turmeric powder
2 garlic cloves, mashed into paste (or store-bought garlic purée)
2 teaspoons puréed ginger
3 tablespoons neutral oil
Preparation
2
Take your fish and, using a very sharp fillet knife, score the skin diagonally across one side, from head to tail. Now cut again diagonally the other way, creating a cross-hatch pattern. Try not to cut too deep into the flesh, but if you do, it's not a big deal. 
Flip the fish and do the same on the other side.  
3
Mix the rest of the ingredients in a bowl until it forms into a paste. 
Rub the paste into the hatch marks on the fish, being sure to really get it in there. Rub a bit into the cavity as well. 
4
Put the fish on a wire rack on a sheet pan (or you could use thickly sliced onions or limes to perch the fish on instead of a wire rack) and put it into the oven for about 20 minutes. 
You're looking for lots of crispiness and some light charring on the skin and for the flesh to flake easily if pulled with a fork. 
5
Either serve whole and let diners pick at the fish, or pull off the fillets and serve them boneless. Garnish with torn fresh herbs and edible flowers if desired. Serve with Indian rice and some salad for a delicious meal. Enjoy! 
Notice how I didn't have you scroll through pages of mundane nonsense to get to the recipe? Notice that there were no annoying pop-ups or ads? That was on purpose!
I want finding and using my recipes to be easy for you, not frustrating. That does translate into a lot of lost income for me though. If you made this recipe and loved it, would you consider "buying me a coffee" and donating a buck or two through the Buy Me a Coffee app? It will help me keep pumping out recipes like this one!