Thai Wild Pork Salad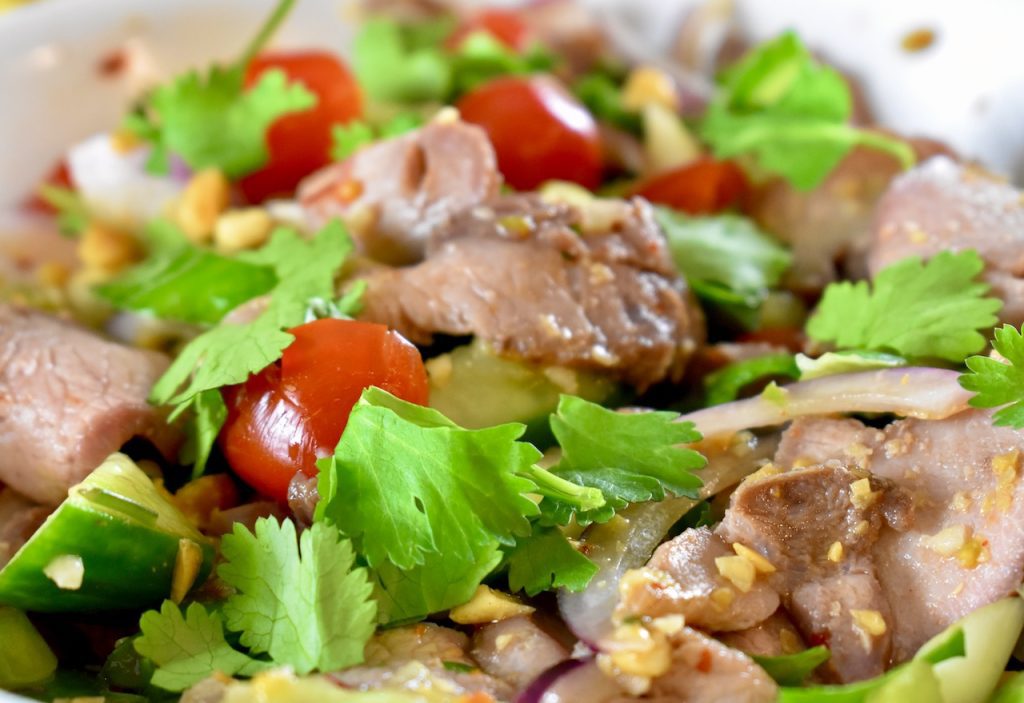 This Thai wild pork salad is an exciting way to enjoy feral hogs: bright, exciting, flavourful, and delicious!
Prep Time

40 min

Cook Time

20 min

Total Time

1 hr

Yield

2 servings on its own, or 4 servings as part of a larger meal
Ingredients
1/2lb wild pork loin or 1 domestic pork tenderloin
1/4 cup (60ml) + 1 tablespoon (15ml) fish sauce
1 handful cherry tomatoes, halved
2 scallions, thickly chopped
1/4 red onion, sliced
1 stalk celery, sliced
1/4 cucumber, roughly chopped
1 fresh chili or jalapeño, seeded and chopped
2 cloves garlic, minced
1 handful fresh cilantro leaves
2 tablespoons chopped peanuts
Juice of 2 limes
1 teaspoon (5g) white sugar
1 teaspoon (5ml) chili paste or sambal oelek
Preparation
1
Preheat oven to 350°F (180°C, gas mark 4).
2
Pour the 1/4 cup (60ml) fish sauce into a dish, and roll the pork in it to marinate for 30 minutes while the oven preheats. 
3
Transfer pork to an oven safe dish and roast for 20 minutes, or until internal temperature is past 150°F (do not eat wild pork that hasn't been cooked past 145°F!).
Let rest while you prepare the salad. 
4
To a large sturdy bowl, add the tomatoes, scallions, onion, celery, cucumber, chili, and garlic. 
Use a rolling pin or wooden spoon to lightly bash all of the vegetables, bruising them, but not smushing them into oblivion. 
5
Slice the pork thinly, and add it to the bowl along with the cilantro, peanuts, the tablespoon (15ml) of fish sauce, lime juice, sugar, and chili paste. 
Mix very well, then serve immediately. Enjoy!