Thai Yellow Curry with Beef Short Ribs and Potatoes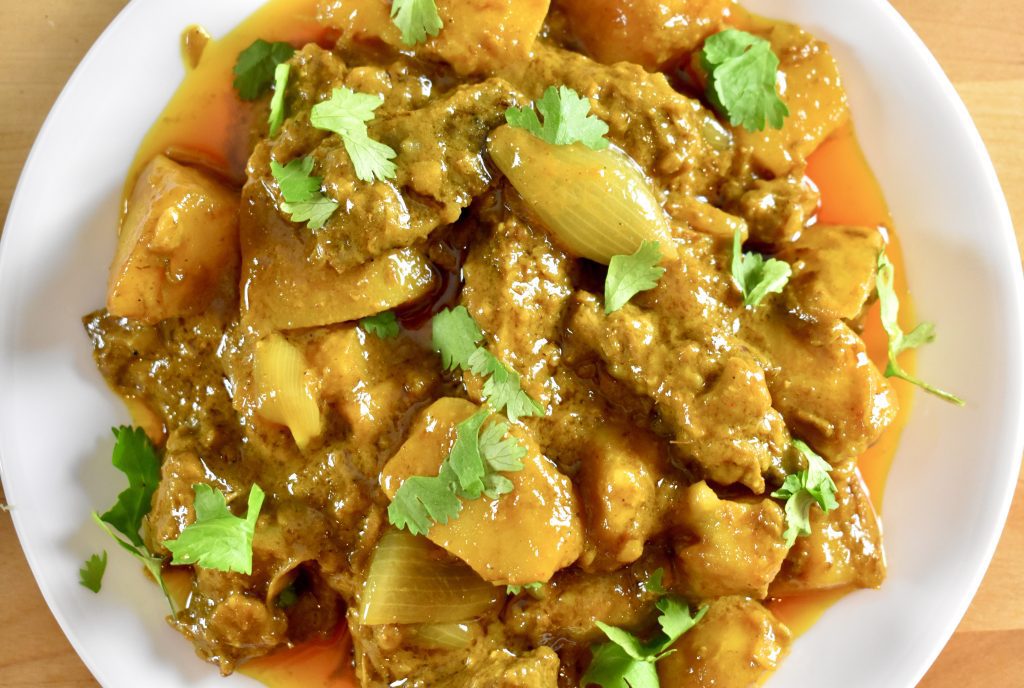 This yellow curry with beef short ribs and potatoes is much richer and more decadent than the traditional Thai yellow curry. 
Serve it with jasmine rice and an acidic Thai-style salad to cut through some of that delicious richness.
If you don't have the ingredients for the curry paste, or don't want to make it (you'll need a mortar and pestle to make it), simply purchase some pre-made Thai yellow curry paste from the store and use 4 tablespoons of that instead. 
Prep Time

20 min

Cook Time

2 hr 40 min

Total Time

3 hr

Yield

6 servings with rice and salad
Cuisine

Course

Cooking Method
Ingredients
For the curry paste
1 tablespoon coriander seeds
1 teaspoon cumin seeds
1/2 teaspoon white peppercorns
1 teaspoon kosher salt
1 tablespoon curry powder
1 tablespoon turmeric
2 teaspoons chili flakes
2 tablespoons chopped ginger
1 tablespoon chopped lemongrass
4 cloves garlic, chopped
2 shallots, chopped
2 teaspoons shrimp paste OR belacan OR fish sauce
For the curry
1.5 lbs (680g) thick crosscut beef short ribs
Kosher salt
1 tablespoon (15ml) oil or lard
4 tablespoons (60ml) Thai yellow curry paste (use store bought or above recipe)
1 can coconut milk
2 cups (500ml) water
2 large white potatoes, cubed
1 small onion, cut into petals (***see note)
1 tablespoon (12g) white sugar
1 tablespoon (15ml) fish sauce
1 tablespoon (15ml) tamarind concentrate or paste
Cilantro leaves or scallions to garnish
Preparation
1
To make the curry paste, add the coriander seeds, cumin, white peppercorns, and salt to a mortar and pestle. 
Bash until the ingredients are all ground. 
Add the rest of the spices as well as the ginger, lemongrass, shallots, and garlic. Pound into a paste. 
Stir in the shrimp paste.
2
Take the short ribs out of the fridge at least an hour or more before cooking and salt generously. 
3
In a large pot or Dutch oven over medium heat, add the oil or lard. 
Add the short ribs and sear on all sides until very brown, 15-20 minutes. 
Transfer to a cutting board. Once cool, cut into individual ribs/pieces. 
4
Reduce heat to medium and add the curry paste. Fry paste for about 3 minutes. 
Add the coconut milk and water. Add the short ribs to the liquid, bring to a boil, reduce to a low simmer, cover, and cook for 2 hours. 
5
Uncover, add potatoes and onion. If the liquid seems too low to cook the potatoes, add more water. 
Add the sugar, fish sauce, and tamarind. 
Simmer over medium heat, stirring often, until the potatoes are tender and the curry thickens into a gravy-like consistency. 
6
Ladle into bowls and garnish with cilantro leaves or sliced scallions. Serve with plain white rice and an acidic salad. Enjoy! 
*** to cut onions into petals, cut both ends off of the onion and cut it in half. Peel the onion. Cut each half into quarters, then peel apart the layers into petals.