Avocado Tuna Salad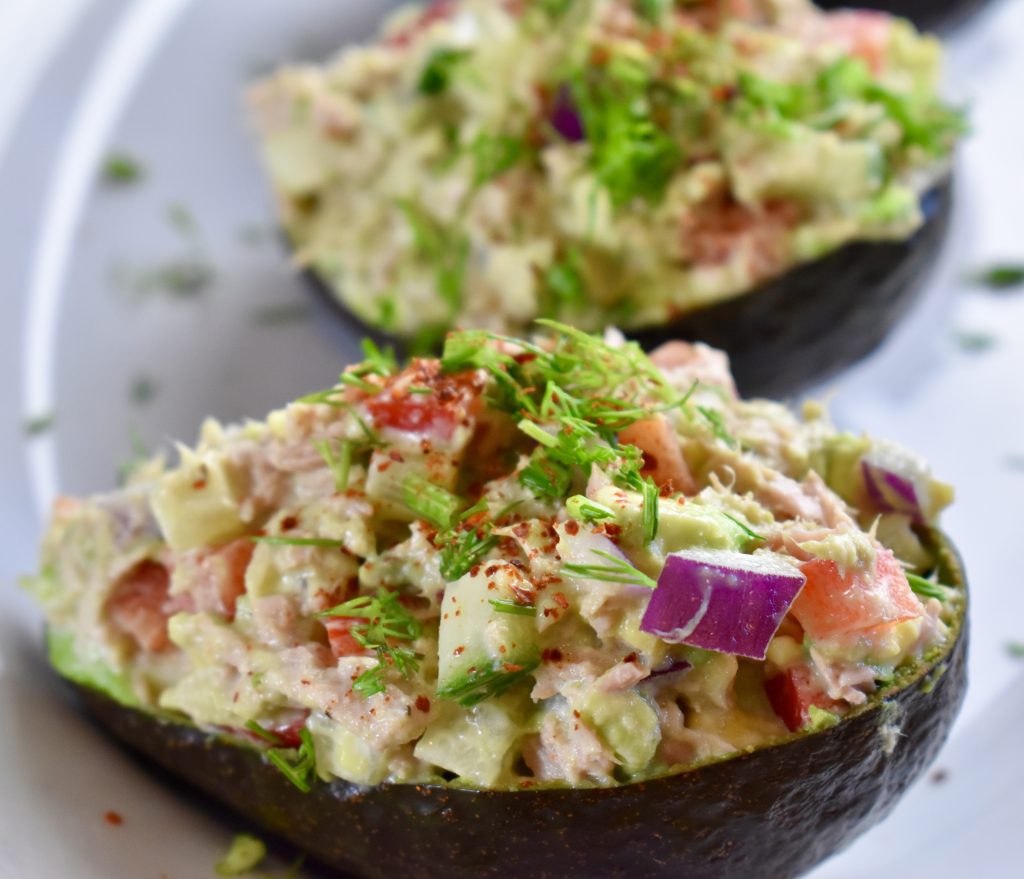 This recipe is great for a nice lunch, a light and refreshing supper, or as part of an appetizer platter since they can be carried around and eaten out of the avocado shell! 
Prep Time

15 min

Total Time

15 min

Yield

4 Servings
Ingredients
1 stalk celery, finely chopped
1/4 red onion, finely chopped
1/4 cucumber, finely chopped
1/4 red bell pepper, finely chopped
1 can sustainably sourced tuna, drained
2 ripe avocados
Small pinch of salt
Freshly cracked black pepper
2 tablespoons (30mL) mayonnaise or 1 tablespoon (15mL) mayonnaise and 1 tablespoon (15mL) plain yogurt
Juice from half a lemon or 2 tablespoons of lemon juice
2 tablespoons (1g) fresh dill, chopped or 1 teaspoon dried dill
Pinch of chili flakes (optional)
Preparation
1
Add chopped vegetables and can of tuna to a medium bowl. 
2
Cut avocados in half lengthwise, and remove the pits. 
Use a spoon to gently scoop out all of the flesh onto a cutting board. Reserve the skins. 
Chop the avocado flesh into medium chunks, then add it to the bowl with the vegetables. 
3
Add a small pinch of salt, and a few turns (or a pinch) of freshly cracked black pepper. 
Add the mayonnaise and lemon juice, then gently fold everything together, making sure that the mayo is covering everything and that the tuna and avocado are distributed evenly throughout. 
4
Scoop the tuna salad back into the avocado skins, distributing it evenly into all four halves. 
Top with a sprinkle of fresh or dried dill, as well as a pinch of chili flakes if you'd like a touch of heat. 
Serve immediately and enjoy!