Blackened Alligator Tacos with Macque Choux and Remoulade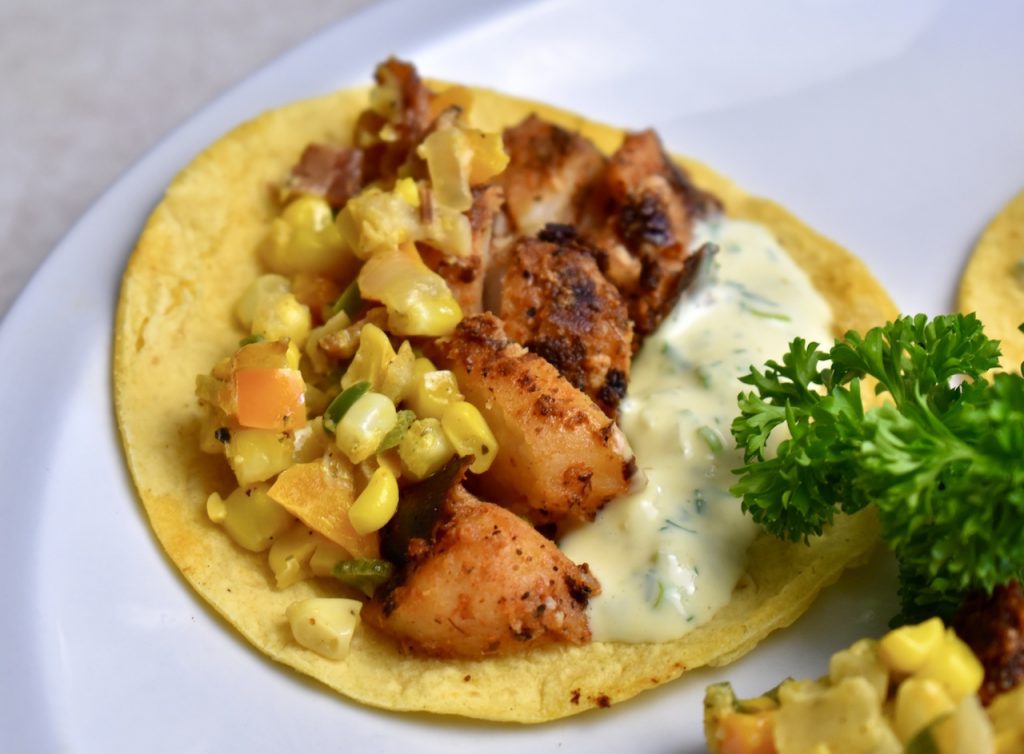 Finally getting the opportunity to work with alligator, I wanted to do a Louisiana mash-up that only a kid from Ontario would dare. Blackened gator, maque choux, and remoulade sauce all seemed like good bedfellows, but I decided to go further and jam them all into corn tortillas for Bayou-style tacos. These totally untraditional tacos are a bit wacky, but they taste great and are a wonderful way to enjoy the very unique alligator meat!
Note: some blackening spice blends can be very salty, so taste it before you coat your gator in it.
Prep Time

35 min

Cook Time

25 min

Total Time

1 hr

Yield

12 small tacos

Serving Size

3 tacos
Ingredients
For the Macque Choux
2 ears sweet corn
3 slices thick-cut bacon
1 small onion, chopped
1/2 bell pepper, chopped
1 jalapeño, seeded and chopped
2 teaspoons (4g) Cajun seasoning
1/2 teaspoon (2g) black pepper
1/4 cup (60ml) cream
1-2 shots Louisiana style hot sauce (optional)
For the Gator
1lb (454g) alligator meats, cut into bite-sized chunks
Blackening spice blend
12 small corn tortillas
Louisiana style hot sauce to serve
For the Remoulade
1/4 cup (60ml) mayonnaise
1 teaspoon (5ml) Cajun-style or regular yellow mustard
1 teaspoon (5ml) prepared horseradish
1 teaspoon (5ml) worcestershire sauce
1/4 teaspoon (0.5g) garlic powder
1 tablespoon (5g) minced parsley
1 green onion, minced
Preparation
1
Bring a pot of salted water to the boil. Add the corn cobs and cook for 5 minutes. Remove and let cool.
2
Fry the bacon in a skillet until mostly crispy. Pat the bacon dry with paper towels and save the bacon grease
3
Cut the kernels off of the corn with a sharp knife and chop the bacon.
4
Add 1 tablespoon (15ml) bacon grease to a pan over medium heat. Add the corn, onions, peppers, jalapeños, and bacon and fry for 5 minutes. Add the Cajun spice and cream (and hot sauce if using) and cook for 2 more minutes, or until cream dissolves. Set aside in a bowl.
5
Add 1 tablespoon (15ml) bacon grease to a cast iron or stainless-steel pan over high heat.
Add gator chunks to a bowl and season very liberally with the blackening spice, tossing the chunks so they get completely coated.
Add them to the hot pan. Cook for 2-3 minutes or until the meat is blackened and releases from the pan. Flip and cook for 2 more minutes.
Make sure you have your hood fan on and a window opened for this part. Let cool, and then chop the gator chunks into smaller pieces.
6
Mix the remoulade ingredients in a bowl.
7
To serve, warm up the tortillas, then stack them with blackened gator, the maque choux, and a big drizzle of remoulade sauce.
If you like it spicy, add more hot sauce as well. Enjoy!