Braised Squirrel and Wild Mushroom Ravioli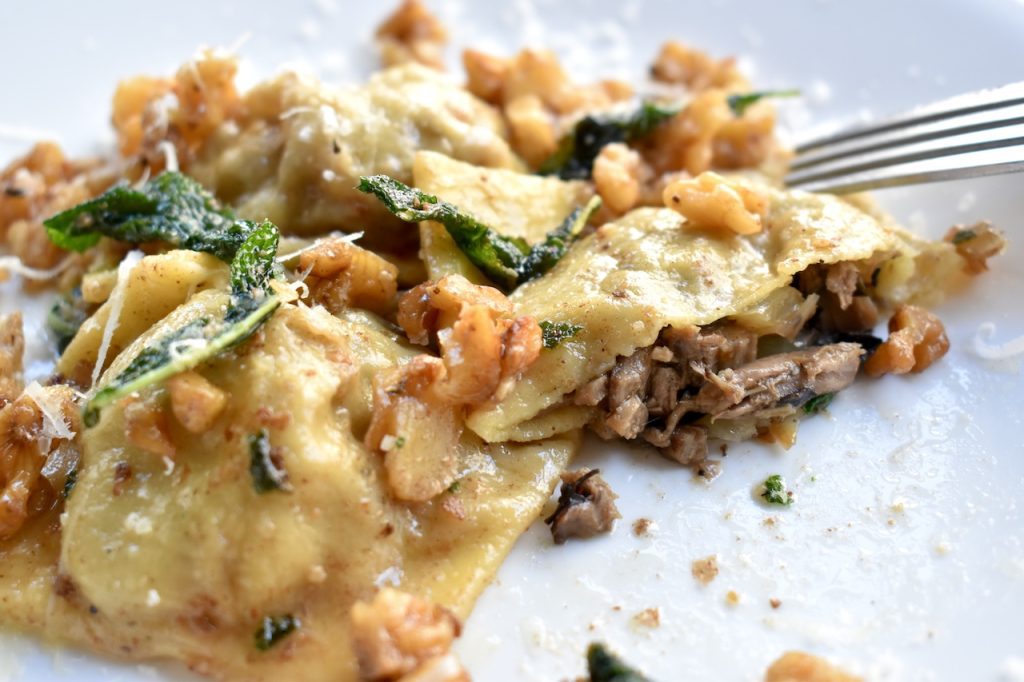 So, you only brought home one squirrel from a lacklustre hunt. How are you going to feed your whole family with it?
Squirrel and wild mushroom ravioli in a brown butter sage and walnut sauce is the delicious answer to that question!
Made with just one squirrel, this recipe produces 24-36 ravioli; more than enough for a family dinner. Yes, it's an involved recipe. Yes, there are a lot of steps. But, let me tell you, these ravioli are worth it!
I used wild black trumpet (horn of plenty) mushrooms for this dish, but feel free to use any of the dried mixes found at the grocery store.
I used a pasta machine to make the dough sheets these ravioli get stuffed into. If you don't have a pasta maker, feel free to use store-bought wonton wrappers instead. 
Prep Time

1 hr

Cook Time

1 hr 20 min

Total Time

2 hr 20 min

Yield

24-36 ravioli
Ingredients
For the Braise
1 squirrel
Kosher salt
Black pepper
1 tablespoon cooking oil or lard
1/2 large carrot, roughly chopped
1 stalk celery, roughly chopped, leaves and all
1 small onion, quartered
2 cloves garlic, smashed
2 sprigs fresh thyme
1/2 cup dried wild mushrooms (I used black trumpet)
1/2 cup red wine
For the Filling
2 teaspoons butter
1 small onion, finely chopped
2 cloves garlic, minced
4 sage leaves, minced
Homemade pasta sheets, or store-bought wontons
For the Sauce
1/2 cup chopped walnuts
3 tablespoons butter
20 sage leaves
Black pepper to garnish
Parmesan cheese to garnish
Preparation
1
Heat oil over medium-high heat in a skillet. Season squirrel with salt and pepper, then add it to hot oil and sear on both sides until well browned. Add the carrot, celery, onion, garlic, thyme, the dried mushrooms (if using fresh mushrooms, add them in step 4), and wine. Cook for 3 minutes, stirring. Add enough water to come halfway up the squirrel, bring to a boil, then reduce to a slow simmer. Cover and cook for about 1 hour, or until meat easily shreds off of squirrel.
2
Set squirrel and mushrooms aside to cool. Cook down the liquid until approximately 1/2 cup remains. Strain the cooking liquid into a medium bowl and discard the solids.
Shred the meat off of the squirrel, being sure to remove all bones. Pile the squirrel meat and mushrooms together, then chop finely with a knife. Stir the squirrel meat into the bowl of cooking liquid.
3
Melt the butter in the skillet over medium heat. Add the finely chopped onion and cook for 5 minutes until translucent and beginning to brown. Add the garlic and sage, and cook for 3 more minutes. Add to the bowl of squirrel meat and stir in. Taste the meat and add salt and pepper if necessary (remember there will be dough around the meat so it should be well seasoned).
Put in fridge to cool while you make pasta dough.
4
If making your own dough: follow a basic Italian pasta dough recipe and run it through the pasta maker until you get the sheets as thin as possible. Lay out a sheet on a floured work surface and add a teaspoon of squirrel filling every two inches. Lay down another pasta sheet over top of the one with the fillings. Smooth the pasta sheet with your fingertips, working around the filling to get the air bubbles out. Press to seal the edges and sides. Cut the ravioli in half and then into strips. Trim into 2 1/2- 3-inch ravioli squares. You'll end up with lots of pasta scraps.
Either freeze individually on a sheet pan, then pour into a bag or container to store in the freezer, or proceed with the recipe.
If using wonton wrappers: Add a teaspoon of filling into the center of the wonton wrapper. Wet the edges, then fold it over, pressing the edges to seal.
5
To cook the ravioli, bring a pot of salted water to a boil. Add the ravioli and cook for 3-5 minutes or until the ravioli rise and float to the top.
Meanwhile, melt the butter in a skillet over medium heat. Add the sage leaves and let them cook until they crisp up. Transfer to a paper towel. Add the walnuts and cook, stirring often, until they and the butter start to brown. Add the ravioli to the skillet, tossing them in the brown butter. Cook for 1 minute. Add the sage leaves back in and take off of the heat.
6
Serve with lots of freshly cracked black pepper and grated Parmesan cheese on top. Enjoy!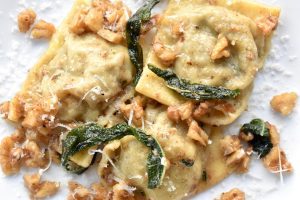 Notice how I didn't have you scroll through pages of mundane nonsense to get to the recipe? Notice that there were no annoying pop-ups or ads? That was on purpose!
I want finding and using my recipes to be easy for you, not frustrating. That does translate into a lot of lost income for me though. If you made this recipe and loved it, would you consider "buying me a coffee" and donating a buck or two through the Buy Me a Coffee app? It will help me keep pumping out recipes like this one!