Broccoli Beef… but with Goose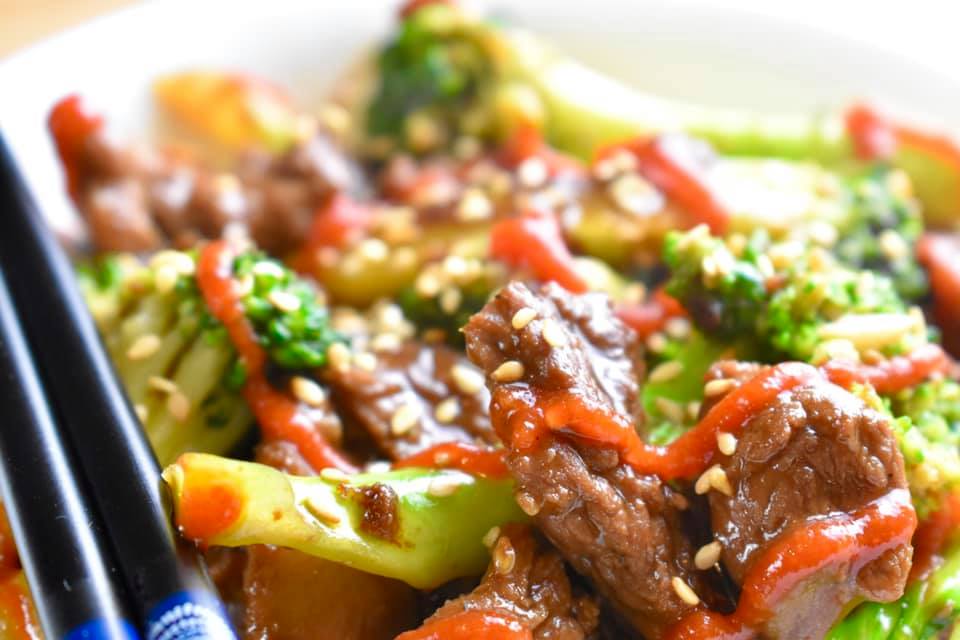 This is a delightful way to incorporate wild goose into your diet. Using baking soda and a marinade to tenderize the meat, then quickly stir frying it over high heat, creates delectably tender pieces of goose breast. You can use sirloin steak for this recipe if you don't happen to have any goose!
Prep Time

30 min

Cook Time

10 min

Total Time

40 min

Yield

4 servings
Ingredients
1 lb (454 grams) skinless goose breast, sliced thinly into bite-sized pieces1/4 teaspoon baking soda
2 tablespoons Shaoxing wine, sherry, or water
1 tablespoon corn starch
1 tablespoon oyster sauce
1/2 tablespoon sesame oil
3 cloves of garlic, minced
2 teaspoons white sugar
1 tablespoon light soy sauce
1 tablespoon dark soy sauce*
1/2 tablespoon oyster sauce
Freshly cracked black pepper
2 heads of broccoli, cut or broken into large florets
Salt
2 tablespoons vegetable oil or goose fat
3/4 cup goose stock, chicken stock, or water
1/2 tablespoon corn starch
Toasted sesame seeds to garnish
Sriracha to serve
Rice to serve
Preparation
Marinate the goose
1
Add the goose pieces, baking soda, wine or water, corn starch, oyster sauce, and sesame oil to a bowl and toss until well combined.
Let marinate on the counter for 30-45 minutes. This is a good time to start your rice!
Make the sauce
2
Meanwhile, add the minced garlic, sugar, both soy sauces, oyster sauce, and a few cranks or a pinch of freshly cracked black pepper to a bowl. Stir well to combine, then set aside.
Prepare the broccoli
3
Blanch the broccoli for 45-60 seconds then shock in cold water (instructions below).
While the meat is marinating, bring a pot of water with a big pinch of salt to the boil.
Fill a large bowl half way with very cold water (you can add ice).
Break or cut the broccoli into largeish florets. Peel and slice the stem into coins if you want to add that in too. 
Once the water is boiling, add the broccoli and cook for 45-60 seconds. 
Dump everything into a colander in the sink, then immediately transfer the broccoli to the cold water to stop it from cooking.
This process is called blanching and shocking. 
Once the broccoli has completely cooled, remove it from the water and gently wring out any water that's in it. Set the broccoli aside. 
Putting it all together
4
In a small bowl, mix together the stock/water and cornstarch. 
Have everything easily at hand beside your stove so you can work efficiently and quickly. This is called a mise en place.
5
Stir fry the goose meat in batches (instructions below).
Add the fat or oil to a wok or large pan and bring to high heat.
Add half of the goose and stir fry with a large spoon, moving the goose around the wok until it's JUST cooked through. Knock the goose out into a bowl, trying to leave the fat in the wok, then add the other half. Repeat, dumping the cooked goose into the bowl. 
6
Add everything back to the wok, thicken the sauce, and serve (instructions below). 
Reduce the heat to medium and add the bowl of sauce. 
Quickly add the broccoli and goose meat and stir everything together.
Give the stock and cornstarch a quick stir with a fork and add that too. 
Stir everything to combine and increase the heat so everything begins to bubble and thicken. 
Remove from heat and serve immediately. 
7
If the sauce seems too thin, add some more corn starch mixed with a bit of cold water.
If the sauce seems too thick, keep adding small amounts of water and stirring it in until you're happy. 
Serve sprinkled with sesame seeds and drizzled with sriracha on a bed of rice. Enjoy! 
*If you can't find dark soy sauce, replace it with 1 tablespoon light or regular.