Bullhead BLT's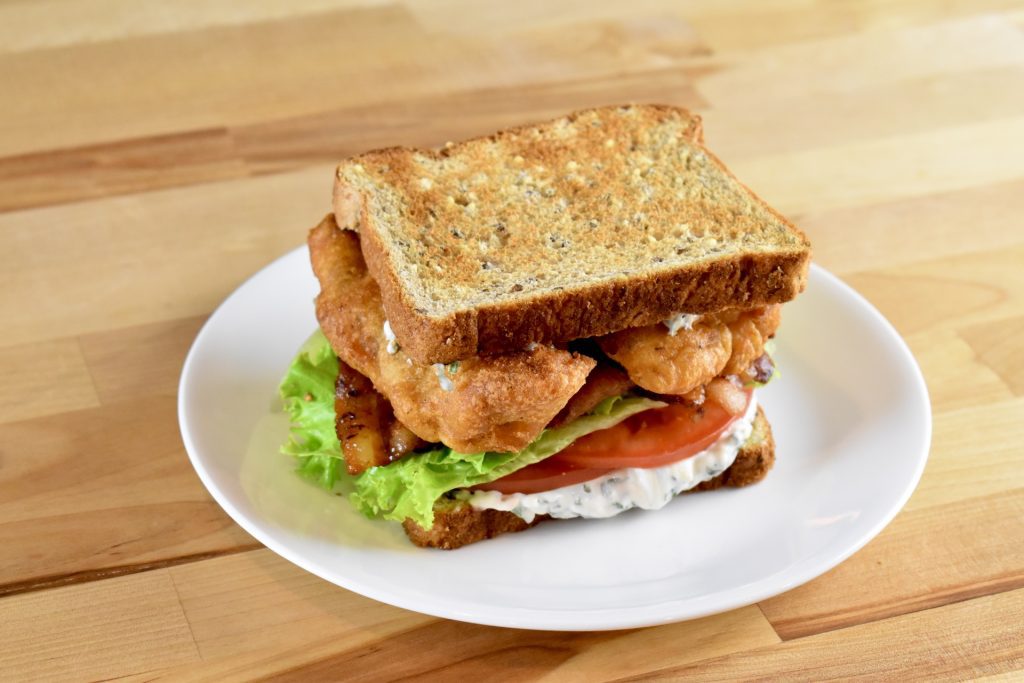 These bullhead BLT's (bacon lettuce tomato sandwiches) are a wonderful way to enjoy spring-caught bullhead catfish fillets. 
Sometimes trendy additions to BLT's don't actually make a great fit, but beer-battered fried fish actually works beautifully! 
A basil garlic mayo is the perfect sauce to amp the whole thing up, and a couple shots of Louisiana style hot sauce wouldn't hurt either. 
Use a beer without too much flavour, like a generic lager or pilsner. 
Prep Time

20 min

Cook Time

30 min

Total Time

50 min

Yield

4 sandwiches

Serving Size

1 sandwich
Cuisine

Course

Cooking Method

Special Equipment

Thermometer to test oil temperature
Ingredients
For the Batter
1 cup all-purpose flour
1/2 teaspoon kosher salt
1/4 teaspoon black pepper
1 teaspoon smoked paprika
1 teaspoon garlic powder
1 large egg, beaten
1 1/2 cups beer
For the Fish
Vegetable oil
8 bullhead fillets
For the Sandwiches
12 slices good quality bacon
2 large tomatoes, sliced thinly
8 pieces of lettuce, or 4 cups shredded lettuce
5 tablespoons real mayonnaise
3 tablespoons fresh basil, chopped
1 clove garlic, minced finely
8 slices of your favourite sandwich bread
Freshly cracked black pepper
Preparation
1
In a medium to large bowl, mix together the dry ingredients of the batter. 
Add the egg and beer and mix together until just incorporated. The batter should be quite thick. 
2
Fry the bacon in a skillet or frying pan until crispy, set aside on paper towels to soak up the grease. 
3
Using a wok, or a high-sided pot, pour in 2-3 inches (5-8cm) of the vegetable oil, then bring the oil to 350°F-375°F.
4
Dip the bullhead fillets, one at a time and holding it by the narrow tail side, in the batter, being sure that the entire fillet gets covered in it. 
After you dip the fillet in the batter, slowly drop it into the oil. Add another fillet in the same manner. 
Fry for 3-5 minutes, or until crispy and golden, then transfer to a wire rack over paper towels to drain. 
Repeat until the rest of the fillets are done, cooking them two at a time so as not to overcrowd the pan and cool the oil. 
Check the temperature in between each batch and adjust to keep it between 350 and 375°F.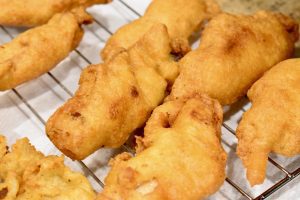 5
While the fillets are cooling, toast the bread and prepare the tomatoes and lettuce.
Mix the mayo, basil, and garlic in a bowl. 
6
Spread the sauce onto each slice of bread.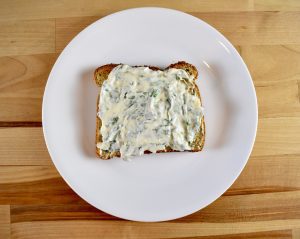 On a slice of bread, lay down a few slices of tomatoes, 2 pieces of lettuce, 3 slices of bacon, and two pieces of fish. Sprinkle over some freshly cracked black pepper.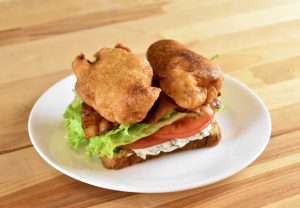 Top with another slice of bread.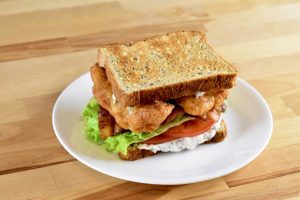 7
Slice on the diagonal with a sharp knife and serve. Enjoy!