Cajun Beans and Greens with Smoked Turkey Thigh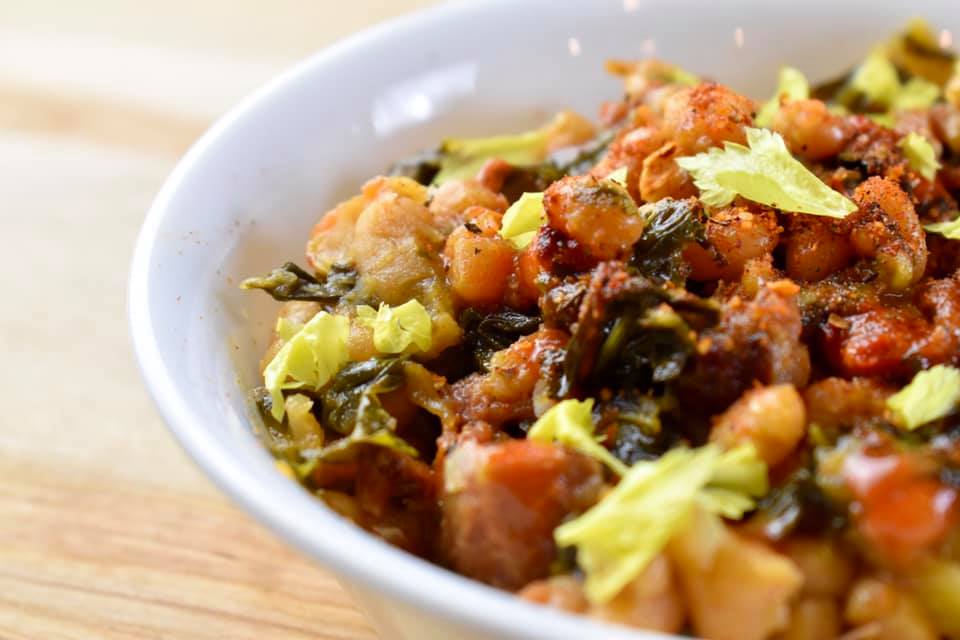 Dried white beans, collard greens, and smoked turkey thighs get cooked down into a super rich and flavourful casserole, enhanced by the flavour of Cajun spice. Some Louisiana style hot sauce cuts through all of that richness perfectly, so be sure to serve it alongside the dish.
Bunches of collard greens come in many sizes, but since they reduce down so much, it's not important that you use an exact amount. Just get a big old bunch of them!
Smoked turkey thighs can be purchased from most grocery stores. They come vacuum-packed and are usually found near the bacon. Smoked pork hocks or smoked turkey legs could stand in for the smoked turkey thigh, or you could attempt to smoke your own!
Prep Time

10 min

Total Time

3 hr 30 min

Yield

6 servings

Serving Size

1 bowl
Cuisine

Course

Cooking Method

Special Equipment

Dutch oven (or oven-proof casserole dish with lid)
Ingredients
2 cups dried navy beans, white beans, or black eyed peas (no need to pre-soak)
1 tablespoon vegetable oil 
1 large carrot, peeled and chopped
2 large onions, peeled and chopped
2 ribs celery (plus leaves for garnish), chopped
5 cloves garlic, peeled and minced
2 bay leaves
1 whole smoked turkey thigh, chopped into bite-sized pieces (skin and all, reserve the bone)
1.5 tablespoons Cajun spice (plus more for garnish)
1 large bunch of collard greens
Preparation
1
Rinse beans under cold water, and make sure there are no stones or rotten ones in the mix. 
2
Put the beans in a medium pot. Cover them with 3 inches (8cm) of water and bring to a simmer.
Simmer for 30 minutes, stirring often. If the beans soak up all of the water, add a little more so they don't burn. 
3
Preheat oven to 375°F (190°C, gas mark 5).
In a large Dutch oven add the oil, then sauté the carrots, onions, and celery over medium heat until softened. 
4
Add garlic, bay leaves, the chopped turkey thigh, the turkey bone, and the Cajun spice, and stir. 
Now dump in the beans and any liquid that is still in the pot, and stir everything together. 
Add water to cover everything by an inch (2cm) or so, and bring back to a simmer. 
5
Cover and transfer into the preheated oven.
Cook for 1 and 1/2 hours (90 min).
6
Meanwhile, wash the collard greens and remove the spine from each leaf by grasping the base (where the spine meets the leaf) with two fingers, then ripping the leaf down through those fingers so you're left with just leaf in one hand and just the spine in the other. 
Now stack the de-spined leaves and cut them into 1/2 inch (1 cm) strips one way, then the other way, creating smallish squares. This will ensure that there are no massive stringy bits of greens. 
7
After 90 minutes, take the pot out of the oven and stir in the collard greens. 
If the beans have soaked up most of the water, add in another 3 cups or so. 
8
Cook for another 90 minutes, or until all of the water has been soaked up by the beans and everything is looking dry. Check in on it every 30 minutes and try a bean. If it is still hard, you may need to add more water and leave it in longer. If it is creamy and looks like it wants to burst out of its skin, then the dish is done.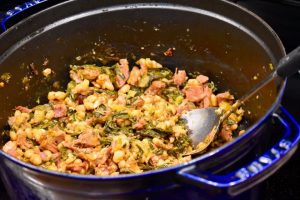 The dish should be creamy with a "stick to your ribs" consistency, not soupy.  
9
Take the pot out of the oven, dig out the bay leaves and thigh bone, and scoop portions out into bowls. 
Top with some scattered celery leaves and a touch more Cajun spice. 
Serve with Louisiana style hot sauce. Enjoy!