Chanterelle Breakfast Hash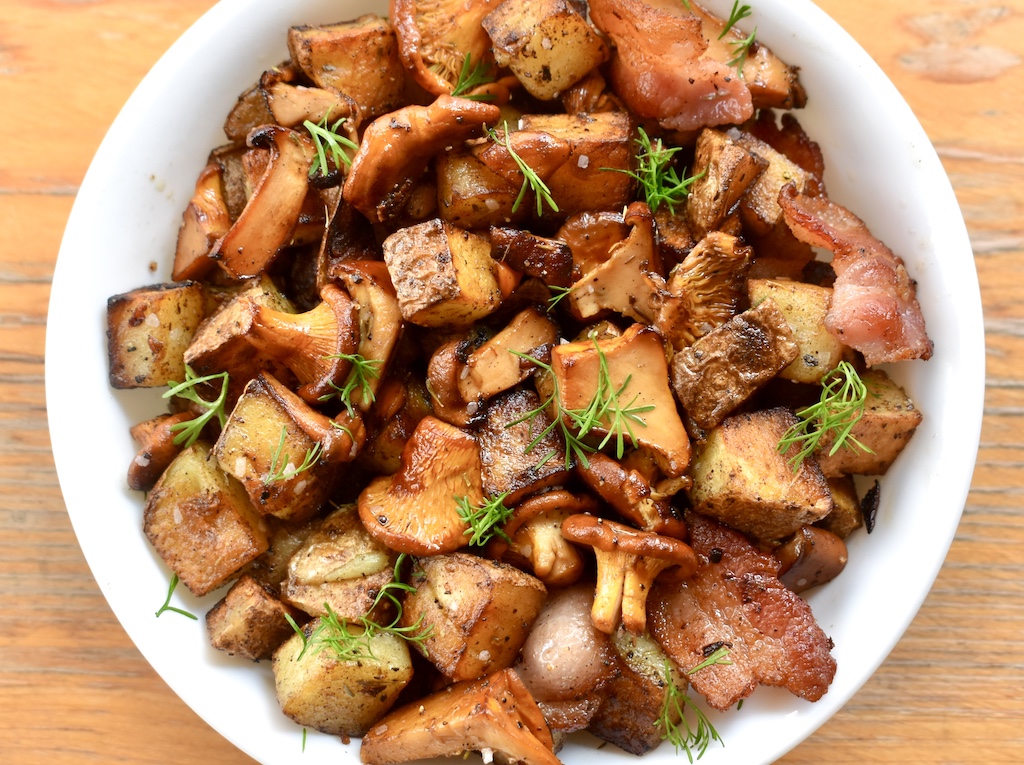 This chanterelle breakfast hash is the perfect accompaniment to fried eggs during the summer mushroom season. Bonus points if made while camping!
Prep Time

10 min

Cook Time

30 min

Total Time

40 min

Yield

4 servings with eggs, 2 servings without
Cuisine

Course

Cooking Method
Ingredients
1/2 teaspoon cooking oil
8 pieces bacon, cut into bite-sized pieces
2 large Russet potatoes, cut into small cubes
2 big handfuls fresh chanterelles, cut into large bite-sized pieces
1 teaspoon dried thyme leaves
Kosher salt
Black pepper
Fresh herbs to garnish (optional)
Preparation
1
Add the oil to a skillet over medium heat. 
Add the bacon and cook until crispy. Transfer to a plate, leaving behind the bacon grease. 
2
Add the cubed potatoes to the bacon grease and cook until crispy on the outside and tender on the inside, about 15-20 minutes. Move to one side of the skillet. 
Add the mushrooms and cook for 3 minutes, then mix everything back together and add the bacon back in. 
Add the thyme and keep cooking for 5 more minutes. 
Add salt and pepper to taste (salt will largely depend on the saltiness of your bacon). 
3
Garnish with chopped fresh herbs like thyme, dill, parsley, or cilantro if desired. Serve with eggs and/or toast. Enjoy!
Notice how I didn't have you scroll through pages of mundane nonsense to get to the recipe? Notice that there were no annoying pop-ups or ads? That was on purpose!
I want finding and using my recipes to be easy for you, not frustrating. That does translate into a lot of lost income for me though. If you made this recipe and loved it, would you consider "buying me a coffee" and donating a buck or two through the Buy Me a Coffee app? It will help me keep pumping out recipes like this one!