Chili-Garlic Butter Lobster Mushroom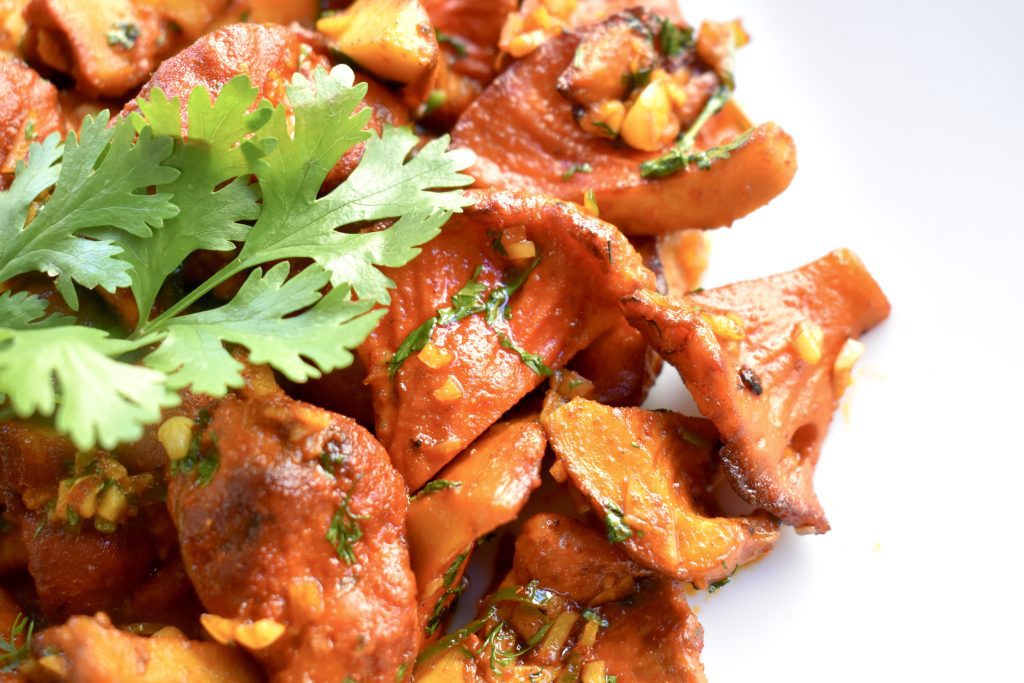 These chili-garlic butter lobster mushrooms are an incredibly delicious Indian-inspired dish that will blow your socks off!
My dog Arrow certainly wanted in on it!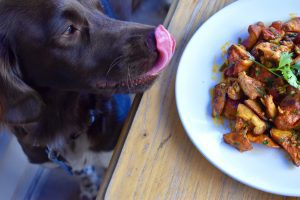 Serve these spicy and flavourful mushrooms with basmati rice, salad, and curry or dal. 
Remember, always be 100% sure of what you're harvesting. Always thoroughly cook wild mushrooms. If it's your first time trying a particular mushroom, eat only that type and don't eat much of it. Many non-toxic mushrooms don't react well with certain people and can cause stomach upset. 
Prep Time

15 min

Cook Time

15 min

Total Time

30 min

Yield

4 servings with sides
Cuisine

Course

Cooking Method

Suitable for Diet
Ingredients
1lb lobster mushrooms, cut into large, bite-sized pieces
1/2 tablespoon cooking oil or lard
1/2 teaspoon kosher salt
1/2 teaspoon black pepper
2 tablespoons butter
6 cloves garlic, minced
2 green chilies, minced
2 teaspoons Kashmiri chili powder, more if you like it spicy (or 1 teaspoon cayenne and 1 teaspoon paprika)
1 teaspoon smoked paprika 
2 tablespoons chopped cilantro (plus more for garnish)
Preparation
1
Heat the oil in a skillet over medium-high heat. 
Add the lobster mushrooms and sauté, stirring often, for 10 minutes. 
Add salt and pepper. 
2
Reduce heat to low. 
Add the butter, garlic, chilies, chili powder, smoked paprika, and cilantro. 
Cook for 5 more minutes. 
3
Garnish with more cilantro and serve as part of a larger Indian-inspired meal. Enjoy!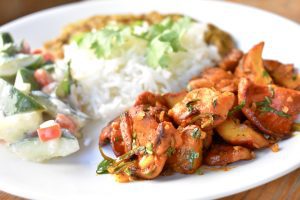 Notice how I didn't have you scroll through pages of mundane nonsense to get to the recipe? Notice that there were no annoying pop-ups or ads? That was on purpose!
I want finding and using my recipes to be easy for you, not frustrating. That does translate into a lot of lost income for me though. If you made this recipe and loved it, would you consider "buying me a coffee" and donating a buck or two through the Buy Me a Coffee app? It will help me keep pumping out recipes like this one!