Carrot and Cabbage Stir Fry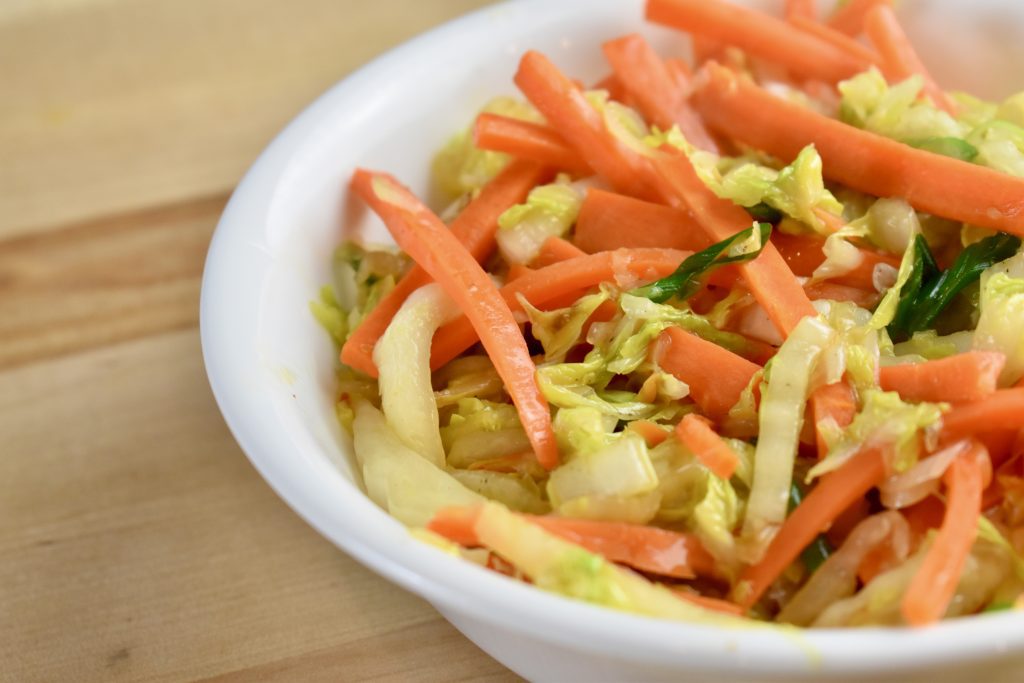 This vegetable side dish is quick and easy to make and is infinitely riffable. Sub or add in any finely sliced vegetable you happen to have available. Bacon, bear, or pork fat will enrich the dish, but it is just fine with vegetable oil if you'd like to keep it vegetarian. This goes great with pretty much any main dish, or it can be enjoyed on top of rice or noodles as is. 
Prep Time

10 min

Cook Time

5 min

Total Time

15 min

Yield

2-4 as a side
Cuisine

Course

Cooking Method

Suitable for Diet
Ingredients
2 tablespoons (30mL) water
1 teaspoon (5mL) corn starch
1 tablespoon (15mL) vegetable oil or bacon, bear, or pork fat
2 cloves garlic, peeled and minced
1 teaspoon (5mL) sambal oelek or other chili paste
4 cups (1000mL) Napa cabbage, shredded 
1 large carrot, peeled and sliced into batons (matchsticks)
1 tablespoon (15mL) Shaoxing rice wine or  sherry
1 teaspoon (4g) white sugar
1 scallion/green onion, trimmed and sliced on the bias
Preparation
1
In a small bowl or cup, mix together the water and cornstarch and set aside.
2
Heat the oil or fat in a wok or a large frying pan over medium high heat.
Add the garlic and the chili paste and stir constantly for 30 seconds or so. 
3
Turn the heat to high and dump in the cabbage and carrots. Continue stir frying, tossing everything together for about 2 minutes. 
4
Add the wine, sugar, and scallion and cook for another 30 seconds. 
Give the corn starch mixture a stir, then add it to the pan, turning down the heat to medium low as you do so.
5
Stir everything together and let the cornstarch slurry thicken whatever liquid is in the pan, about 1 minute.
Serve immediately. Enjoy!