Chinese Style Oyster Mushrooms Braised in Oyster Sauce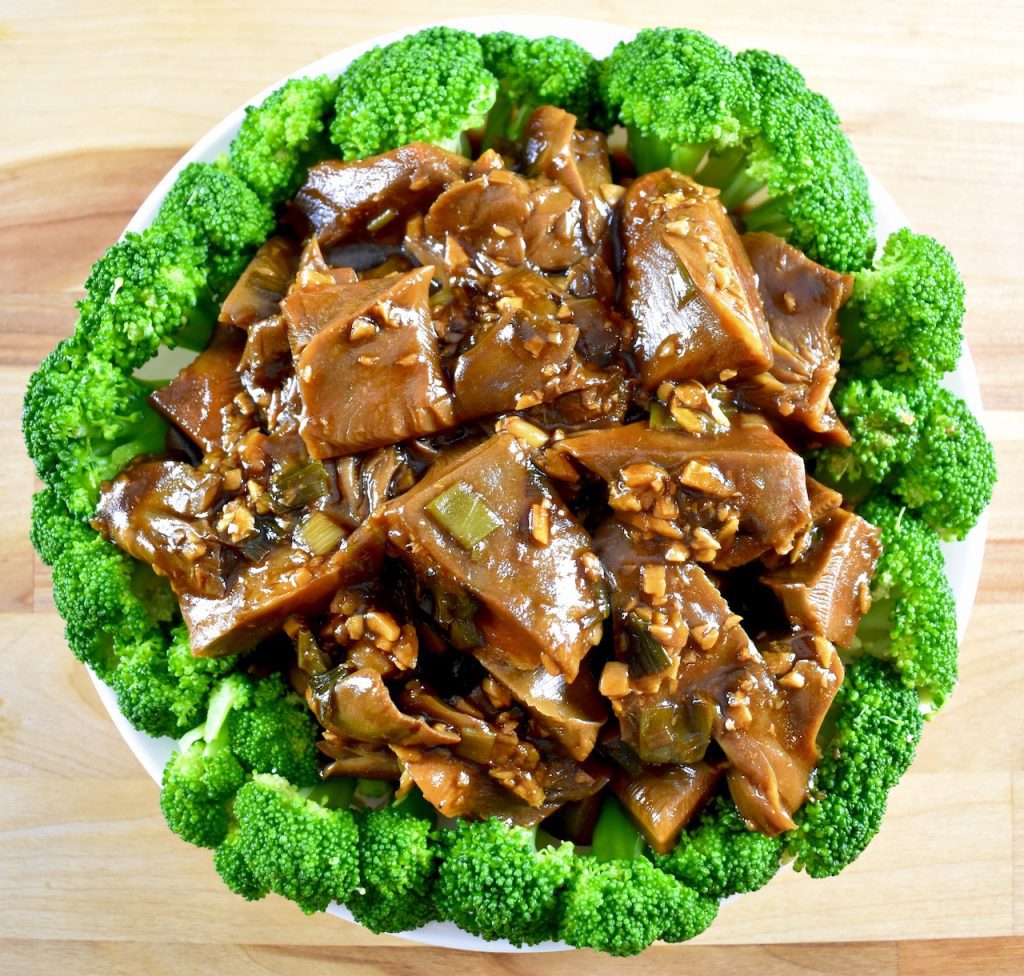 These Chinese style oyster mushrooms braised in oyster sauce is a wild riff on the classic Chinese braised shiitake mushroom dish.
This is a great dish for large late autumn oyster mushrooms that may be a little tougher than what you're used to. The braising method used in this recipe will soften them right up! 
To make this meal fully vegetarian, use a vegetarian oyster sauce. Shaoxing cooking wine and light and dark soy sauce can be found at any Asian grocer, or online. 
Prep Time

15 min

Cook Time

45 min

Total Time

1 hr

Yield

4 servings as a meal with rice, 6-8 servings as part of a spread
Cuisine

Course

Cooking Method

Suitable for Diet
Ingredients
1 large head broccoli, broken into large florets
Kosher salt
2 tablespoons (30ml) oil or lard
6 cloves garlic, chopped
1 thumb ginger, peeled and chopped
4 scallions, chopped
1 lb (454g) oyster mushrooms, trimmed and cut into large chunks
2 tablespoons (30ml) Shaoxing cooking wine
3 tablespoons (45ml) oyster sauce
1 tablespoon (15ml) light soy sauce
1 tablespoon (15ml) dark soy sauce
1 tablespoon (12g) white sugar
2 1/2 cups (625ml) water
1 tablespoon (12g) cornstarch
2 tablespoons (30ml) cold water
Preparation
1
Bring a large pot of water to the boil and add a big pinch of salt. 
Prepare a big bowl of ice water on the side. 
Add the broccoli to the boiling water and cook for 3 minutes. 
Immediately transfer the broccoli to the ice water to stop it from cooking. 
Once cool, gently squeeze the water out of the florets and set it aside.
2
In a wok or large skillet, add the oil or lard over medium high heat. 
Add the garlic, ginger, and scallions, and cook until lightly browned, about 3-5 minutes. 
Add the mushrooms and cook for 2 minutes, stirring often. 
Add the wine, oyster sauce, soy sauces, sugar, and the 2.5 cups water. 
3
Bring to a strong simmer, then reduce to a low simmer. 
Cook for 30 minutes (longer if your mushrooms are very old and tough). 
The liquid should have reduced by quite a bit. 
Mix together the cornstarch and cold water and add it to the mushrooms. 
Increase heat to medium and cook until sauce thickens so that it clings tightly to the mushrooms. 
4
To serve, nestle the broccoli florets into a circle around the edge of a plate. Spoon in the oyster mushrooms into the centre. Enjoy!