Largemouth Bass Congee with Stinging Nettle and Crispy Garlic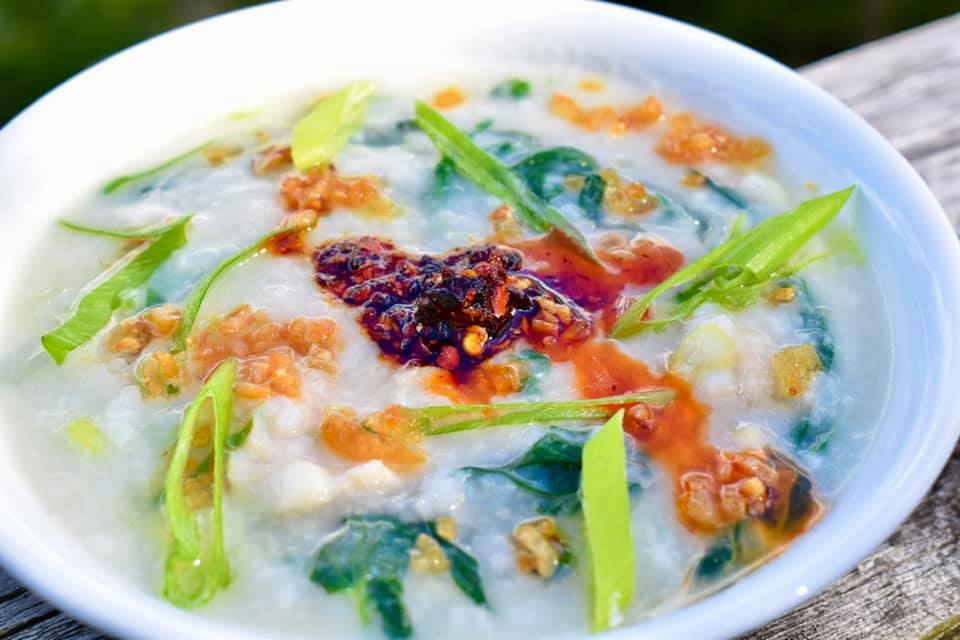 This silky and delicious Cantonese style congee is a type of a savoury rice porridge and in this case is made with freshly caught wild largemouth bass and foraged stinging nettle leaves. It could easily be made with any white fish (like basa, tilapia, perch, etc.) and store-bought greens like spinach or chard. Be sure to harvest stinging nettle leaves with thick gloves to avoid being stung. Once the leaves are cooked, they lose any ability to sting! 
Cuisine

Course

Cooking Method
1 cup Jasmine Rice
10 cups bass stock, fish stock, chicken stock, or water
1/4 cup vegetable oil
5 cloves garlic, minced
salt
1 tsp MSG (optional)
1 tsp ground white pepper (optional)
2 tablespoons of slivered fresh ginger
1 bunch stinging nettle leaves, well-washed 
2 skinless largemouth bass fillets, cut into bite size pieces
1 green onion, sliced on the bias
chili crisp or chili oil to serve
Preparation
1
Wash rice (optional) by pouring clean water over grains until water begins to run clear.
2
In large pot, add rice and fish stock. Bring to a simmer and cook for at least 30 minutes, stirring every 5 minutes or so, until rice is silky, smooth, and at desired consistency.*
3
Meanwhile, mince garlic and add to frying pan with oil. Bring to medium heat and fry garlic until golden. Immediately pour garlic and oil into a bowl and set aside. 
4
After 20 minutes or so, add slivered ginger (slice peeled ginger thinly, then slice rounds into ribbons), a pinch of salt, MSG, and white pepper. Taste and adjust seasoning as needed. 
5
When congee is done to your liking, add the nettle leaves and fish pieces and cook until nettles are fully wilted and fish flakes apart.
6
Ladle into bowls and stir a spoonful or two of fried garlic and oil into the bowl.
Serve with a dollop of chili crisp and a sprinkling of green onions. Enjoy!
*This is a matter of preference, some like congee thin and gruel-like, others thick and porridgy. The longer you cook, the thicker it will become.