Chipotle Venison Pot Roast on Hatch Grits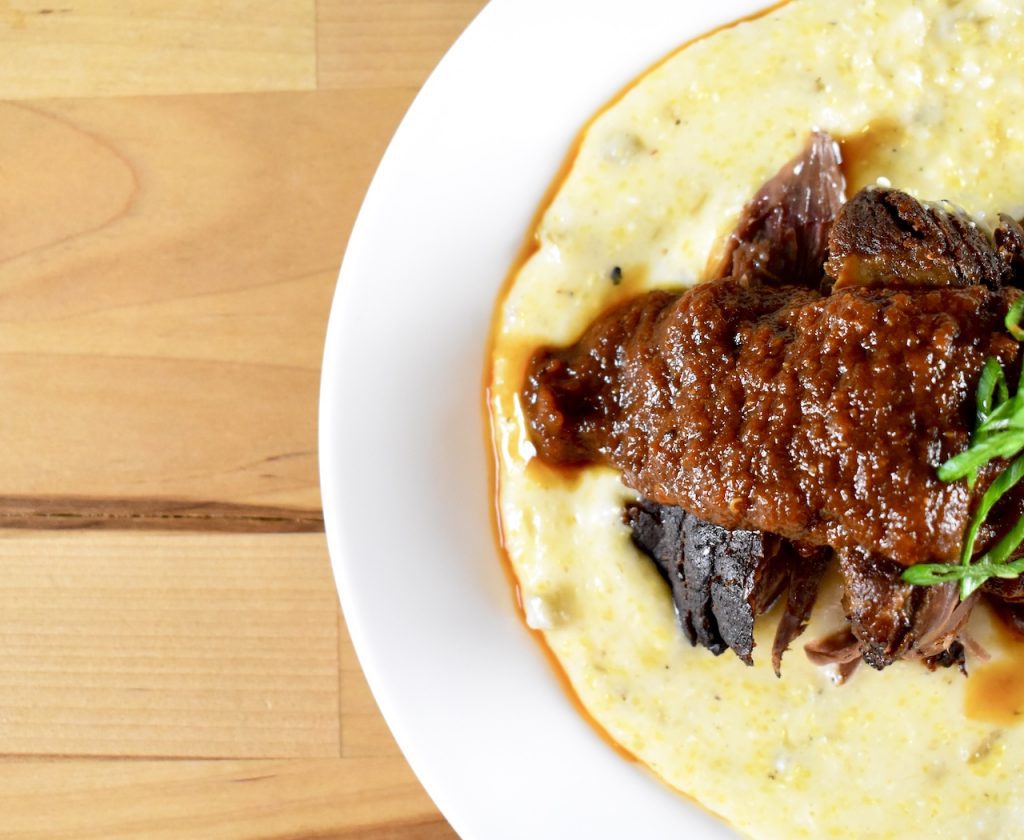 This spicy venison dish is makes for a delicious "stick to your ribs" kind of meal. 
Redolent of two different chilies (chipotle and hatch), it is full of complex flavours, despite its simplicity. 
Try and find real grits, not the instant kind. It really does make a big difference. If grits are impossible to find, you could replace them with polenta or mashed potatoes. 
Serve this with a light salad with a lime-based vinaigrette.
Prep Time

15 min

Cook Time

3 hr 15 min

Total Time

3 hr 30 min

Yield

4 servings
Ingredients
For the Venison
2lb (900g) venison shoulder roast (boneless)
1 tablespoon (15ml) lard or oil
Kosher Salt
Black Pepper
1 teaspoon (2g) ground cumin
1 teaspoon (2g) smoked paprika
2 chipotles in adobo, minced
1 large onion, chopped
4 cloves garlic, chopped
4 cloves black garlic, chopped (optional)
1 cup (250ml) venison stock
14oz (420ml) can Rotel tomatoes with green chilies
1 scallion, sliced (for garnish)
For the Grits
1 cup (250g) stoneground grits (I used mixed white and yellow)
3 cups (750ml) water
1 cup (250ml) milk
1/2 teaspoon (2g) kosher salt
1/2 cup (200g) chopped cheese (gouda, monterey jack, mozzarella, cheddar, etc.)
1 tablespoon (14g) butter
2 tablespoons (30ml) hatch chili salsa, or chopped and sautéed hatch chilies)
Preparation
1
Preheat oven to 300°F (150°C, gas mark 2).
2
Add the oil to a heavy bottomed pot or Dutch oven over high heat. 
Season the venison shoulder generously with salt and pepper, then sear in the oil until it is browned on all sides, about 5-8 minutes. 
Remove from the pot and turn the heat down to medium. 
Add the spices and onions and sauté for 5 minutes. Add the garlic and black garlic if using and sauté for 2 more minutes. 
Add the venison back to the pot, add the stock and tomatoes, and mix everything together. 
Cover and put into the oven for 3 hours. 
3
Transfer the venison to a plate, then transfer everything else to a blender. 
Let cool, then blend until smooth. 
4
Slowly whisk the grits into a pot with the water and milk over medium heat. 
Add the salt and continue whisking, slowly reducing the temperature, until the grits are smooth and creamy, about 20 minutes. 
Stir in the cheese, butter, and hatch chilies and stir until everything is melted and creamy. 
5
Pull the venison apart into chunks and serve on top of the grits. 
Pour over some of the blended sauce. Garnish with sliced scallions and serve immediately. Enjoy!