Creamy Tarragon Pheasant and Pheasant Back Mushrooms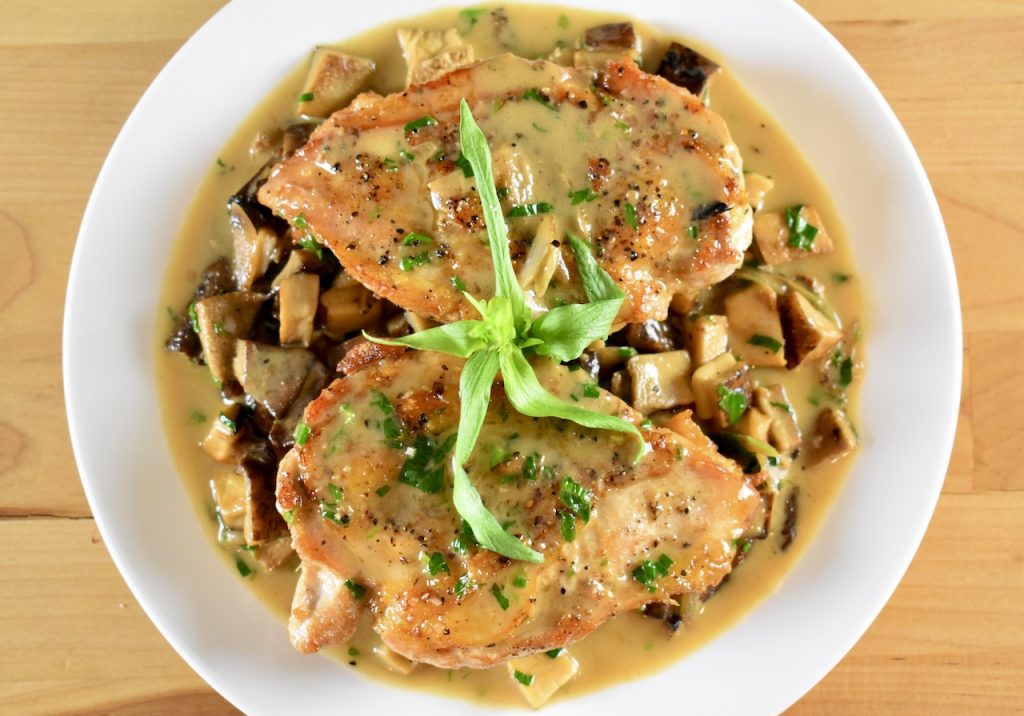 I've always wanted to create a dish with both pheasant and pheasant back mushrooms in it, and here it is! 
This is a French style preparation and is very rich and delicious. You could use any mushroom really; morels or chanterelles would be very tasty substitutes for the pheasant backs. 
Pheasant backs (aka dryad's saddles) can be found in the spring, growing as bracket fungus on dead or dying trees near the base. They have an unmistakable cucumber or watermelon rind scent to them. 
Make sure you pick them when they're nice and tender!
Prep Time

10 min

Cook Time

20 min

Total Time

30 min

Yield

2 servings (double ingredients for 4)
Cuisine

Course

Cooking Method

Searing
Sautéing
Simmering
Ingredients
2 pheasant breasts, skin on if possible
Kosher salt and freshly cracked black pepper
2 tablespoons (30ml) rendered pheasant fat or bacon fat or duck fat or vegetable oil
3 cups (~300g) pheasant back mushrooms (Polyporus squamosus), tough bits trimmed, pores removed, and cut into small cubes
2 shallots, thinly sliced
1 teaspoon (4g) butter
1/4 cup (60ml) dry vermouth or white wine
1 cup (250ml) pheasant stock or chicken stock
2 tablespoons (8g) fresh tarragon, chopped
1/4 cup (60ml) heavy cream
Preparation
1
Place the breasts in between two pieces of plastic wrap or waxed paper. 
Using a rolling pin or meat mallet, gently pound the breasts down to about 1/2″ (1 cm) thick.
Season both sides generously with salt and pepper. 
2
Add the fat or oil to a cast iron or stainless steel pan over high heat. 
Once hot, add the breasts, skin-side down, then hold them flat with a spatula or small lid for 30 seconds so they don't curl up. 
Sear for 3 minutes, flip, then sear for 1 more minute. 
Transfer the breasts to a plate and set aside. 
3
Turn the heat down to medium high and add the mushrooms to the pan. 
Cook for 5 minutes, stirring regularly. 
Add the shallots, and cook for another 3 minutes or so. 
Add the butter, let melt for 1 minute, then add the vermouth or wine and cook until it mostly dissipates, scraping up anything stuck to the pan with your spatula. 
4
Add the stock and cook down for a few minutes until it becomes a creamy sauce. 
Reduce heat to low, add tarragon and cream. 
5
Use a slotted spoon to scoop out the mushrooms, dividing them evenly between two plates. 
Pour any juices from the pheasant breasts into the pan sauce, then set the breasts on top of the mushrooms.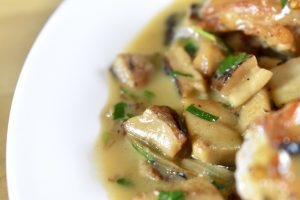 Spoon the creamy pan sauce over the pheasant and mushrooms. Garnish with fresh tarragon and serve immediately. Enjoy!