Korean Style Lake Smelt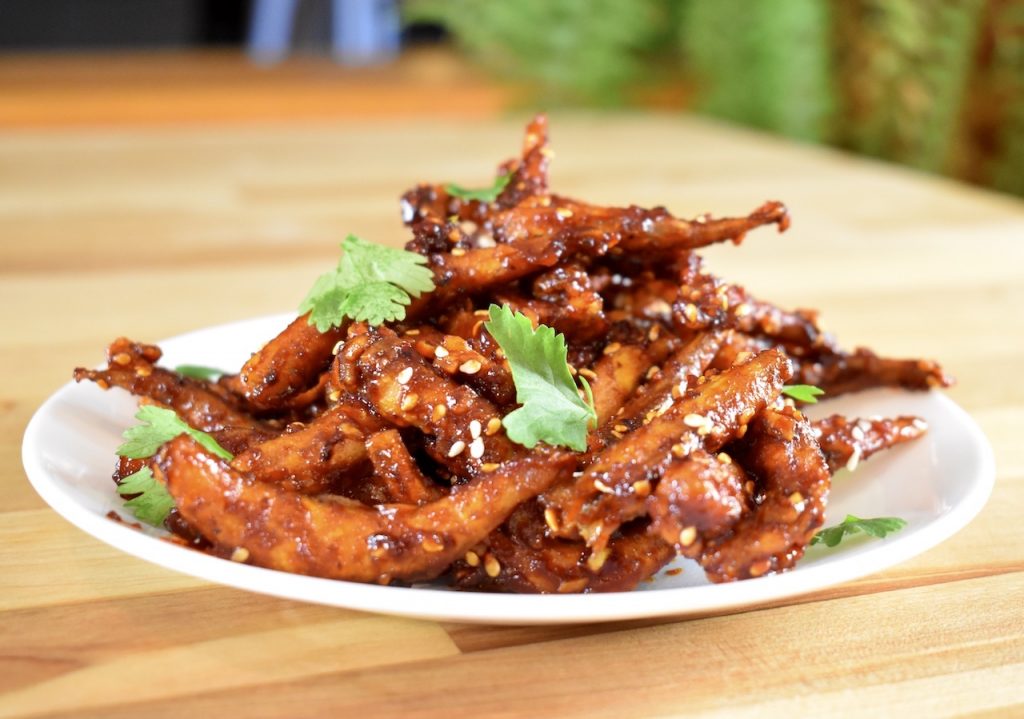 This Korean style lake smelt is made in the fashion of myeolchi bokkeum, the delicious Korean ban chan dish of dried anchovies in a spicy sauce. It is quite a pungent and powerful dish, so you only need a little bit, and it's best served as a snack, a side, in a banchan (Korean side dish) spread, or with lots of white rice. 
Prep Time

10 min

Cook Time

5 min

Total Time

15 min

Yield

4 servings as part of a ban chan spread or appetizer
Ingredients
Vegetable oil for frying
1/2 lb (225g) lake smelt, gutted, heads on or off
1 tablespoon (8g) gochugaru (Korean chili flakes)
1 tablespoon (15ml) water
1 tablespoon (15ml) soy sauce
1 teaspoon (5ml) fish sauce
1/2 tablespoon (8ml) gochujang (Korean fermented pepper paste)
1 tablespoon (12g) white sugar
1 clove garlic, crushed into a paste
1/2 cup (70g) white flour
Pinch of salt and pepper
1 tablespoon (8g) sesame seeds
Cilantro to garnish
Preparation
1
Add at least 1 inch (2cm) of oil to a skillet or wok.
Slowly heat it up to 350°F (175°C).
3
Prepare sauce by adding the gochugaru, water, soy, fish sauce, gochujang, sugar, and garlic into a bowl and mixing well. 
4
Pour the flour onto a plate or into a plastic bag and add the salt and pepper to season it. 
Toss the smelt in the flour, so that every one is coated in it. 
5
Working in 2 batches, fry the smelt in the hot oil for 3 minutes or until golden and crispy. 
Remove from the oil and let drain on a paper towel. 
6
Add the fried smelt to a wok or frying pan over medium high heat. 
Add the sauce and toss the smelt in it so everything is coated. Cook, stirring constantly for about 2 minutes, or until the sauce is thick and sticky. 
Add in the sesame seeds, then transfer to a plate or bowl. 
7
Garnish with cilantro and serve immediately. Enjoy!