Eggplant Roasted in it's Jacket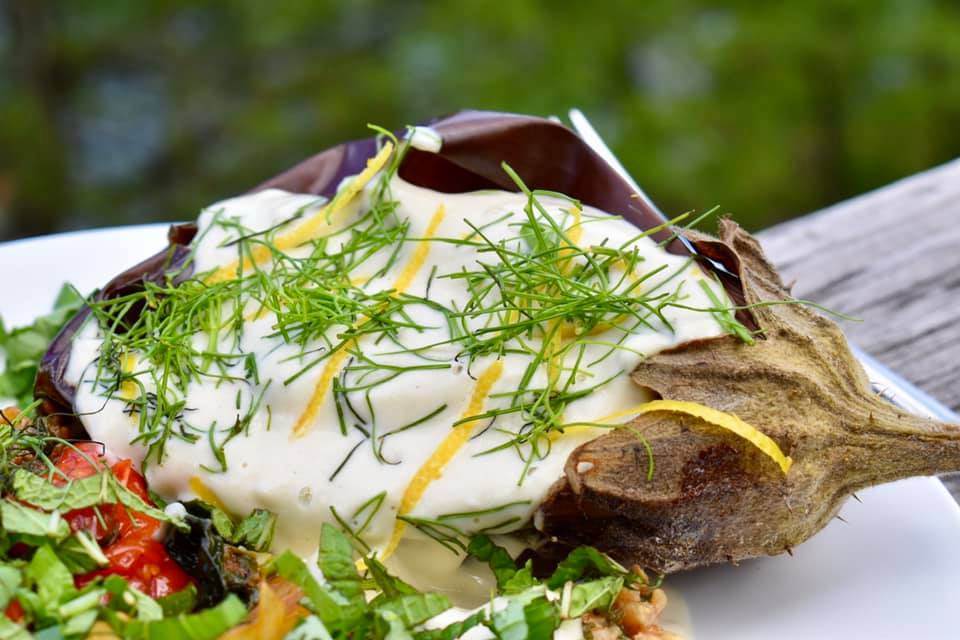 This simple approach to cooking eggplants lets their natural flavour shine. Simply roast for an hour, slice it open and pour on some tahini-yogurt sauce, whose slight bitterness and bright acidity mingle with the silky soft eggplant flesh perfectly! They can then be sprinkled with fresh herbs like basil, mint, fennel fronds, dill, or parsley, dried herb blends like za'atar, or even with date syrup or pomegranate seeds. Diners eat the insides of the eggplant, while leaving the 'jacket' behind. Serve one medium eggplant per person. 
Prep Time

10 min

Cook Time

1 hr

Total Time

1 hr 10 min

Ready in

1 hour

Serving Size

1 medium eggplant per person
Cuisine

Course

Cooking Method

Suitable for Diet
1 medium eggplant per person* 
1 cup tahini
1/2 cup plain yogurt
Lemon zest
Juice of 1/2 a lemon
3 cloves of garlic, smashed into a paste
1 pinch of salt
Chopped fresh herbs, za'atar, date syrup, or pomegranate seeds
Preparation
1
Preheat oven to 375 degrees F.
2
Put eggplant(s) on a lined sheet tray and put in the preheated oven for 60 minutes. Using a fork or spoon, press down on skin of eggplant, if it is squishy, with lots of give, that means it's ready to eat. If not, roast for another 15 minutes and try again. 
3
Meanwhile, mix together tahini, yogurt, lemon juice, and garlic. Stir vigorously until the sauce becomes smooth and creamy. Add salt to taste. Sauce recipe can be doubled if necessary. 
4
Chop the fresh herbs, or prepare alternate topping. 
5
When eggplant(s) are ready, move to plate, slice open from top to bottom and spoon a generous amount of the sauce into the opening. Sprinkle lemon zest and herbs over the sauce. Enjoy! 
*Can be any type of eggplant, but narrow or very small eggplants need less cooking time