Deluxe Avocado Toast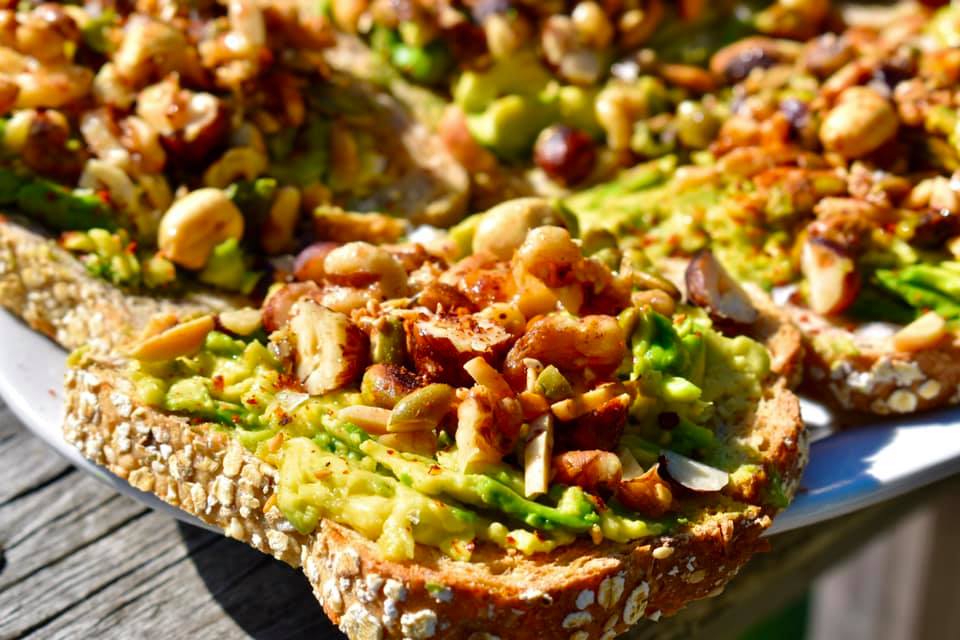 Regular avocado toast is delicious on its own, but you can make a deluxe version by adding a few lavish ingredients. Wow your guests by bringing this out on a platter for a sumptuous brunch with mimosas!
Prep Time

15 min

Cook Time

5 min

Total Time

20 min

Ready in

20 minutes

Yield

Makes 6 toasts

Serving Size

1 toast per person
Cuisine

Course

Cooking Method

Suitable for Diet
Ingredients
6 slices good quality bread
3 medium to large ripe avocados
2-3 cups mixed nuts and seeds (peanuts, pecans, walnuts, hazelnuts, pistachios, almonds, cashews, pumpkin seeds, sesame seeds, sunflower seeds, hemp seeds, flax seeds, etc.)
3 tablespoons butter
Honey
High quality flaky salt
Aleppo Pepper or other chili flakes (optional)
Preparation
1
Pile nuts and seeds onto a cutting board and roughly chop, leaving some whole and some chopped. 
2
In a frying pan on medium heat, melt butter. Add nuts and seeds and toast them, stirring often, until butter is beginning to brown and nuts and seeds are developing colour and are smelling wonderful. Reduce heat if necessary and keep a close eye on the nuts as they burn quickly!
Take off heat once everything is brown and toasty and dump into a bowl.
3
Toast bread.
Meanwhile, peel avocados and remove pits. Roughly cut into smaller pieces and add them to a bowl. Mash with a fork.
4
Spread avocado paste onto the toast, dividing it evenly across all six. Avocado will begin to brown quickly, so make sure you have everything ready to go at this point. 
5
Divide toasted nuts and seeds across all 6 pieces of toast, piling them up in the centre and drizzling any brown butter over them that happens to be in the bottom of the bowl.
6
Drizzle honey over all of the pieces of toast, then sprinkle flaky salt and chili flakes over them as well. 
7
Serve immediately and enjoy!