Dirty Rice with Venison Liver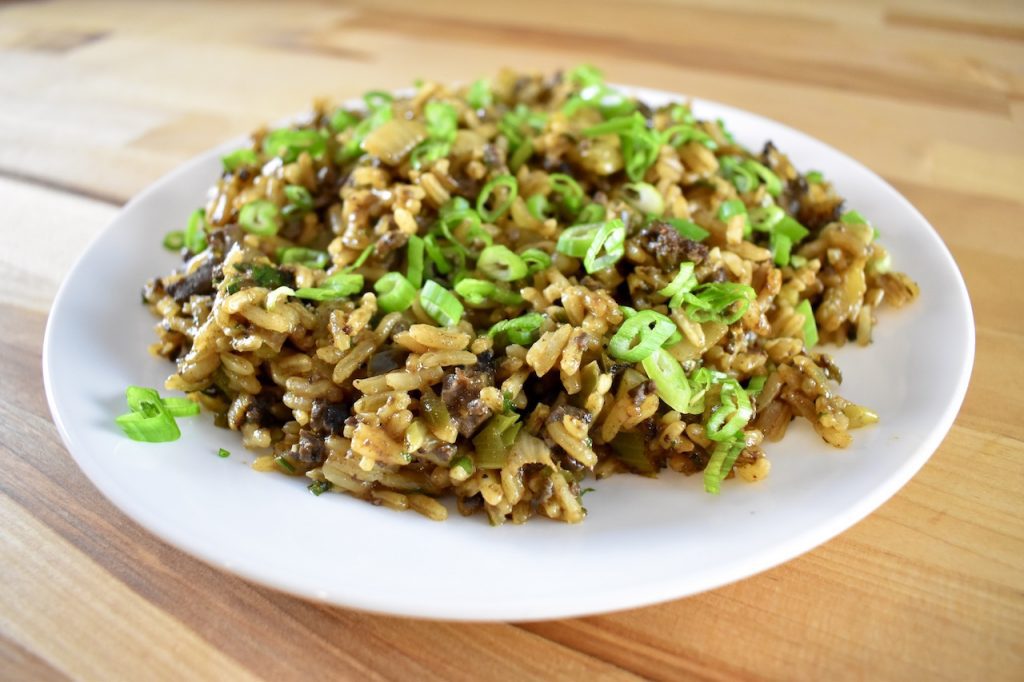 This dirty rice with venison liver is a take on the New Orleans classic, which is usually made with ground pork and chicken livers.
It's a great dish to make if you're not quite sure how you feel about the taste of liver. Some sort of magic happens during the cooking process that really neutralizes the liver flavour, while still highlighting it in a subtle way. 
You could make this dish with veal, beef, pork, lamb, moose, or elk liver as well. You could also add in some sautéed ground meat to make it a heartier dish. 
I really like eating this the next day for breakfast too. Slice some breakfast sausages into rounds and fry them in a bit of butter. Add the leftover dirty rice and fry it all up until slightly crispy. Top with a sunny egg and lots of hot sauce! 
Prep Time

20 min

Cook Time

30 min

Total Time

50 min

Yield

4 large servings, or 8 servings as a side
Cuisine

Course

Cooking Method

Special Equipment
Ingredients
1 cup (160g) white rice
1.5 cups (375ml) water
Kosher salt
3 tablespoons (45ml) vegetable oil
12 oz (340g) venison liver, trimmed and cut into 1″ (2cm) steaks
Black pepper
1/2 teaspoon (1g) chili powder
1/2 teaspoon (1g) smoked paprika
1.5 cups (375ml) venison stock (or beef stock)
2 large ribs celery, chopped
1 green pepper, chopped
1 small onion, chopped
1 jalapeño, seeded and chopped
3 cloves garlic, minced
1 teaspoon (1g) dried oregano leaves
1/2 cup (12g) fresh parsley, chopped
3 scallions, sliced, whites and greens separated
Preparation
1
Add the rice, water, and a big pinch of kosher salt to a medium pot.
Bring to a boil, stirring often. 
Once the water boils, give it a last stir, put a lid on and turn the heat down to low. Don't touch that lid again until the rice is done!
Cook on low for 10 minutes. 
Take off of the heat and let sit for 5-10 minutes without touching the lid. 
Fluff up the rice with a fork. 
2
Meanwhile, while the rice is cooking, add 1 tablespoon (15ml) of the oil to a large skillet over medium high heat. 
Add the liver steaks and sear for about 2 minutes on one side. 
Flip the liver steaks and season with salt, pepper, chili powder, and the paprika. 
Add 1/2 cup (125ml) of the venison stock and cook for 1 minute. 
3
Take out one of the liver steaks and set aside. Transfer the rest of the steaks and the liquid to a blender.
Let cool a bit before blending. 
Blend into a very rough paste (ten quick 1-second pulses does it on my blender). 
4
Dice the remaining liver steak into small pieces. 
5
Add the remaining 2 tablespoons (30ml) of oil to the skillet over medium high heat. 
Add the celery, pepper, onion, and  jalapeño. 
Cook for about 8 minutes, or until vegetables are browned.
Add the garlic and the diced liver and cook for another 2 minutes. 
Add the blended liver and oregano. Cook, stirring often, until the liquid evaporates and everything begins to brown. 
6
Add the parsley, scallion whites, cooked rice, and the rest of the venison stock. 
Turn the heat down to medium and stir everything in together. 
Cook until all the liquid has been absorbed, about 5 minutes. 
Taste and add more salt and pepper if necessary. 
7
To serve, scoop out onto plates, garnish with the scallion greens and some Louisiana-style hot sauce. Enjoy!