Euro Trip Part 3 – Friuli Venezia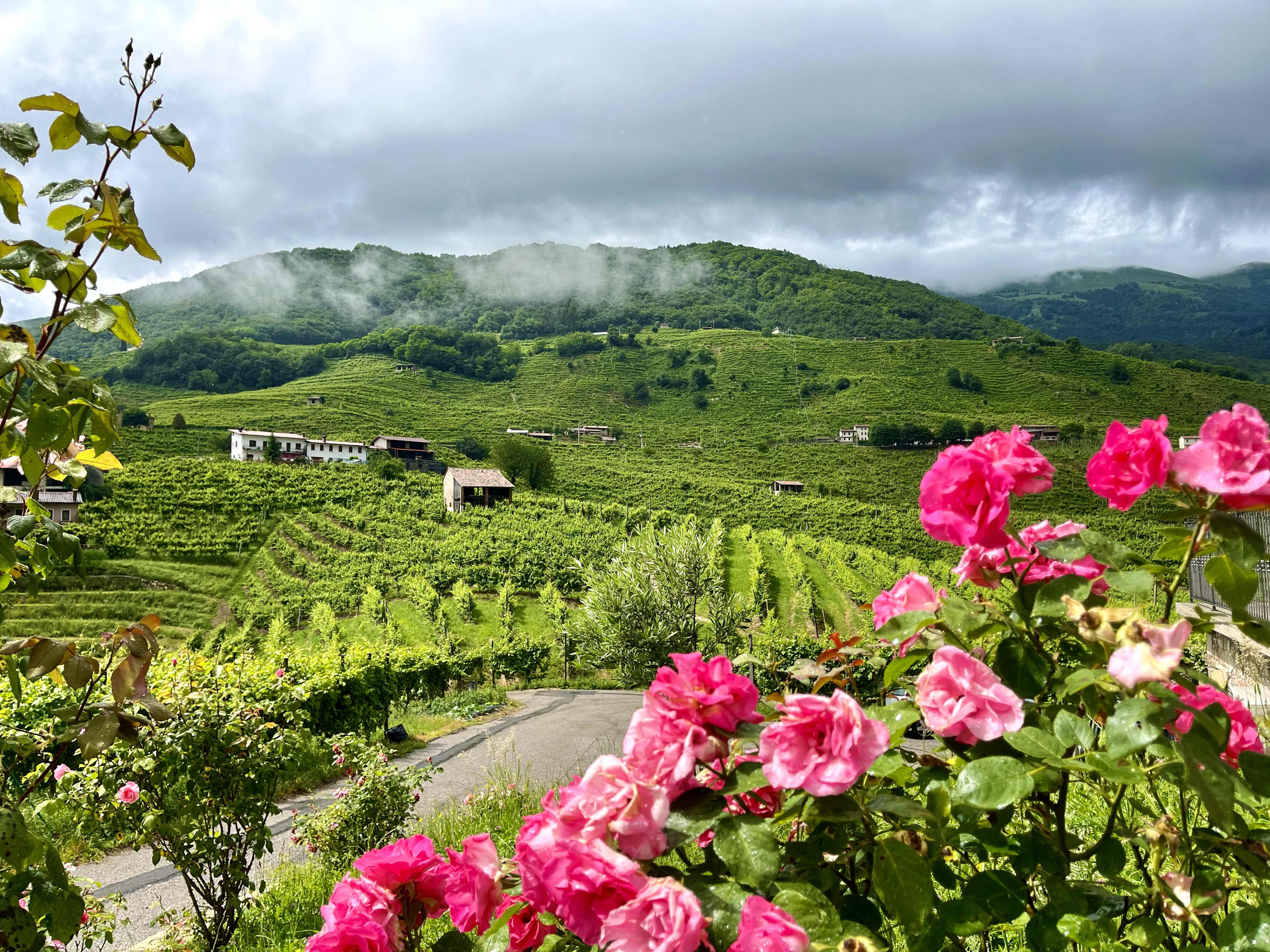 Friuli-Venezia Giulia, Northeastern Italy
We disembarked from the train after an easy ride from Venice to Casarsa, a small town in the northern region of Italy in the province of Friuli-Venezia Giulia. 
Our friend Holly picked us up from there in her car and we drove to Spillimbergo where we'd be staying, about 20 minutes away. 
We had a bit of trouble finding the Airbnb and walked in circles for a while before the host found us in a parking lot and guided us in, speaking non-stop Italian a mile a minute. 
Holly, a Canadian, has been living in Italy for a year with her partner, our friend JP (who was born in the region), and has picked up some Italian, but she was clearly struggling to translate the rapid fire speech of our hostess. 
Despite that, our hostess seemed warm and friendly and tried her best to make us welcome. The room we'd rented from her was comfortable and clean. 
We dropped off our stuff, then drove to JP and Holly's home in the cute village of Toppo, about 15 minutes away. They had a nice little apartment in an historic building built in the 1600's, and had half-adopted their neighbour's beautiful German shepherd Kira.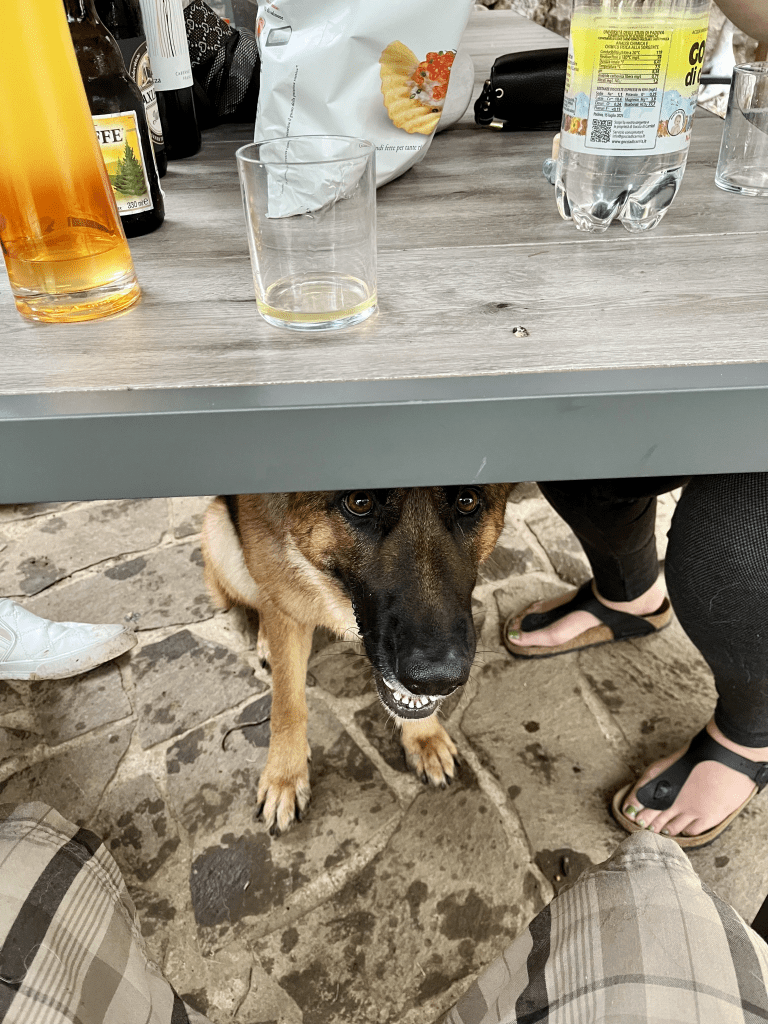 JP wanted to show us the old church and bell tower that overlooked their village, so we drove up to the top, then climbed the stairs for a beautiful view of the village below. 
On the way back down the steep road, the car started behaving oddly; pulling hard to the left. We pulled over into a small parking lot and checked it out; there was definitely something wrong with the wheels and/or the axle. 
Not off to the best start, but luckily, JP called his dad who came to the rescue. While we were waiting, I heard a cuckoo bird for the first time, which sounds just like the clock. At one point the clock tower started chiming and the cuckoo joined, sounding just like a cuckoo clock! JP's dad drove the broken car home while we followed in his car. He promised to take a look at it the next day and lent us his car in the meantime. 
JP was disappointed that we'd wasted so much time, but Kathy and I weren't feeling too bad about it, happily soaking in the region's beauty. 
I'd met JP on a grouse hunting trip back in Canada, where we had a 12 hour drive, a week of hunting, then a 12 hour drive back home without having ever met each other beforehand. Luckily we hit it off on our week-long blind "date" and had lots to talk about. 
On the long drive, he'd told me about a local spot in San Danielle di Friuli where they did nothing but serve big plates of sliced prosciutto; fitting since San Danielle was the home of the famous cured ham. 
Now that I was in his home town, he wanted to show it to me, so we drove to the spot, a brightly lit hall with a wooden interior, unchanged since the 70's. They were very famous for their prosciutto.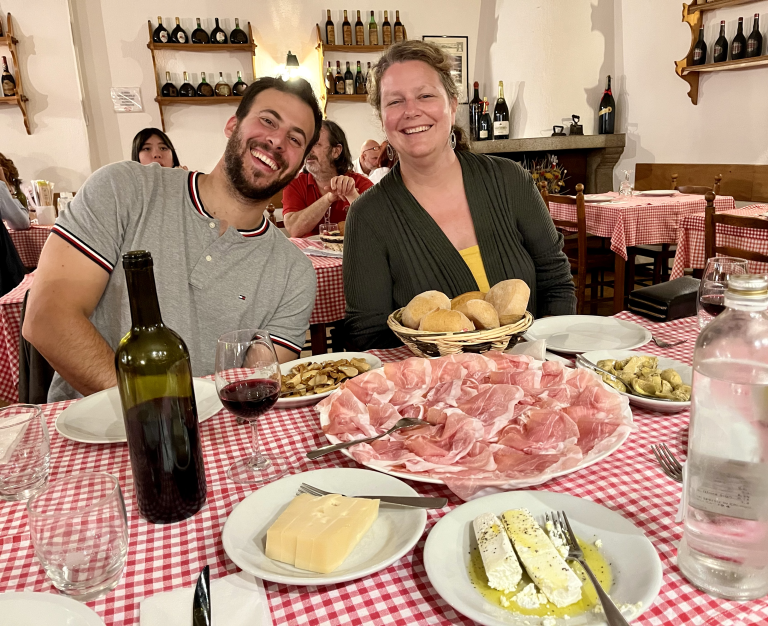 At this place, they serve only the finest ham, and they use a hand slicer, which doesn't heat up or splinter the meat like an electric slicer does.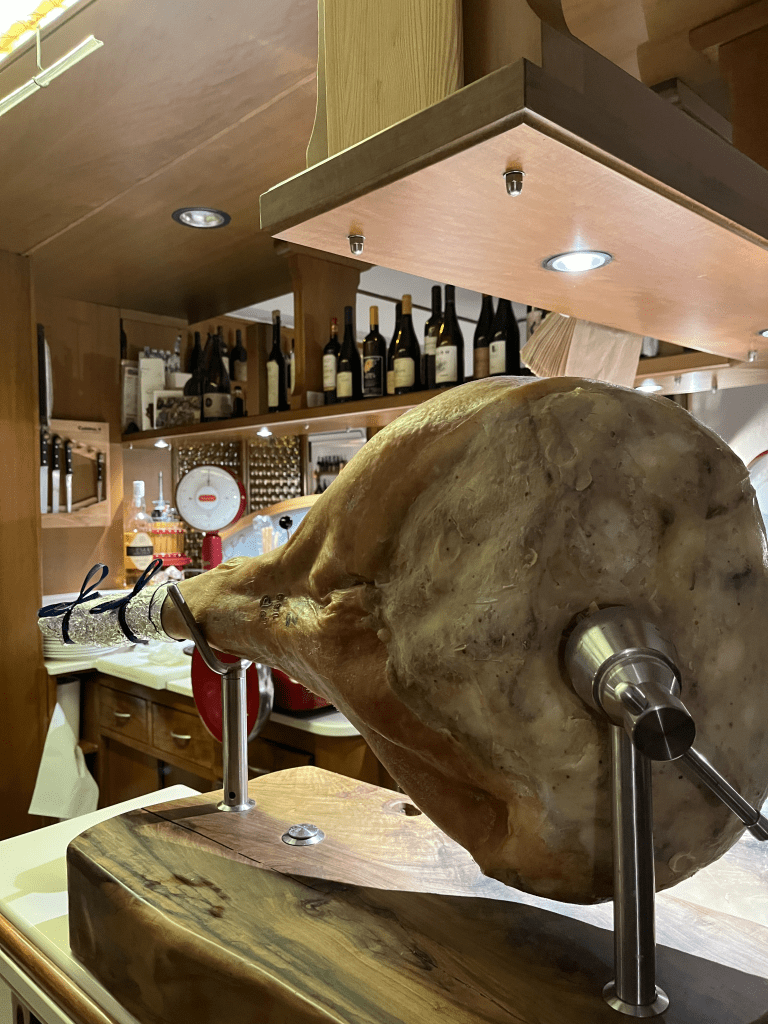 Along with the massive plate of beautiful thinly sliced ham came red wine, bread and bread sticks, wild marinated mushrooms, soft goat cheese, mountain cheese (something like ementhaller), marinated artichokes, and some sliced mortadella; Kathy's request since it's her favourite. 
Everything was absolutely delicious and we ended up eating two whole plates of Prosciutto!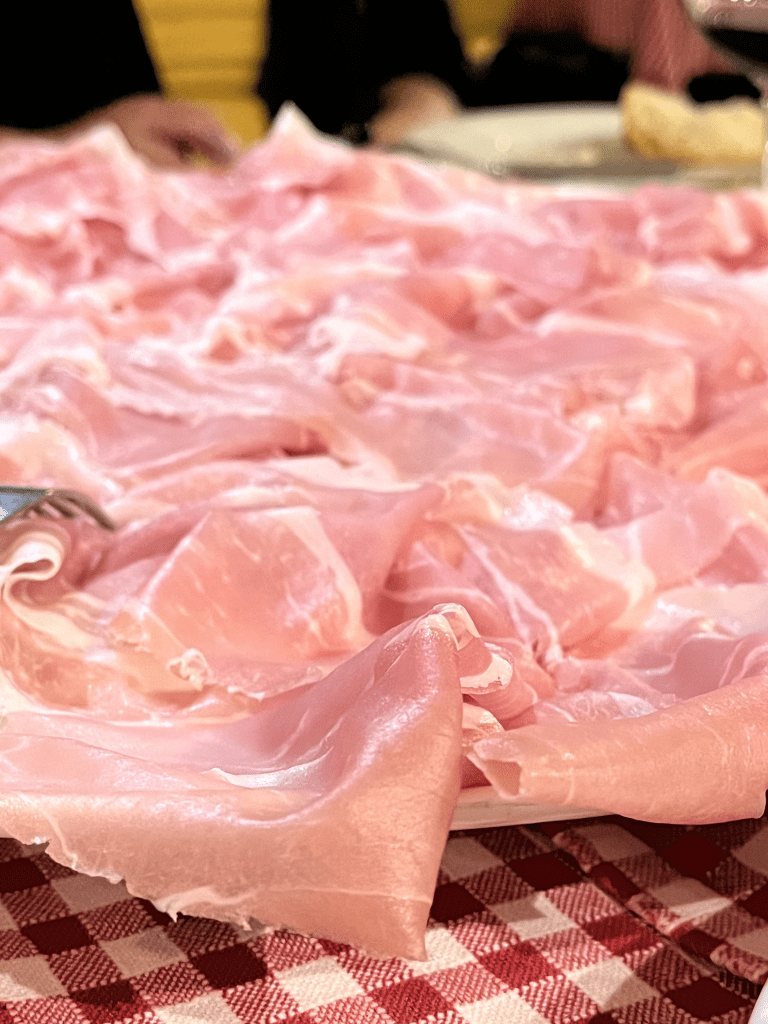 After the late dinner, JP and Holly dropped us off at our Airbnb in Spillimbergo. We felt like a nightcap though, so we crossed over to Caffe Griz for a Prosecco before heading to bed (where I had a half-decent sleep, despite being woken up by the loudest garbage truck I'd ever heard at quarter to six in the morning!). 
I went to take a shower in the morning, but encountered a bathtub with a pull out shower head (like a kitchen sink sprayer) attached to the tub and no curtains or glass walls. 
"Now how in the hell…?"
I did my best, but felt VERY undignified using it. When we later brought it up to Holly, she mentioned that when she asked a neighbour about how one goes about properly using such a system, the neighbour just looked at her like she was a complete idiot. 
Luckily, most places we stayed in had showers that more resembled the North American style and didn't leave us guessing.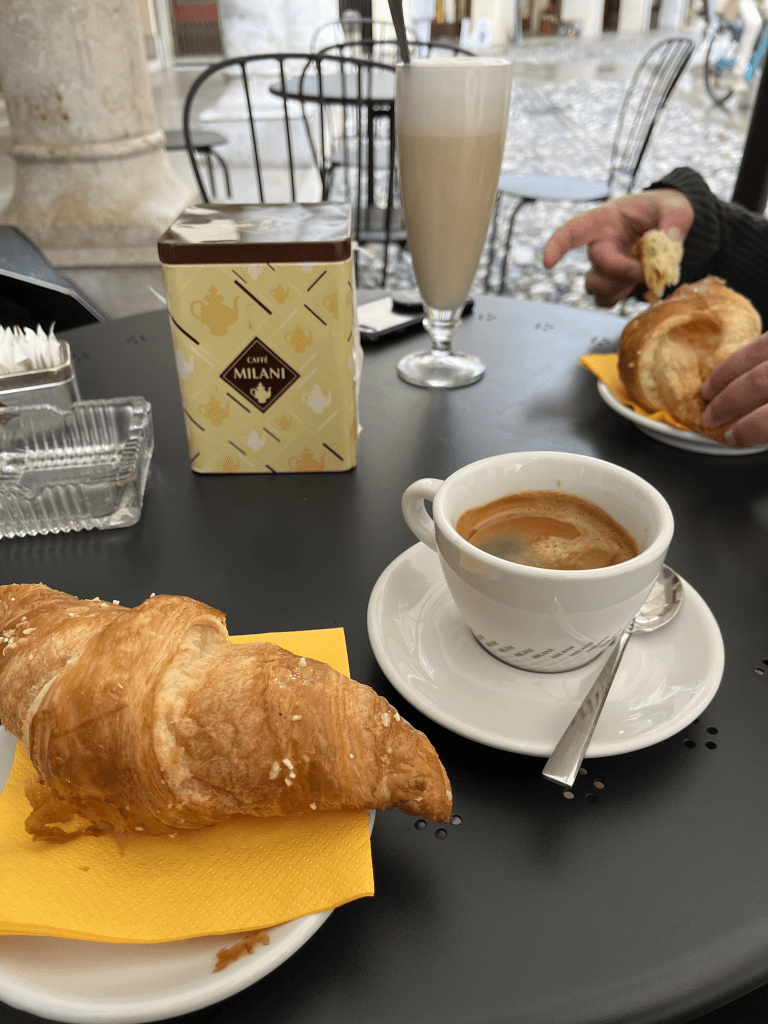 That day JP had to work, but Holly joined us for a coffee in Spilimbergo, then we all drove a couple of hours past the edge of the beautiful Dolomite mountains to the Prosecco hills outside of Trieste. 
The drive in was stunning and Holly did a bang-up job driving an unfamiliar standard car through the twisty switchback mountain roads.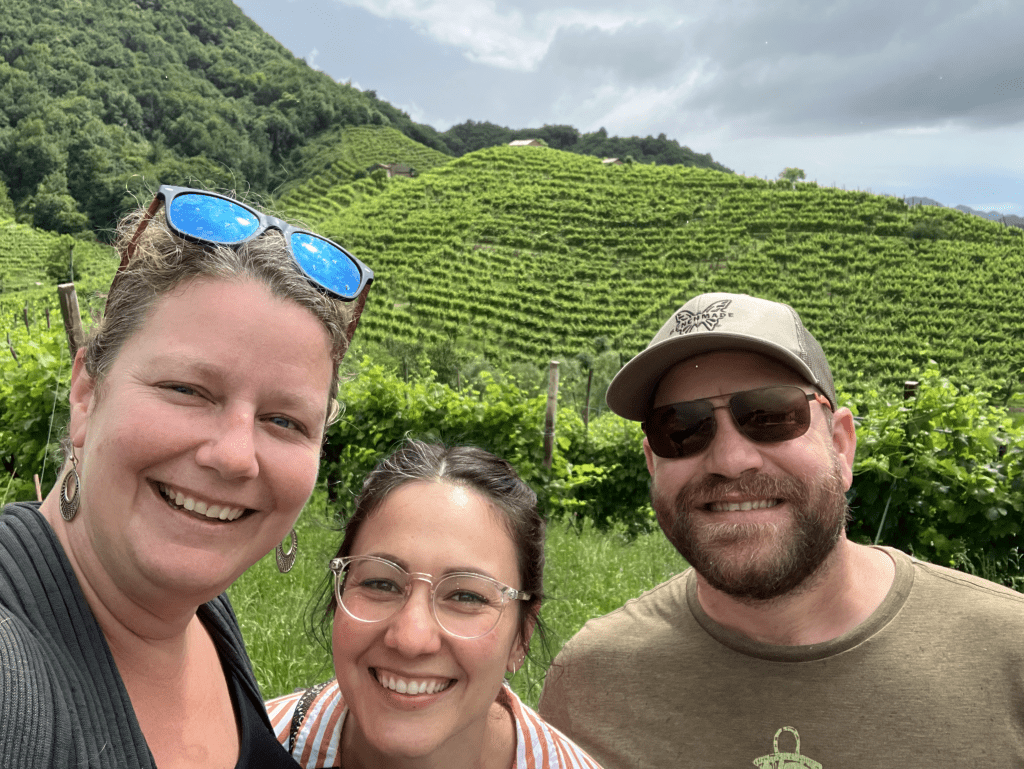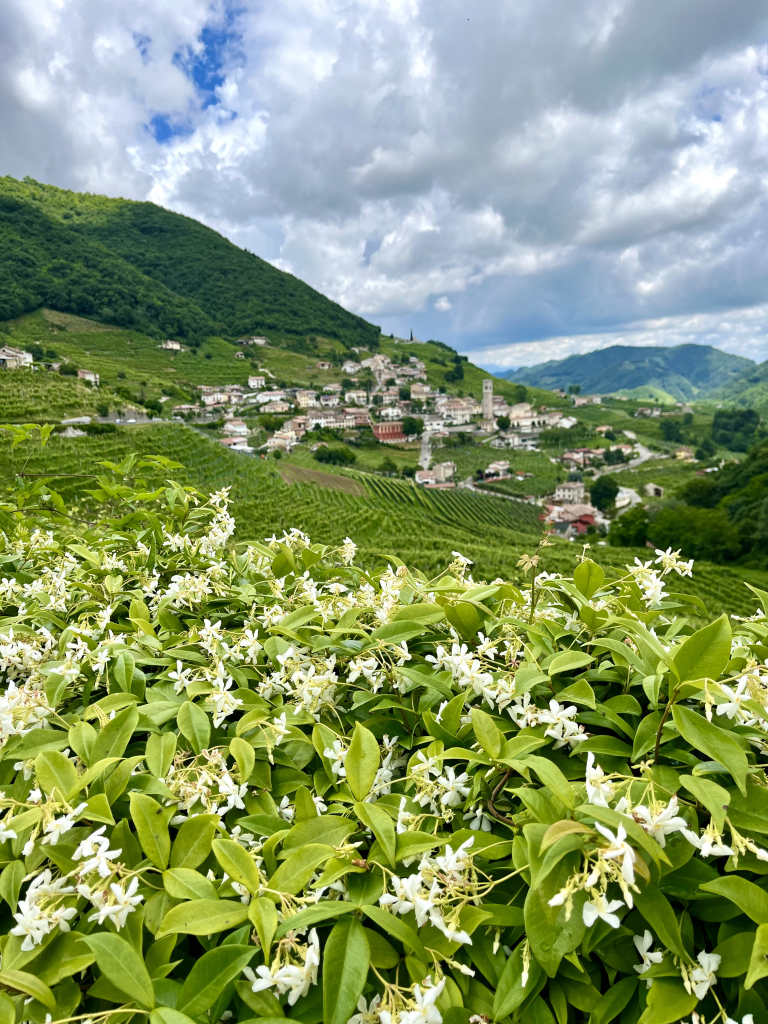 The first winery we stopped at was on top of a mountain with gorgeous views of terraced vineyards.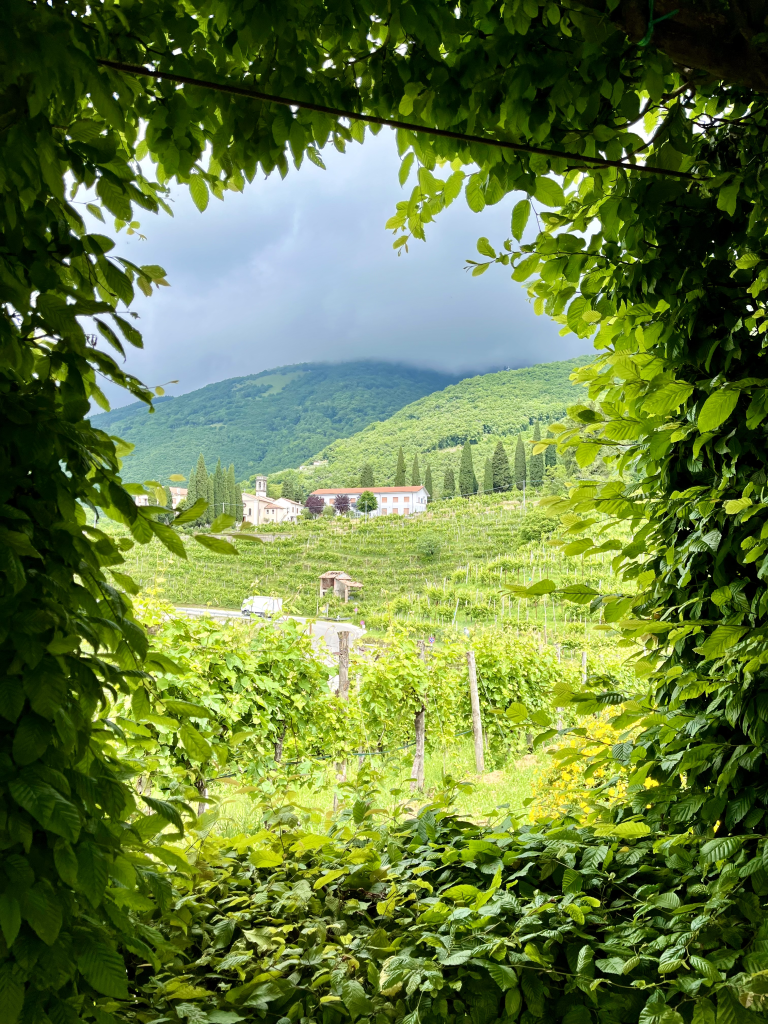 We went in and did a tasting of different Proseccos, including a brut pink muscato Prosecco, a delicious high grade extra-brut, and a very tasty and interesting unfiltered one. We were taught that dry actually means sweet, and brut actually means dry. Maybe this was the reason we always choose the wrong Prosecco in Canada! 
The host was funny and charming with a good grasp of English and led us through the different wines in a very entertaining manner.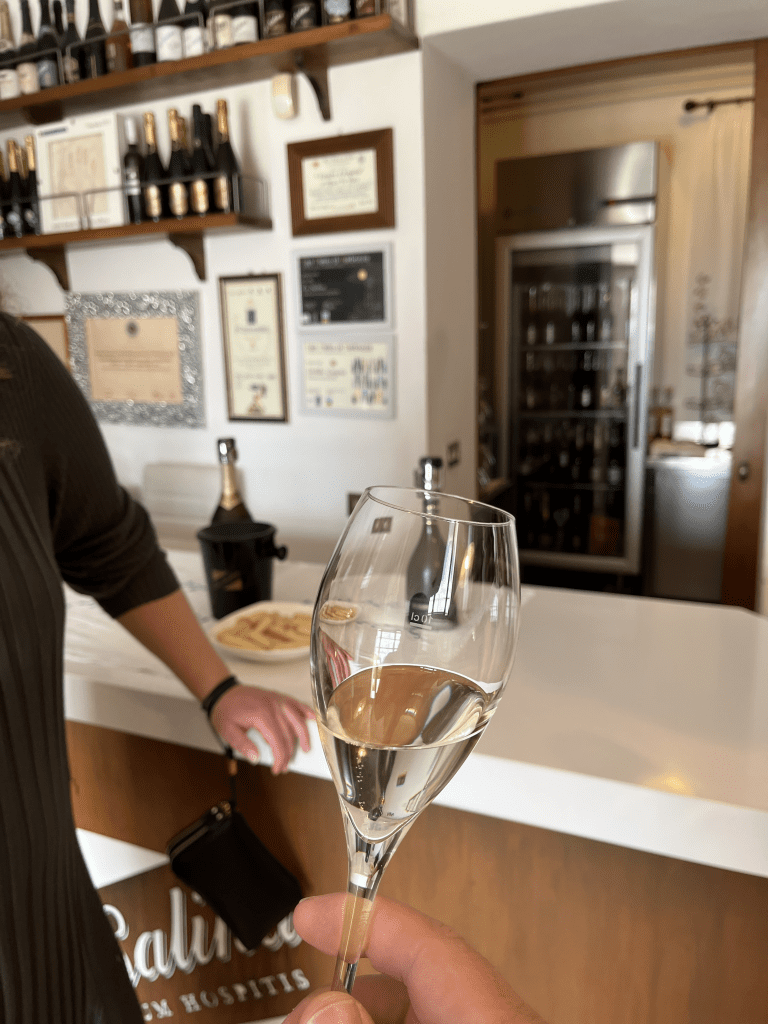 Next, we went for lunch at a random restaurant around the corner and had a big platter of different goodies, like wood-oven roasted potatoes, eggplants, cabbage, and tomatoes, thin veal steaks cooked in gravy, beef carpaccio, beef tartare, burrata cheese, thinly sliced cooked pork, and eggplant parmagiana; all served with Prosecco of course. It rained while we ate, but we were under an umbrella and stayed relatively dry, then it cleared up just as we were ready to leave. Perfect!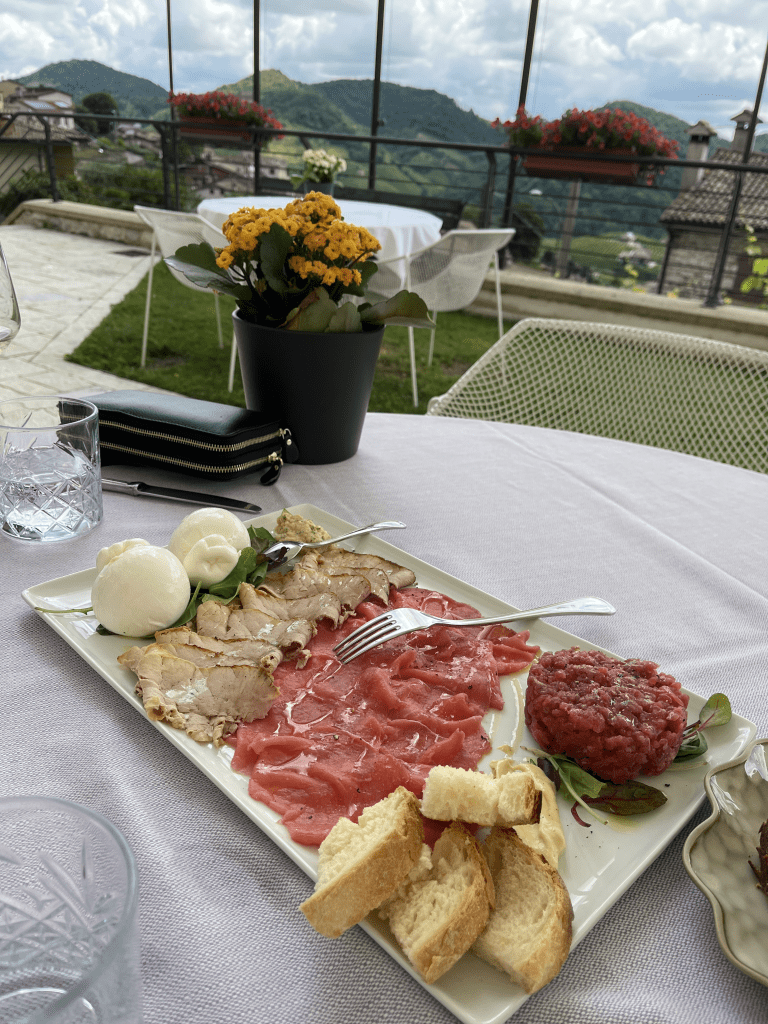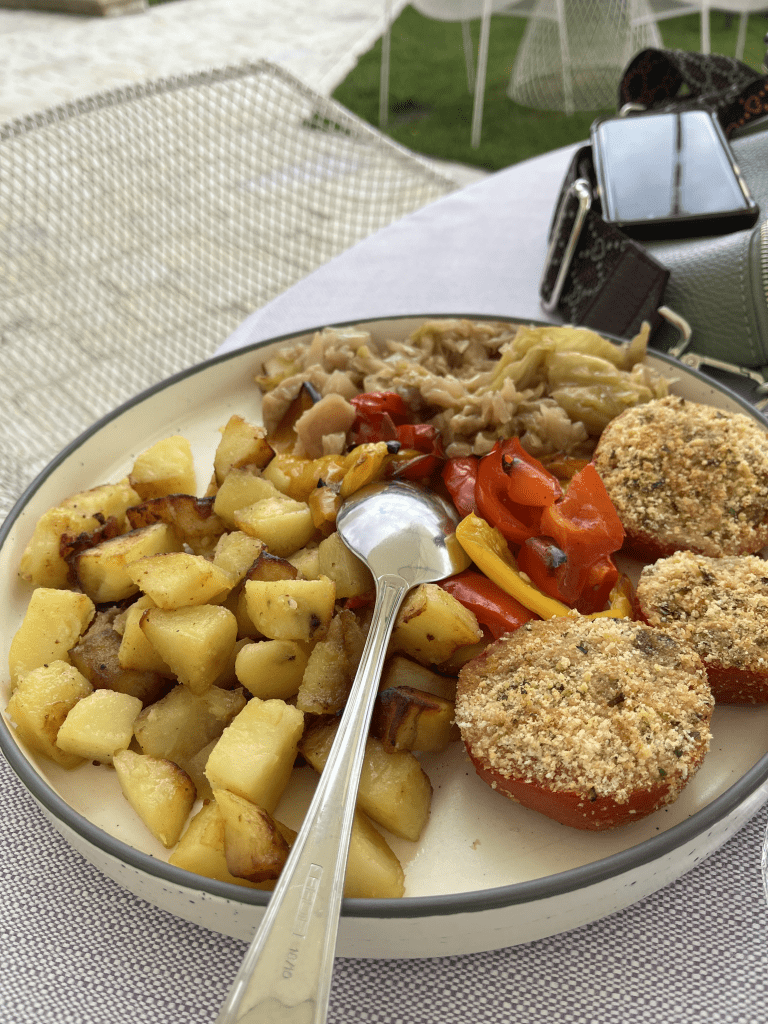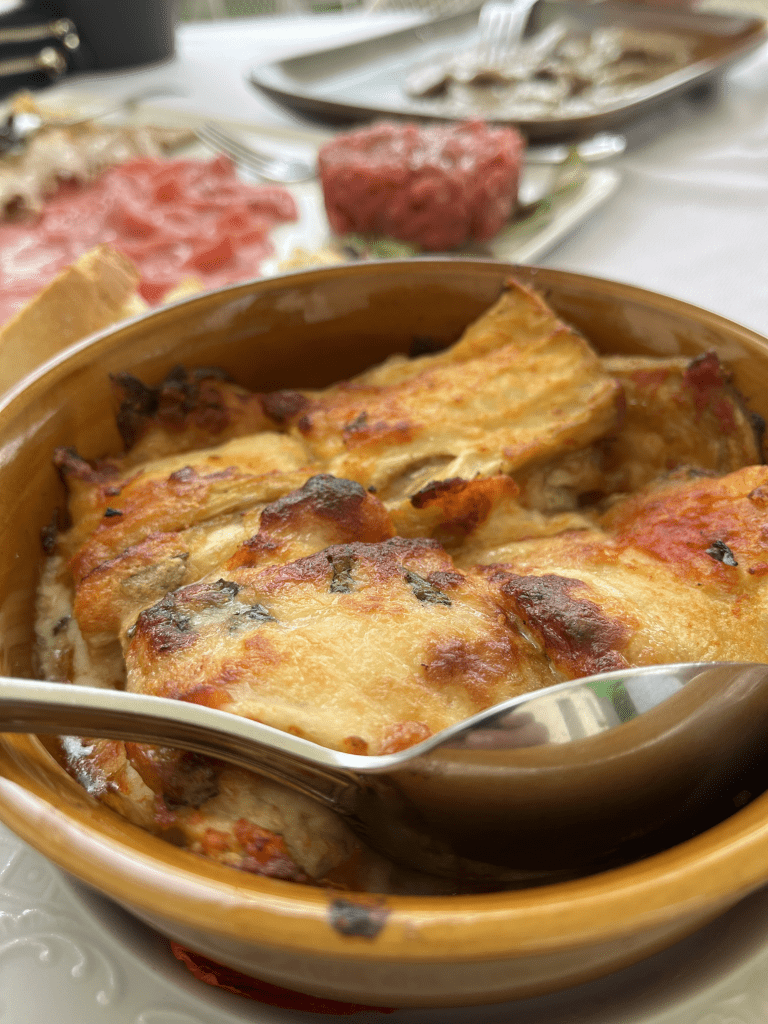 After lunch we tried out two more random wineries, one where we had a delightful interaction with the owner through the google translate app, and the other which was somewhat uncomfortable and with less good wine. The latter was saved by fantastic views, a stroll around the vineyard, and a friendly cat with a bow tie.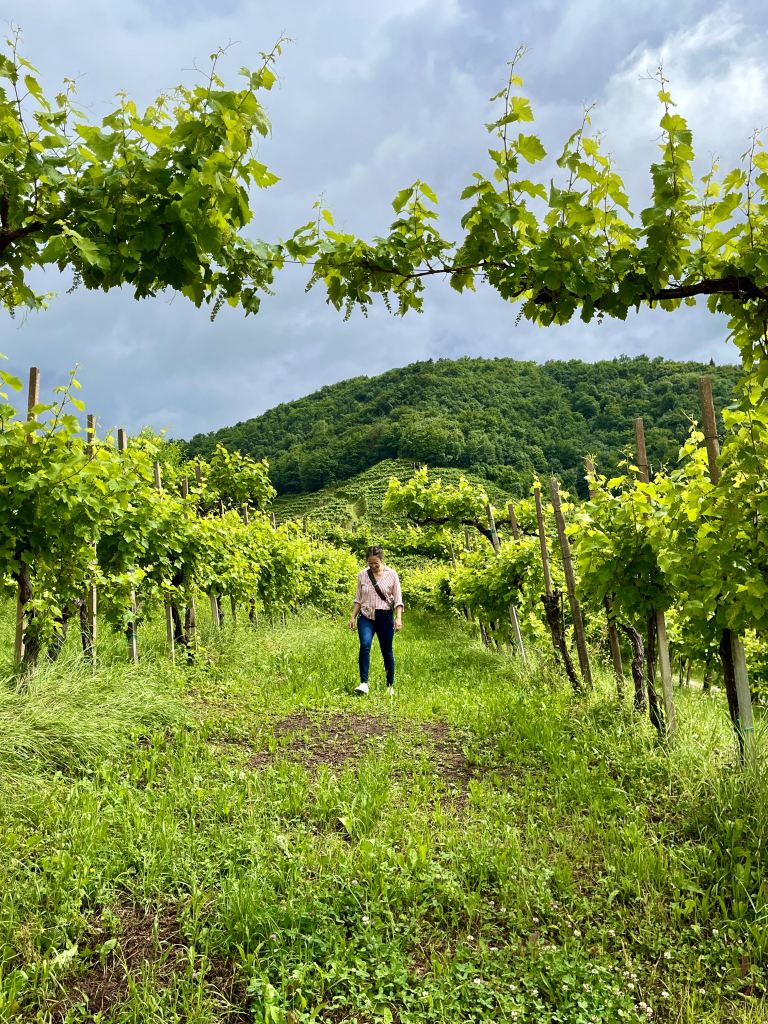 We drove back a different route through the mountains, with a Malga set as our destination. A Malga is a mountaintop cheese making place run by monks, with the dairy cows living there and eating fresh mountain herbs and grasses. 
JP had told me he'd worked at one when he was younger and I wanted to see it for myself. 
The drive was stunning, with beautiful azure mountain lakes, pine and beech forests, and small mountain towns that looked and sounded way more Austrian than Italian (we were very close to the Austrian border).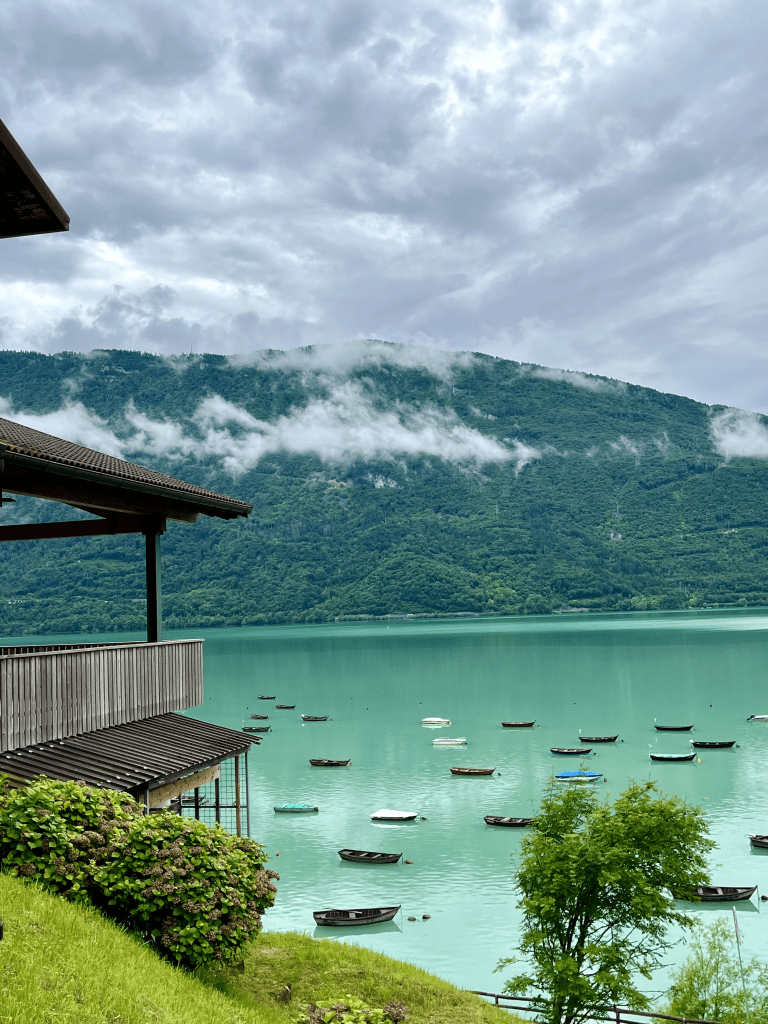 One of the small towns had hundreds of pink ribbons strung up on every house, lamp post, and railing, which meant that they had just welcomed a new baby girl into their community. How cute. 
We arrived to find the Malga closed unfortunately (something we're plagued with on every trip we take), but it was okay; the beautiful drive and fun chats with Holly were totally worth it.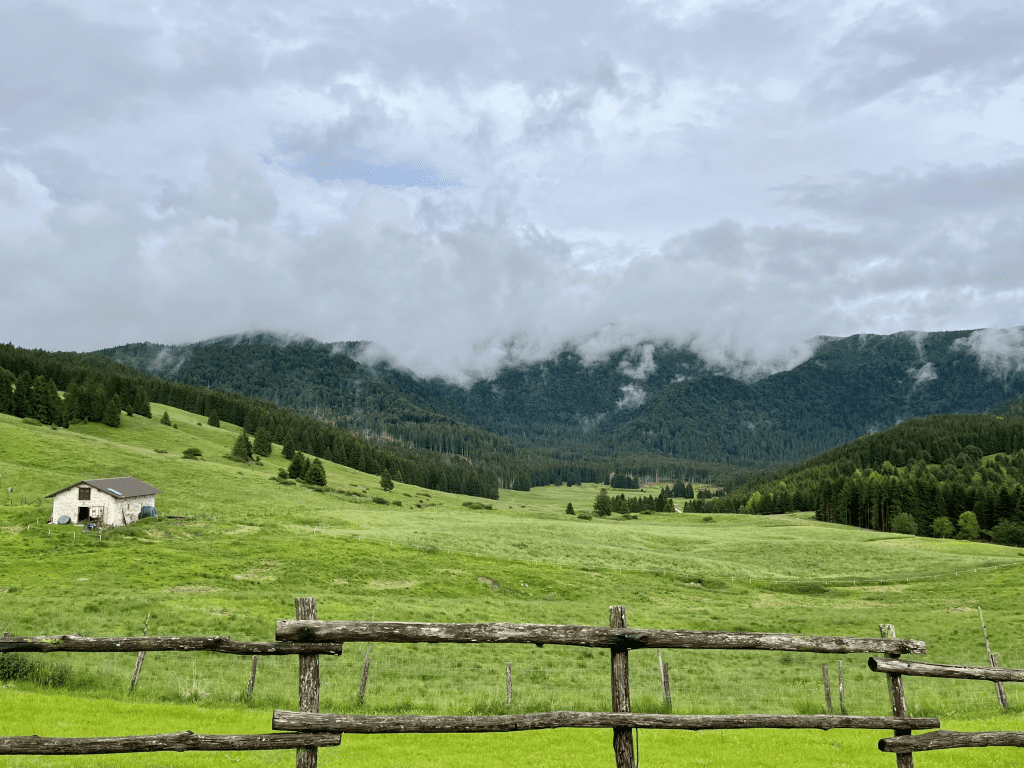 We went and picked JP up after he was done work, then drove to a fancy restaurant in a nearby town that he was excited to take us to; Ivana & Secondo. 
We all ordered different things so as to try a bit of everything, and it was all very tasty. 
Between all of us, we had melted cheese rolled in crispy speck ham, a phyllo pastry cup filled with creamy melted cheese and a red wine reduction, an asparagus flan sort of deal, smoked beef with pickled eggplant (all antipasti), green tortellini stuffed with bitter wild mountain herbs and drowned in butter (my favourite), gnocchi in meat sauce, fresh green and white asparagus in a creamy pasta with lemon zest, rare rump steak from a young dairy cow, braised tripe in tomato sauce, and frico, a regional dish of melty fried cheese and potatoes. Boy, we were stuuuuuuuffed.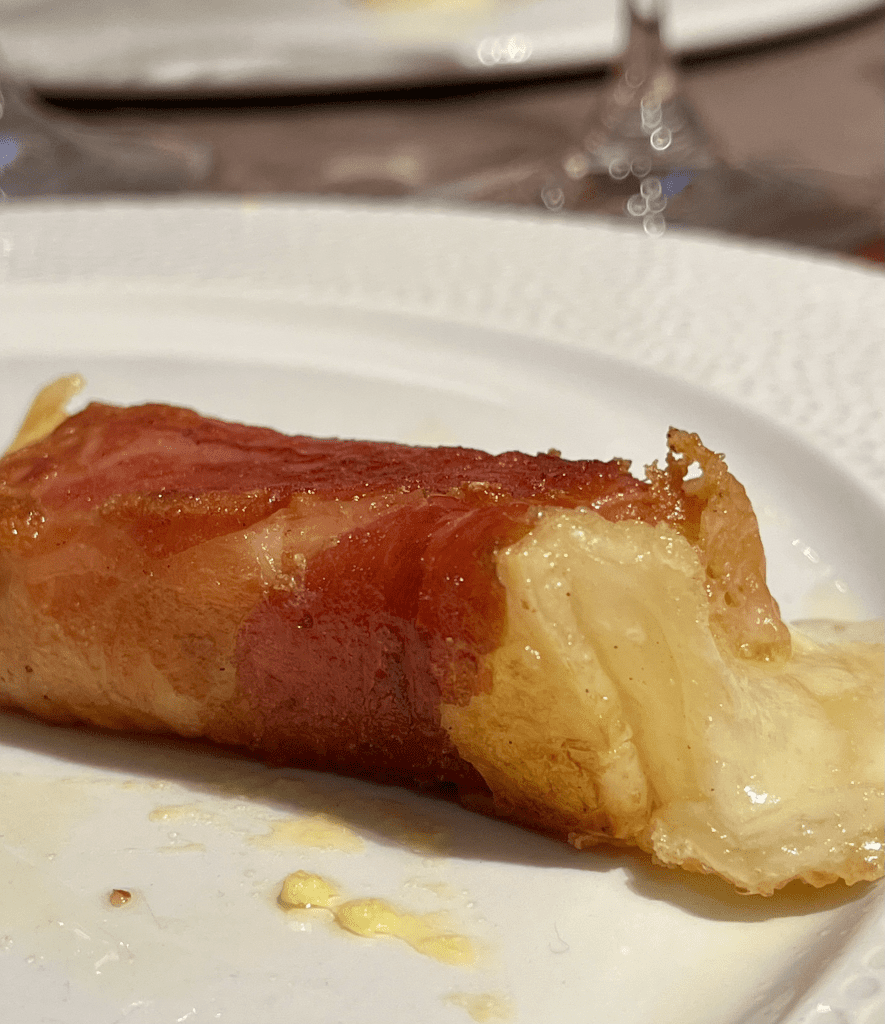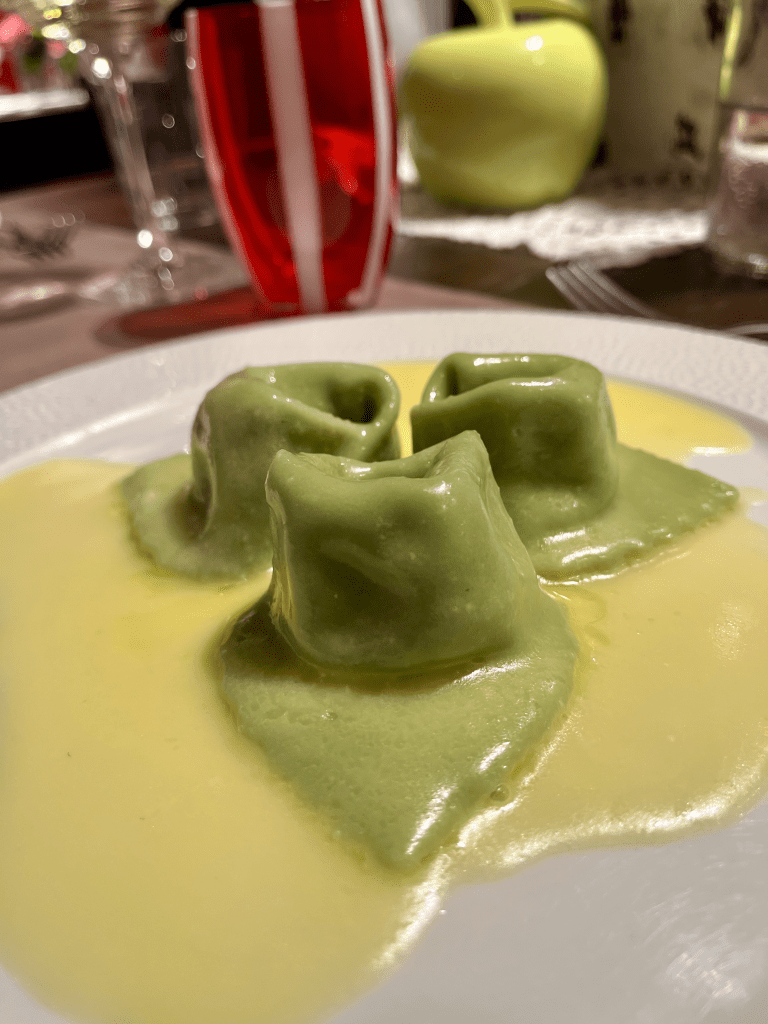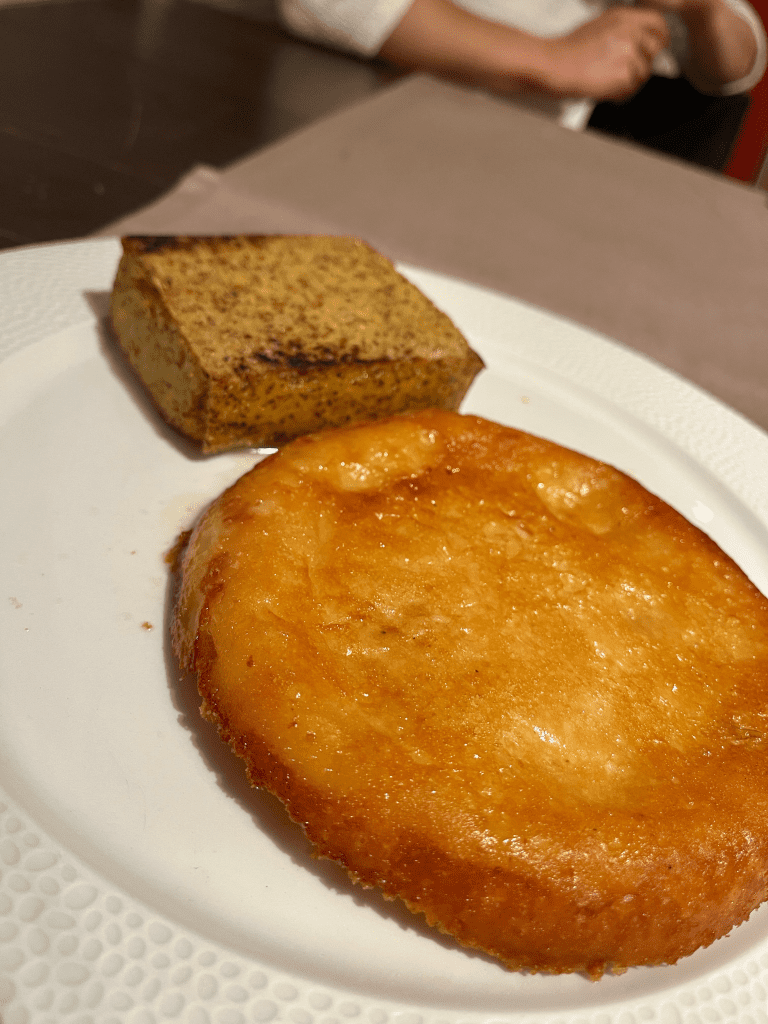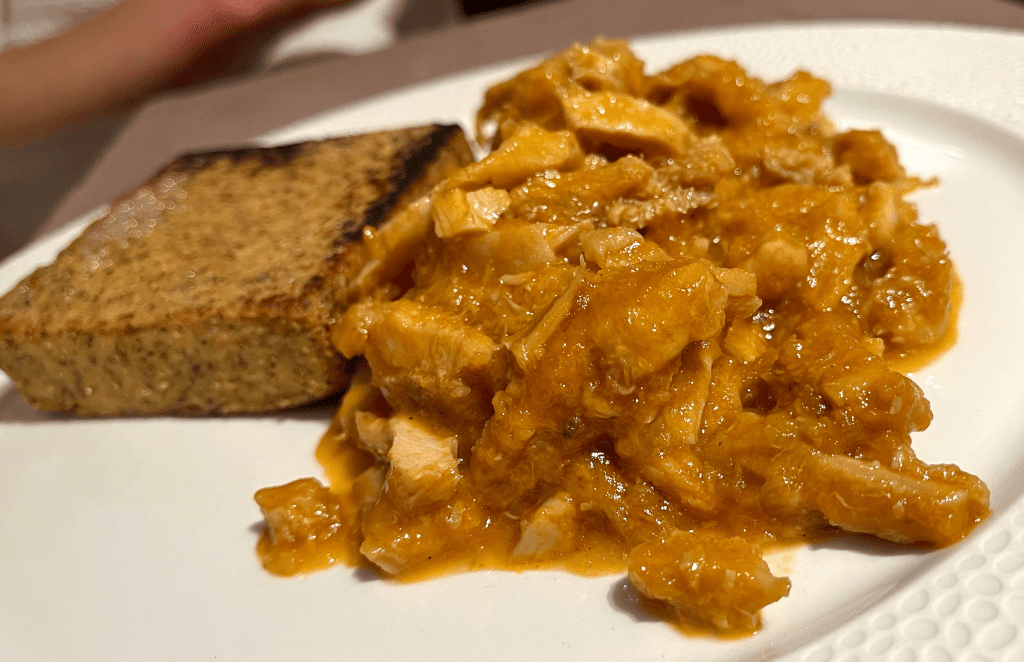 We finished it off with a bitter amaro, drank on the beautiful terrace, and talked wild game meats with the host, with JP acting as translator.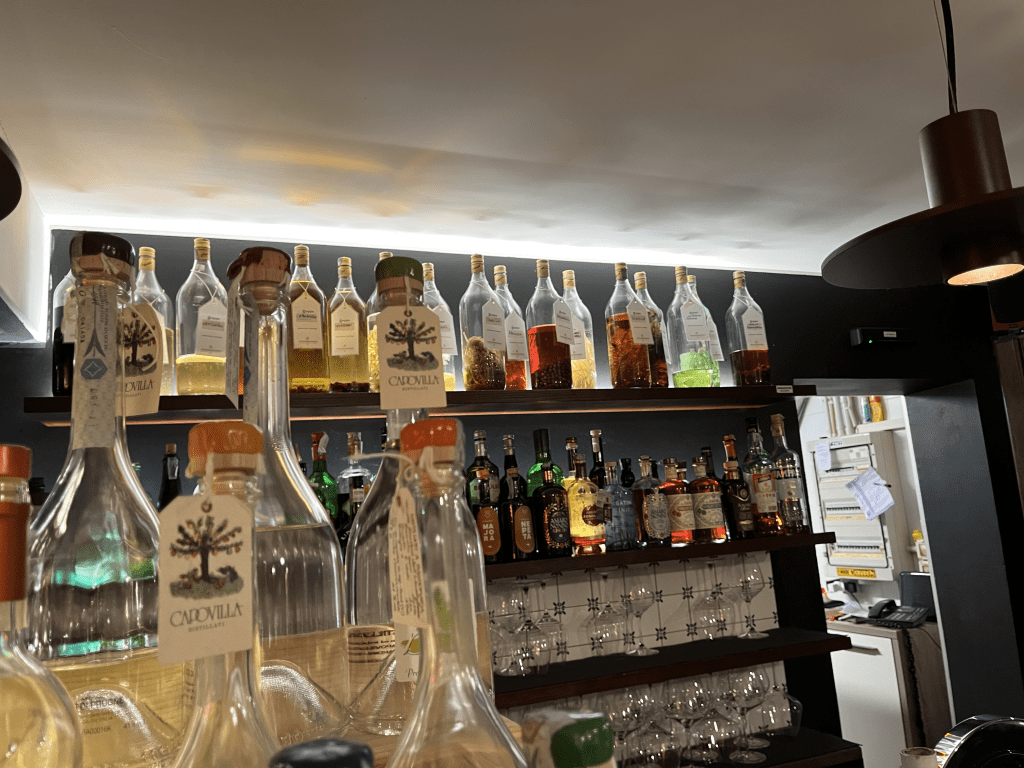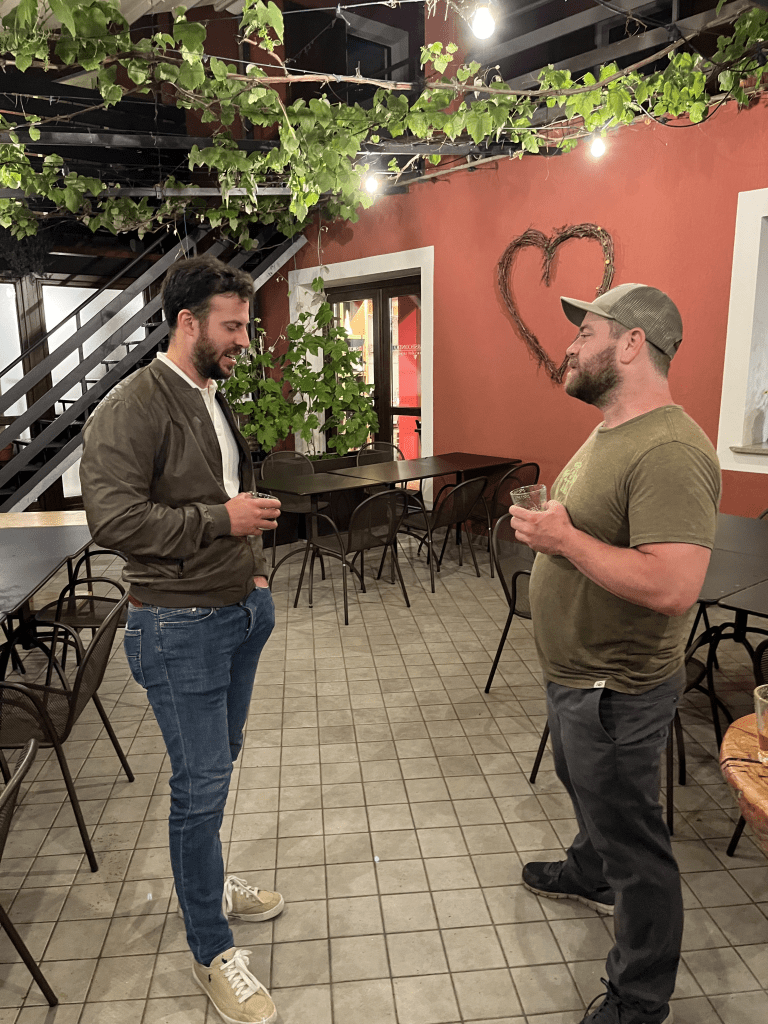 We hugged JP and Holly good bye (too soon!) after they drove us home, then we headed up to bed. We're already looking forward to seeing them again in Canada!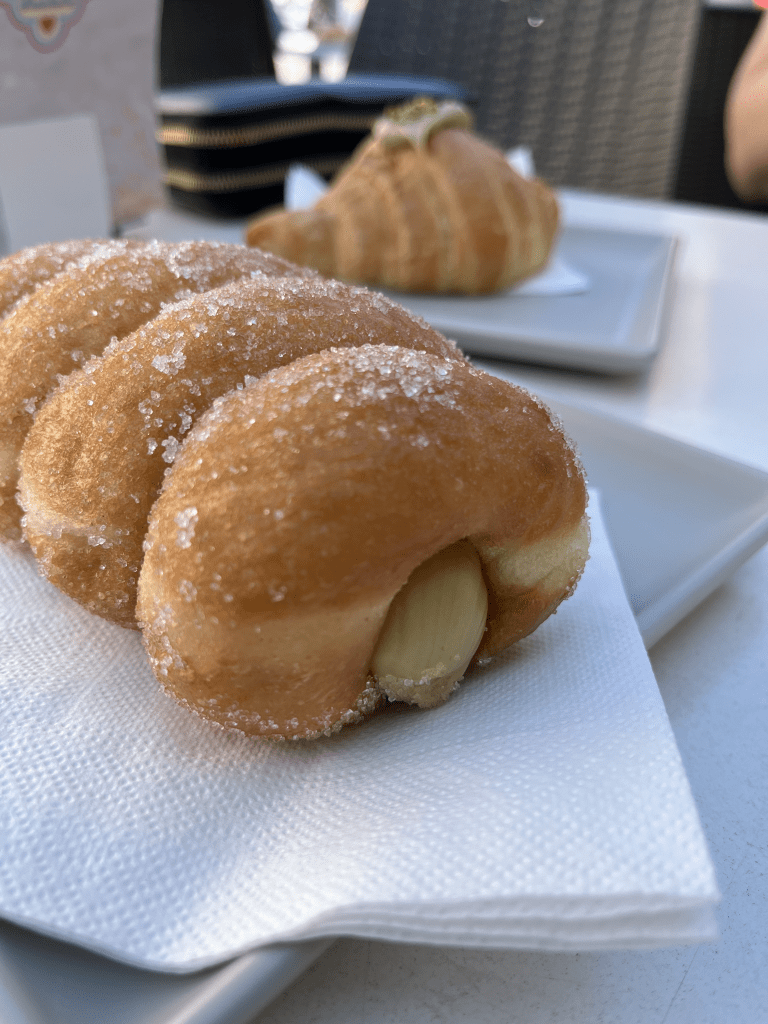 For our last morning in Spilimbergo, we got up and had a coffee at what was supposed to be the best caffe in town. I don't know. All that's available here (and in much of Europe) are espressos and cappuccinos and the like. To be honest, I've never enjoyed coffee shops, or coffee culture, or fancy coffee. 
Despite wanting to dive into every other food and drink culture, the coffee one has always annoyed me. I kind of just want a decent drip coffee with a touch of cream; no foam, no espresso, no pretentious baristas, no artfully sloppy students on laptops, and god forbid, no Starbucks venti soy milk macchiatos with almond syrup or whatever the fuck. 
I was also getting a bit tired of a sweet pastry for breakfast every morning (seems to be de rigeur for the Italian breakfast). I rarely ever want sweet for breakfast and that's all I'd found here so far. I also am used to eating a larger breakfast on days when I'm active, so it never felt like quite enough (the Italians seemed to eat a very small breakfast with an espresso or milky coffee, an impossibly large lunch with wine, and a medium to large late dinner, with espressos fuelling them throughout the day). 
None of this was a serious problem of course (I was travelling in THEIR country), but I was kind of annoyed at the hard rules about it all. This is how it is, sit down and shut up. You can only have milk in your coffee in the morning, otherwise you must be INSANE to want it later! You only have espresso later! Only stupid tourists could POSSIBLY want something savoury for breakfast, that's not the ITALIAN way. 
We're just used to a North American culture where we can have pretty much anything we want at any time, and I was having a hard time shaking that off. 
We ordered pistachio pastries (Kathy's been on a big pistachio kick lately), but they were so sweet, we couldn't even finish them.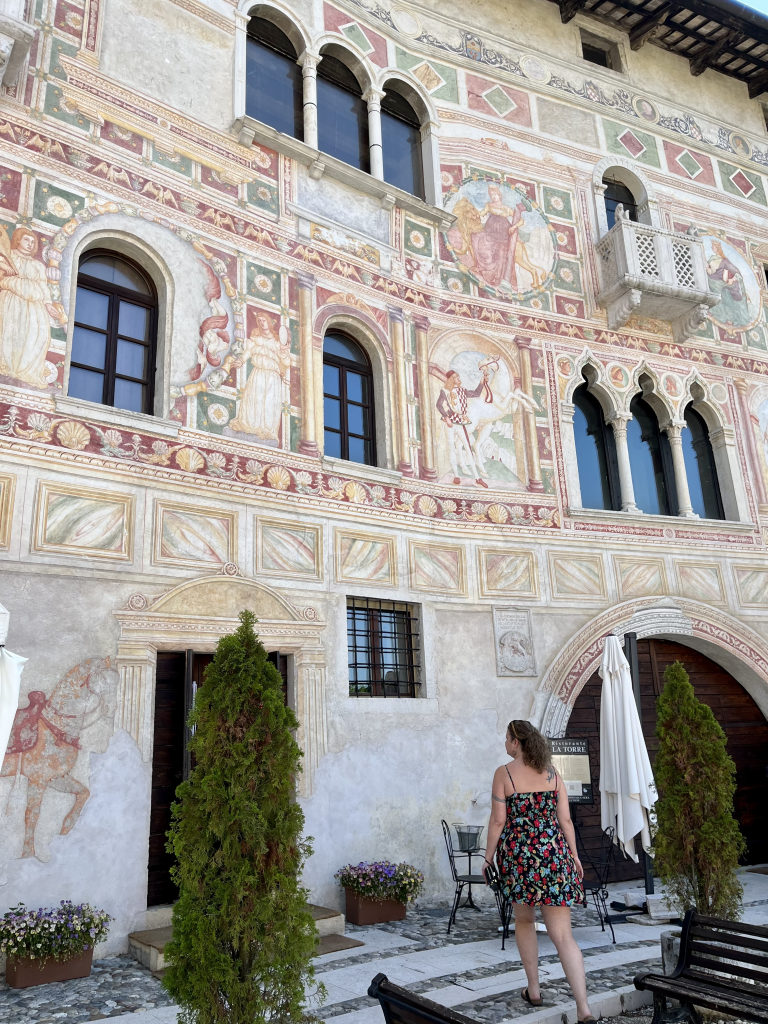 After coffee we went and checked out the local castle, church, and Spilimbergo's famous mosaic school (closed for tours this time of year, but we wandered around outside), then sat down for lunch as soon as possible at Osteria al Bacchero, a more modest and rustic spot than the restaurant we'd enjoyed the night before.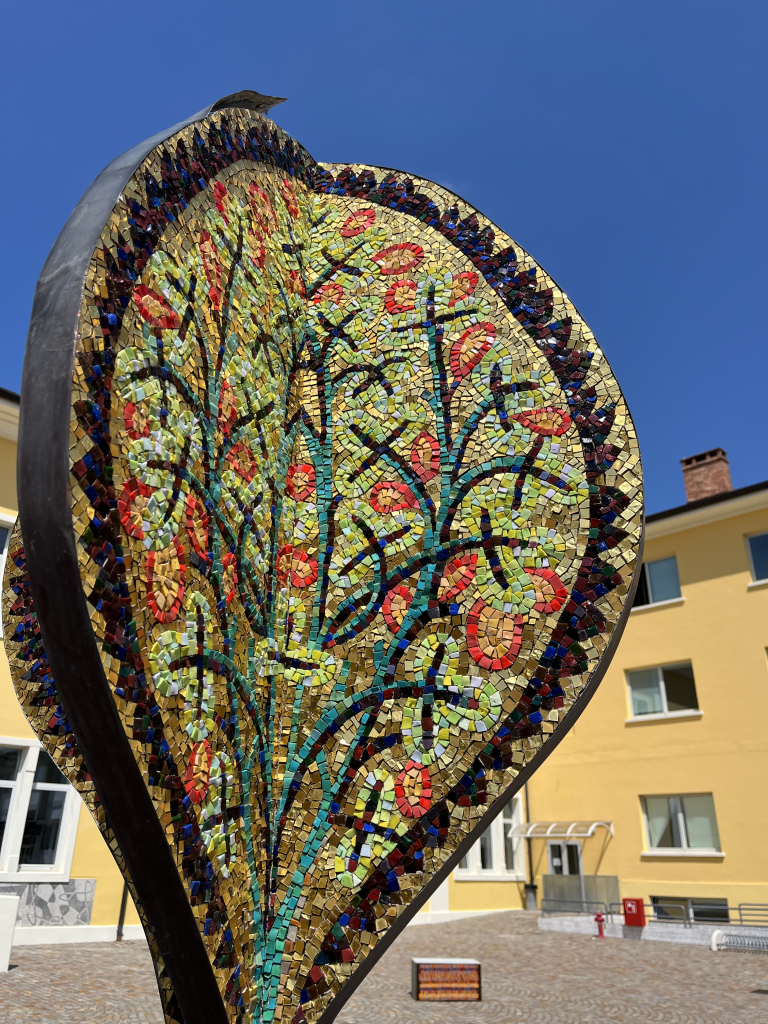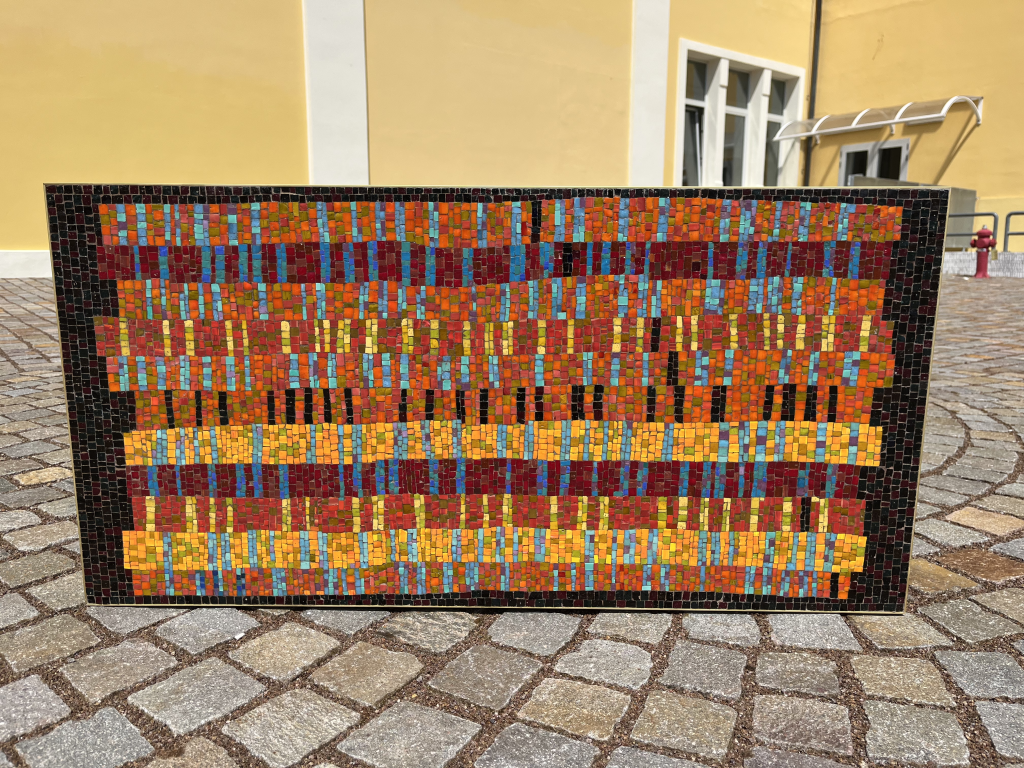 We ordered some mountain cheeses and cipollini onions marinated in balsamic, as well as tagliatelle pasta in a regional onion and meat sauce (delicious – like a super tasty upscale version of something you'd make for a quick dinner, or to soak up the booze after a long night out), and salami con aceto, an interesting and tasty dish of Italian sausage disks seasoned with vinegar and served with polenta. I was logging away these flavours and combinations to hopefully experiment in the kitchen with once home.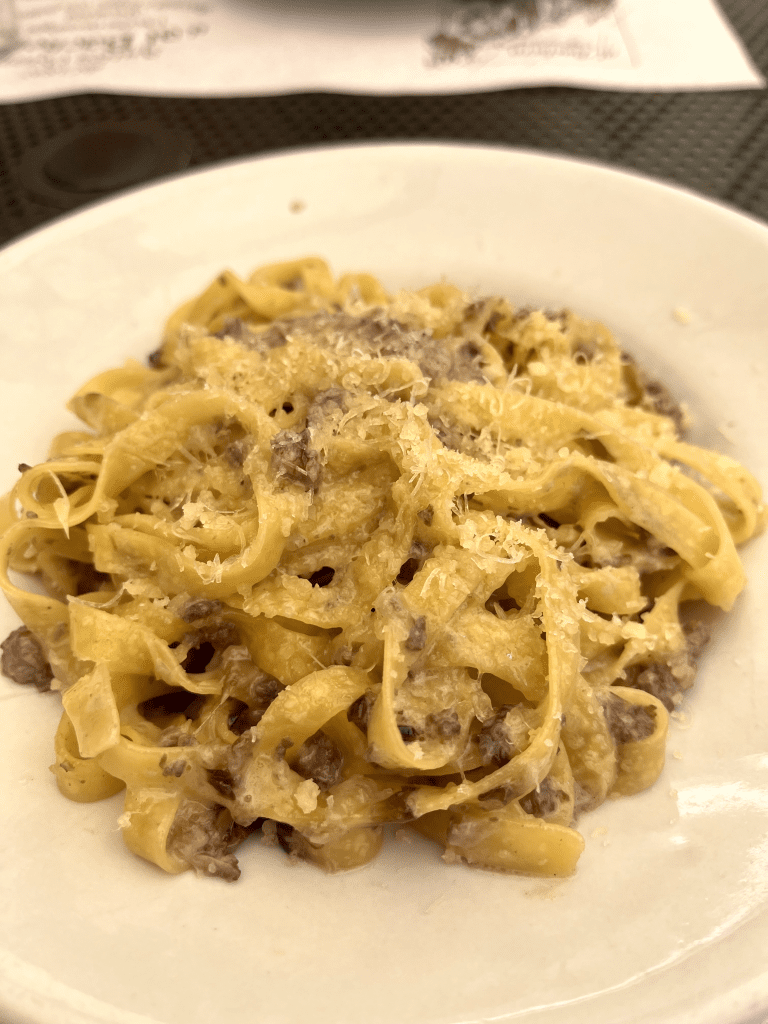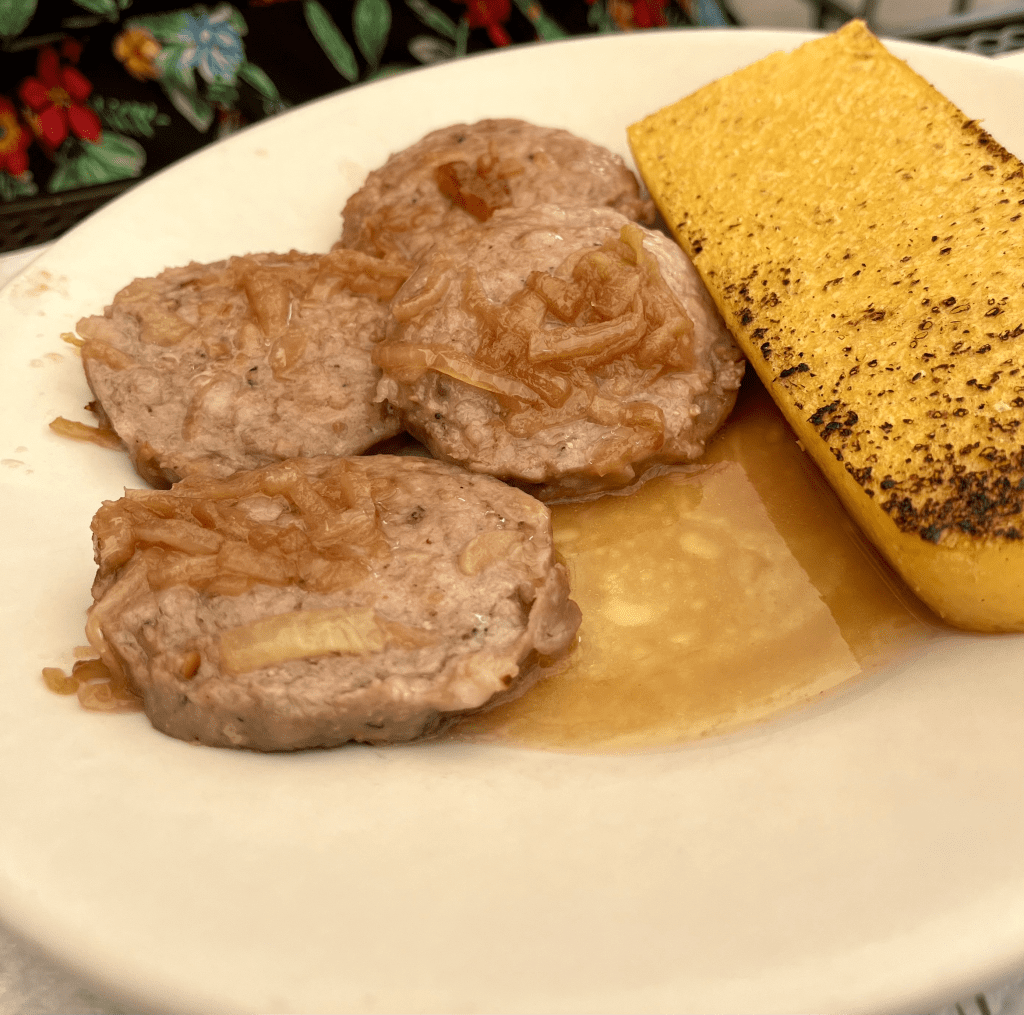 We stopped in at a local bar to buy bus tickets, then went to catch a bus to Trieste, only to find a huge milling crowd of high school students waiting for the bus as well; their teenage hormones forming a nearly visible cloud over their heads. Well. This was going to be interesting. 
With help from a nice young man, we made it onto the right bus, then sat through teenage shenanigans (they were all actually quite well-behaved) all the way to Udine, where we switched to a train that took us to our next destination – Trieste, the Vienna by the Sea. 
Next up - Trieste, Italy.