Euro Trip Part 7 – Ljubljana and the Slovenian Alps (1/2)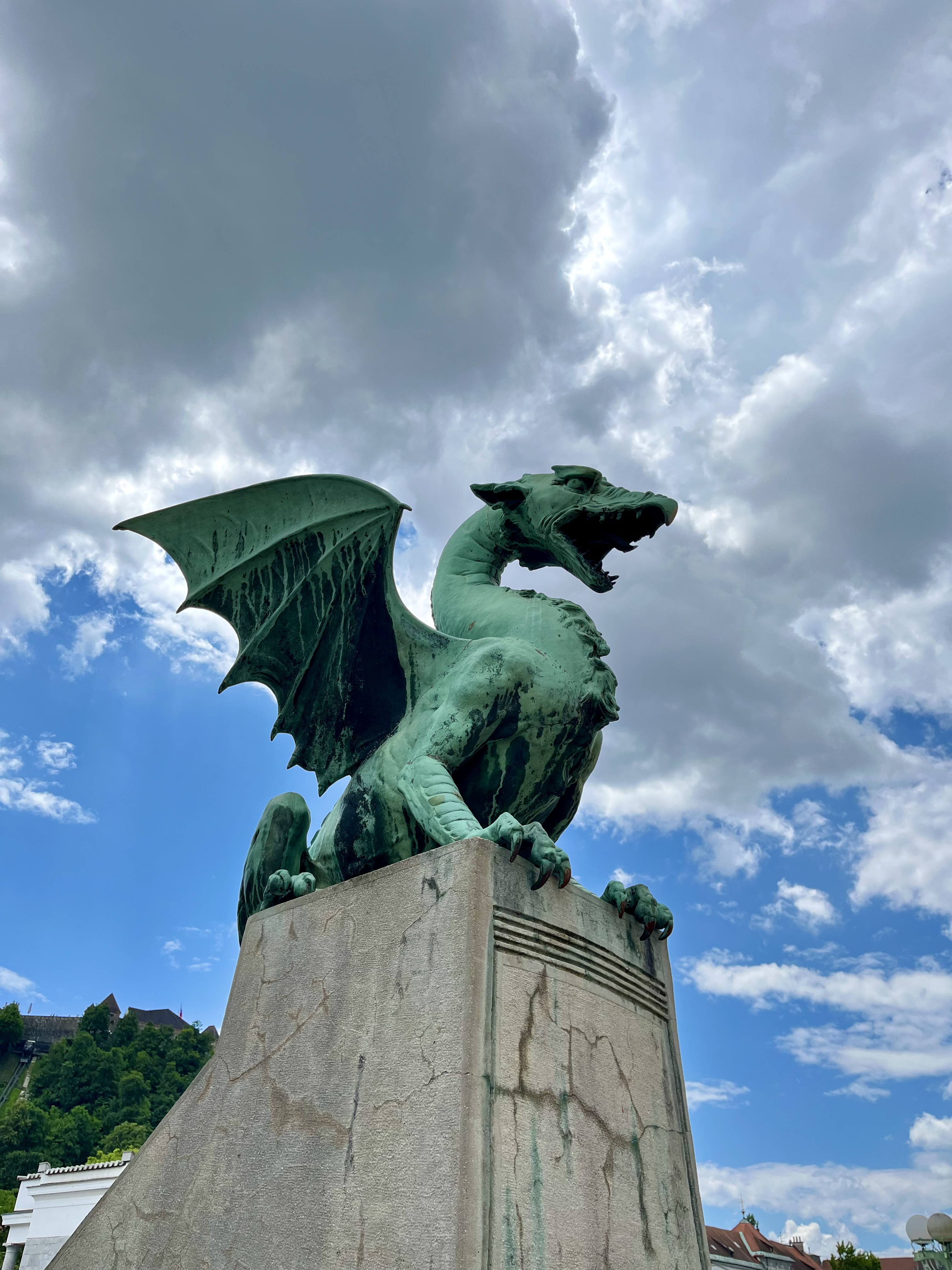 Ljubljana and the Slovenian Alps (1/2)
We humped our backpacks 15 minutes from the bus station to our private hostel room next to the famous dragon bridge of Ljubljana. 
The room was hot and bare, and looked quite uncomfortable for the price tag that came with it. We're willing to rough it, but not for the kind of money that would get us a beautiful apartment a couple of hours away. Oh well, it was just one night. 
One weird thing about Europe is the lack of screens in the windows. This room was stifling, but when we opened the window, which overlooked the river, we were eaten by mosquitoes or midges. Why? We encountered the same thing in all of the other places we visited too. So weird. 
Still, it was just for one night, so we unloaded our crap and went to check out the town.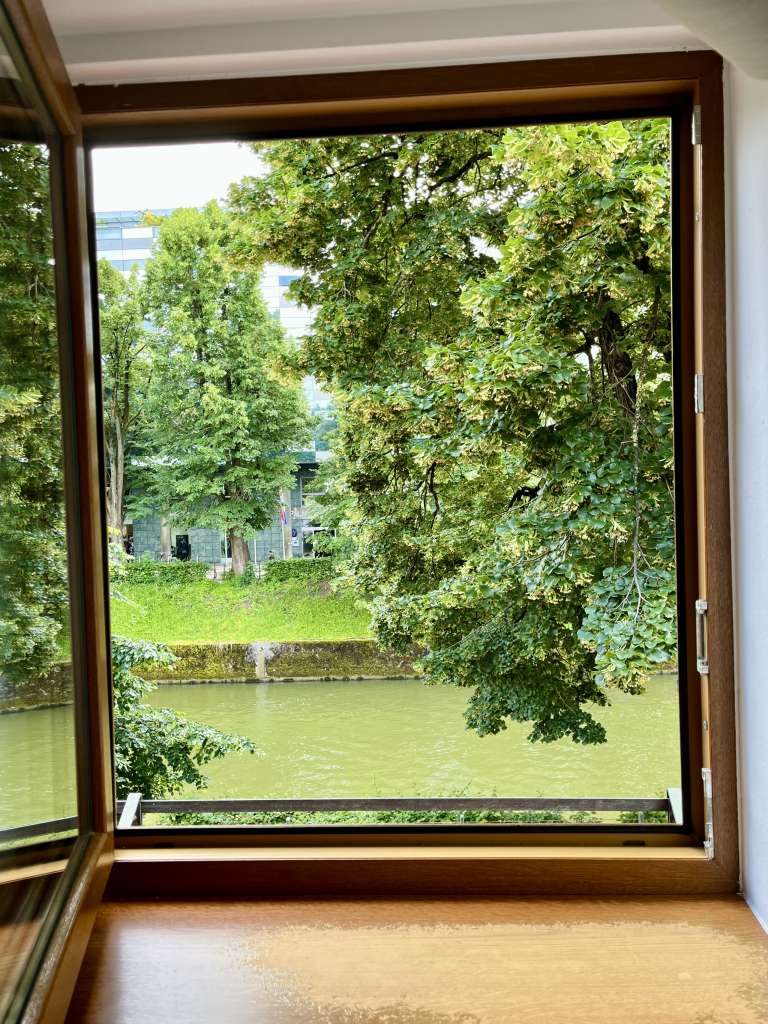 I was immediately put off a bit. For some reason, I'd pictured Slovenia to be a little more off the beaten path, but a 5 minute walk brought us by hundreds of travellers and backpackers – I guess it's just people from North America that don't really go there. 
From all the research I'd done, it didn't seem like there was much to find outside the centre of the city, but the centre of the city looked like tourist-ville to me.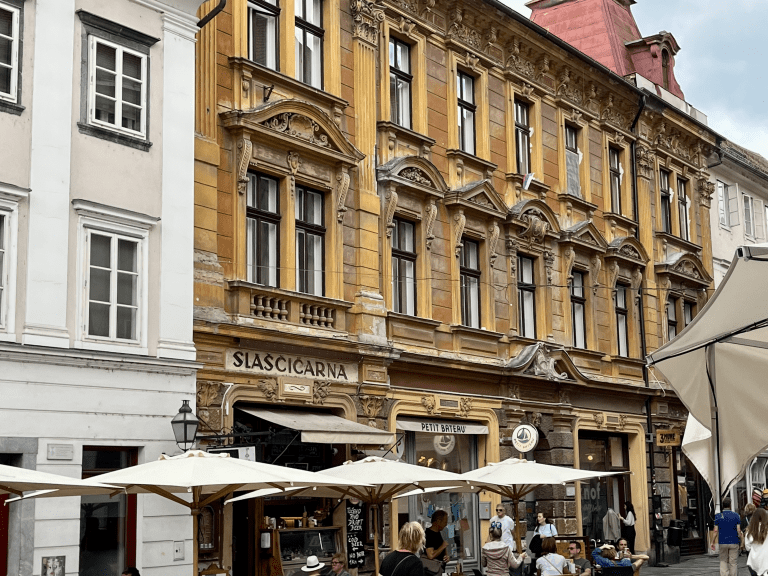 We stopped and grabbed some štrukli, a type of rolled dumpling with sweet or savoury fillings. We ordered a meat one and a spinach and cheese one; both were not bad, the meat one reminding me a bit of Pierogi. 
The restaurant serving it, which had come highly recommended in my research, was busy with tourists and very expensive. 
My mood was plummeting as I ate them; this was NOT the city I'd imagined – shit.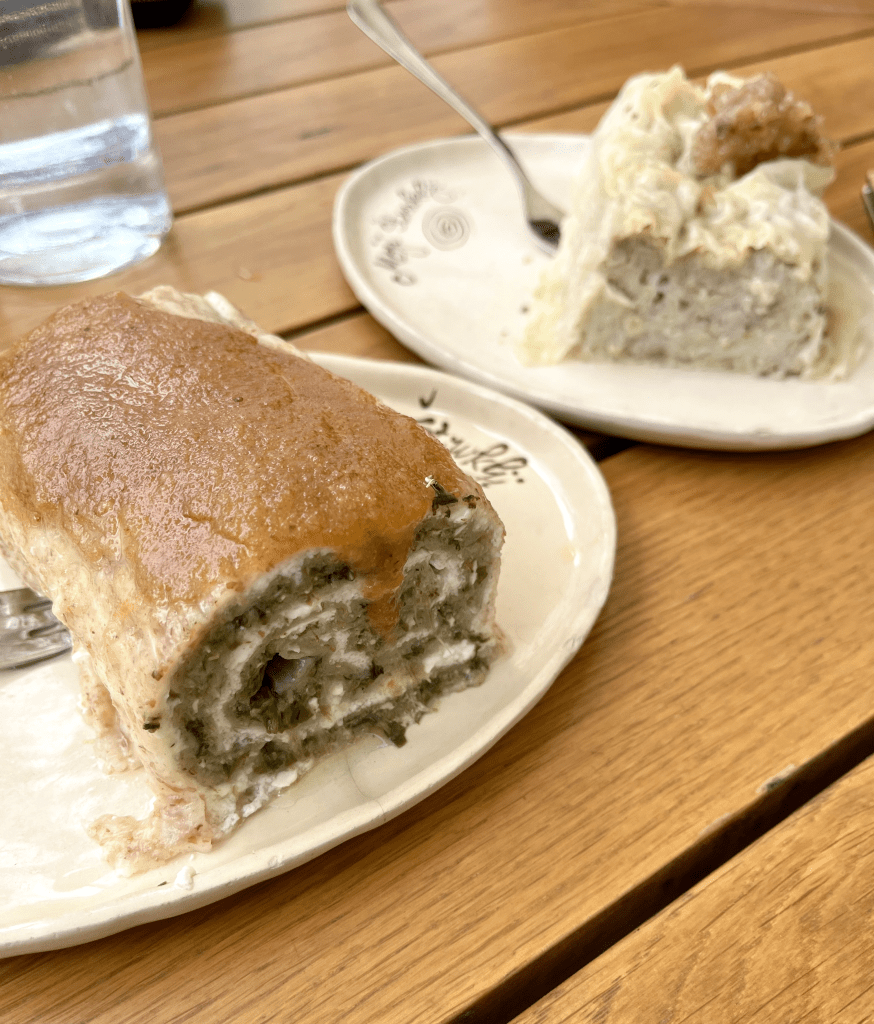 There was a castle on top of a hill overlooking the city, so we walked up the gently ascending pedestrian road to see it. The entrance fee was prohibitively expensive and they hid most the views of the city from those who didn't enter. Whatever.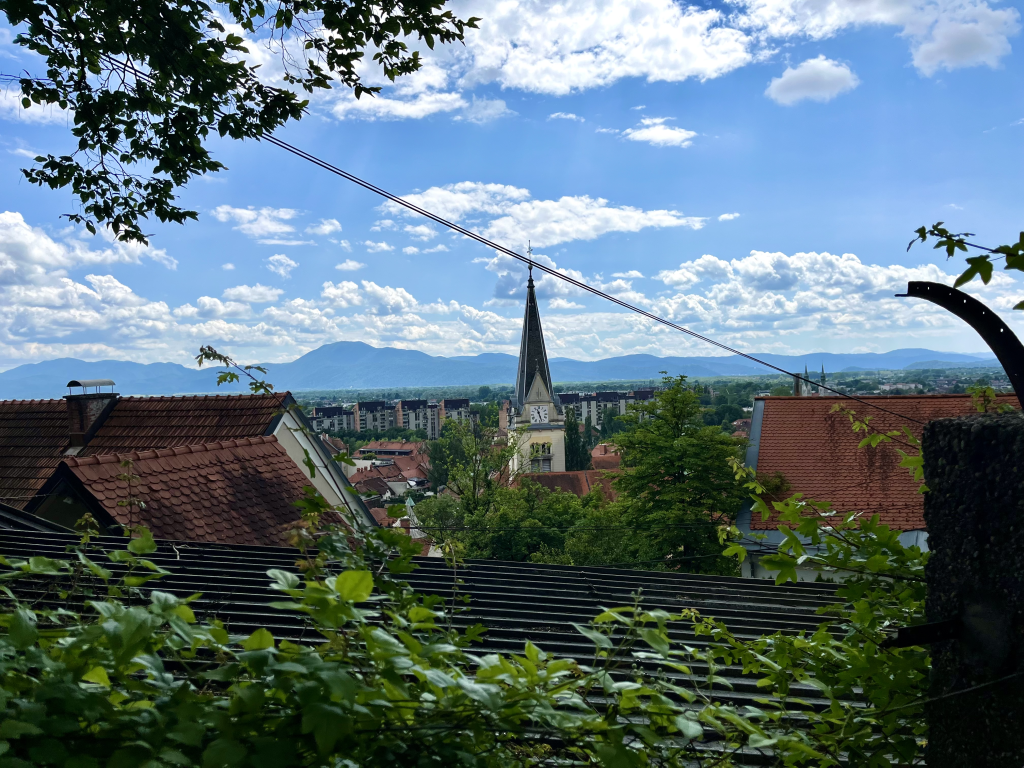 We walked back down and strolled around the old town, which follows the river. Everything was beautiful, but so touristy, with knick knack vendors, tourist shops, stupid t-shirts, and touristy bars and restaurants everywhere you looked. Everything was also way more expensive than Croatia, which was a bit of a shock.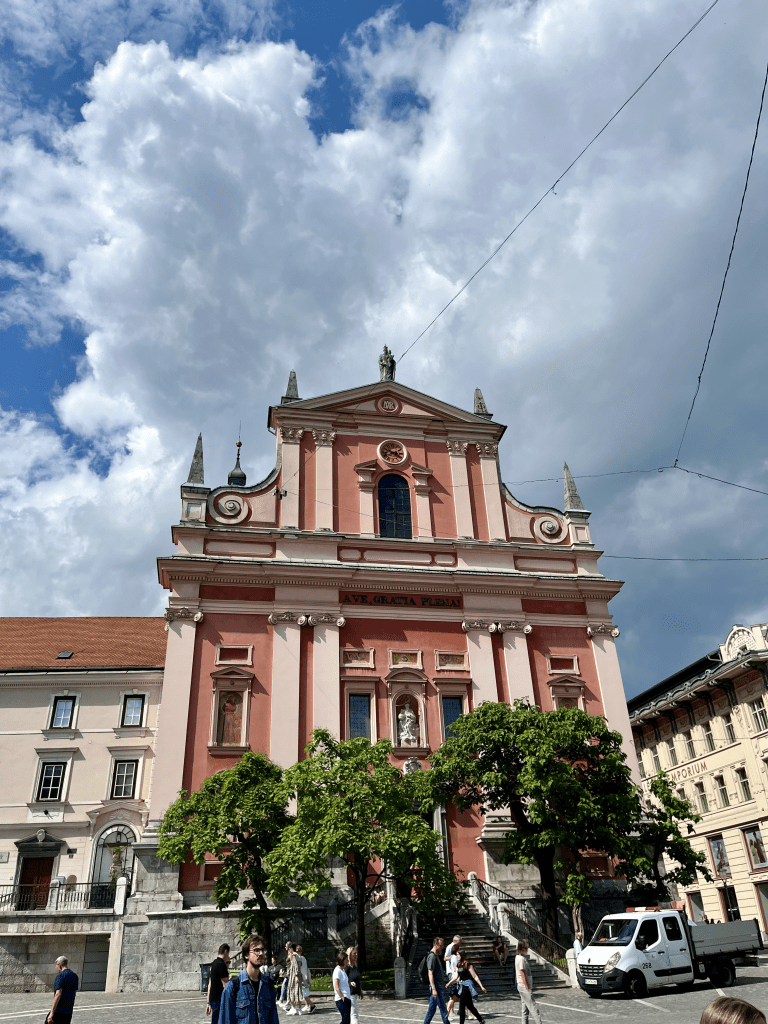 We made our way to a cocktail bar, feeling like something other than the ubiquitous beer or wine, but the place kind of sucked. Shitty euro beats, mediocre overpriced classic cocktails, and lounge-chic decor that could be found in any annoying place in the world. 
I felt like I was in San Antonio on the touristy river walk, or in Niagara Falls. Bleh.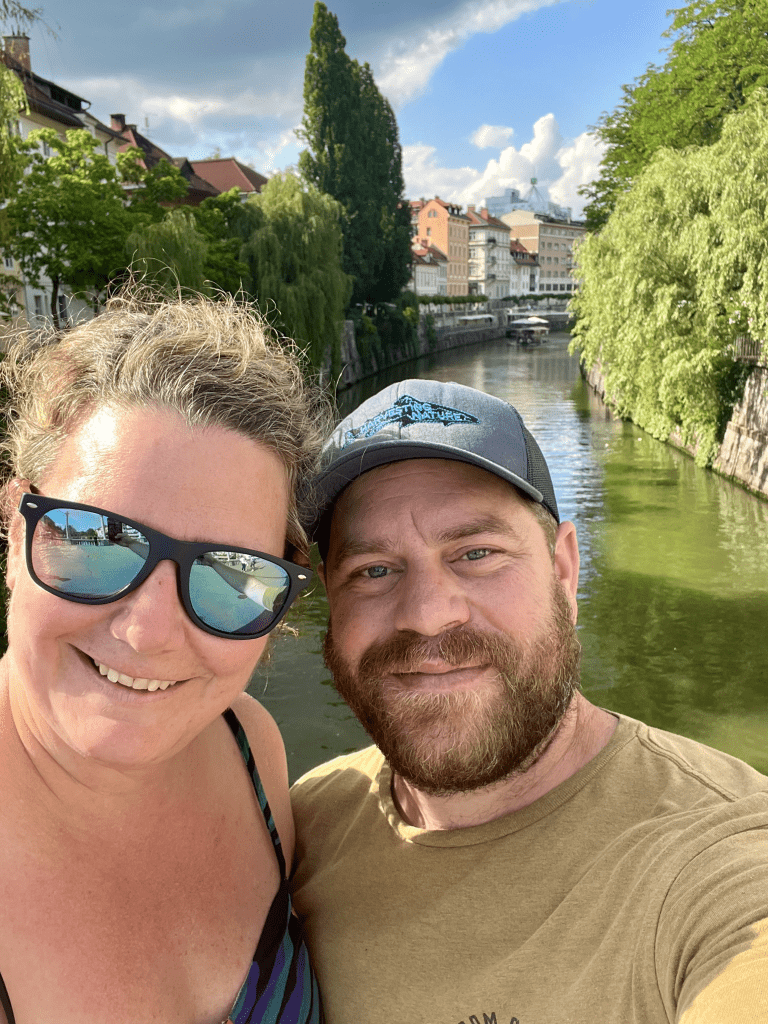 I was getting pretty down on the area, so we decided to change the scenery and walked a bit into town to see the Metelkova Mesto, an eclectic street art area.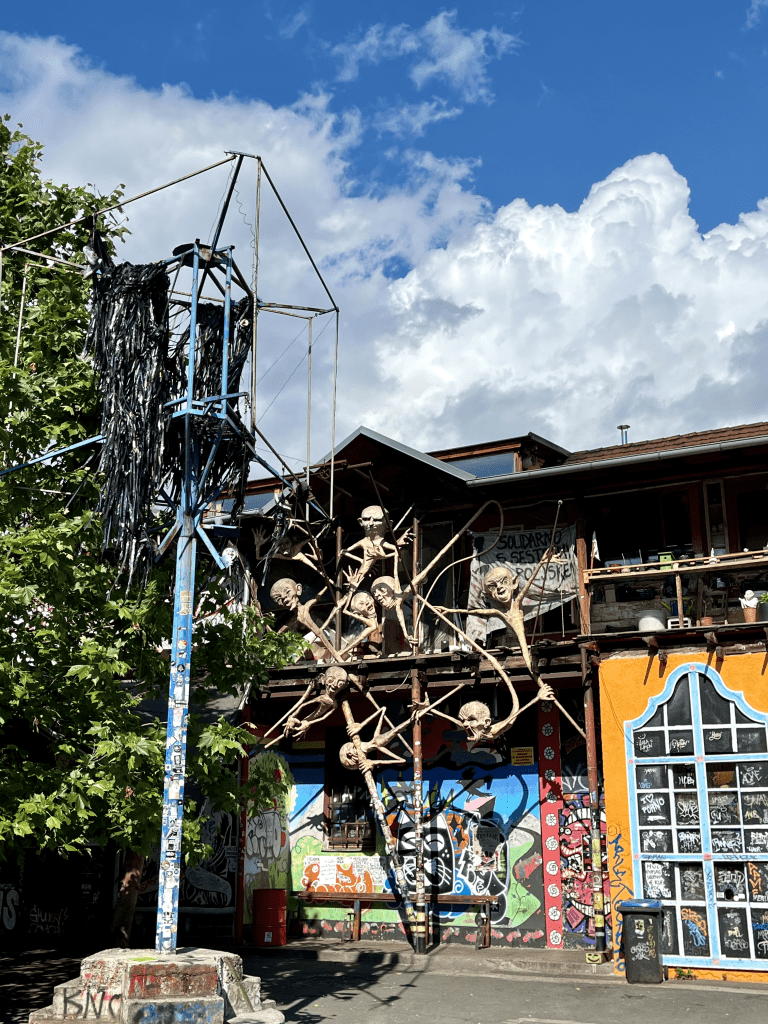 The art was very cool and pretty edgy, but the area wasn't very welcoming to random tourists, with groups of younger men staring us down, and lots of posters pasted everywhere about violence against women, rape, and drug sales – all seemingly pressing issues in the neighbourhood.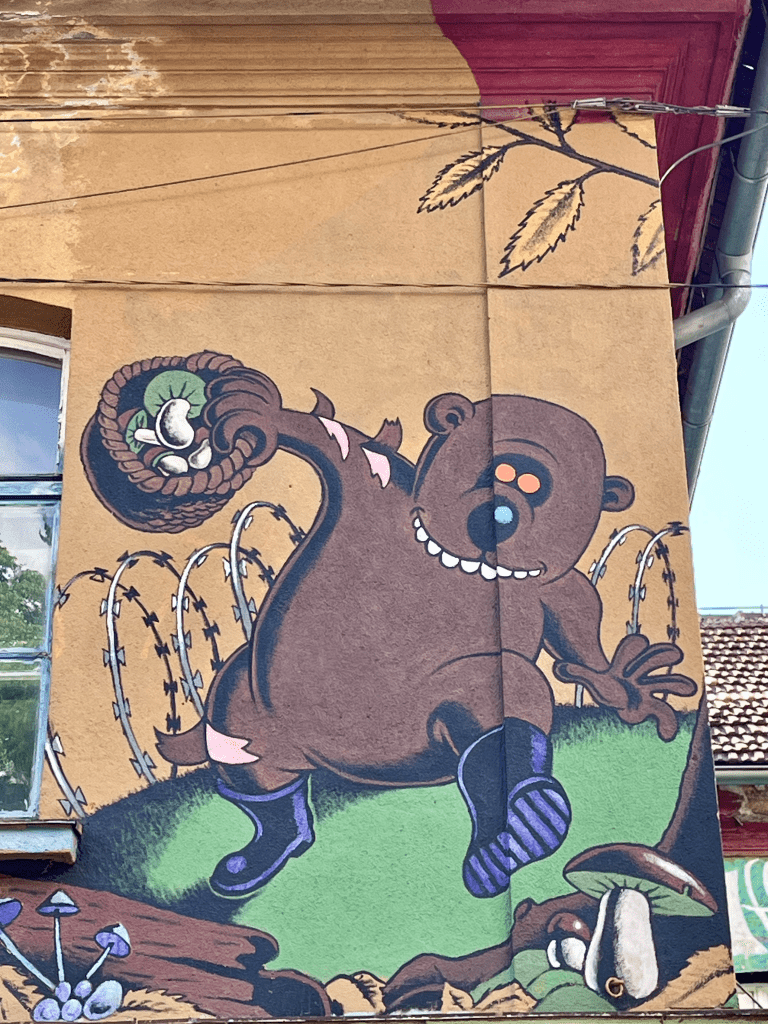 Still, we enjoyed the art, then made our way back into the main area for something to eat. All of the restaurants I'd looked up were quite expensive (especially for what you were getting), but there was one place called Second Fiddle that was a restaurant run by people with learning issues. 
The meals were traditional Slovenian ones, were cheaper, and the restaurant was doing something cool for the community. 
We got seated outside and were served a delicious porcini mushroom soup, and a Slovenian platter for two, with fried chicken, roasted potatoes, pork in gravy, buckwheat groats, roasted vegetables, štrukli, and boiled dumplings. Not too bad!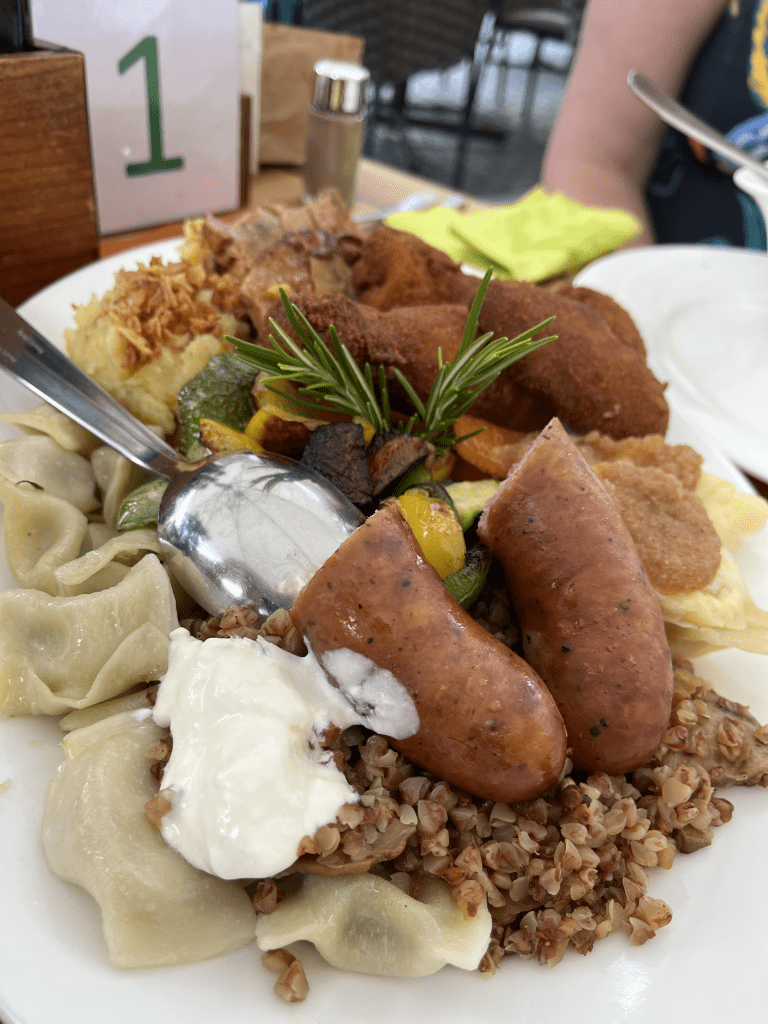 As we started to eat, kids started running into the small square we were set up beside, then two dressed up people popped out onto a small stage. It was a loud kids play, right beside where we were eating, yay! 
The actors, with microphones connected to loud speakers, argued with each other vociferously in Slovene in a hilaaaaaaaarious slapstick manner. Grrrr. 
We finished our ruined meal as fast as possible, then left to find a drink. 
I found a local craft beer bar called Lajbah outside of the tourist area, so we headed there and had some drinks on the patio amongst locals and no annoying people for once. Lovely. 
They had a hopped cider that I really liked, and Kathy found a delicious pale ale. 
Suddenly, the sky opened up in a downpour (the weather network has been wrong 100% of the time on this trip), but luckily, we were under a solid umbrella and weathered the brief storm outside while staying dry and enjoying the rain.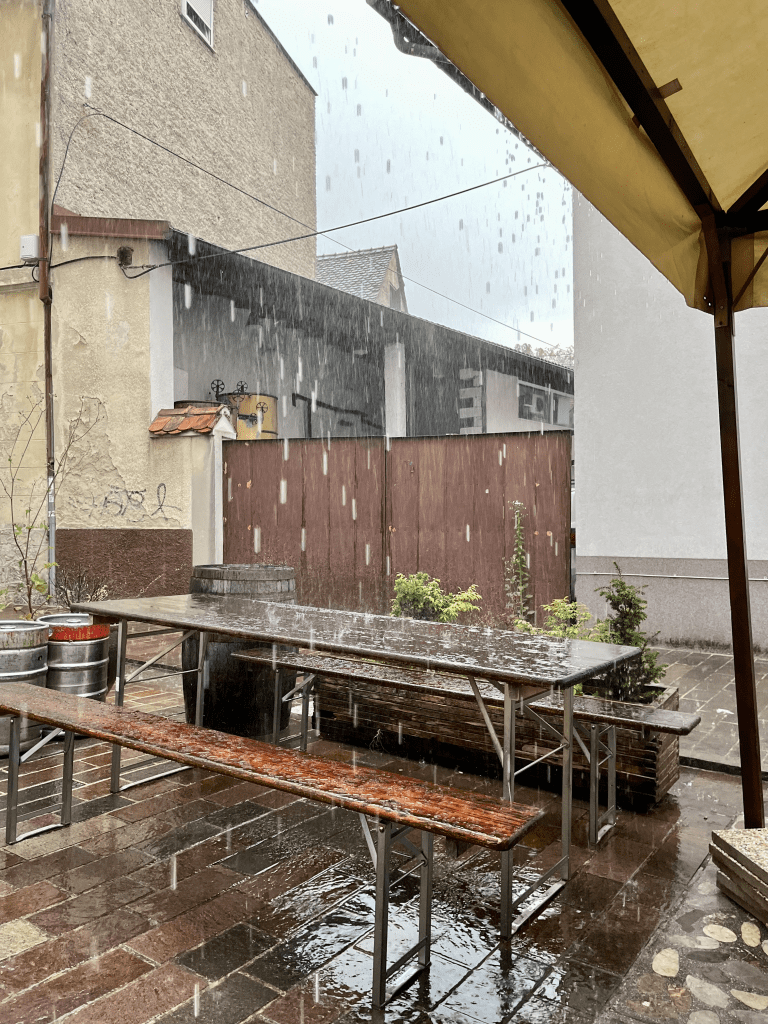 The feeling of normalcy and authenticity at this place was a tonic, and we eventually left the bar in a better mood. 
We decided to actually go to bed early this time, and went home instead of to another bar. 
Unfortunately, our room was as uncomfortable as it was bare, and we had awful hot and sweaty sleeps. 
I woke up early and walked to the market, where only a few vendors were busy unloading their wares. I bought some strawberries, which were about 15€/kg. The ones in Zagreb the day before were 2€/kg. Sheesh! 
We brought our bags to the car rental spot near the bus station and picked up our car right when they opened, with the intention of making it to Bled before anyone else did. 
Bled is a touristy spot with a castle overlooking a blue lake surrounded by mountains and we didn't really want to share it with tour buses. 
We hit the road right away in our Mercedes mini Euro-style SUV, and I found the driving to be relatively easy, despite the confusing road signs, rapid and seemingly pointless speed changes, and the odd features of the rental car. 
I've driven in a lot of big cities, like NY and LA, as well as through sandstorms and road camels in Jordan, on the wrong side of the road next to elephants in South Africa, and some unintentional off road mountain driving in Death Valley, so I felt pretty comfortable renting and driving a car here. 
We got to Bled in short order, but immediately encountered a problem. Twenty-five euros to park our car for an hour? Fuck off. 
I found myself pulling around in tight parking lots, surrounded by hundreds of men in spandex on bikes, paying me no heed, getting in my way and blocking my view of the road that I had to turn onto while they obliviously chatted. 
Getting more stressed out than when driving in downtown Manhattan, we eventually found a lot to park in behind a bakery for a few euros. By that time we were both angry and annoyed. 
We marched down to the lake amongst all sorts of early bird shuffling tourists (we were not early enough apparently) with the noise from heavy truck traffic rumbling over us. 
We decided to go to the other side of the lake which looked quieter and stop to have a coffee, which we hadn't had yet. 
We got to the other side and sat down at a patio. We ordered cappuccinos just as a lawn crew showed up and started up a loud cacophony of landscaping machinery directly beside us. Argh! 
"Let's just get out of here."
The castle overlooking the lake was picturesque, but the place was touristy and annoying and not worth stopping at unless you need to get your Instagram picture. 
"Is Slovenia just a country-wide tourist trap?" I despaired. 
We were thinking of stopping to do a hike in the area, but many of the google reviews mentioned crazy parking fees, line-ups, and big crowds. 
"Screw it. Let's just head to our next stop at Kranjska Gora and forget about this area."
We drove to the little village we'd be spending the next two nights in, and our moods lifted as the Alpine scenery became more and more beautiful.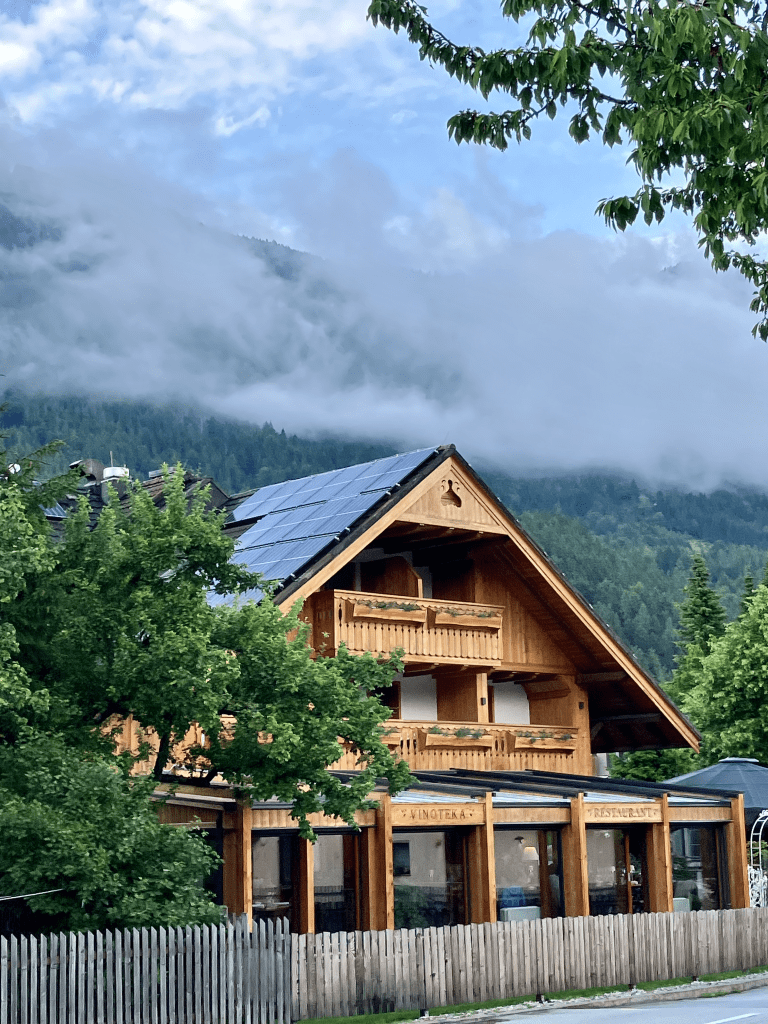 Arriving at the hotel, which was a cute little wooden building that screamed alpine ski, we went to check in, but were a little early. The woman behind the desk was exceedingly friendly and gave us the key so we could go right to our room when we got back. 
Feeling like we needed a wine to restart our day, we ordered one at the hotel bar from a slightly confused worker, then brought them outside to enjoy them in the fresh mountain air. When we finished, the guy that had been at the bar waved us away when we tried to pay. Turns out they weren't even open. 
Whoops! So nice of them to not only serve us the very necessary wine, but to also waive the fee. 
Feeling much better about our lives, we went for a stroll through the village, which was obviously built to be a ski village in the winter, but was beautiful in the summer. It felt like the kind of place that Intrawest did a bad job copying when they built the trendy ski towns we see in North America. 
Most of the restaurants were quite expensive, so we stopped at Alebon for kebab, which was shaved gyro-style and stacked on bread with sauce and toppings.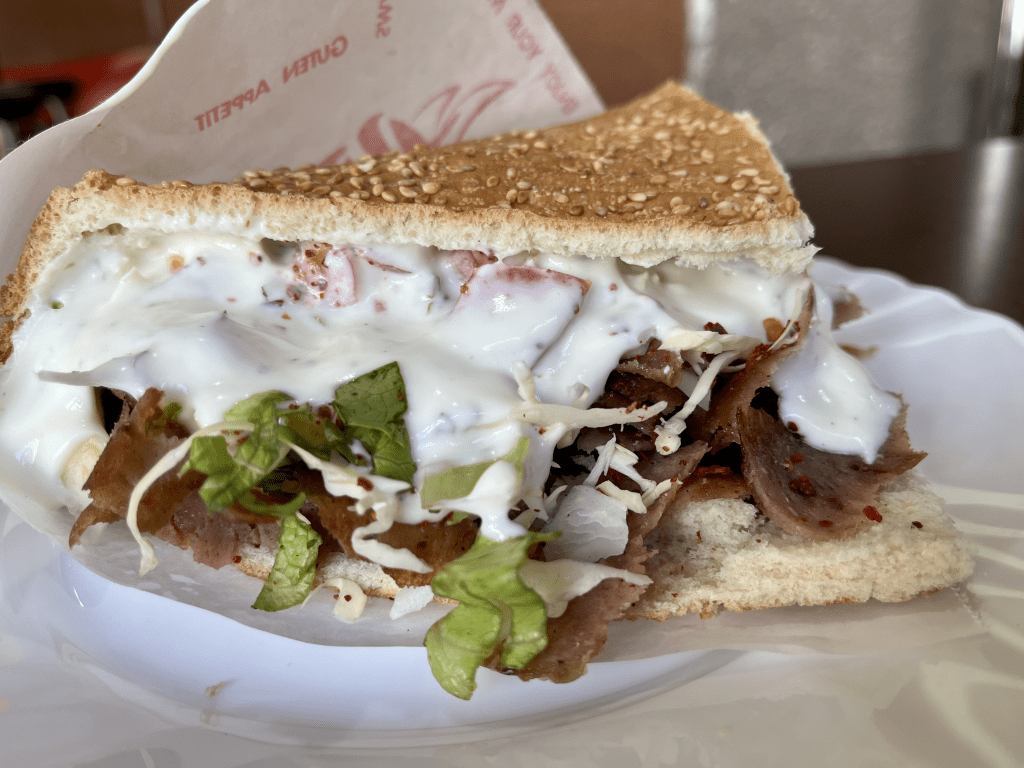 The sandwiches were 5€ each, and quite large and filling, if not the best I've had. Unfortunately there was a construction site next door, and we spent our lunch yelling over the sound of a persistent jackhammer. 
We decided on a hike or two to try out after lunch, but thought we'd better go to the tourist info centre around the corner to make sure we'd made a good choice. There were many hikes for professional mountaineers and we didn't want to accidentally go on one. 
The tourist centre had two cold looking women sitting at the front desk. "Yes?"
"Hi, we were thinking of trying out some hikes. We're looking for something relatively easy that can be done in the afternoon, maybe the Slemenova Spika?"
The woman looked at us expectantly. 
"Do you have any suggestions?" 
"Yes. There is the Slemenova Spika."
"That's a good hike for beginners?" 
She looked at us expectantly. 
"Um. Do we have to pay for parking?"
After a long conversation in Slovene with her workmate, she turned back to us, "No, you can park. Try near the huts."
"Ok. Are there other easy hikes?"
"You can hike valleys."
"… okay. Thanks."
That must have been the least helpful and least friendly tourist information centre I've ever been to! It was more funny than off-putting though.
Like everywhere we'd gone on this trip, it seemed like pretty much everyone spoke very good English. Up here in the mountain villages where much of the tourism comes from Germans or Austrians, everyone also spoke German. 
I always feel like such a monolingual loser when I travel to places like this. I have a bit of French, and I can pick up the basics of new languages relatively easy, but I'm always impressed by people who speak many languages and who can switch back and forth between them with ease. 
We got into the car and drove towards our hike, which was located in the Vrisic Pass, a steep mountain road with over 50 tight hairpin switchbacks. Driving up the mountain, we were passed constantly by groups of motorcycles, who must come here just to drive up and down the hill.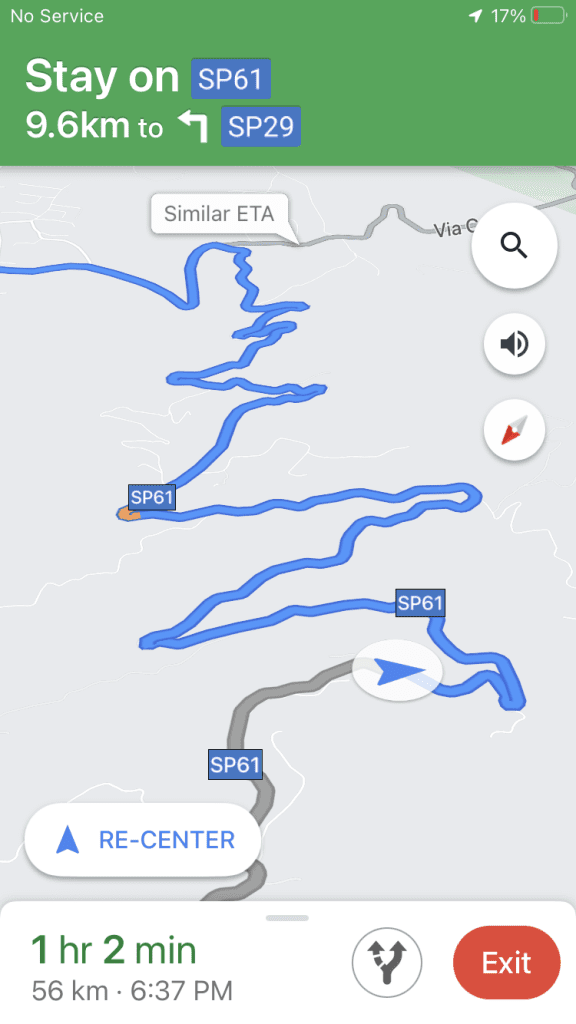 I was a little nervous going into it, but it was totally fine, as long as you hugged the curves tight and paid 100% attention at all times. 
The scenery got crazier and crazier as we drive up into the Alps. There was a constant refrain of, "Wow! WOW!"
We got to our destination near the top of the pass and parked alongside a few cars. "Nice!" I thought to myself, "Not crowded."
The mountain air was thin and fresh, and we were both feeling some more love for Slovenia than we had earlier that day. 
I packed some water and snacks into a bag, then we headed off for our hike. I had sneakers on (hiking shoes are pretty much destroyed, so I left them at home) as well as pants and a button up shirt.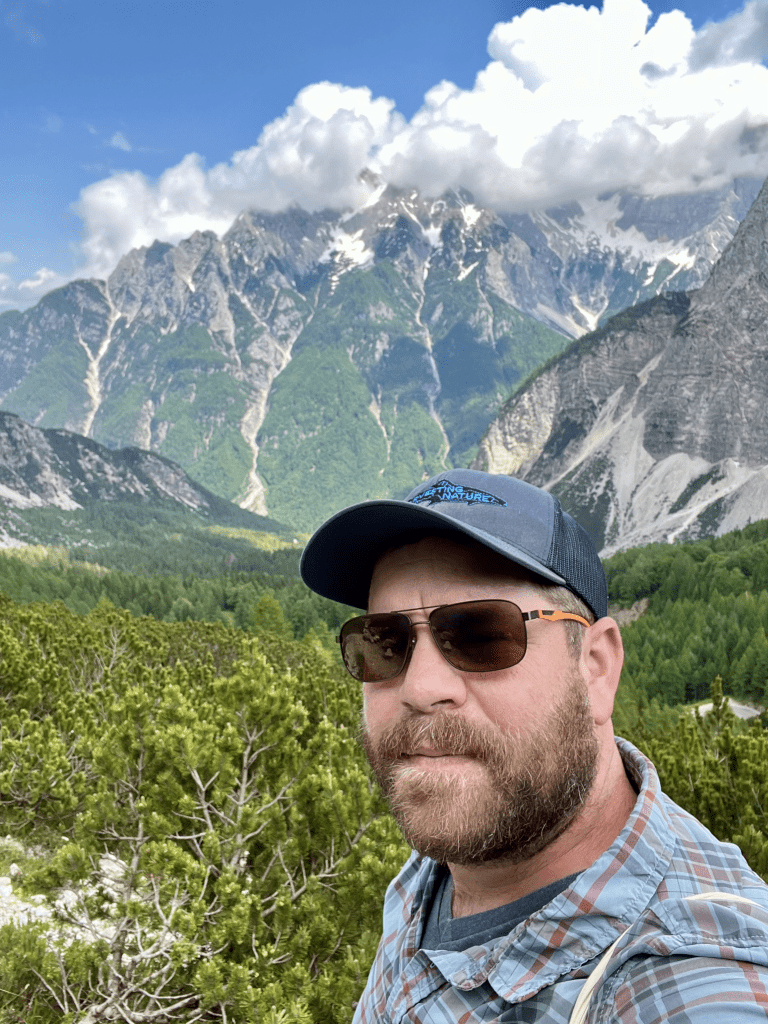 We passed a couple hikers on the way down, dressed in expensive outdoor gear with hiking poles and camelpacks (backpack water bladders); they seemed more prepared than us, but we figured we'd turn around if things got hairy. 
The hike was immediately challenging, with a steep uphill climb that left us breathless. Perhaps if we hadn't been eating and drinking for two weeks straight, it wouldn't have been quite so bad!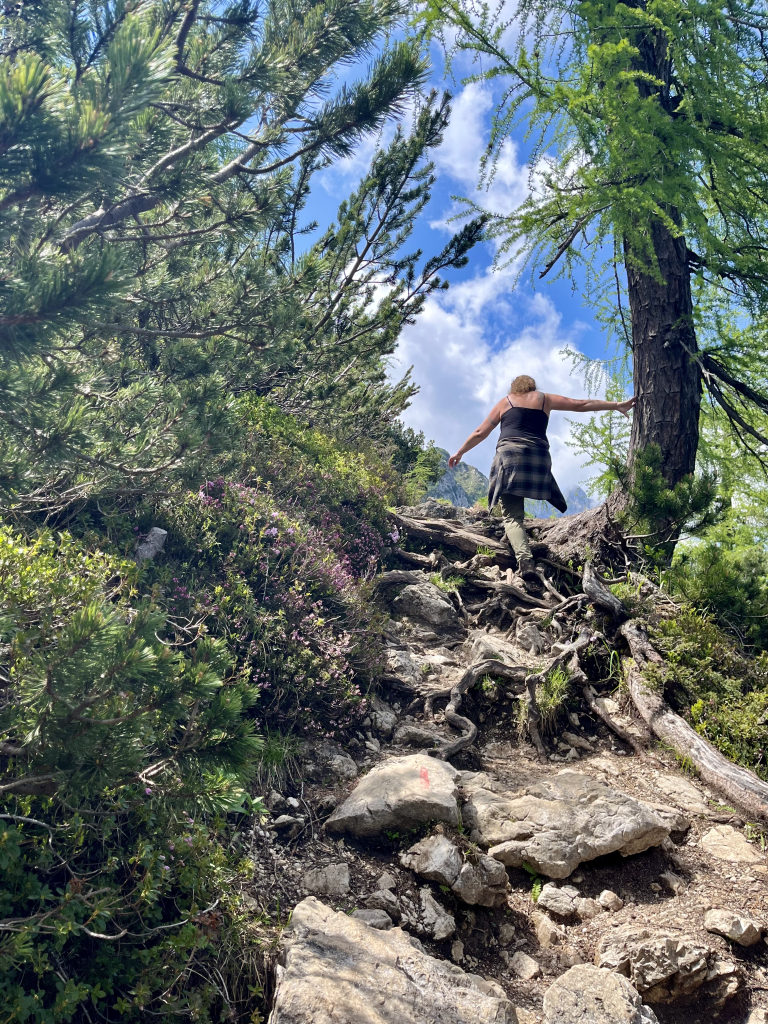 This portion of the trip was actually supposed to happen in the middle, breaking up our gluttonous exploration of bars and restaurants as well as the crowds and noise of the city for some exercise and fresh air. 
Due to some scheduling conflicts, it ended up at the end instead. Not a huge deal, but I bet it would have been better for our moods to have been able to do it sooner.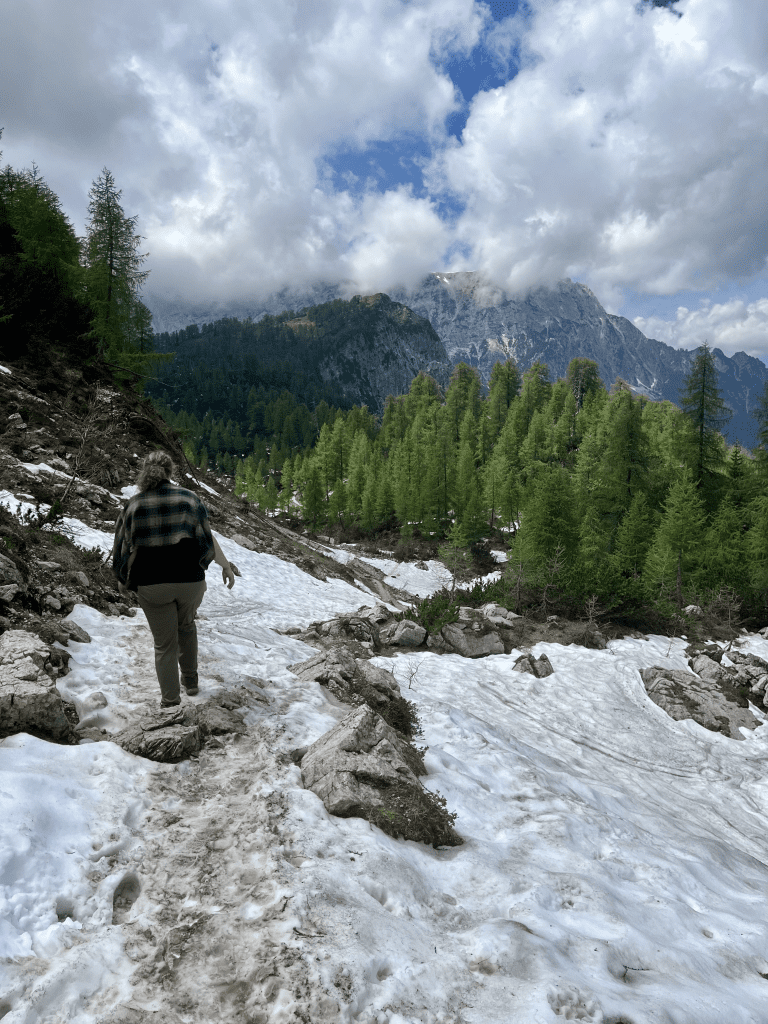 The hike was incredible, with amazing alpine scenery, from the massive snow capped peaks surrounding us, to the tiny wildflowers all around us. 
We hiked for a few hours, pushing our way slowly up the mountain and feeling very out of shape. We eventually encountered snow on the ground, and the trees became smaller and smaller. Still, we pushed on and eventually found ourselves near the top.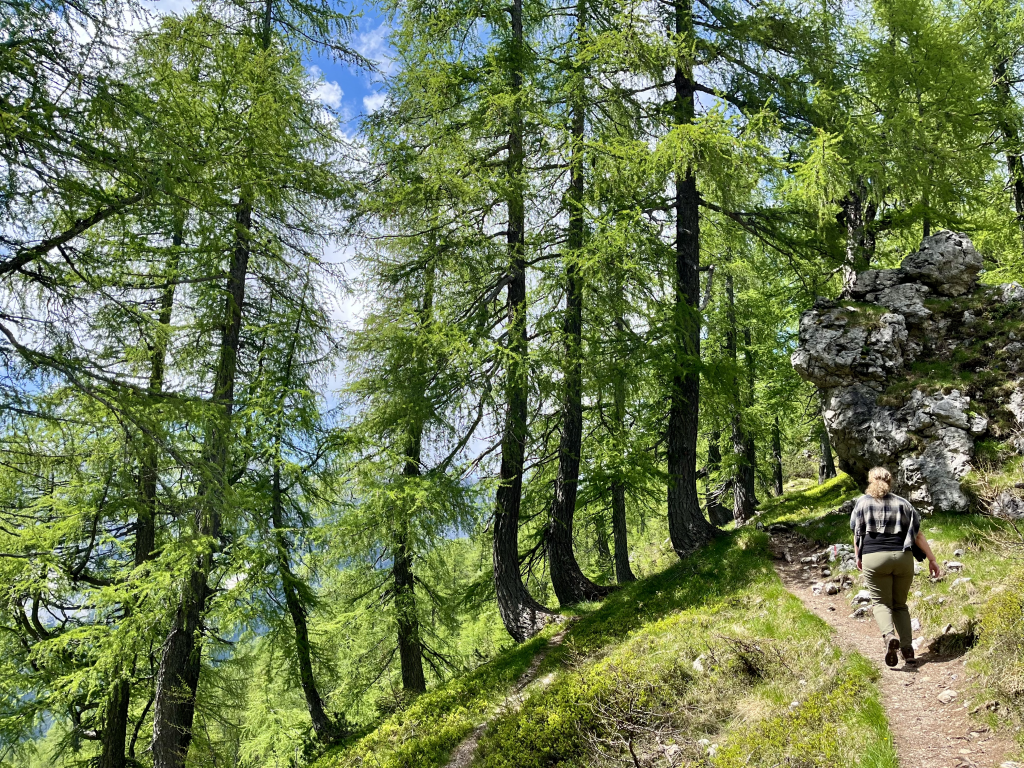 An older couple had just reached the top before us and I hoped that we would still be doing this kind of stuff at their age. 
We let them have a few minutes on the peak, then went up the last bit ourselves, where we sat and enjoyed the view (absolutely breathtaking) and our accomplishment.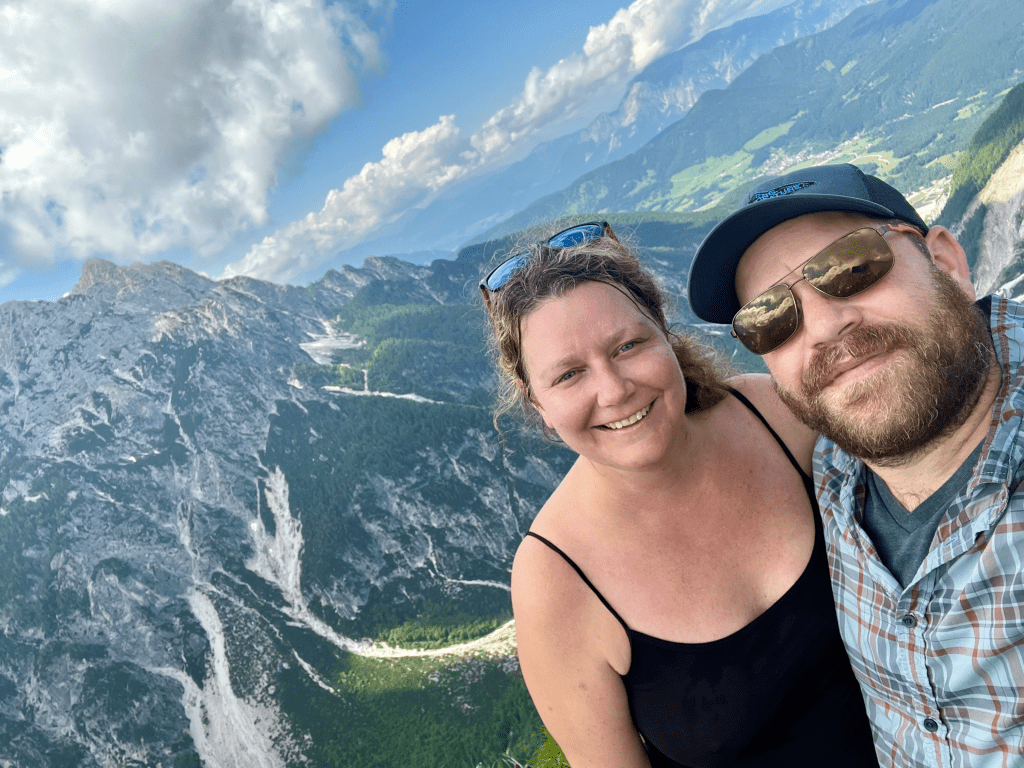 I took some dry cured salami and cheese out of the bag for a snack and immediately several crow-like birds swooped in out of nowhere in what seemed like a mystical fashion. 
At the same time, clouds and fog started rolling in which left the whole experience feeling very trippy to both of us.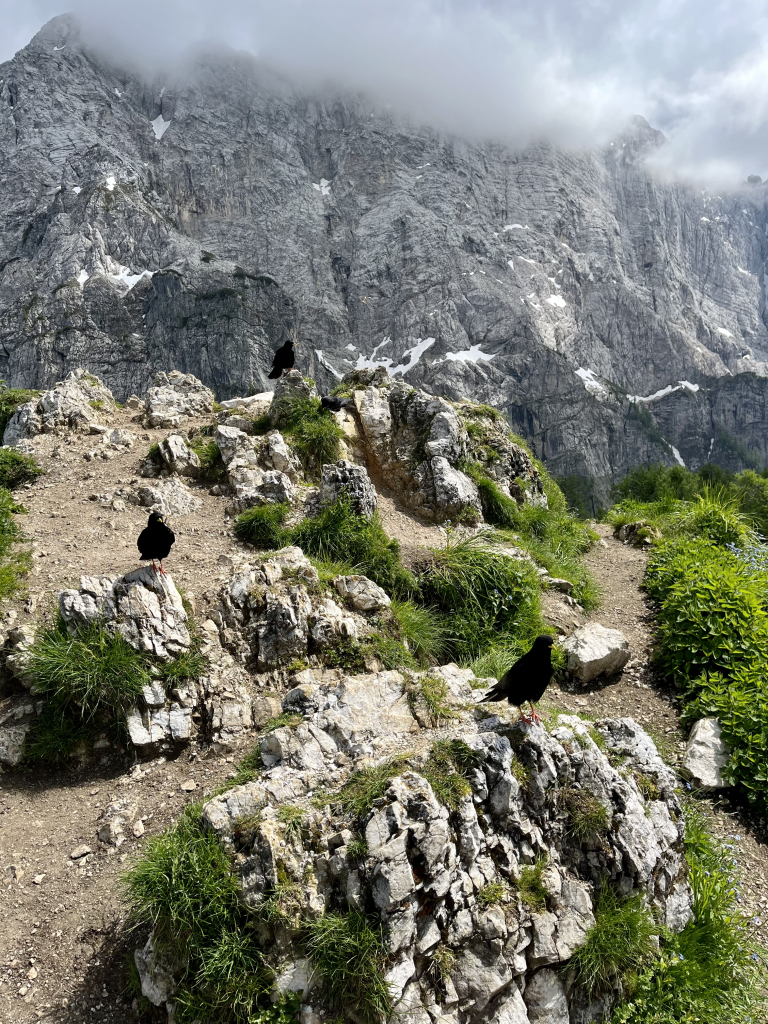 The birds, which turned out to be Alpine Houghs, closely related to grackles (all shiny black, with bright yellow beaks and bright orange feet), hung out with us for a while, then we decided to begin our descent. 
The way down was hard on the toes, as our feet were constantly pushing downwards on the steep sliding scree, and I felt the lack of hiking boots keenly.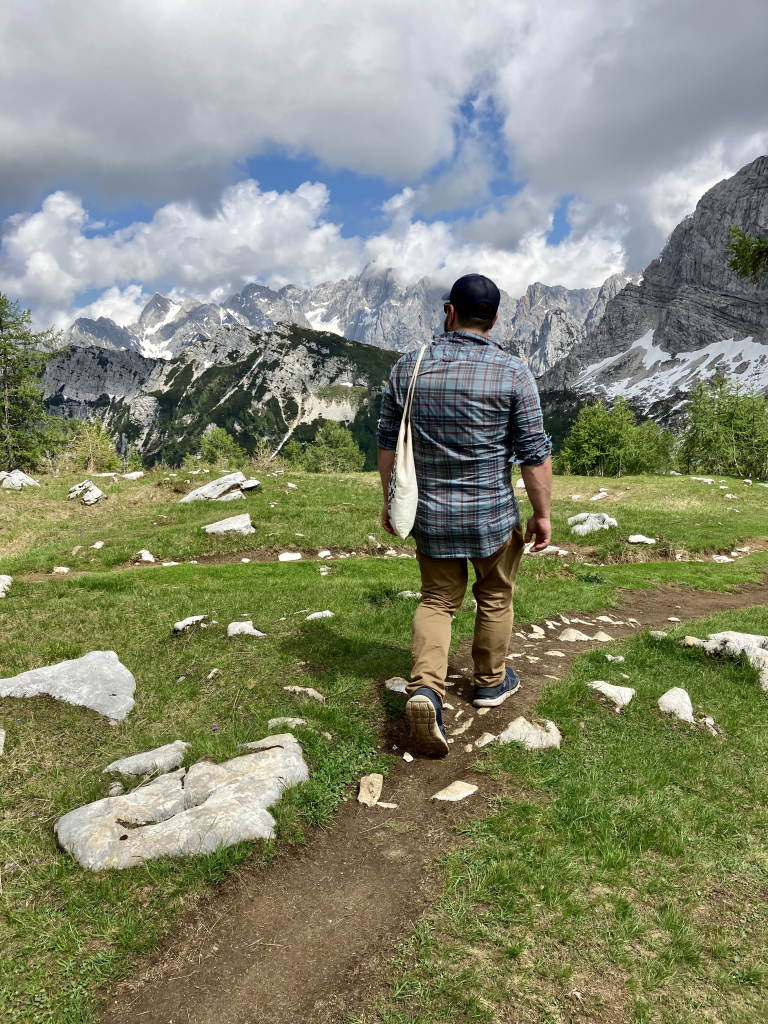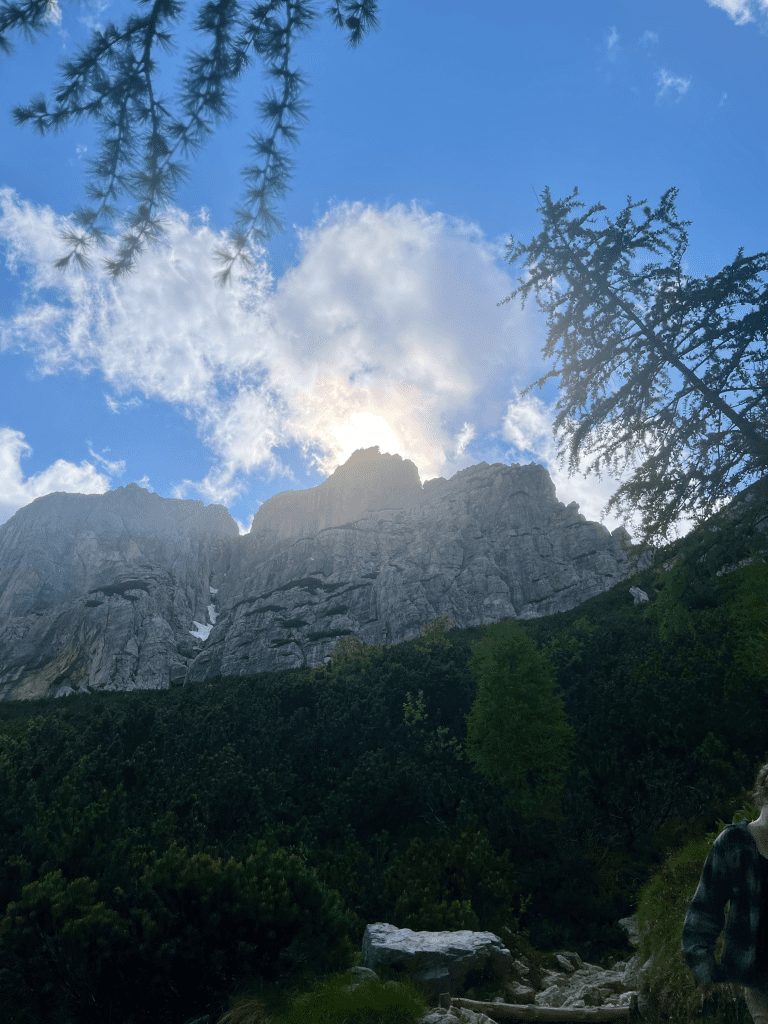 Still, we made it down the mountain in one piece, and felt great for having dove the hike. I'd say it's doable for any surefooted person in half decent shape, but some will find it quite challenging. 
Feeling exhausted, we drove down the 50+ switchbacks, having fun doing so, and headed back towards town, our moods having done a 180. 
Next up, part 2 of Ljubljana and the Slovenian Alps!