Filipino Wild Pork Sinigang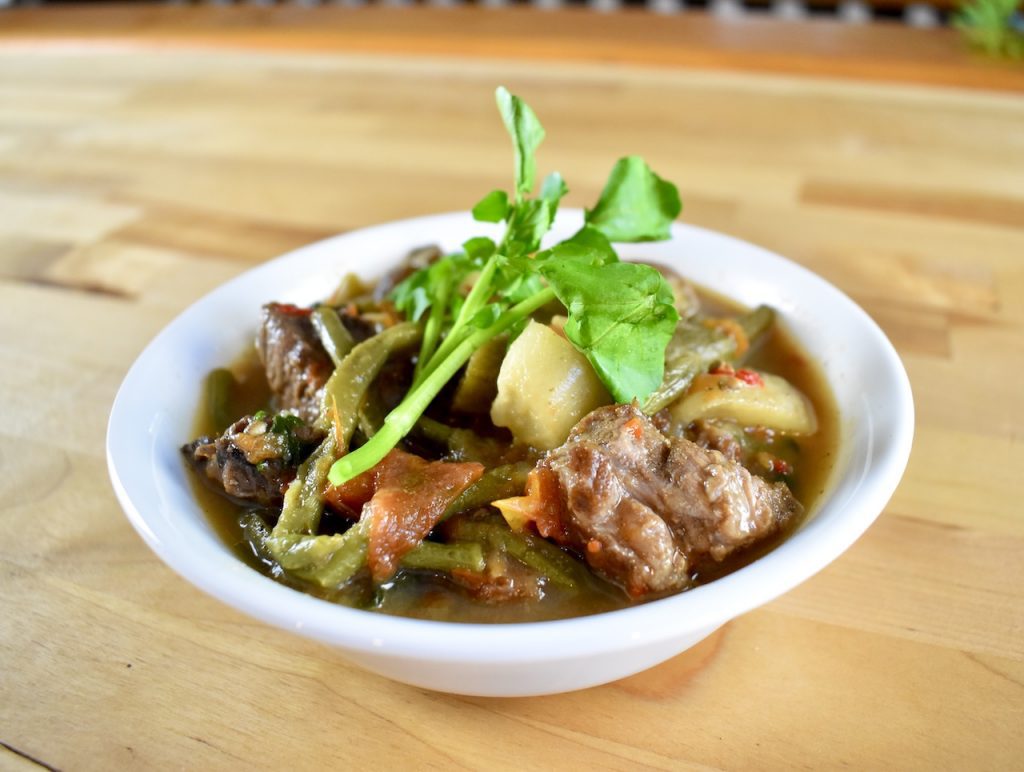 Sinigang is a very popular soup in the Philippines, boasting a pleasing savoury and sour flavour. 
The souring agent largely used for this soup is tamarind, which is found as a paste surrounding seeds in the seedpods of tamarind trees. 
I used tamarind concentrate, which is available at any Asian grocery store. You could also use packets of sinigang mix, or tamarind paste. 
Adding tamarind concentrate to ice and water makes for a refreshing drink, and it's also great in cocktails too! 
I used wild pork for this dish, but you could use store bought pork as well. 
Use a shoulder or neck cut, or, if you'd like some bones to gnaw on, chopped pieces of ribs works great! 
Prep Time

15 min

Cook Time

2 hr

Total Time

2 hr 15 min

Yield

4 servings
Ingredients
1.5-2lbs (680-900g) wild pork stew meat, belly, or meaty ribs
1 tablespoon (15ml) lard or vegetable oil
2 onions, chopped
3 tablespoons (45ml) patis or fish sauce
2 tomatoes, cut into 8 wedges
6 cups wild pork stock, chicken stock, or water
1 small daikon radish, cut into irregular bite-sized shapes
1 big handful green beans or snake beans, cut into 2-3″ (4-6cm) pieces
10 okra pods, trimmed and halved lengthwise
1 Chinese eggplant, cut into large, irregular shapes
1 red chili, seeded and minced
2 tablespoons (30ml) tamarind concentrate, sinigang mix, or tamarind paste
1/2 teaspoon (1g) garlic powder
1/2 teaspoon (1g) onion powder
1 handful greens like watercress, spinach, choy, etc.
Preparation
1
Cut the pork into large bite-size chunks. 
Heat the oil in a large pot over high heat. 
Add the pork and sear until well-browned on all sides, about 5-8 minutes. 
2
Reduce the heat to medium-high, and add the onions. Cook for 5 minutes or until softened. 
Add patis/fish sauce and tomatoes, cook 2 minutes, stirring often. 
Add the pork stock or water and bring to a simmer. 
Cook on low for 1.5 hours, or until pork becomes nice and tender. 
If the liquid has reduced significantly, add some more pork stock or water to maintain a soupy consistency.  
3
Add the daikon and cook at a strong simmer for 10 minutes. 
Add the beans and cook for another 5. 
Add the okra, eggplant, chili, tamarind concentrate, onion powder, and garlic powder and cook for another 5 minutes. 
4
Take off the heat and stir in the greens. Taste and add more fish sauce if necessary. 
To serve, ladle into bowls and serve with some greens placed on top. Enjoy!