How To Roast Your Own Pumpkin Seeds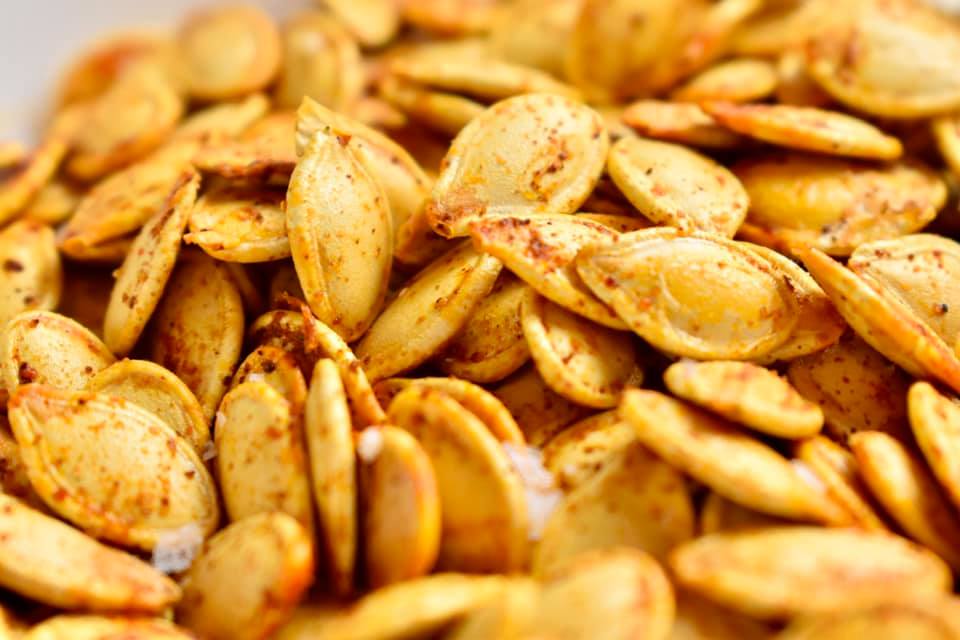 Getting all that pumpkin goop off of the seeds can be a little fussy, but it's definitely worth it for this healthy, tasty snack! Use any wet or dry seasoning you like. For these seeds, I went with chaat masala, Kashmiri chili powder, and ghee, but you could use plain salt and butter, seasoned salt, Cajun spice, curry, za'atar, lemon pepper, Frank's Red Hot sauce, piri piri sauce, Thai red curry paste, or any flavourings you can dream up! 
Prep Time

20 min

Cook Time

50 min

Total Time

1 hr 10 min
Course

Cooking Method

Suitable for Diet
Ingredients
Seeds from a pumpkin or squash
Salt
Fat (like butter, vegetable oil, olive oil, ghee, coconut oil, duck fat, etc.)
Seasoning (salt, spice blends, sauces, pastes, etc. –See Intro)
Preparation
1
Preheat oven to 200°F (96°C, gas mark 1/2)
After scooping the guts out of a pumpkin or squash, use your fingers to pop out the seeds into a bowl, trying to remove any stringy bits. 
2
Give them a good rinse in the sink, swishing them around in a colander in a further effort to get rid of any gunk.
3
Once clean, spread the seeds out on a baking tray, sprinkle them with fine salt and put them into the oven for about 30 minutes or until they're completely dried out.
Once dry, dump them into a bowl, toss with the (liquid) fat you chose, as well as a seasoning blend, sauce or paste.
4
Now turn the oven up to 350°F (175°C, gas mark 4) and spread the seeds back out on the sheet tray. Try to make sure they are in one layer and not piled up. 
Throw them back into the oven for another 15 to 20 minutes, keeping a VERY close eye on them and giving them a stir half way through. These things burn easily, and ovens vary in temperature, so you're not allowed to walk away!
If you want them cooked a little deeper so they're more crunchy, feel free to cook longer. 
5
Once they are golden and toasty, remove them from the oven and let them cool a bit, then toss them into a bowl to scarf on once the pumpkins are all carved up and are glowing in the window!
Any extra notes can go here.