Fish Head Tacos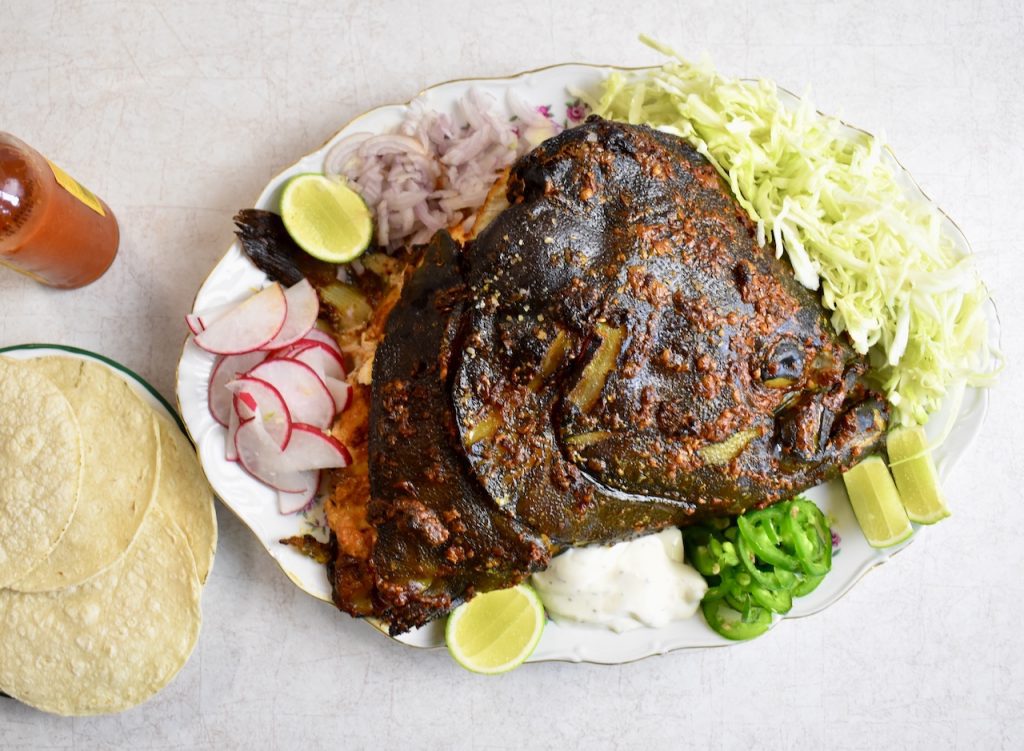 This is a wonderful summer meal to make for a group of friends who are intrepid eaters! 
Any large fish head will work, like grouper, salmon, carp, snapper, etc., but I used halibut and I've got to say, it was absolutely incredible. You'll have to adjust cooking times to suit the size and type of fish head you use. 
Eating it like this reminded me of eating a roasted pig head, or slow roasted fatty pork shoulder, with tons of unctuous fatty meat and different textures. Crispy, crackling skin, rich fatty neck, firm meaty collar, lip-smacking jaw meat, and of course, the cheeks. Oh, the cheeks. 
Tacos were a great medium for eating this insanely delicious fish, but you could use lettuce wraps as well. Serve with the toppings I suggested, or go ahead and make your own! 
Prep Time

2 hr 15 min

Cook Time

45 min

Total Time

3 hr

Yield

2-8 servings depending on size of head
Ingredients
1 very large fish head (I used halibut, which I highly recommend)
5 tablespoons (75ml) mayonnaise
5 cloves garlic, minced
2 chipotles in adobo, seeded and minced
2 teaspoons (10ml) adobo sauce (from the can)
1 tablespoon (15ml) soy sauce
Juice from 1 lime
1 teaspoon (2g) ground cumin
1 teaspoon (2g) ground coriander
1 teaspoon (2g) ground annatto powder (optional)
1/2 teaspoon (2g) kosher salt
Garnishes
1/4 green cabbage, shredded
1/2 teaspoon (2g) kosher salt
Thinly sliced radish
Thinly sliced jalapeños
Chopped red onion
Lime cheeks
Corn or wheat tortillas 
Mexican style hot sauce
Preparation
1
Pat the fish head dry with a paper towel. Remove all scales if you are using a scaled fish. Skip this if you are using halibut. Remove all of the gills as well, using kitchen shears. Be careful as they can be sharp.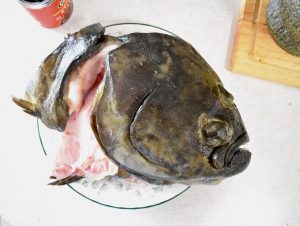 2
Mix together all of the marinade ingredients in a bowl and rub it all over the fish head, being sure to get into all of the nooks and crannies.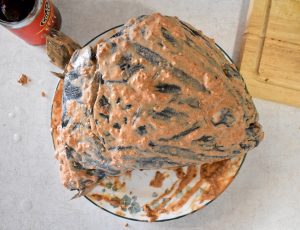 Let marinate for 1 hour up to overnight in the refrigerator. 
3
Preheat oven or grill to 400°F (205°C). 
If using grill, only heat up one side and cook the fish on the off side of the grill. 
If using oven, set fish on a baking sheet with a wire rack.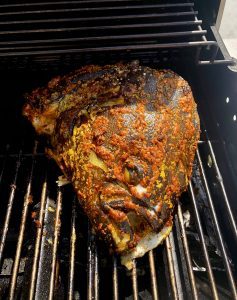 Cook for 45 minutes, or until fish head is cooked all of the way through. The time will obviously need to change for larger or smaller fish heads. 
4
Toss the shredded cabbage with the salt and let sit for 10 minutes while the fish head cools.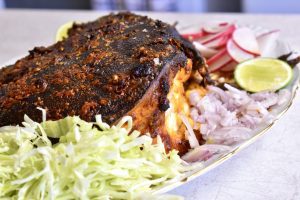 Serve the head surrounded by the accoutrements with a stack of warmed tortillas. 
5
Diners gather around the fish head (preferably while standing) and dig in with forks, stacking tacos with tender and fatty pieces of fish, as well as the toppings you laid out.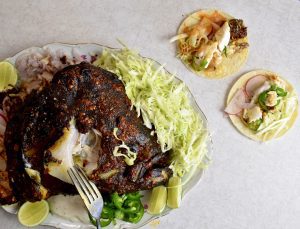 The collar is full of firm meat, the back of the head and jaws full of fatty and unctuous meat, the skin is super flavourful and crispy, and the cheeks are the very best part.
Leave behind or discard any parts that you don't feel like eating, but everything other than the bones is edible. Enjoy!