Garlic Butter Panfish Sandwich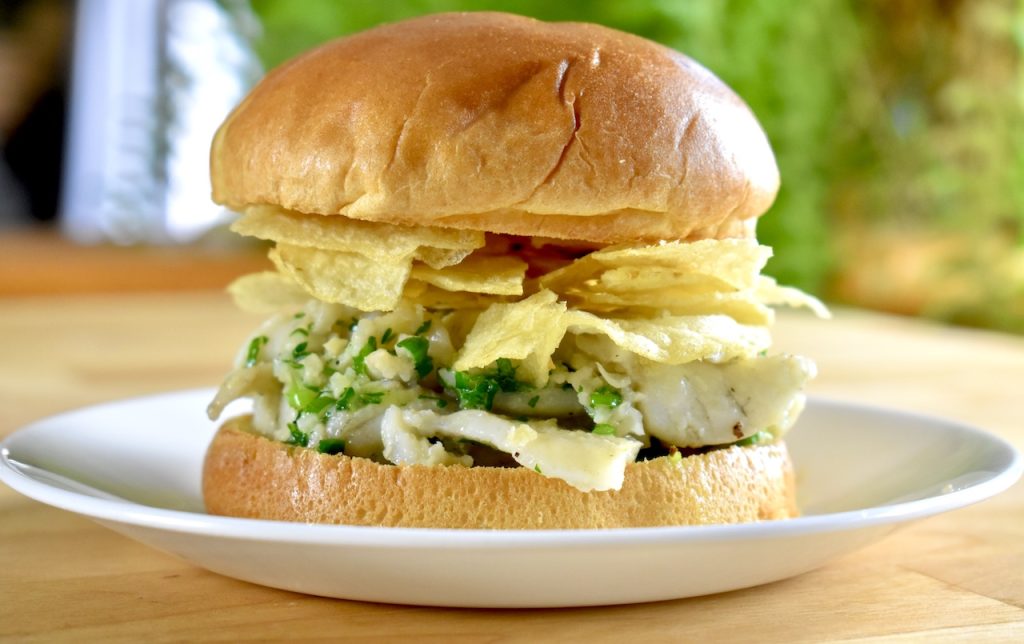 This garlic butter panfish sandwich is the perfect thing to make with a mess of perch or bluegill, though any lake fish or store bought white fish will do. Crunchy chips offset the silky soft fish and squishy bun. I like to use plain chips, but try your favourite flavour out and see how it works!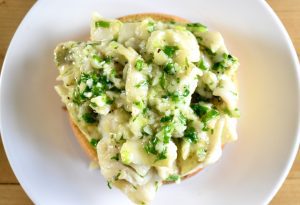 Prep Time

10 min

Cook Time

5 min

Total Time

15 min

Yield

4 sandwiches
Cuisine

Course

Cooking Method
Ingredients
1/3 cup (75g) butter
5 large garlic cloves, minced
2 tablespoons chopped parsley
2 scallions/green onions, sliced, green parts only
Approx. 1lb (454g) boneless, skinless fish fillets, cut into 2-3″ pieces
Kosher salt
Black pepper
1 lemon wedge, or 1 teaspoon (5ml) lemon juice
4 squishy white buns
4 handfuls plain chips (crisps)
Preparation
1
Melt the butter in a skillet over medium low heat. 
Add the garlic, scallions, and parsley and stir to mix well. 
Add the fish pieces, toss in the butter, then try to arrange in one layer as best as possible. 
Season with a pinch of salt and pepper. 
2
Cook the fish for 5 minutes, flipping once, or until the fish is cooked through and flaking when pressed with a fork. 
Spritz with the lemon juice. 
3
Toast the buns lightly, then top with 1/4 of the fish on each. 
Spoon over the garlic butter sauce from the pan. 
Top with a handful of chips, then press the top bun down firmly but gently. 
Serve immediately. Enjoy!