Easy Weeknight Afghan Kabuli Palaw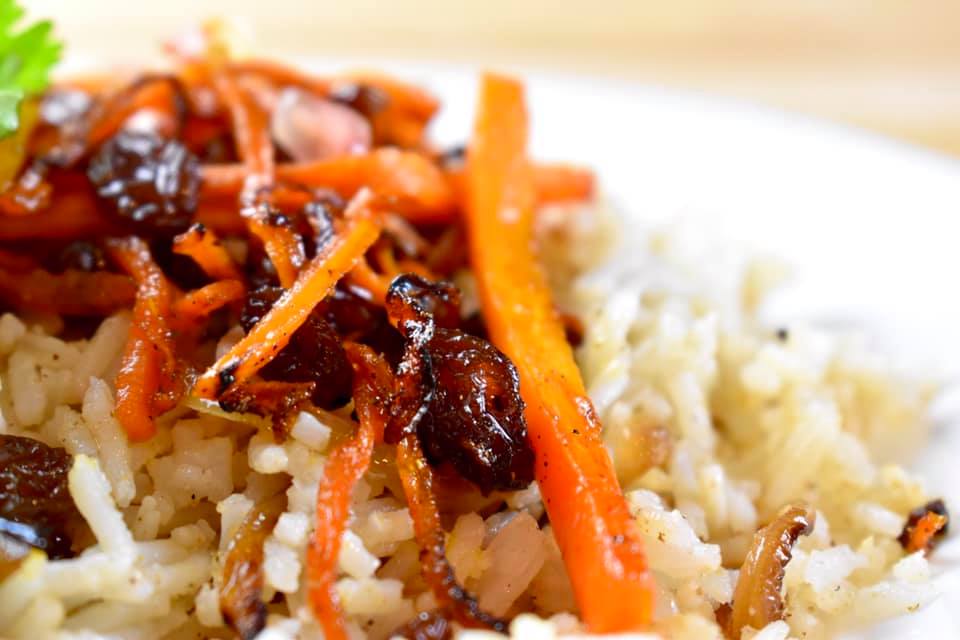 Kabuli palaw (palao) is a magnificent Afghan rice and lamb pilaf, often served for special occasions like weddings. This version is much more humble and better suited for weeknights. Removing the meat and most of the steps that make this dish a showy main course streamlines the recipe to make a super tasty and simpler side, whose flavours are reminiscent of the original dish. This dish would go nicely with some grilled kabobs or roasted chicken. 
Prep Time

10 min

Cook Time

30 min

Total Time

40 min

Ready in

45

Yield

Serves 4
Cuisine

Course

Cooking Method

Suitable for Diet
Ingredients
1 cup basmati rice
2 cups water
2 teaspoons olive oil
1 teaspoon kosher salt
1 large onion, peeled and sliced into half moons
1 tablespoon butter or oil
1 tablespoon garam masala, split
1 teaspoon ground green cardamom, split
1/2 cup sultana raisins, split
1 carrot, peeled and sliced into matchsticks
1/2 tablespoon white sugar
Pomegranate seeds to garnish (optional)
Preparation
1
Rinse rice. 
Bring rice, water, olive oil, and salt to a boil in a medium pot. Cover, then reduce to low heat.
Cook for 20 minutes (set a timer) without lifting the lid. 
After 20 minutes, take the pot off the heat and let sit for another 5 minutes without disturbing the lid. 
2
Meanwhile, add butter/oil and sliced onions to a fry pan and fry over medium high heat until onions soften and begin to take on a golden colour. You don't need to fully caramelize them, but you want them to be browned. 
3
Once the rice is finished, stir in the onions, 1/2 of the garam masala, 1/2 of the cardamom, and 1/2 of the raisins so it is all well-combined with the rice. 
Set aside for the time being.
4
In the same pan that you fried the onions in (add more oil or butter if necessary) fry the carrots over medium heat. 
Add the white sugar and sauté until the carrots soften, about 3 minutes or so. Add the rest of the garam masala, cardamom, and raisins and sauté for another 2 minutes.  
5
To serve, scoop out the rice mixture onto plates. Top with a spoonful of the carrot mixture and a scattering of pomegranate seeds. Enjoy!