Korean Venison Heart Sandos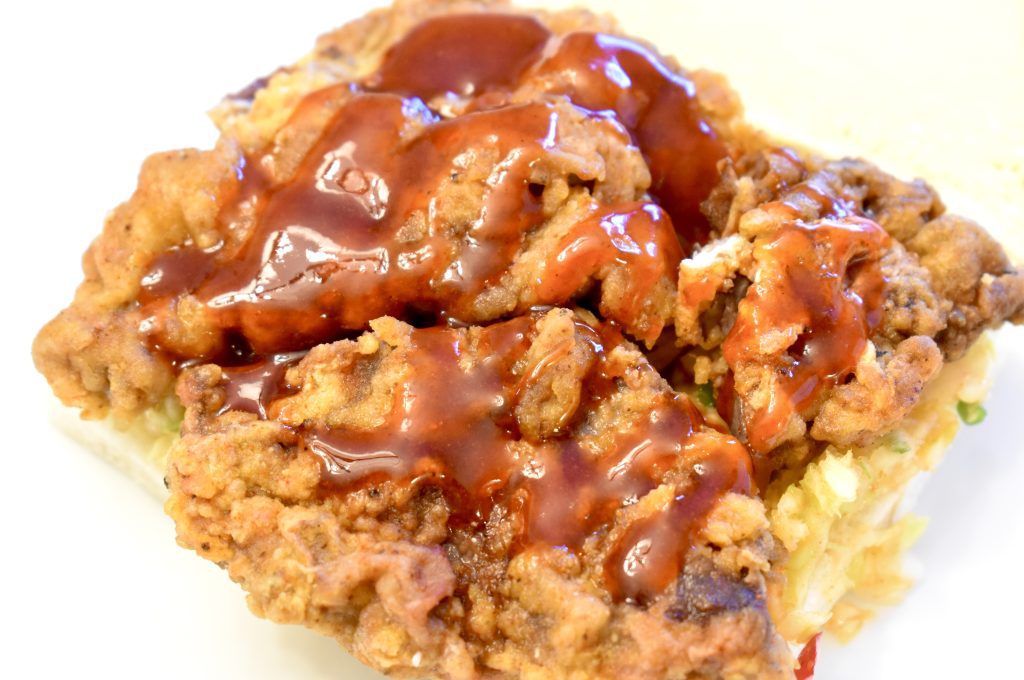 These Korean venison heart sandos take a Western style Japanese sandwich and fills it with Korean inspired flavours as well as venison heart!
Prep Time

50 min

Cook Time

10 min

Total Time

1 hr

Yield

4 sandwiches
Ingredients
For the Heart
1 venison heart
1.5 cups (180g) all purpose flour
1 teaspoon (2g) gochugaru chili flakes OR hot paprika
1/2 teaspoon (3g) kosher salt
1/2 teaspoon (1g) black pepper
1/2 teaspoon (1g) garlic powder
1 egg
1/4 cup (60ml) milk or cream
Oil for frying
For the Fillings
1.5 cups (150g) finely shedded cabbage (use cheese grater)
2 radishes, finely grated
1 small carrot, finely grated
1/2 Korean pear, finely shredded (optional)
2 scallions, minced
1 teaspoon (5ml) fish sauce
2 teaspoons (10ml) rice wine vinegar
1 teaspoon (5ml) sesame oil
1 teaspoon (5ml) + 1 tablespoon (15ml) gochujang
1/2 teaspoon (3g) white sugar
3 tablespoons (45ml) honey
Kewpie mayonnaise OR regular mayonnaise
8 slices white bread OR milk bread, crusts cut off
Preparation
1
Trim any fat off of the top of the heart. 
Find the area on the side that feels the thinnest and cut it open from top to bottom. You should be able to open the heart up like a book. 
Trim away any veins, blood clots, or stringy bits so all you have left are even meaty pieces. 
Gently score the outside of the heart with a sharp knife, roughing it up so that the batter will adhere to it better. It doesn't have to be pretty as it will be covered up. 
Cut the heart into 2″x2″ (4cmx4cm) pieces. 
2
Mix the shredded cabbage, radish, carrot, pear, and scallions in a bowl. 
In a separate small bowl, combine the fish sauce, rice vinegar, sesame oil, 1 teaspoon of the gochujang, and the sugar. Mix well. 
Toss the sauce into the cabbage mixture and set aside. 
3
In another small bowl, mix together the rest of the gochujang (1 tbsp) and the honey. Set aside. 
4
Mix the flour, chili flakes, salt, pepper, and garlic powder together on a plate or in a shallow bowl. 
In a separate plate or bowl, whisk together the egg and milk or cream. 
5
Fill up a skillet with 1 inch (2cm) of frying oil or lard. 
Heat up to 350°F. 
6
Take the heart pieces and, working one at a time, dip them in flour, dusting the entire piece, then dip in egg wash, then dip back in the flour mixture. 
Once you've done 1/3 of the pieces, add them to the hot oil. Cook them for 1 minute per side, or until golden (don't overcook or the heart will be very tough and leathery!). 
Transfer to some paper towel, then continue with the rest of the heart, frying them in two more batches.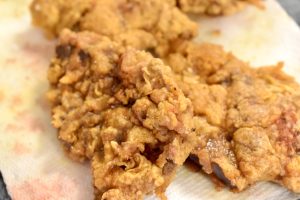 7
Once the heart is cooked, it's time to build the sandwiches. 
Smear both sides of the crustless bread with mayonnaise from edge to edge. 
Top the bottom half with a thick layer of the cabbage slaw.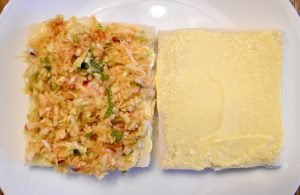 Top with pieces of heart, trying to cover all of the surface area. Don't be afraid to cut the pieces to make the puzzle work.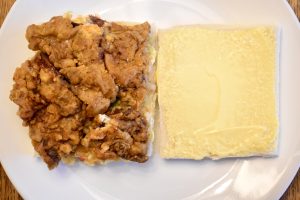 Drizzle the honey-gochujang sauce over the heart.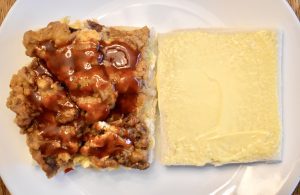 Add the top piece of bread and carefully cut in half. 
8
Serve immediately. Enjoy!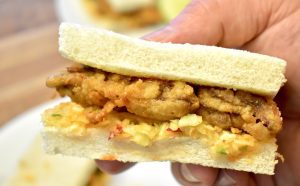 Notice how I didn't have you scroll through pages of mundane nonsense to get to the recipe? Notice that there were no annoying pop-ups or ads? That was on purpose!
I want finding and using my recipes to be easy for you, not frustrating. That does translate into a lot of lost income for me though. If you made this recipe and loved it, would you consider "buying me a coffee" and donating a buck or two through the Buy Me a Coffee app? It will help me keep pumping out recipes like this one!