Moose Tongue and Black Trumpet Pizza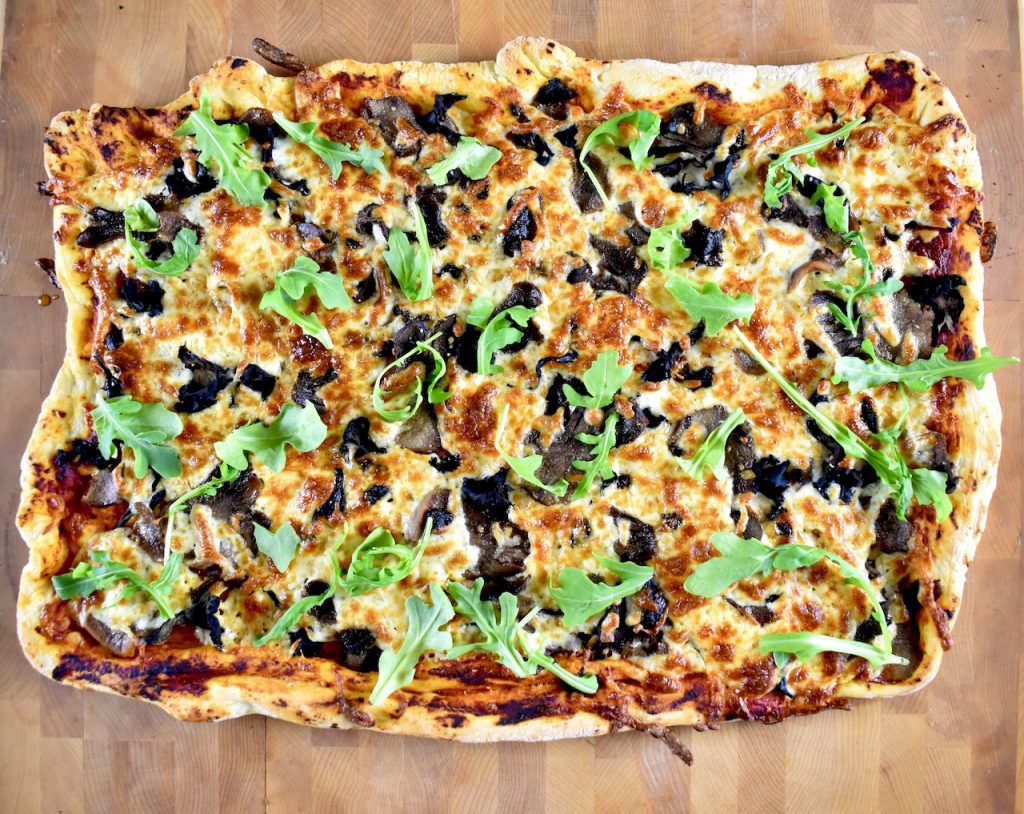 This is a great way to use up the "less desirable" parts of your hunt like the tongue. 
Anyone dubious to try it will change their mind after the first bite! 
If you can't find moose tongue, you could use several deer tongues (reduce the cooking time), or a larger beef tongue (increase the cooking time). 
Prep Time

30 min

Cook Time

3 hr 30 min

Total Time

4 hr

Yield

2 Pizzas
Cuisine

Course

Cooking Method
Ingredients
For the Tongue
1 moose tongue
1 tablespoon (15g) kosher salt
6 peppercorns
1 large rib celery
1 large onion, trimmed
1 large carrot
3 cloves garlic
For the Pizza
1 cup (250ml) warm water
2.25 teaspoons (7g) instant dry yeast
1 teaspoon (4g) white sugar
3 cups (360g) all purpose

or

00 flour
1 teaspoon kosher salt
1 tablespoon (15ml) olive oil
12oz (350ml) tomato paste or pizza sauce
0.5oz (16g) dried black trumpet mushrooms, reconstituted in water

or

2lbs (900g) fresh mushrooms *See Note
12oz (450g) shredded mozzarella cheese
1 handful arugula or fresh herbs
Truffle oil for garnish (optional)
Preparation
1
Rinse off the tongue, then place it in a large pot and cover it with water. 
Add the salt, peppercorns, celery, onion, carrot, and garlic. No need to peel or chop anything, unless it's to fit it into the pot. 
Bring to a strong simmer, spooning off any foam that rises to the surface. 
Simmer for 3 hours, adding more water if need be to keep the tongue covered. 
2
Remove the tongue from the liquid and set it on a plate to cool. Strain out and discard the rest of the solids. 
Save the liquid as a flavourful moose broth for other projects. 
As soon as the tongue is cool enough to handle, start peeling off the white skin with your fingers. Use a knife to trim off any tenacious bits. If you let the tongue cool completely, this will be much harder to do. 
Cut the tongue into very thin slices. They can go into the fridge until everything else is ready to go. 
3
Add the warm water (around 110°F) to a small bowl. 
Add the yeast and sugar and let sit for 5 minutes, or until the yeast begins to foam. Add the oil. 
4
Add the flour and salt to a large mixing bowl. Mix together well. 
Add the water/yeast mixture to the flour, stirring it in with a wooden spoon. 
Keep stirring, then switch to your hands as the dough starts to form a ball. You may need to add a touch more flour, or a touch more water to the dough if it is sloppy and slippery, or too dry to form a ball.
Knead and shape it for 2 minutes, then form it into a tight ball. 
Lift out the ball and grease the mixing bowl with a touch of olive oil, then put the ball back in. 
Cover the bowl with plastic wrap or a damp towel. 
Let rest in a warm area for 1 hour. 
5
Preheat the oven to 500°F (260°C).
6
Turn the dough out onto a floured surface and break it into 2. 
Using hands and a rolling pin, shape each piece into either a round pizza, or a rectangular one (or like me, shape it into a round one, mess it up, then change it to a rectangular one to save the day!). Either shape the pizza dough onto a baking sheet or pizza stone, or shape then carefully move it over before topping it. 
7
To top the pizzas, spread on the sauce with the back of a spoon. 
Add 1/4 of the cheese mixture onto each. 
Lay on half of the tongue slices onto each and sprinkle half of the mushrooms over each. 
Add the rest of the cheese.
8
Cook one at a time. Put into the oven for 15-20 minutes, giving it a 180° turn once for even cooking and checking often towards the end so it doesn't burn. 
Once done, sprinkle with a handful of arugula or fresh herbs. Drizzle lightly with truffle oil.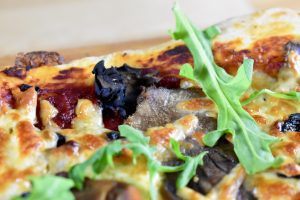 Cut into squares or triangles and serve as soon as it's cool enough to handle. Enjoy!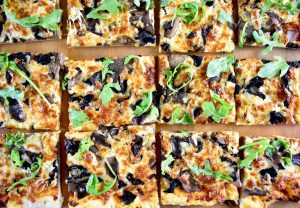 *I tested this recipe with dried and reconstituted mushrooms