Korean Pike Bone Juk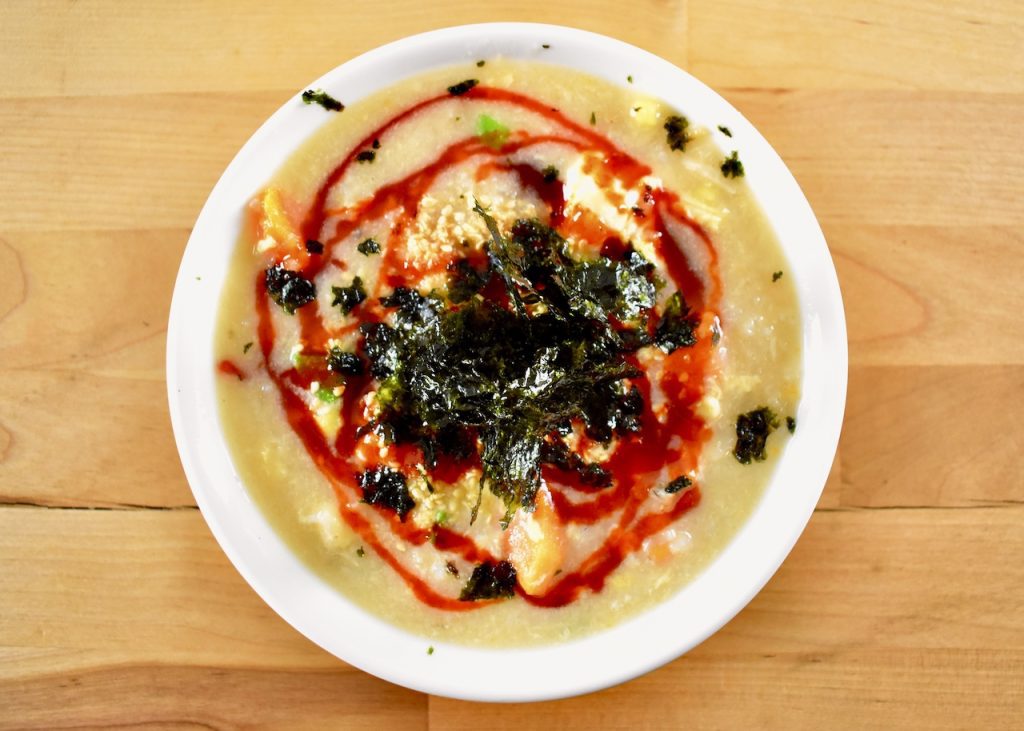 This Korean pike bone juk is a rice porridge made with northern pike bones and heads, inspired by Korean dakjuk, which is made with chicken. 
Ever feel like you're wasting a ton of food when you throw out a filleted pike?
Well, you're right! There's still lots of meat and goodness left on the bones after filleting fish. 
I like to throw the heads and bones (no gills, no guts) into ziplock bags in the freezer and make soup or congee with them when I have a free day to hang out in the kitchen.
If you have patient, dextrous fingers, you can pull the pike meat from the bones after simmering them for stock. I do this every time. If you're not into that, then set aside a few small pike fillets, slice them, and add them to the rice porridge in Step 5. 
Check out how to properly fillet a pike here.
Check out some of my other pike head recipes:
Prep Time

30 min

Cook Time

2 hr 30 min

Total Time

3 hr

Yield

6 servings
Ingredients
2 pike heads and skeletons, no gills, no guts
2 teaspoons (10ml) sesame oil
1 medium onion, chopped
1 cup (220g) medium grain white rice
1 sweet potato, peeled and cut into small cubes
2 tablespoons (30ml) fish sauce
4 scallions, white and green sections, chopped
2 eggs
2 tablespoons (30ml) honey
1 tablespoon (15ml) gochujang paste
2 tablespoons (14g) roasted sesame seeds
Dried nori seaweed for garnish (optional)
Preparation
1
Preheat oven to 400°F (200°C, gas mark 6).
Put pike heads and bones on a baking tray. 
Roast in oven for 30 minutes.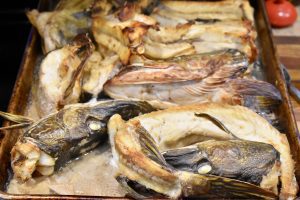 2
Transfer to a large pot and cover with 8 cups (2L) water. 
Bring to a strong simmer, then lower to a low simmer and cook for 30 minutes.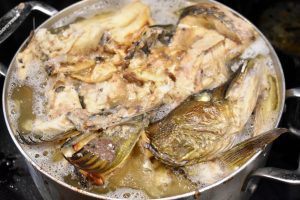 Pour the broth through a colander or strainer into a large bowl, straining the bones out and setting them aside to cool (if using fillets rather than picking the meat off the bones, you can discard the bones at this point). 
Pick off any usable meat from the bones and head, being VERY careful not to get any "Y" bones in with the meat. Set the picked meat aside and discard the bones and heads. 
3
Add the sesame oil to a large pot over medium heat. 
Add the onion and cook, stirring, for 5 minutes or until translucent. 
Add the raw rice and cook for another 5 minutes, stirring often.
Add the 8 cups (2L) of strained fish stock, bring to a boil, then reduce to a low simmer.
Cook for 45 minutes, stirring every 5 minutes or so. 
4
Add the sweet potato and 2 cups (500ml) water and cook for 30 minutes. 
Add the fish sauce and scallions. 
If you'd like your rice porridge thinner, add some more water. If you'd like it thicker, cook it down a little more. 
5
If using pike fillets, add them now, or if using the picked pike meat, add it now. 
Beat the eggs in a bowl, then slowly drizzle the eggs into the pot in a spiral fashion. 
Let the eggs set without stirring the pot for several minutes. 
6
Meanwhile, heat the honey up in a small bowl in the microwave (or in a small pot). 
Stir in the gochujang paste. 
7
Stir the pot, breaking up the egg. 
To serve, ladle the porridge into bowls. Top with sesame seeds, crushed seaweed, and a big drizzle of the gochujang-honey sauce. Enjoy!