Jalapeño Popper Corn Salad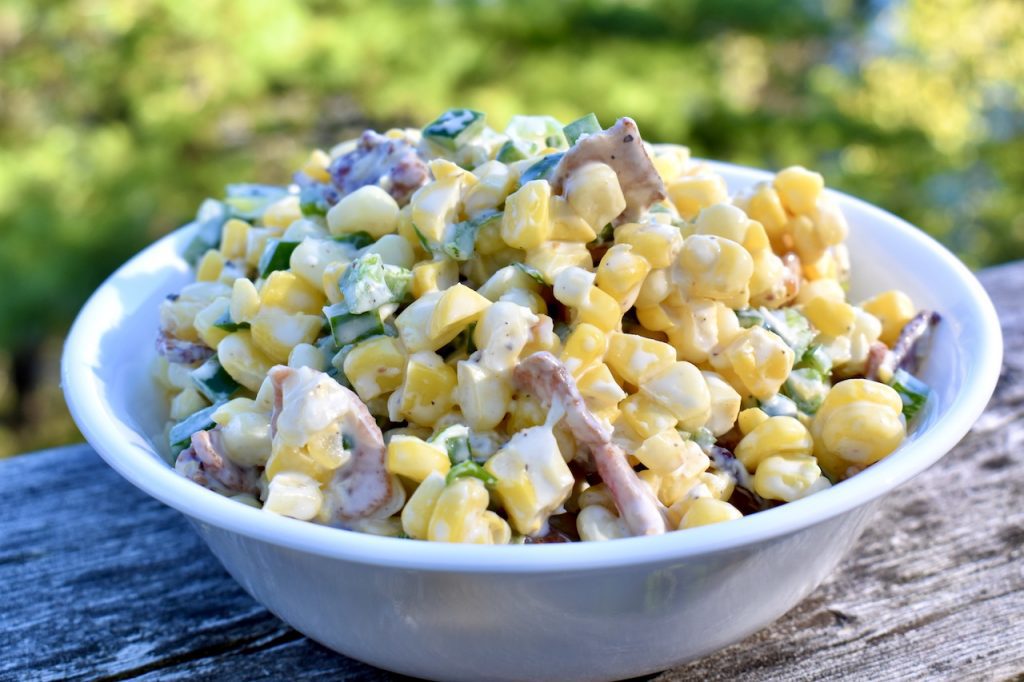 This is a great summer salad that will go well with anything done up on the grill. It would also be a great addition to any summer potluck. 
If fresh corn isn't available, use whole kernel canned corn or frozen corn. 
Jalapeño peppers can vary in heat by quite a bit, so be sure to try the ones you're using before putting them all in the salad and serving it! 
Prep Time

15 min

Cook Time

8 min

Total Time

23 min

Yield

6 servings as a side
Ingredients
6 ears corn (approx. 3 cups of corn)
4 slices bacon
2 green onions/scallions, trimmed and sliced
2-4 fresh jalapeño peppers (depending on heat level), seeded and deveined and chopped
1/8 cup (30ml) mayonnaise
1/8 cup (30ml) greek yogurt or sour cream
1/4 cup (60ml) cream cheese 
1/2 tsp (1.5g) kosher salt
1/2 (1g) black pepper
Preparation
1
Shuck the corn, then put the ears of corn in a large pot and cover with water. 
Bring to a boil and boil for 8 minutes. 
Alternatively, you could grill the corn until lightly charred. 
2
Meanwhile, cut bacon into bite sized pieces. 
Fry until crispy. 
3
Once corn is done cooking, remove from the water, and transfer to a cutting board to cool.
Once cool enough to handle, slice the corn off of the ears into a medium bowl. 
4
Add green onions and jalapeños to the bowl with the corn. 
Drain the cooked bacon on a paper towel, then add it to the bowl as well. 
5
In a small bowl, whip together the mayo, yogurt/sour cream, and cream cheese until fluffy. 
Add it and the salt and pepper to the bowl with the rest of the ingredients. 
6
Mix everything well, and serve. 
This can be made ahead of time and chilled in the fridge for up to 3 days before serving. Enjoy!