Venison Lo Mein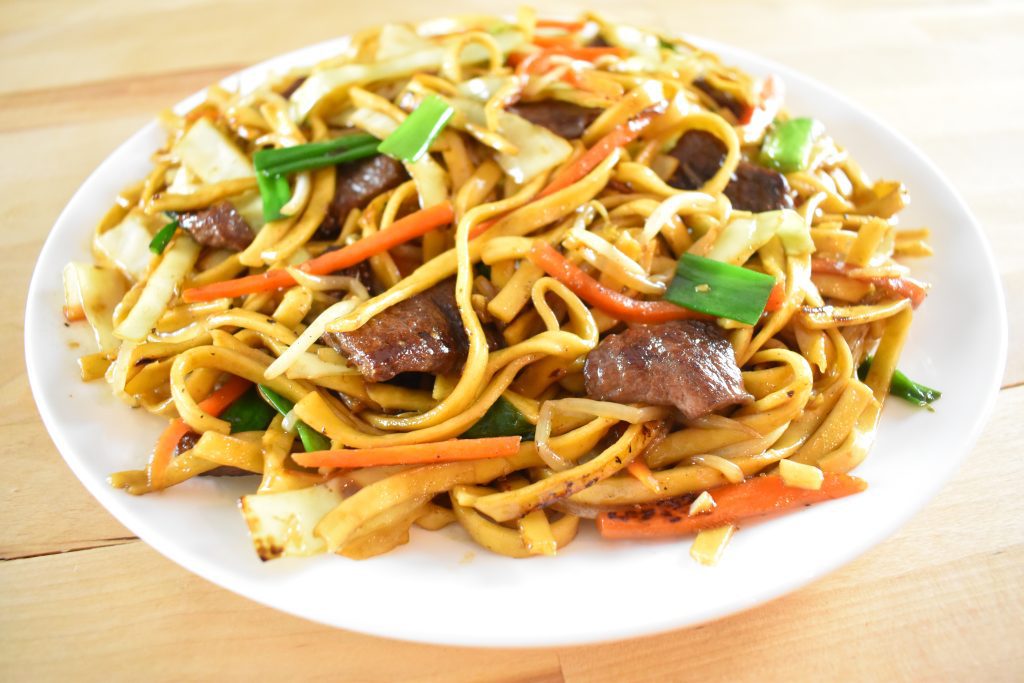 This venison lo mein will make for a fun change in your venison dinner routine. Make it with cuts from the leg like round or sirloin!
Prep Time

1 hr

Cook Time

30 min

Total Time

1 hr 30 min

Yield

4 servings
Ingredients
For the Marinade
12oz top round, bottom round, or sirloin, cut into bite-sized strips
1/2 teaspoon baking soda
1/2 teaspoon cornstarch
1/2 teaspoon sugar
1/2 teaspoon salt
1 teaspoon light soy sauce
1 teaspoon Shaoxing wine
1 teaspoon sesame oil
For the Sauce
1/2 teaspoon cornstarch
1 teaspoon sugar
1/2 teaspoon salt
1/2 teaspoon white or black pepper
2 tablespoons light soy
1 teaspoon dark soy
1 teaspoon sesame oil
2 tablespoons oyster sauce
1/2 cup water or chicken stock
For the Noodles
5 scallions
2 cups bean sprouts
1lb (400-450g) lo mein noodles
1/2 teaspoon + 2 tablespoons oil or lard
3 cups cabbage, chopped
1 large carrot, cut into matchsticks
1 thumb ginger, peeled and minced
4 garlic cloves, minced
Preparation
1
Massage the baking soda into the slices of meat.
Mix the rest of the marinade ingredients together in a bowl and toss the meat in.
Let marinate for at least 20 minutes. 
2
Mix the sauce ingredients in a bowl and set aside. 
3
Boil the noodles as per package directions. Rinse, toss in a 1/2 teaspoon of oil, and set aside. 
Cut the green part of the scallions into 1" pieces, then cut the white parts into 1/2" pieces; set aside separately along with 1/4 of the bean sprouts. 
4
Add 2 tablespoons of oil to a wok or skillet over high heat, then add half the venison and let sear for 2 minutes. Flip and let sear for 1 more minute.
Set aside in a bowl, then repeat with the rest of the venison. Repeat.
Add more oil if need be. Add half of the vegetables (cabbage, carrots, bean sprouts) and sear, tossing and stir frying for 3-4 min. Transfer the vegetables to the bowl with the meat. Repeat with the other half. 
5
Add more oil to the skillet if need be and add the garlic and ginger and half of the noodles. Sear for 2 minutes tossing, and stir-frying.
Throw the noodles into the bowl with the meat and veggies. Repeat with the last of the noodles.
Add everything (the meat, veggies, noodles, and reserved scallions and bean sprouts) back to the skillet.
Stir the sauce to re-incorporate the cornstarch, then add it to the noodles. 
Reduce heat to medium and cook until the noodles absorb the sauce. 
Enjoy!
Notice how I didn't have you scroll through pages of mundane nonsense to get to the recipe? Notice that there were no annoying pop-ups or ads? That was on purpose!
I want finding and using my recipes to be easy for you, not frustrating. That does translate into a lot of lost income for me though. If you made this recipe and loved it, would you consider "buying me a coffee" and donating a buck or two through the Buy Me a Coffee app? It will help me keep pumping out recipes like this one!