Ginger Scallion Grouper Stir Fry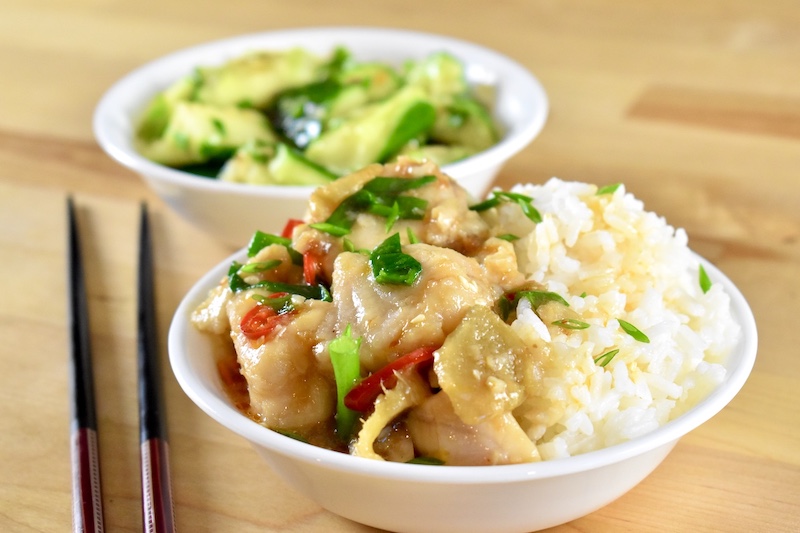 This ginger scallion grouper stir fry is the perfect light and easy mid-week meal. I like to serve it on white or brown rice and smashed cucumbers. 
If you don't have access to grouper, use another firm, large flaked fish like halibut, pike, mahi mahi, snapper, or sea bass.
Finer, flakier fish like tilapia, haddock, bass, and sole may not hold together in the wok. 
Prep Time

20 min

Cook Time

5 min

Total Time

25 min

Yield

4 servings with rice and sides
Ingredients
For the stir fry
1lb (454g) grouper fillet(s), cut into large bite-sized chunks
1 tablespoon (7.5g) cornstarch
1 tablespoon (15ml) Shaoxing wine or white wine or sherry
2 tablespoons (30ml) vegetable oil or fat
1 thumb of ginger, peeled and sliced thinly into coins (for a less intense ginger flavour, slice the coins into thin ribbons)
3 scallions/green onions, cut into 1″ (2cm) lengths 
1 red chili, de-seeded and sliced (optional)
For the sauce
1 tablespoon (15ml) soy sauce
1 tablespoon (15ml) oyster sauce
2 tablespoons (30ml) water or fish stock
1 teaspoon (4g) sugar
1/2 tablespoon (4g) cornstarch
1/2 teaspoon (3ml) sesame oil
Preparation
1
Start your rice if you're making it. 
2
In a bowl, toss the fish chunks in the cornstarch. Add the wine and toss again. Set aside to marinate for 10 minutes. 
3
Meanwhile, mix together all of the sauce ingredients in a bowl and set aside. 
4
Heat the oil in a wok over high heat. 
Add the ginger and stir fry it for 1 minute. 
Add the fish and stir fry gently for 2 minutes, trying not to break up the fish too much. 
5
Give the sauce a quick stir, then add it to the wok.
Turn the heat down to medium high. 
Add the scallions and chili. 
Cook until sauce thickens, about 1 minute or so. 
6
Serve with rice and one or two other sides. Enjoy!