Savoury Oatmeal Breakfast Bowls with Duck Egg and Hedgehog Mushrooms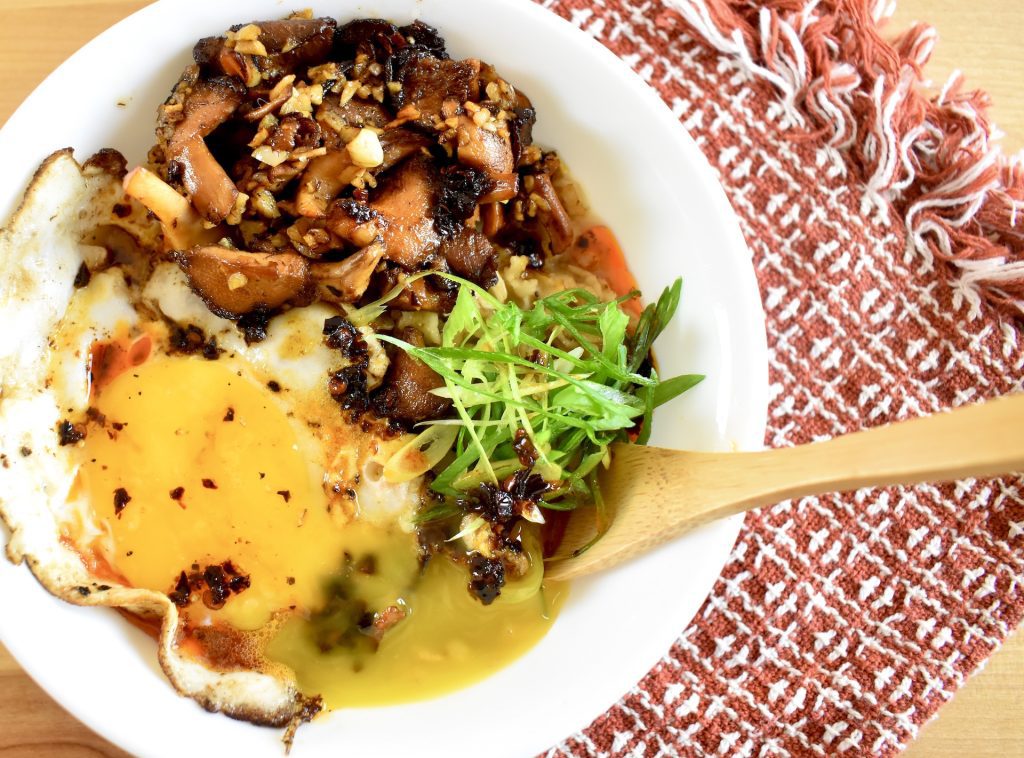 This dish can be made with any mushroom, but it's particularly good with hedgehogs (Hydnum repandum) or chanterelles (Cantharellus).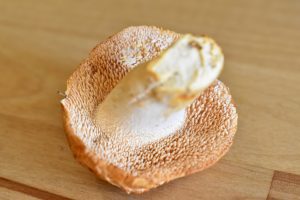 Hedgehogs are a great beginner mushroom due to the fact that they have very unique spines or teeth where there would normally be gills or pores (hence the name). This makes them pretty much impossible to mis-identify. 
I used duck eggs for this dish since they're richer and more flavourful than chicken eggs, but you can use any type of egg you'd like, and cook it to your own preferences. 
Remember to always be absolutely sure of any mushroom you pick from the wild that you plan to eat. Check several sources; don't depend on just me for your identification! 
Prep Time

30 min

Cook Time

30 min

Total Time

1 hr

Yield

2 hearty servings (can be doubled)
Cuisine

Course

Cooking Method

Suitable for Diet
Ingredients
4-7oz (12-20g) dried porcini or other dried mushrooms
2 cups (500ml) water
3/4 cup (70g) rolled oats
Kosher salt
1/2 tablespoon (8ml) white miso paste (optional)
1 tablespoon (15ml) neutral oil or lard
8oz (225g) fresh hedgehog or chanterelle mushrooms, trimmed, cleaned and sliced thickly
2 cloves garlic, minced
1 tablespoon (15ml) soy sauce
2 tablespoons (28g) butter
Black pepper
2 duck or chicken eggs
1 scallion, sliced
Chili oil to serve (optional)
Preparation
1
Add the dried mushrooms to a bowl. 
Boil the 2 cups of water and pour them over the mushrooms. 
Let sit for 15-30 minutes to rehydrate. 
2
In a medium pot over medium heat, add the oats. 
Stirring very regularly, toast the oats for about 5 minutes, or until they look golden and begin to smell toasty. 
Add the water you used to rehydrate the mushrooms, leaving the last little bit of sediment behind. 
Chop the rehydrated mushrooms and add them to the pot. 
Add in a pinch of salt and the miso paste if using. 
Bring to a boil, then lower to a slow simmer and cook, stirring, for about 15 minutes, or until the porridge reaches your desired consistency. 
3
Meanwhile, add the oil or lard to a cast iron skillet over medium high heat, then add the hedgehog mushrooms. 
Cook until golden, about 10 minutes, lower heat to medium, then add the garlic, soy, 1 tablespoon of the butter, a pinch of salt and some pepper. 
Cook for 2 more minutes, then transfer to a bowl or plate. 
4
Add the other tablespoon of butter to the pan and let it melt. 
Crack in the duck eggs and cook until done the way you like your eggs. I like them cooked sunny side up for this dish in order to take advantage of the runny yolks. Season the eggs with salt and pepper. 
5
Split the oatmeal between two bowls, then top with a duck egg, the sautéed mushrooms, and sliced scallion. 
Drizzle with chili oil if using, and serve. Enjoy!