British Fish Pie with Bass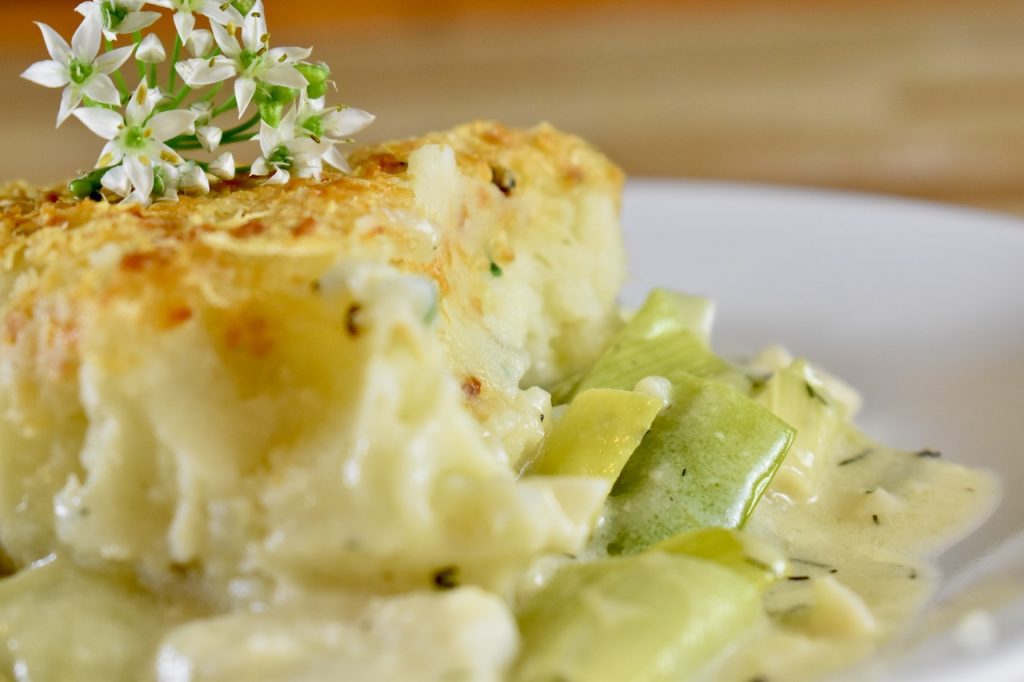 Don't be daunted by the length of this recipe, it's actually quite easy. 
This pie is made in the classic British fish pie fashion, but with freshly caught largemouth bass. It's kind of like a shepherd's pie made with fish and it is delicious. 
This is a great way to serve fish to picky eaters or to those who are still on the fence about whether or not they like it. 
Feel free to make this pie with pike, walleye, catfish, perch, or even with store-bought fish like tilapia, basa, sole, or pollack. 
If starting out with a whole fish, follow my handy guide here to fillet the fish and end up with what you need to make a delicious fish stock that will make this dish even better! 
Cook Time

1 hr

Yield

4-6 servings
Ingredients
2 lbs (900g) russet or other floury potatoes
3 tablespoons (45ml) butter
3/4 cup (180ml) half and half cream (or milk)
1 cup (250ml) fish stock (you can use vegetable or chicken)
Kosher salt
Black pepper
1 tablespoon (15ml) chives, minced (optional)
1 tablespoon (15ml) vegetable oil
2 leeks, white and light green parts only
2 cloves garlic, minced
1 tablespoon (10g) flour
2 teaspoons (10ml) smooth Dijon mustard
1 tablespoon (15ml) fresh dill or parsley, minced
2 bass fillets, cut into bite-size chunks
1/2 cup (40g) Parmesan cheese, grated
Preparation
1
If starting with a whole fish, use this guide to fillet it, then use the carcass to make a stock with the leek tops (you can do this while the potatoes are boiling). 
To do this, simply put the fish bones, head, tail, and ribs in a pot with the washed dark green leek tops (that are too tough to eat). Cover with cold water, then heat up gently on the stove until the water starts to very gently simmer. Let it simmer for 20-30 minutes, without stirring, then remove from the heat. 
Strain, and discard the solids. Use some of the stock in this recipe and freeze the rest, or use it up within a couple of days. 
If using fish fillets, you can use any homemade or store-bought fish, vegetable, or chicken stock. 
2
Boil the whole potatoes by covering them with water in a large pot and simmering them until a fork can easily be pushed through the middle, about 20-30 minutes. 
Boiling whole makes for better mashed potatoes. 
3
Preheat oven to 350°F (180°C, gas mark 4).
4
Once the potatoes are cooked through, dump out the water and transfer the potatoes to a cutting board until they cool down enough to handle. 
Scrape the skins off with the back of a knife or with a spoon. 
Rinse out the pot you cooked them in, then melt 2 tablespoons of the butter in the pot over low heat. Add 1/2 cup (125ml) of the cream and 1/4 cup (60ml) of the fish stock and let that heat up too. 
Add the potatoes and turn off the heat. Mash everything together with a masher or an electric beater until there are no lumps. Whip in the chives if using and season with salt and pepper to taste. 
5
To prepare the leeks, slice off the root tips and the darker green tops where the colour goes from pale to emerald. 
Now cut down the cylinder lengthwise, splitting it in half. Wash the leeks under running water, thumbing through all of the layers in case there is any dirt in them (there usually is!).
Now lay them flat on the cutting board and slice them into 1/2″ (1cm) half moons. 
6
Melt the other tablespoon of butter and the vegetable oil in a pan over medium heat. 
Add the leeks and cook for about 10 minutes. You want them nice and soft, but not brown, so turn down the heat if need-be. 
Add the garlic and cook for another 2 minutes. 
Add the flour and stir it in well. 
Add 1/4 cup (60ml) of cream and 3/4 (180ml) cup of fish stock. Cook for 3 minutes, stirring, until the sauce thickens up into a stew-like consistency. Taste for seasoning and add salt and pepper as needed. 
Add the herbs, mustard, and fish chunks, stir them in, then take the pan off of the heat. 
7
Pour the leek and fish mixture into the bottom of a casserole pan or cast iron pan. 
Spread the mashed potatoes evenly on top. You can use a fork to make patterns or rough up the top. 
Put into the oven for 15 minutes. 
8
After 15 minutes, take the pie out and sprinkle the grated Parmesan cheese on top. 
Put it back into the oven for another 10 minutes. 
Turn the broiler on and crisp up the top for 5 minutes, or until everything turns golden. Watch it closely so it doesn't burn.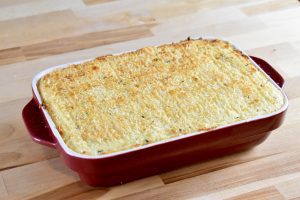 9
Spoon out onto plates to serve. This would go really nice with a sharp salad. Enjoy!