Smoky Ajvar-Laced Potato Salad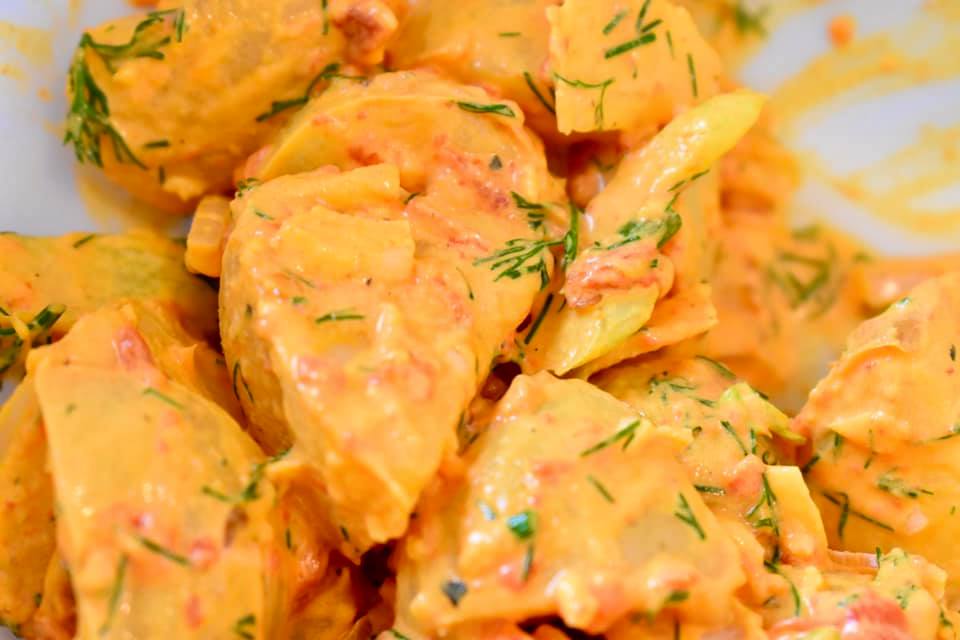 Breathe new life into your potato salad by adding ajvar, a Balkan condiment made from roasted eggplants and peppers. It lends a rich, smoky flavour that matches very well with the creamy potatoes. Store-bought ajvar works fine, but you could also try making it from scratch!
Prep Time

10 min

Cook Time

15 min

Total Time

25 min

Ready in

20 min
Cuisine

Course

Cooking Method

Suitable for Diet
8 small-medium or 4 medium-large waxy potatoes* like white-skinned, red-skinned, Yukon gold, or fingerling
2 tablespoons mayonnaise
1/4 cup plain Balkan style yogurt
2 tablespoons ajvar spread
2 teaspoons vinegar, like sherry, cider, or wine
1/2 sweet onion, sliced into quarter moons
1 handful fresh dill, chopped
Salt and pepper
Preparation
1
Wash potatoes.
Cut potatoes into largeish bite size pieces and put into a pot. 
Add water to cover and a pinch of salt and bring to a simmer.
Cook until fork tender (about 10-15 minutes), then rinse in cold water to cool them down. 
2
Meanwhile, mix mayo, yogurt, ajvar, and vinegar in a large bowl. 
Add in sliced onions and chopped fresh dill. 
3
Transfer cooled and drained potatoes to the bowl and mix everything together until every potato is well dressed with the sauce. 
Season with salt and pepper to taste. Enjoy!
* Waxy potatoes hold their shape much better when boiled and will stay nice and creamy in a salad. Floury potatoes such as the ubiquitous Russet, are better for frying, baking, or mashing.