Levantine Caprese Salad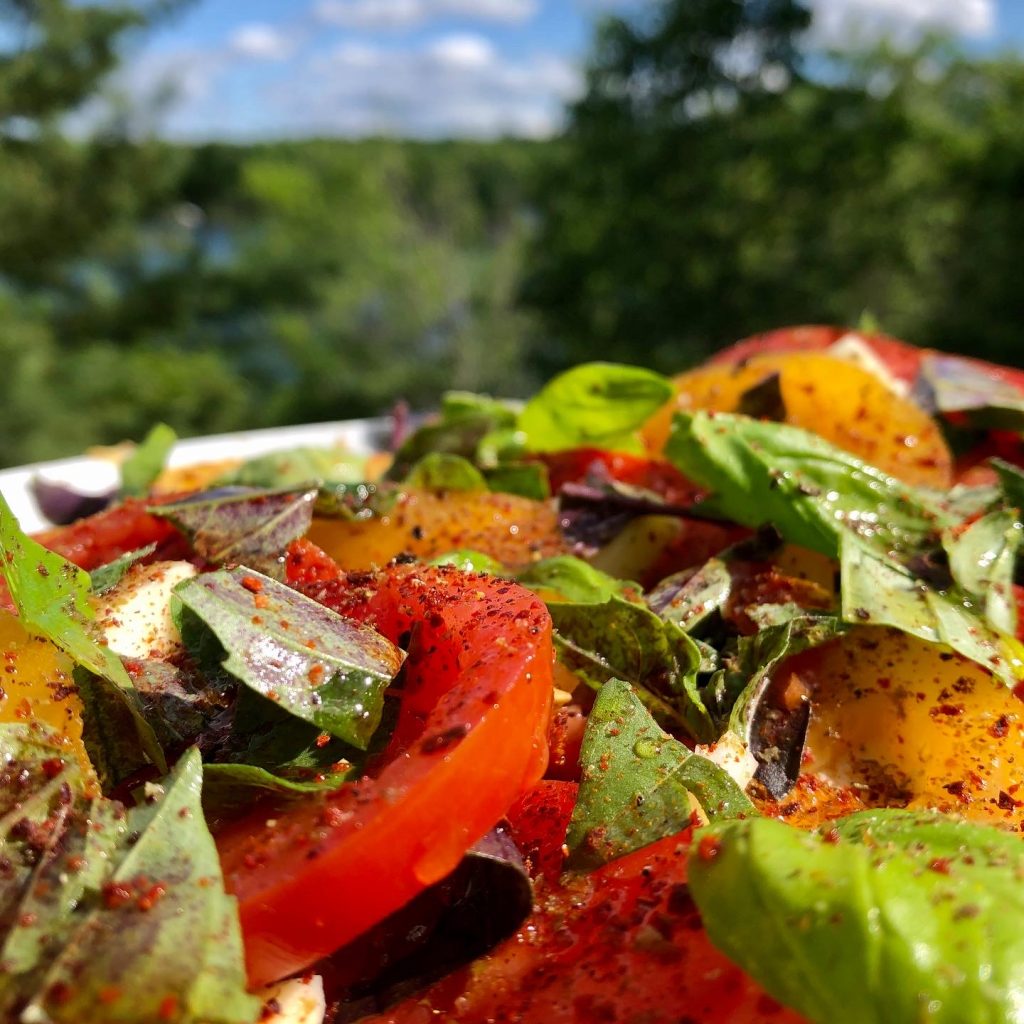 This variation of the classic Caprese salad uses flavours and ingredients found in the Levant (Syria, Palestine, Iraq, Jordan, Israel, Lebanon) to replace traditional Italian ones. Sumac and Za'atar can be found in many large grocery chains these days, but you may need to visit a Middle Eastern grocer or purchase them online if your local chain doesn't carry them. 
This salad goes great with shawarma or other Levantine style grilled meats. 
Prep Time

15 min

Cook Time

15 min

Total Time

30 min

Ready in

15 minutes
Cuisine

Course

Suitable for Diet
3-5 summer fresh ripe tomatoes, preferably different coloured heirloom tomatoes
1 piece halloumi or mozzarella cheese, cut into bite sized pieces
2 tablespoons date vinegar (or red wine vinegar)
4 tablespoons extra virgin olive oil
2 cloves garlic, minced
1 cup or 1 bunch of fresh basil leaves, chopped
1/4 cup of fresh oregano, chopped (optional)
1 heaping tablespoon za'atar spice blend
1/2 tablespoon sumac
1/2 tablespoon Aleppo pepper chili flakes 
1 pinch flaky salt*
a few turns of freshly cracked black pepper
Preparation
1
Cut tomatoes in half and remove stem ends. Now slice tomatoes into thick half moons. 
2
On a serving platter, arrange tomato slices like shingles, alternating between colours.
Tuck slices of cheese in between the odd tomato slice. 
3
Shower chopped herbs over tomatoes. 
4
In a small bowl, whip together garlic, vinegar, and oil until well combined. Drizzle over salad, being sure to get some over all of the tomatoes. If it doesn't seem like enough, mix some more oil and vinegar together and continue. 
5
Lastly, sprinkle the za'atar, sumac, chili flakes, salt, and pepper over everything. Serve and enjoy!
*If using halloumi cheese, be sure to use less salt to season as halloumi can be very salty